100+ fall activities to get your kids active and moving. The memories you build with them today will stay with them for a lifetime.
---
Fall is a wonderful season. It's the time of harvest and bounty, when the Lord provides from the sowing done earlier in the year. What a great picture, right?
There's a calm and a peace about fall, when everything slows down, enters a rhythm, and moves indoors as we prepare for winter. It's also a season of holidays, with Reformation Day, Thanksgiving, and Advent coming up. Even in this fast moving season, you can spend some precious time with your children!
There is so much screen free living to do! I've put together 100+ Fall Activities for you, just to get you started. I'm sure you'll get some great ideas and come up with some of your own as well.
---

---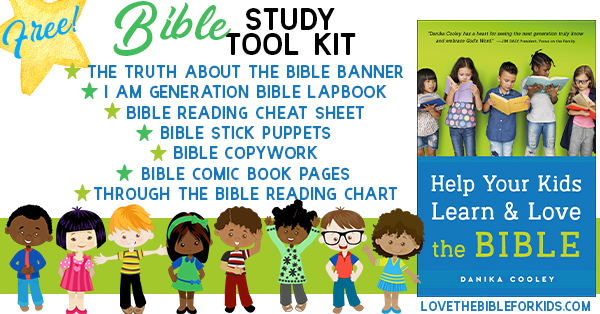 Grab your FREE Bible Study Tool Kit–over 130 pages of Bible resources for your family!
---
We took our youngest two boys creeking one fall several years ago. What a fun memory!
When we turn off the screens and get out there and live life, there's so much living to do. Our kids have learned so much from God's creation.
While the earth remains, seedtime and harvest, cold and heat, summer and winter, day and night, shall not cease.
Genesis 8:22, ESV
---

---
Fall Activities for Kids
1) Help your kids memorize 8 Bible verses about Family with copywork and memory verse cards.
2) Work on 8 more Bible verses about friendship with this Write, Color, and Memorize set.
---
3) Learn about the 5 Solas as a family with readings, discussion, and activities.
---
4) Go to see a play. Often the local high school will put on an affordable show late in the fall.
5) Get back into the habit of reading daily with this extensive book log.
6) Learn about Christian history as a family with this enormous list of Christian history books for kids.
7) Celebrate Reformation Day on October 31st with this fun set of Reformation Day snacks (with printables).
8) Start a new school year off by taking notes in church. The My Sermon Notebook for Kids will help.
9) These are beautiful. Make leaf bowls with airdrying clay.
---
10) Take some time to learn about the books of the Bible as a family with this fun unit study.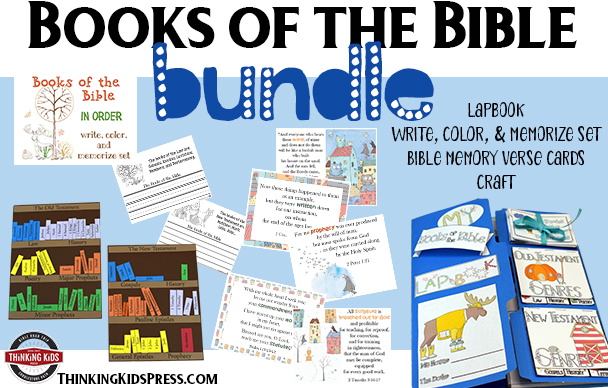 ---
11) Go through a corn maze.
12) You can also create leaf lanterns that are quite lovely.
13) Visit a local college campus and walk around. Be sure to wander into the library.
14) Try out this salt crystal leaves science experiment.
15) Break out the LEGOs. My boys used to love to build cities full of amazing buildings.
16) Use fall manipulatives to learn about patterns.
---
17) Read the story of Martin Luther aloud as a family. Don't forget to grab this free discussion guide.
When Lightning Struck!: The Story of Martin Luther
---
18)Pick pumpkins. Try roasting a pumpkin or making pumpkin soup.
19) Take a nature walk and make a fall mobile with your finds.
20) Learn to code. Khan Academy is a great place to get started.
21) Create some pointillism fall leaf art.
22) Make watercolor leaves out of tissue paper.
23) Paint these leaf printables and outline them with glitter for a fun celebration of fall.
---
24) Study Creation as a family with this fun Creation story lapbook and Bible study.
---
25) Let your kids choose some fall bulbs to plant for spring. Help them measure the depth, and plant them in groups of 3-5 bulbs.
26) Do you have teens? Give them a patch of garden to plan for flowers. Talk to them about planning color, height, perennial versus annual, and let them work!
27) Or paint leaves using pinecones and a glass jar.
28) Do a little chemistry while you make apple jiggly slime with your kids. Or colorful leaves fall slime. Or pumpkin slime with real pumpkin. Or cinnamon slime.
29) Go horse back riding.
30) Use pastels and construction paper to create joyful fall sunflowers.
31) Create seed suncatchers. You could read a story about seeds to go with this, or look at the ways seeds disperse.
32) Work on this fall wreath with your smaller children.
---
33) Learn about who Jesus is with this fun printable banner that includes 24 devotional readings and discussions.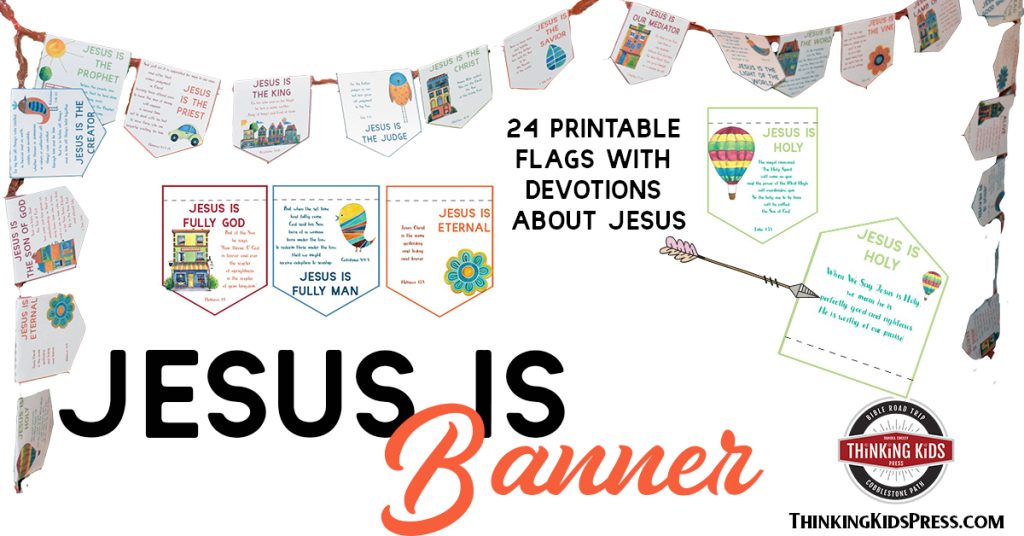 ---
34) Play football with your kids.
35) Practice cursive handwriting with these fall printables. Or use these for printing.
36) Print out this fall coloring book–your kids can learn to read some common fall words. You can also use these printable cards.
37) Decorate a fall treat bag (or use it to collect items on your fall nature walk).
38) Do some leaf printing (it doesn't need to be in a particular shape like this is).
39) Try building a scarecrow. Talk about why scarecrows are used in farmer's fields.
40) Use apples to make pumpkin stamps–then get to stamping!
41) Make an autumn leaf garland.
---
42) Print out this fun Spiritual Disciplines Calendar and help your kids get in the daily habit of Bible reading, memorization, and prayer! They'll have fun coloring, too.
---
43) Go bird watching. Research what birds will be flying south for the winter. Will they be leaving your area or arriving?
44) Do some fun fall Play-Doh math for littles.
45) These stuffed paper bag fall crafts are a fun way to explore autumn with your elementary school kids.
46) This fall leaf painting is created using bundled cotton swabs. You can help your preschooler, or let your older child work on this from start to finish.
47) Make a simple fall Play-Doh tray.
48) Do you have little people to occupy? Check out this fall sensory bin with practical activities.
---
49) Memorize 144 Bible verses about the Fruit of the Spirit with your kids. That's a character lesson they'll remember. God's Word, hidden in their hearts, is such a wise way to use your time!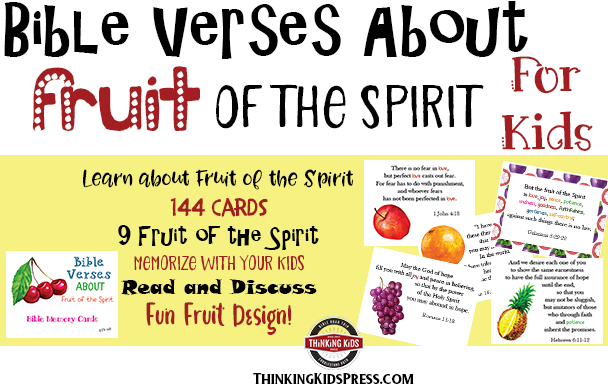 ---
50) Spend some time learning about owls with this craft, book, and other preschool activities.
51) Go for a bike ride.
52) Bake some gluten free pumpkin chocolate chip muffins with your kids.
53) Make some autumn play dough. Or natural cinnamon play dough.
54) Play a board or card game.
55) This cork autumn tree painting is a fun way to commemorate your child's age this fall.
56) Do some prewriting with leaves (or just enjoy decorating them with your older kids).
---
57) Teach your kids about the hymn A Mighty Fortress is Our God with this printable lyrics craft.
---
58) Make popcorn and hot chocolate from scratch.
59) Fold some origami fall window stars to decorate for the season.
60) Work with your young kids on DIY pumpkin number lines.
61) Make a handprint turkey, and give him some fun disguises. This goes with the book Turkey Trouble.
62) Create a handprint turkey napkin ring.
63) Work on name recognition and spelling with your young children with this alphabet pumpkin patch.
---
64) Make these fun Reformation Day snacks as a family and talk about how salvation is by the grace of God through faith!
---
65) Make this beautiful newspaper leaf garland.
66) Create these easy paper leaves.
67) Go apple picking. Make apple pie. And applesauce. Or apple cider.
68) Do some apple stamping.
69) Use old puzzle pieces to make a fall tree craft.
70) This is a fun fall activity to teach preschoolers why leaves change color.
---
71) Put together a unit study on life in the womb and how God fearfully and wonderfully made your child with Wonderfully Made: God's Story of Life from Conception to Birth. Don't forget to grab the free companion pack with Bible verse cards, a lapbook, and posters!
---
72) These cute leaf people make me laugh. Make some of your own.
73) Here are 5 fun things to do with hazelnuts.
74) Use leaves to do "missing half" art prompts. Your child will learn a lot about symmetry.
75) Go to the beach, a lake, or a creek. Talk about how it looks different in the fall.
76) This owl craft is adorable.
77) Check out some fun harvest themed fall activities for preschool.
78) Make some fall trees with a marbled paint resist technique.
---
79) Subscribe to some great Christian magazines for your teens–they'll love reading them!
---
80) Find out how animals prepare for winter.
81) Work together with your kids to find out if pumpkins and other fall veggies float.
82) Make a pumpkin volcano science experiment.
83) Go to a local high school football game.
84) With your little ones, make a leaf family. You may want to have them act out a skit with their leaf puppets.
85) Use a sponge to paint these beautiful galaxy leaves.
86) Head to a local farm and find out what they do for harvest.
---
87) Choose some fun Christian magazines for your kids and spend time reading them together.
---
88) This is a fun idea. Create nature portraits. Don't forget to take photographs!
89) Or, try this take on nature portraits: leaf faces.
90) Play soccer.
91) Have some Mason jars lying around? Make some of these lovely fall luminaries with your older kids.
92) Create autumn leaf hats together.
93) Make a sensory autumn art project.
---
94) Head out on a day trip. Let your kids plan the destination and route. Write about it later in this fun Field Trip and Travel Journal.
---
95) These fun fall tree mosaics are made using salt dough and found nature objects.
96) Your older kids might enjoy assembling this easy DIY fall wreath with pinecones.
97) Put together this cute scarecrow frame.
98) Head out on a family bike ride.
99) Download this free Thanksgiving preschool activity pack.
100) Make a paper plate turkey.
101) I love this cute DIY pop up turkey card!
---
102) Spend some time giving thanks with a grateful heart with this fun Bible verse card set.
---
103) Create a leaf lion with this free printable template.
104) Jump in the leaves.
105) Make a paper rosette hedgehog.
106) Design your own handprint turkey shirts.
107) Love birdwatching? Make these apple birdseed feeders.
108) Learn about different kinds of winter squash and experiment with new dishes.
---
109) Learn about the full armor of God while you make this fun costume craft.
---
110) Create these beautiful fall tree art cards with your kids.
111) Decorate the house for fall with homemade decor.
112) Go to a sunflower farm. If you grew sunflowers during the summer, now is the time to harvest them. You may want to spray them off really well and harvest the seeds outside. We did this one year with our oldest kids, and it was so fun. They attract silverfish, though, so don't bring those inside!
113) Roast pumpkin or sunflower seeds together. Explore different flavors.
114) Use these printable leaf finger puppets to work on a substraction song.
115) Make an autumn necklace with nature objects.
116) This is a neat way to do leaf printing.
Take some time this fall and get your kids active and moving. The memories you build with them today will stay with them for a lifetime.
---
Help Your Kids Learn and Love the Bible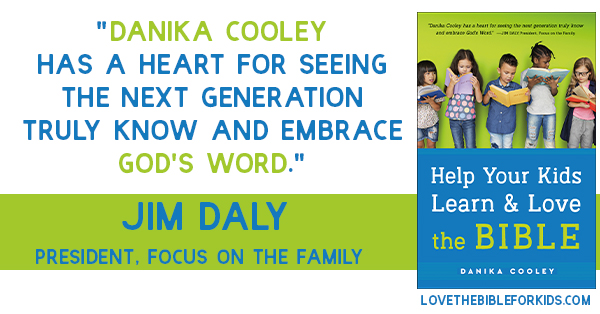 You want your kids to learn and love the Bible. 
You want to teach the Bible…
As parents, we deeply desire the best for our kids. We look for the right schools, we make them eat right and exercise, and we get them involved in extracurricular activities. We take our job as parents seriously.
But are we also putting our time and energy into
teaching them the Bible? Giving them the life-changing, soul-nourishing words of Scripture is not only doable, it's an essential part of parenting kids for Jesus. And the good news is, studying God's Word as a family doesn't have to be difficult!
2 Timothy 2:15, ESV, says:
Do your best to present yourself to God as one approved,
a worker who has no need to be ashamed, rightly handling the word of truth.
Our job, as parents who love Jesus, is to help our kids become approved workers, unashamed and rightly handling the word of truth.
The good news? Teaching the Bible isn't hard. Your family can learn the Bible together.
…and you can!
A Crash Course in Teaching the Bible to Your Kids
Danika Cooley's book, Help Your Kids Learn and Love the Bible, will give you the tools and confidence to study the Bible as a family. It will help you identify and overcome your objections and fears, give you a crash course in what the Bible is all about and how to teach it, and provide the guidance you need to set up a family Bible study habit.
You will finish this book feeling encouraged and empowered to initiate and strengthen your child's relationship with the Lord through His Word.

Help Your Kids Learn and Love the Bible will equip you with everything you need to know to teach the Bible to your kids!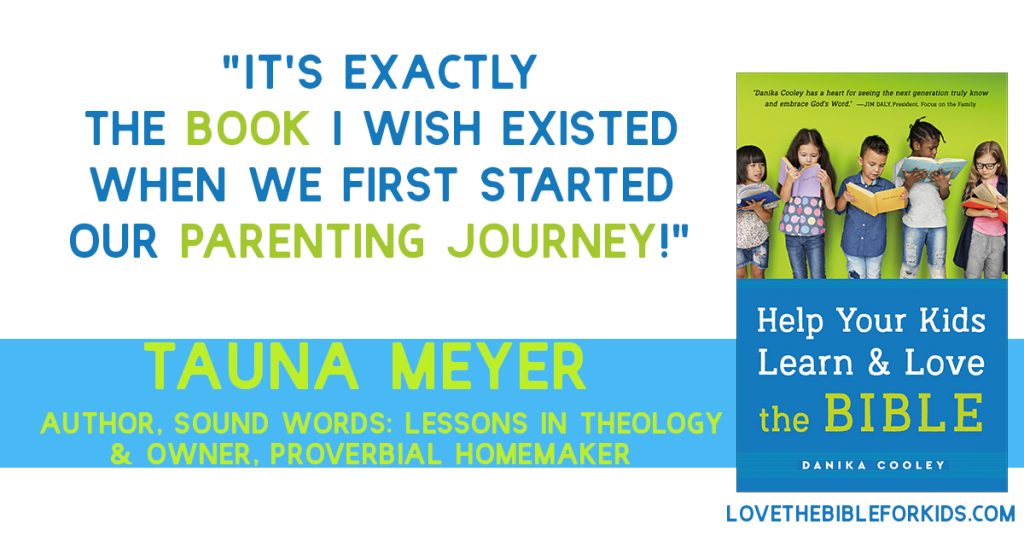 ---
More Thinking Kids Posts You'll Love
---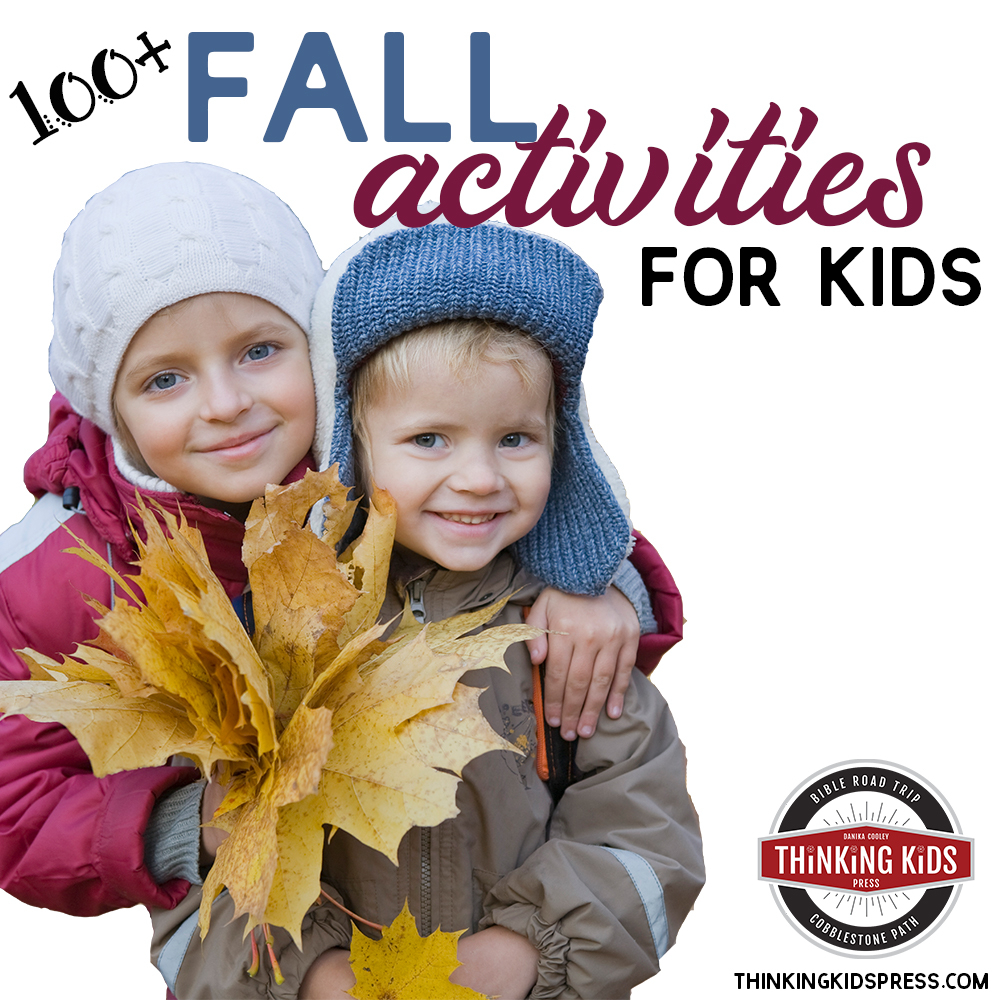 Join the newsletter
Get the Family Prayer Box Project FREE!
Teach your children to pray with this fun project that includes 7 printable sets!