Teach your kids with this hands-on the Armor of God Bible study and lapbook! Your kids will remember their studies forever.
---
When my boys were little, we used to practice putting on the armor of God every morning before school. My boys loved their little Armor of God Bible study. Really, what boy doesn't love imagining themselves as a knight or a soldier? It was something they enjoyed, and it gave us an opportunity to talk about spiritual warfare. It was a fun little Armor of God lesson.
As we "dressed" in our armor, we'd talk about each piece mentioned in Ephesians 6:10-20. We would talk about what they stood for and how they could be used. I always emphasized that our armor was a gift from God–one given to those who believe in Jesus. Their favorite piece of armor was the Sword of the Spirit. We gave our children Bibles early on, and we'd talk about how they had their very own sword–they just had to open up their Bible and read it!
Studying the Armor of God with my kids is a very special memory, and I wanted to recreate that in some way for you. You can study the Armor of God with your kids using the Armor of God Bible Study and Lapbook. Take a look:
---

---
The Armor of God Bible Study and Lapbook
Teach your kids about the armor of God in a fun, hands-on way that your children will love! This lapbook is part Bible study, part Bible craft, part notebooking, and it's perfect for families who want to go deeper into the armor of God with elementary age children from 5-12.
You'll want to do these armor of God Bible study over a period of days or a couple of weeks. Check out this fun video that shows how the lapbook is put together!
---
---
Armor of God Bible Study
The My Armor of God Lapbook is a fun, hands-on Bible study for your child from the ages of 5-12. You and your child will study several Scripture passages:
Ephesians 6:10-20
Romans 13:12
1 Peter 5:8-10
Ephesians 2:1-10
Ephesians 4:26-27
Ephesians 6:11-12
Psalm 91
James 4:7-8
Verses to help explain each "piece" of armor
Your child will learn what the Bible says about the armor of God, who we battle, what we should "put on", and Who our fortress is. You and your child will discuss the fact that we are in a battle, but that we are not alone. If we truly love and follow Jesus, the battle is already won.
---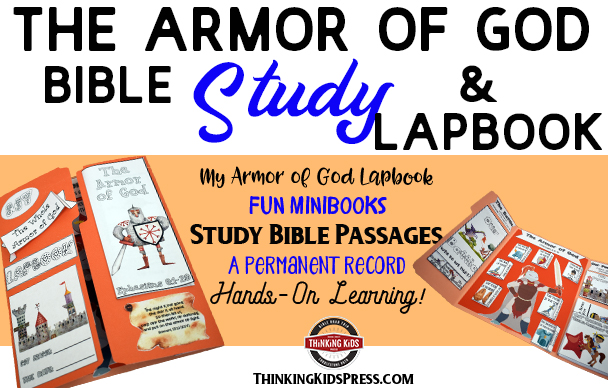 My Armor of God Lapbook
You'll find the My Armor of God Lapbook over in the Family Discipleship section of the Thinking Kids Press store. Don't forget to take a look around while you're there. You'll find some great tools to equip you to teach the Bible and Christian history to your kids!

---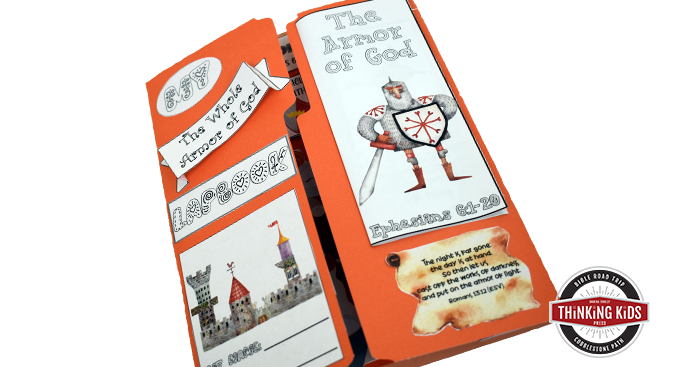 The Armor of God Lapbook Minibooks and Activities
In the lapbook, your child will find a number of fun minibooks and activities to cut, assemble, paste, color on, and write in. Depending on the age of your child, they may need a little help assembling the lapbook components. The lapbook comes with both ESV and KJV options.
The minibooks and activities include:
3-D Banner
Lapbook Cover
Waterfall Card
Banners
Layered Books
Accordion Matchbooks
Bible Memory Verse Cards and Pocket
Exploring the Bible in this hands-on way gives your child a permanent record of their study. They will remember what they've learned through a deep look at what Scripture says about the armor of God and the battle we face.
---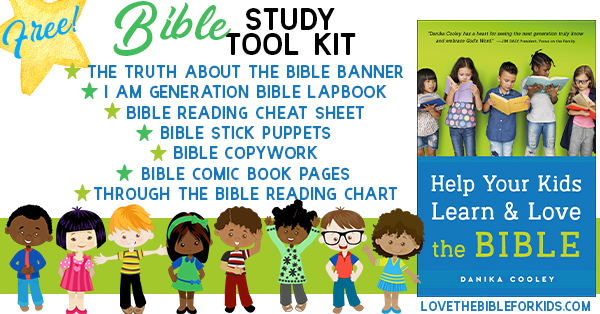 Grab your FREE Bible Study Tool Kit–over 130 pages of Bible resources for your family!
---
Supplies You'll Need for Your Armor of God Lapbook
Smead File Folder, 1/3-Cut Tab, Letter Size, Assorted Colors, 100 per Box, (11943)
Neenah Creative Collection Classics Specialty Cardstock Starter Kit, 8.5 X 11 Inches, 72 Count (46407-01)
AmazonBasics 92 Bright Multipurpose Copy Paper – 8.5 x 11 Inches, 1 Ream (500 Sheets)
Titanium Scissors 4 Pack (3 8-inch and 1 5-inch) – All Purpose Ultra Sharp Blades for Cutting Paper Fabric and Plastic
AmazonBasics Stapler with 1000 Staples – Black
ELMERS All-Purpose Glue Sticks, Large, 0.77 Oz Each, 3 Sticks Per Pack (E5022)
Pilot FriXion Clicker Retractable Erasable Gel Pens Fine Point (.7) Assorted Color Inks 7-pk; Make Mistakes Disappear, No Need For White Out with America's #1 Selling Pen Brand
Crayola 12 Ct Fine Washable Markers
You'll need a few supplies to put together your lapbook. You probably already have most of these. If not, it's worth investing in them as you will use them again and again with your kids.
A Colored File Folder
A Sheet of Cardstock in a Complimentary Color
Scissors
A Glue Stick
A Stapler
Printer Paper
Your Bible
Colored Pens to Write and Color With
---
How to Print and Use the Fruit of the Spirit Lapbook
To create the base of your lapbook, place your file folder on a table and fold both sides inward toward the creased spine of the folder. Once the outer edges meet, crease your file folder. This will give you a book that opens in the middle. You will still have a fold in the middle of your book, so I like to glue a piece of cardstock into the middle section of the book to create a thick center that won't bend.
You'll want to print the My Armor of God Bible Study and Lapbook single-sided on plain printer paper using color ink. In your lapbook pages, you will find step-by-step instructions on each minibook and activity, explaining how to assemble each.
You can watch a quick tutorial for the Armor of God lapbook above, at the beginning of this post.
The Armor of God Bible Study and Lapbook will give your child hours of thoughtful Bible study, with visuals they'll never forget.

---
Help Your Kids Learn and Love the Bible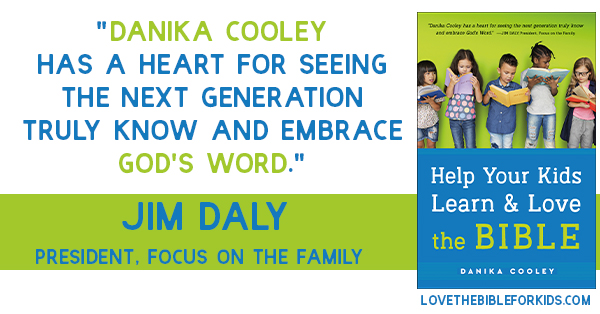 You want your kids to learn and love the Bible. 
You want to teach the Bible…
As parents, we deeply desire the best for our kids. We look for the right schools, we make them eat right and exercise, and we get them involved in extracurricular activities. We take our job as parents seriously.
But are we also putting our time and energy into
teaching them the Bible? Giving them the life-changing, soul-nourishing words of Scripture is not only doable, it's an essential part of parenting kids for Jesus. And the good news is, studying God's Word as a family doesn't have to be difficult!
2 Timothy 2:15, ESV, says:
Do your best to present yourself to God as one approved,
a worker who has no need to be ashamed, rightly handling the word of truth.
Our job, as parents who love Jesus, is to help our kids become approved workers, unashamed and rightly handling the word of truth.
The good news? Teaching the Bible isn't hard. Your family can learn the Bible together.
…and you can!
A Crash Course in Teaching the Bible to Your Kids
Danika Cooley's book, Help Your Kids Learn and Love the Bible, will give you the tools and confidence to study the Bible as a family. It will help you identify and overcome your objections and fears, give you a crash course in what the Bible is all about and how to teach it, and provide the guidance you need to set up a family Bible study habit.
You will finish this book feeling encouraged and empowered to initiate and strengthen your child's relationship with the Lord through His Word.

Help Your Kids Learn and Love the Bible will equip you with everything you need to know to teach the Bible to your kids!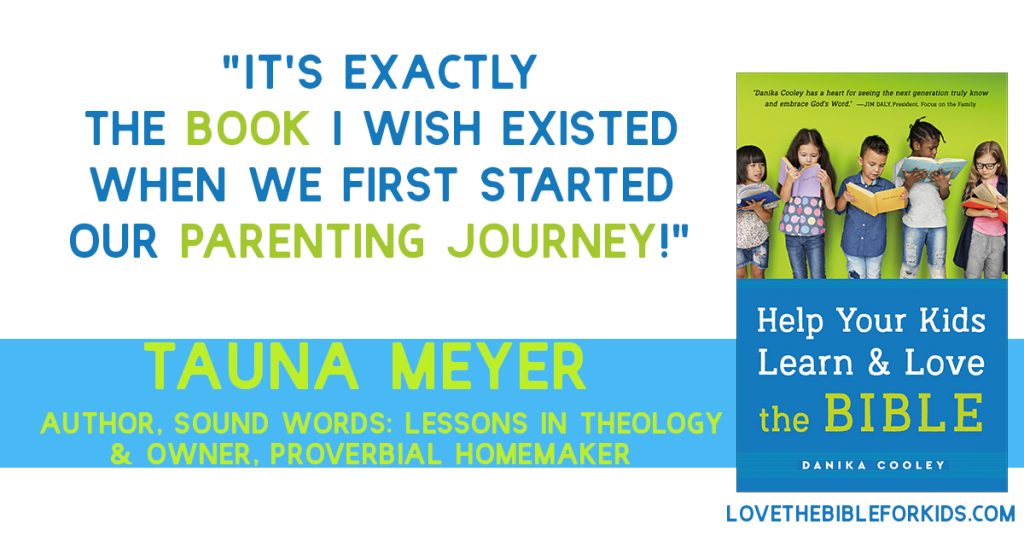 ---
More Thinking Kids Posts You'll Love!
---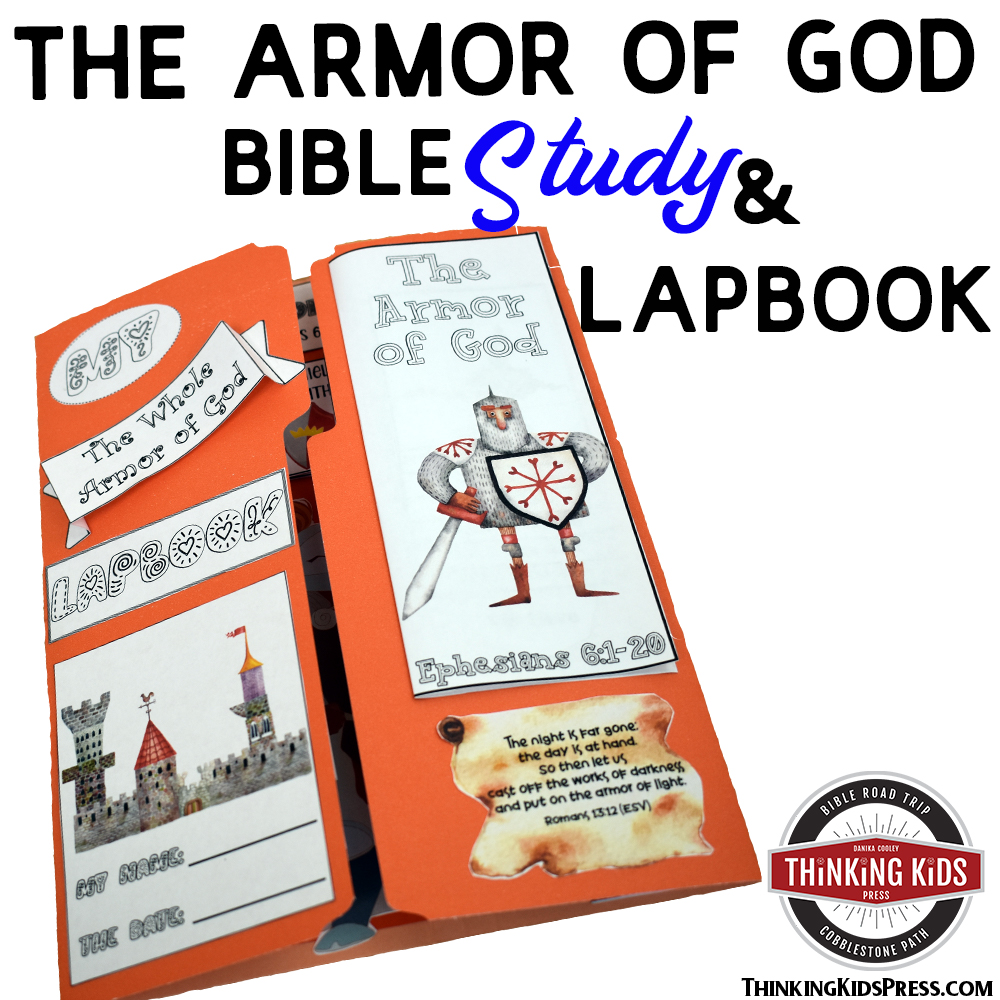 Join the newsletter
Get the Family Prayer Box Project FREE!
Teach your children to pray with this fun project that includes 7 printable sets!