The Bible has a lot to say about itself! In fact, there are a number of verses in the Bible about Scripture.
I want my kids to read Scripture itself. I also want them to have a correct view of the Bible as inspired, inerrant, and infallible. Scripture is sufficient, clear, and necessary.
The Verses in the Bible about Scripture memory cards set focuses on what the Bible has to say about the Bible.You will find cards on reading God's word: why we should and how it affects our relationship with God. The Bible actually has quite a bit to say about itself. It is so important that our kids have a clear vision of what the Bible truly is: God's inspired Word.
---
NOW is the perfect time to teach your kids the gospel! Grab your Practice the gospel every day during meals. It's quick, easy, and fun!
---
Use this set of Scripture Memory Cards to help you teach your kids about the Word of God.
---
Verses in the Bible about Scripture: Memory Cards
Children love to learn, and childhood and young adulthood are the perfect time for memorization–their brains are primed for it.
You can use your Thinking Kids Press Bible memory cards in a few ways:
Work through each card with your child until they commit the verses to memory.
Keep the cards in a box on your dining table. Read and discuss one each meal.
During your family prayer time, pray through the verses a few at a time.
Use the cards to discuss the Bible during teachable moments.
Have your child copy the verse from one card each day.
Paste them to the bathroom mirror or frame them and make a collage.
---

---
Bible Memory Verse Card Set Divider
Your family can decorate and use a Bible memory card box just like we did in the Family Prayer Box Project.
There are a number of Bible memory card sets available in the store at ThinkingKidsPress.com. You'll find a Bible memory verse card divider included in this set so that you can keep your sets separated, along with a copyright card.
---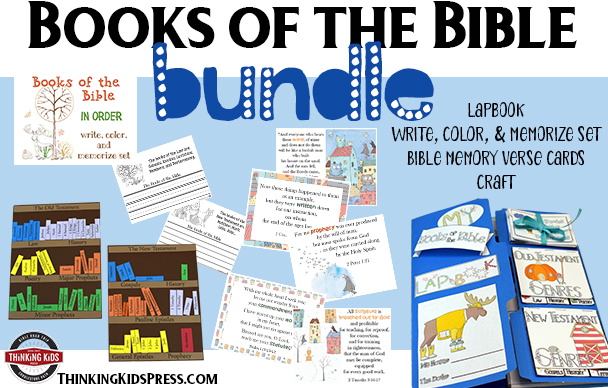 Get the Books of the Bible Study Bundle and save!
---
Scripture Memory Cards
Some of the Bible memory verses are longer passages that are split between several cards, and some are short and sweet.
These cards are put together to aid you in your family discipleship. Be creative about how you use them in your family as you teach your kids the word of God.

---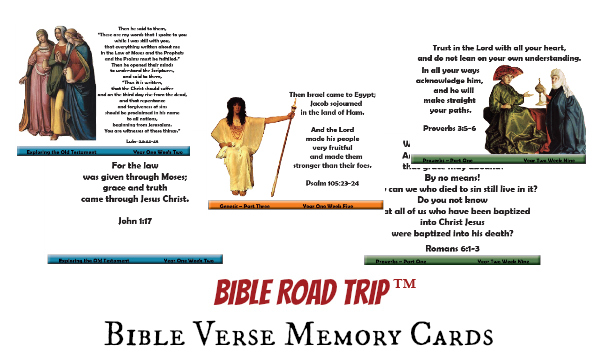 ---
Print Your Bible Memory Verse Card Set
To print your set, you'll want to print with a landscape page orientation. The memory verse cards should be printed single-sided on cardstock. You can laminate them and store them on a bookring, or print them on cardstock and store them in a special box.
Make Bible memorization fun for your children with lots of joyful encouragement!
Hiding God's Word in their hearts will benefit your children for life.
Join the newsletter
Get the Family Prayer Box Project FREE!
Teach your children to pray with this fun project that includes 7 printable sets!