Make this Christmas wreath craft with your kids and celebrate the Nativity. The Nativity wreath is simple to make, but you'll want to display it every year!
---
---
Are you looking for a fun way to help your kids think about the birth of Jesus that we read about in Luke 2:1-7?
This Christmas Nativity wreath is so cute–your kids will love making it, and they'll love pulling it out each year as you decorate. The supplies are inexpensive–you can even make these as gifts!
The Nativity scene wreath has a free template for you, so that you can cut out the felt figures.
Uncomfortable with the image of the baby Jesus? You can easily customize the wreath by substituting a manger for the baby, or by leaving the baby's face off (so the baby is facing Mary).
This cute Nativity wreath is sure to become a family heirloom.
---

---
Christmas Wreath Craft for Kids
Check out this quick video of the Christmas wreath craft for kids:
---
Tips for Art Projects with Kids
Doing art projects with kids can be a challenge. For that reason, many parents forgo this valuable time altogether. As an art major and a parent who has done frequent art projects with my four children, I have a few suggestions for you.
Cover your space. Use painting drop cloths and plastic to keep your furniture and flooring protected.
Cover your kids. Grab a couple of your old T-shirts and throw them over your kids, buy them painting aprons, or designate clothes specifically for crafting.
Do the prep work in advance. Do as much prep work for a project as you can before you get the kids involved. Not everything on the page needs to be their work. It's OK to help.
Schedule several short sessions for one project. Children need several days to be able to create larger projects. Art is time-consuming and requires energy.
Encourage your kids. Children are likely to be frustrated by the disconnect in the artwork they envision and the art they actually create. Remind your kids that they improve every time they create, and tell them how much you love their work (even if you don't know what it is!). Also, stick figures are fabulous.
Operate the hot glue gun. Hot glue burns are terrible. Until your kids are old enough to cook, I'd advise you do the hot gluing.
---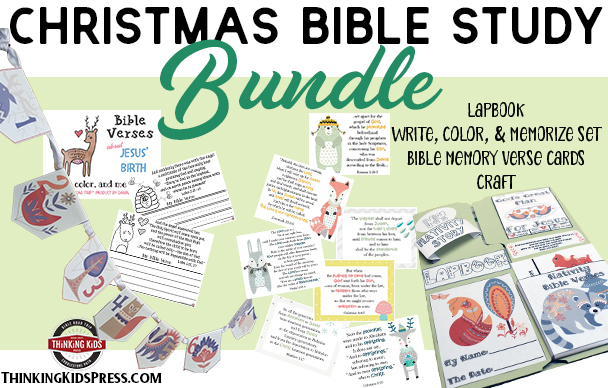 Teach your kids about Jesus with the Christmas Bible Study Bundle–and save!
---
Nativity Wreath Supplies
You'll need a few supplies to make your Nativity scene wreath.
Cardstock Paper for the Wreath Base and Skin Tone
Burlap Ribbon
Glitter Paper
Dry Twigs
Felt Pieces
Pencil
Scissors
Craft Glue
Black Permanent Marker
Red Pom Poms
Skin Tone Cardstock

Burlap Ribbon

Gold Glitter Cardstock

10CM Long 0.3-0.5CM Diameter Wood Log Sticks

6 x 6 inches Felt Fabric Squares

Paper Mate Mechanical Pencil

Office Scissors – 3-Pack

Craft Glue

Permanent Markers, Ultra Fine Point

Pom Poms

---
Make a Christmas Wreath for Kids
Here are the steps for the wooden Nativity craft for your kids. Your children can help with most of these steps, and you can step in and help whenever necessary, or you can prepare this for your family or group in advance by tracing figures onto the wood pieces.
Grab your craft instructions and template in the Thinking Kids Press store.

---

---
1) Make the Nativity Wreath Base
Use a paper dinner plate to trace the outside circumference of your Nativity wreath onto a piece of cardstock paper. Draw a circle inside the Christmas Nativity wreath base, leaving about two inches for your wreath base. Carefully cut out your wreath, and cut out the interior of the wreath. This will leave you a ring of cardstock.
Cut long strips of burlap fabric, then wrap your Christmas wreath base to cover it. Glue the beginning of each burlap strip to the cardstock ring, then glue the end of each strip before gluing a new strip to your Christmas wreath.
---
2) Cut Out Your Nativity Scene Wreath Figures
Print the Christmas wreath craft template for your kids. (Find your template printable above–just enter your information in the form.)
Cut out the template pieces. Trace the template pieces of the characters on colored felt. Cut out the traced patterns. Trace the star pattern on glitter paper, then cut it out.
Nativity scene wreath cast of characters:
The scene on your wreath is simple:
A Swaddled Baby Jesus, or a Manger (depending on your view on the second commandment)
Mary
Joseph
The Star
The Inn (created from twigs)
Assemble your felt pieces to create the Nativity scene characters. Glue the pieces together using craft glue. Use your permanent marker to mark faces on the characters if you'd like.
---
3) Make Foliage for Your Christmas Wreath
Cut out leaf shapes from green colored felt fabric.
Make a thin fold halfway through the middle line of the felt leaves and glue the fold to give the felt leaf a 3-dimensional look.
Attach 2 or 3 leaves together and glue a pompom in the center of the leaves.
---
4) Create a Stable for your Nativity Scene Wreath
Attach 2 dry twigs on each side of the Nativity wreath to form the sides of the stable. Be sure to keep a large enough gap between the twigs that you will be able to place Mary and Joseph inside the stable.
Glue Mary, Joseph, baby Jesus (or the manger you made) inside the stable.
Use two twigs to create a roof for the stable, and glue them onto the wreath. Glue your foliage to the wreath.
---
5) Finish Your Christmas Wreath Craft
Attach your glitter star to the top of the wreath.
Make a small loop with your burlap ribbon and glue it on the top of the backside of the Nativity wreath. Once the glue dries, use your loop to hang the Christmas wreath.
---
Your kids can learn about the Bible, who God is and more with this fun daily devotional for kids. With 12-months of Bible verses calendar printable sheets, your family will concentrate on a monthly focus. There are six days of reading each week, each day with it's own focus within the monthly theme.
Your 12-month Bible verse calendar has themed devotions focusing on:
The Bible
Love
The Church
Resurrection
Jesus
Prayer
The Holy Spirit
The Fruit of the Spirit
Salvation
Our Father
Thanksgiving
Advent
Want a sample calendar? Grab your free Christmas Advent calendar here.
---
Books Make Great Gifts!
Teach the kids about the Bible and Christian history…
                                  …with fun books they'll love reading!
Introduce your children to engaging stories written in an engaging narrative they'll want to read. As they learn more about God's Word and gain real-life heroes, they will learn to apply Scripture to their own lives. And, give yourself the gift of a book that will help your kids learn and love the Bible.
This Christmas, give the gift of learning your family will remember a lifetime!
---
More Thinking Kids Posts You'll Love!
---
Join the newsletter
Get the Family Prayer Box Project FREE!
Teach your children to pray with this fun project that includes 7 printable sets!