Teach your kids about Jesus, the light of the world with this fun and lasting Christmas craft for kids. You'll want to make extras to gift!
---
This post is a part of the Bible Christmas Crafts for Kids series.
The Jesus the Light of the World Christmas Craft for Kids was created especially for you by Michelle Hubbard  from Hubbard's Cupboard. ~ Danika
---
As we enter the Christmas season, it's important to take time to focus on the true reason we celebrate – the birth of Jesus, our Savior!
Each December, when our children were younger, our family would go through a daily activity guide that I created called Celebrating Christmas.  We'd countdown the days until Christmas using our star charts, memorize Luke 2:1-20, do daily Bible readings, make related crafts, and, of course, participate in some yummy baking (and eating!).
---
Teach your kids about the biblical story of Christmas, God's plan for Jesus, and four names for Jesus with the Nativity Lapbook.
---
Jesus, the Light of the World
As the kids have grown older, we've turned to the study of the names of Jesus.  We are currently on our second year of His Great Name: Jesus and are memorizing John 1:1-18.  In this passage, we can tie in several names Jesus is referred to, such as the Word, Creator, etc.  Jesus is also described as the true light…
The true light that gives light to every man

was coming into the world.

~John 1:9
The long awaited, promised Messiah was coming into the world!  And He was (and is) the true light who illumines the way to reconciliation with God and eternal life with Him.  Jesus Himself even said…
I am the light of the world.

Whoever follows me will never walk in darkness,

but will have the light of life.

~John 8:12
Are you looking for a meaningful decoration for your home or searching for a gift to share with others that reflects this truth and the Light of Christ at Christmas?  Why not enlist the assistance of some of your older children and create these lovely Jesus, the Light of the World Jar Candles!
I have come into the world as a light,

so that no one who believes in me

should stay in darkness.

~ John 12:46
---

---
Jesus, the Light of the World Christmas Craft for Kids
Check out this quick video showing you how to assemble your jar candle craft for kids:
---

---
Supplies Needed to Make Your Jesus, the Light of the World Christmas Craft for Kids
Smooth, clear, quart size mason jar
Contact Paper
Free Printables at Hubbard's Cupboard

Light of the World Star Patterns
Light of the World Scripture Tags
Christmas Gift Bag Tags

Scissors
Krylon Glitter Blast Diamond Dust Spray Paint
Evergreen Garland
Red Glitter Balls (decorative Christmas balls), 20-25 per jar
Candle (battery operated, for safety)
Christmas Ribbon (5/8 inches wide)
Hot Glue Gun and sticks
Cardstock (red and white)
Hole Punch
Optional: Printable Gift Tags, Curling Ribbon, Tissue Paper, and Gift Bag
Hot Glue Gun

Neenah Bright White Card Stock, 65lb

Neenah Astrobrights Red Card Stock

1-Hole Punch

Krylon Glitter Blast Diamond Dust

2 Rolls Christmas Ribbon

Con-Tact Brand Clear Covering Self-Adhesive Film

Christmas Balls

Christmas Decor Artificial Pine Garlands

Westcott Scissor

Battery Operated Tea Lights

---
---
Creating Your Jesus Light of the World Christmas Craft for Kids
1) Trace the star patterns onto contact paper.
---
2) Cut out the star shapes from the contact paper.
---
3) Attach one large star and a few smaller stars to the outside of the clear mason jar.
---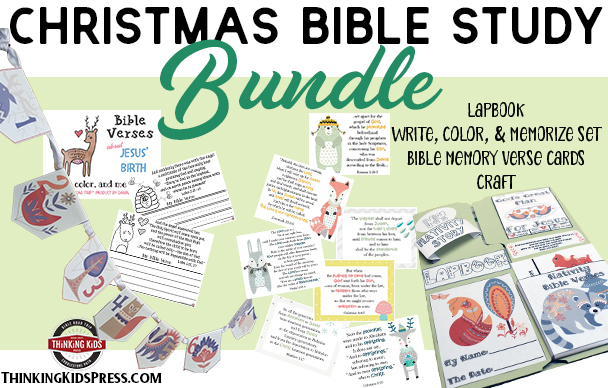 Teach your kids about Jesus with the Christmas Bible Study Bundle–and save!
---
4) Spray paint the outside of the mason jar.
Please make sure to do this step in a well ventilated area with your floor and surroundings protected in case of possible over spray. Ensure that you follow all of the stated instructions on the can for safety. I would also suggest that a responsible teen or adult perform this step.  As for a how-to tip: We turned our jars upside down as we were spraying and had great results!
---
5) Allow the painted jar(s) to air dry completely.

Ours took about 30 minutes to air dry, but there could be many variables that affect the drying time.  Please make sure that the paint is thoroughly dry before proceeding with the next step.
---
6) Carefully remove the contact paper stars from the jar.
This was our family's favorite step!  Lots of 'oohs' and 'ahhs' could be heard as each clear star was revealed amidst a shimmering backdrop!
---
7) Cut the evergreen garland into a 14 inch long strip (approximately).
---
8) Layer the following into your jar: garland, red glitter balls, and a battery operated candle.
---
9) Cut 2 strips of Christmas ribbon per jar. 
One ribbon should measure approximately 16 inches long and the other 18 inches long.
---
10) Use a hot glue gun to secure the 16 inch length of ribbon to the rimmed edge of the jar.
Let any excess ribbon criss-cross and hang down. Use another dot of hot glue to secure the ribbon where it crosses.
---
Cut the paper to form a 2 1/2 by 3 inch tag. We adjusted our printer settings to be able to print multiples on a page, getting 8 tags per sheet.
---
12) Create your Jesus, the Light of the World gift tags.
Cut the red cardstock into 2 by 3 1/2 inch pieces.  Then, layer the red cardstock under your white Scripture Tag.  Next, use a hole punch to make a hole along the top edge, in the center of the grouped tags.
---
13) Tie the ribbon to the tag.
Using the 18 inch long ribbon that you cut previously, thread through the holes and form a bow.  You may wish to fold over your ribbon on the back of your tag and use a dab of hot glue so that your ribbons show from the front the way you desire.
---
14) Use the hot glue gun to attach the ribbon and tag to the decorative jar.
---
15) Wrap your Jesus, the Light of the World jar.
If desired, place the jar into a gift bag with tissue.  Add a tag. Then, deliver to brighten someone's day this Christmas season and to share Jesus – the one true Light of the World!
Many blessings to you all this Christmas as you reflect on the wonder of Jesus – 
the Light of the World that shines brightly in the midst of darkness.
-Michelle
You can find Michelle creating printables and sharing ideas for joyful learning experiences at Hubbard's Cupboard – where she has been an educational web author for over 17 years. She is a follower of Jesus, wife to a missionary software developer, and a homeschool mama to 5 sweet blessings. She craves dark chocolate, thrives on organization, and has a strong desire to see the next generation grow in their love for Christ and the Word of God.
Michelle also blogs at Joy to the Heart and Joyful Heart Learning. You can also find her on Facebook and Pinterest.
---
Explore 25 names of Jesus through Bible study, devotions, and activities with this family Advent unit study in ESV or KJV.
---
Your kids can learn about the Bible, who God is and more with this fun daily devotional for kids. With 12-months of Bible verses calendar printable sheets, your family will concentrate on a monthly focus. There are six days of reading each week, each day with it's own focus within the monthly theme.
Your 12-month Bible verse calendar has themed devotions focusing on:
The Bible
Love
The Church
Resurrection
Jesus
Prayer
The Holy Spirit
The Fruit of the Spirit
Salvation
Our Father
Thanksgiving
Advent
Want a sample calendar? Grab your free Christmas Advent calendar here.
---
Books Make Great Gifts!
Teach the kids about the Bible and Christian history…
                                  …with fun books they'll love reading!
Introduce your children to engaging stories written in an engaging narrative they'll want to read. As they learn more about God's Word and gain real-life heroes, they will learn to apply Scripture to their own lives. And, give yourself the gift of a book that will help your kids learn and love the Bible.
This Christmas, give the gift of learning your family will remember a lifetime!
---
More Thinking Kids Posts You'll Love!
---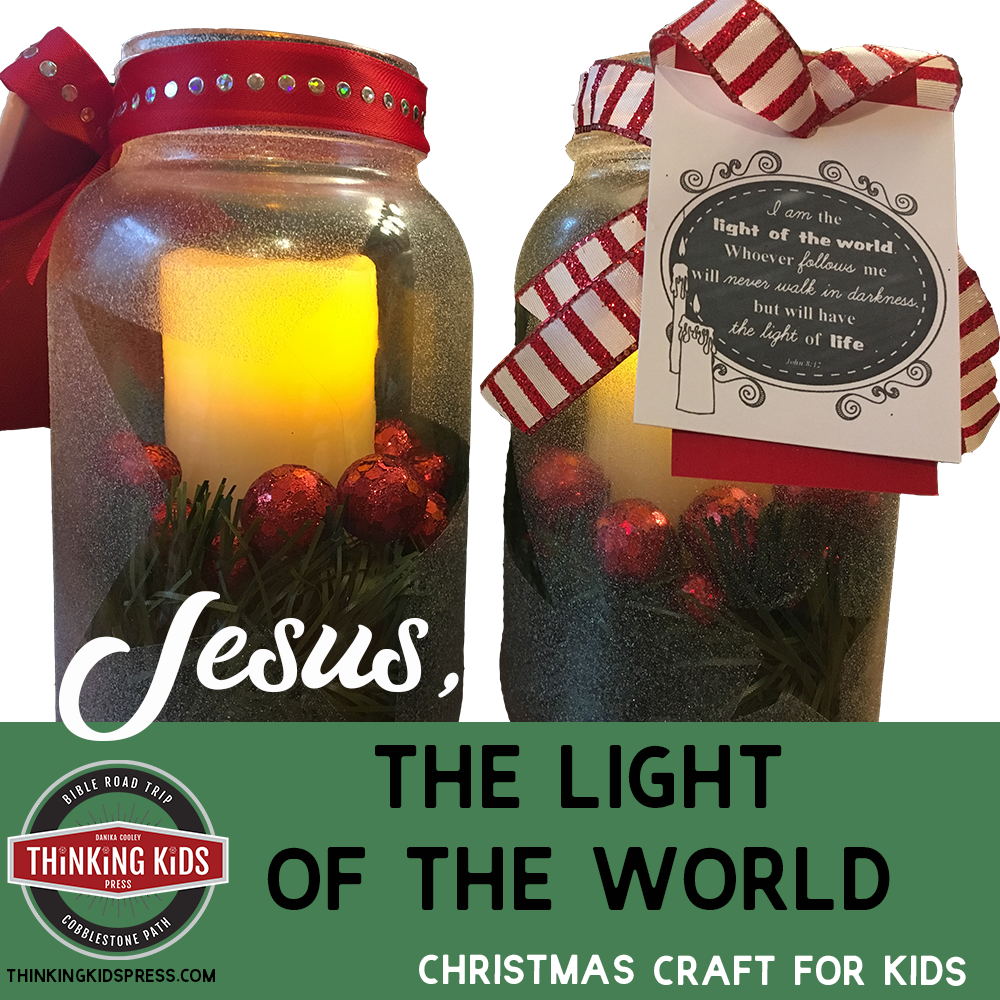 Join the newsletter
Get the Family Prayer Box Project FREE!
Teach your children to pray with this fun project that includes 7 printable sets!