The Who What Why series of Christian biographies for kids is an exciting journey through history. Christian history books for every library!
---
Christian Biographies for Kids | Christian History for Kids | Theology for Kids
"As for the saints in the land, they are the excellent ones, in whom is all my delight." – Psalm 16:3, ESV  
Christian History Matters for Our Kids.
History matters. Now, more than ever, we see how important it is for our children to know and understand history and the Bible.
Here's why:
God is the sovereign ruler of all things. It's important for our kids to see his hand in the history of nations and in the lives of both peasants and kings. 

Christian history is the story of our family history. Our kids get to see how people who love Jesus follow him.

Understanding history can help our kids learn historic and biblical theology. They learn what the Bible says and what that means for us. They also see when the study of Scripture has taken important turns that have changed the Church.   

Reading Christian biographies and history can be a wonderful way for kids to think outside their own time and culture. God's Church spans centuries and includes people from every nation.    

Christian biographies help kids consider their own faith, walk with Jesus, and the impact their witness may one day have on others–and on history. 
Elementary-aged kids need middle grade resources that are fun, a little sassy, and that teach valuable lessons. 
The Who What Why Series is the perfect resource to teach your kids about history, while helping them apply biblical truths to their lives today.
---
Purchase Who What Why Christian Biographies for Kids
Who was Martin Luther? (Who What Why)
What was the Gutenberg Bible? (Who What Why)
Why did the Reformation Happen? (Who What Why)
---
Who What Why Series Endorsements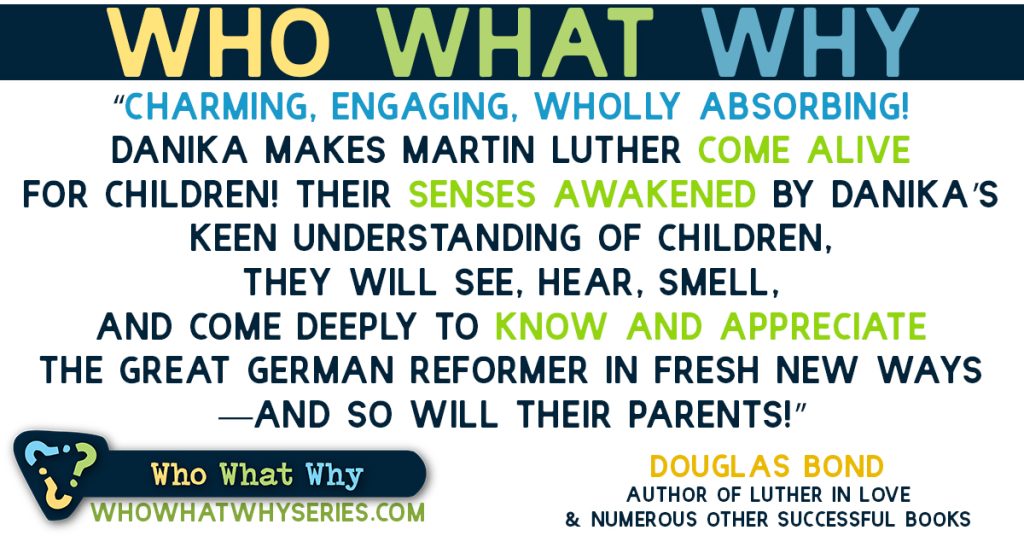 "Charming, engaging, wholly absorbing! Danika makes Martin Luther come alive for children! Their senses awakened by Danika's keen understanding of children, they will see, hear, smell, and come deeply to know and appreciate the great German Reformer in fresh new ways—and so will their parents!" Douglas Bond, Author of Luther in Love and numerous other successful books
"Danika Cooley gives us an engaging look into the world of the reformation with her Who, What, Why series. Her readers will find her books entertaining as well as helpful as she introduces them to all the important people, places and events. Throughout this series, children will be able see the hand of God in history." Linda Finlayson, Author of God's Timeline and God's Bible Timeline
---
The Reformation Church
The Reformation was an important time in both the history of the Christian Church, and in global history.
God used his Word, new technology, and faithful believers to bring people to the truth of Scripture. We are saved by grace through faith in Christ alone. Scripture alone is our authority–not the word of councils or popes. We live our lives and do all things to the glory of God alone.
Teach your kids about the Reformation Church with fun narrative and important biblical truth through the Who What Why series from Danika Cooley and Christian Focus Publications.
Who Was Martin Luther?
Martin Luther was a young man who was afraid of a thunderstorm. He was a monk seeking for salvation. He was a reformer who inspired a continent to return to the Word of God. Introduce your 8–11 year olds to this key figure in the Reformation.
Amazon | Thinking Kids Press | Christian Book
---
Sometimes the people who change the world come from the most unlikely of places. Places like a little town in a little country no one paid much attention to at the time. Often the people who change the course of history are not all that important seeming until you look back and see what it is they really did with their lives.

Who Was Martin Luther?, Danika Cooley (Christian Focus Publications, 2021), page 9
---

What Was the Gutenberg Bible?
Johann Gutenberg invented a world–changing machine that meant people could read God's Word for themselves. The world could share ideas, discoveries, and news. God's Word could be quickly, inexpensively and accurately reproduced. Help your 8–11 year–olds discover how the printing press paved the way for the Reformation.
Amazon | Thinking Kids Press | Christian Book
---
Just fifty years after twelve Death Ships pulled into the harbor in Sicily, and a decade after an English professor secretly translated Latin words into English, a man named after his house defied all odds and created a machine that would spread words across the world like dandelion seeds. The interesting thing about history is it is like a line of dominoes standing on end. Every event is a result of things that happened before. Once things happen, they impact what comes next–just like dominoes knocking each other over.

What Was the Gutenberg Bible?, Danika Cooley (Christian Focus Publications, 2021), page 6
---

Why Did the Reformation Happen?
The Church was following the words of men rather than the Word of God but brave men read God's Word and were saved from their sins. They fought for truth against the most powerful organizations of the time – the Church and the Crown. Help your 8-11 year olds explore how God's people changed the Church, Europe and the World. This is the story of how the Church found the gospel and the people heard about Christ.
Amazon | Thinking Kids Press | Christian Book
---
Lost things, once they are forgotten, can be hard to find again. Have you ever cleaned the back corner of your closet, only to find something you once dearly loved? Maybe it was your favorite shirt and now you are too big to wear it.

Alas–that's a word which means oh no!–just over five hundred years ago, God's people lost his Word to us.

Why Did the Reformation Happen?, Danika Cooley (Christian Focus Publications, 2021), page 6
---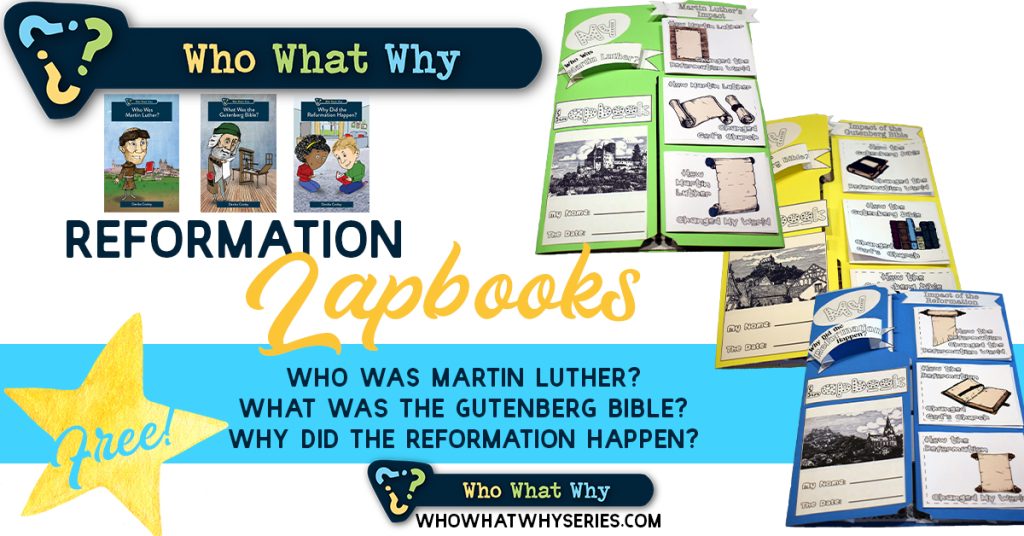 Continue the Learning
You and your child will study:   
The impact of Martin Luther, the Gutenberg Bible, and the Reformation on the Reformation world, on the Church, and on your child's world.

The Reformation world. Your child will learn about what it was like to live during the time of the Reformation.

The people involved in each Christian history story.

Reformation vocabulary.

The timeline of each story.

The geography of each Reformation story.

Theology: The five Solas, Ephesians 2:1-10, and Isaiah 55:10-11.
The Who What Why Series Reformation lapbooks will help your child learn and record important facts about Christian history and theology, with visuals they will not forget.
---
Join the newsletter
Get the Family Prayer Box Project FREE!
Teach your children to pray with this fun project that includes 7 printable sets!