Make these fun Christian Easter cross rice crispy treats with your kids! Grab your downloadable instructions and Jesus Lives stick labels, too!
---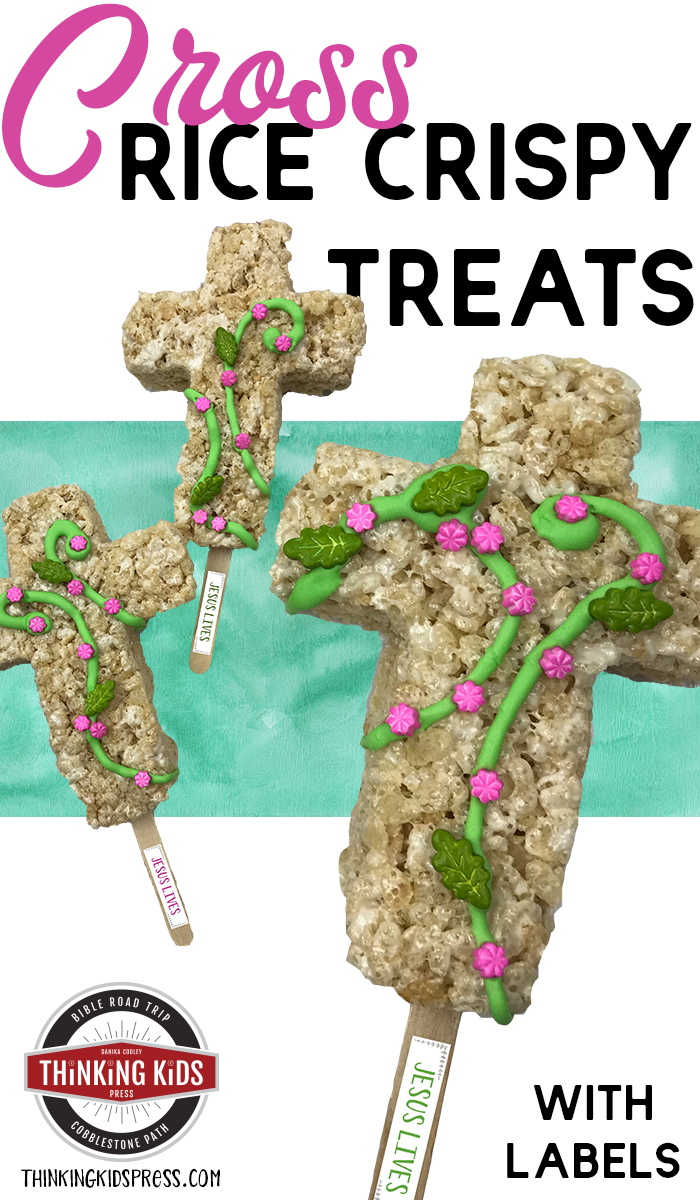 ---
"Therefore, since we are surrounded by so great a cloud of witnesses, let us also lay aside every weight, and sin which clings so closely, and let us run with endurance the race that is set before us, looking to Jesus, the founder and perfecter of our faith, who for the joy that was set before him endured the cross, despising the shame, and is seated at the right hand of the throne of God." – Hebrews 12:1-3, ESV
The Cross of Jesus Christ
Easter is such an exciting time of year, when we look to the cross of Christ, and remember that Jesus willingly bore our sins, taking our punishment on himself.
It's so important that we teach our kids the full gospel!
God created man to glorify God
Man sinned and was separated from God
All humans have sinned and fallen short of God's standards
The wages of sin is death
God loves us so much that He made a way for us to be forgiven and reconciled to Him
God sent Jesus, his sinless Son, to bear our sins
Jesus, God the Son, died in our place for our sins
Anyone who believes in Jesus, confesses him with their mouth, and repents of their sin will be saved
Believers in Jesus are forgiven their sin and adopted as one of God's own children
---

---
When our kids see the cross, they can remember the price Jesus paid for the forgiveness of all who believe.
This cross rice crispy treat project is a fun way to spend an afternoon with your kids, talking about the gospel, and creating sweet treats. It can be a yearly tradition! With the fun Jesus Lives labels, your rice crispy treats will be gift-worthy. You can share them with neighbors, your Sunday school, or co-op class!
---
Christian Easter Cross Rice Crispy Treats
Check out this fun video I made of the Easter rice crispy treats!
---
Tips for Making Rice Crispy Treats for Easter with Kids
Working on snack projects with kids is so much fun, but it can be a challenge. If you choose to involve your kids, I have a few suggestions for you.
Expect a mess. Put your child's long hair up, wash little hands, and have them wear washable clothes.
Prepare the food before hand. For little ones, the real fun is in the decorating, so do as much of the prep work as you can before you involve the kids.
Keep basic supplies on hand. I'm embarrassed to tell you how many types of sprinkles I have. We eat really healthy, but when we celebrate, there are always sprinkles involved. It's nice to have a little supply of food decorations. You know, for emergencies.
Set the food to be decorated on a child-size table or on a plastic table cloth on the floor. Nothing ruins the food decorating fun faster than having a child fall off a kitchen stool. Your kids will be intent on their decorating task. They may not remember they're standing high above the ground. (Don't ask me how many children fell off before I realized this!)
It's OK to do easy. For special celebrations, there's nothing wrong with using store-made supplies!
---
Jesus Lives Printable Labels
Sign up for the Thinking Kids newsletter, and you'll receive encouragement, free gifts, and exclusive offers. Grab your FREE Jesus Lives printable labels with step-by-step rice crispy treat instructions.

---
These cute Bible memory verse cards will teach your kids the doctrine of atonement!
---
Supplies Needed to Make Your Easter Cross Rice Crispy Treats
You'll need a few supplies to make your project. You may have a few of these items already. If not, these are all fairly inexpensive and will serve you well for multiple projects.
Kellogg's Rice Krispies, Breakfast Cereal, Toasted Rice Cereal, Fat-Free, 12 oz Box
Kraft Jet Puffed Mini Marshmallows, 10 Ounce Bag (Pack of 2)
Grassland Dairy Unsalted Butter (1 pound)
Holy Cross Cookie and Fondant Cutter – Ann Clark – 4.1 Inches – US Tin Plated Steel
Wilton 1911-421 Candy Melts, 12-Ounce, Vibrant Green
Garden of Life Organic Extra Virgin Coconut Oil – Unrefined Cold Pressed Coconut Oil for Hair, Skin and Cooking, 14 Ounce
Flower Sprinkles
Wilton Holly Mix Sprinkles
Artlicious – Natural Wooden Food Grade Popsicle Craft Sticks (1000 Sticks)
HP Printer Paper, BrightWhite24, 8.5 x 11, Letter, 24lb, 97 Bright, 500 Sheets / 1 Ream (203000R), Made In The USA
Best Titanium Scissors – 5 Pack – 8
Elmer's All-Purpose Glue Sticks 3/Pkg.77oz
6 cups of crispy rice cereal
10 ounces of miniature marshmallows
3 tablespoons butter
Cross Cookie Cutter
Light green candy wafer melts
Coconut oil or shortening
Flower sprinkles
Leaf sprinkles
Scissors
Paper
Glue sticks
---
Creating Your Christian Cross Rice Crispy Treats
Before you get started on the rice crispy treats, read Hebrews 12:1-3 with your kids.
Talk to your kids about how Jesus endured the cross for us, so that we can be saved from our sins. This was God's plan for salvation–that Jesus would die for our sins, that he would be raised to life eternally. When we believe on Jesus, confess him with our mouth, and repent of our sins, we're saved! When we remember that Jesus loved us enough to suffer the cross for us, we can look to him as we run the race before us!
Here are the steps to make your Easter rice crispy treats:
---
1) Print Your Jesus Lives Labels.
Print out your labels on printer paper and cut them out.
---
2) Glue Your Labels On.
Glue one label to the end of each craft stick with a glue stick. Let the glue dry so your food isn't exposed to glue.
---
3) Prepare a Baking Sheet.
Line a 13″ x 9″ baking sheet with wax paper. Spray the wax paper with a light layer of non-stick cooking spray.
---
4) Make Your Rice Crispy Treats.
Melt butter in a large saucepan over low heat. When the butter is melted, add the marshmallows and melt, stirring constantly. Remove the saucepan from heat. Fold in the cereal. Stir until the cereal is coated in the marshmallow.
---
5) Press Your Rice Crispy Treats into the Baking Sheet.
Using a buttered spatula or greased wax paper evenly press mixture into baking sheet. Cool completely.
---
6) Cut Out Each Easter Cross.
Use a cross-shaped cookie cutter to cut out your treats. If the treats are loose, press additional rice crispy mixture into the cookie cutter before releasing the shape onto waxed paper. Reshape the remaining cereal "batter" in your baking pan until all is used.
---
7) Decorate Your Cross with Vines.
Place candy coating in a microwave safe bowl. Melt on high heat, stirring every 30 seconds until completely melted. Do not overheat. If the candy is too thick, add vegetable shortening or coconut oil in 1 teaspoon increments, up to 1 tablespoon, and stir well. Do not add water. Transfer to a piping bag or zip top freezer bag with one corner snipped.
Pipe green vines on each cross.
---
8) Apply Leaves to the Vines.
Immediately press the leaf sprinkles onto the vines.
---
9) Apply Flowers to the Vines.
While the frosting is still wet, apply flower sprinkles onto the vines. Gently press the sprinkles into the frosting.
---
10) Allow Frosting to Set.
Allow treats to set completely before serving or packaging to give as gifts.
---
Easter Books for Your Family
The Third Day: The Gospel of Luke 22-24
The World Created, Fallen, Redeemed, and Restored: The Gospel Plan of God
The Easter Story: The Bible Version
My Easter Activity Book: 40 Days to Celebrate Jesus' Resurrection
Jesus: The Best Story (Board Book)
---
Share Your Finished Cross Rice Crispy Treats!
Take a picture of your child's finished craft and share it on social media with the hashtag #BibleRoadTrip. You can tag me as well! I'd love to reshare it. I'm on Pinterest, Facebook, Twitter, and Instagram.
---
More Thinking Kids Easter Posts You'll Love!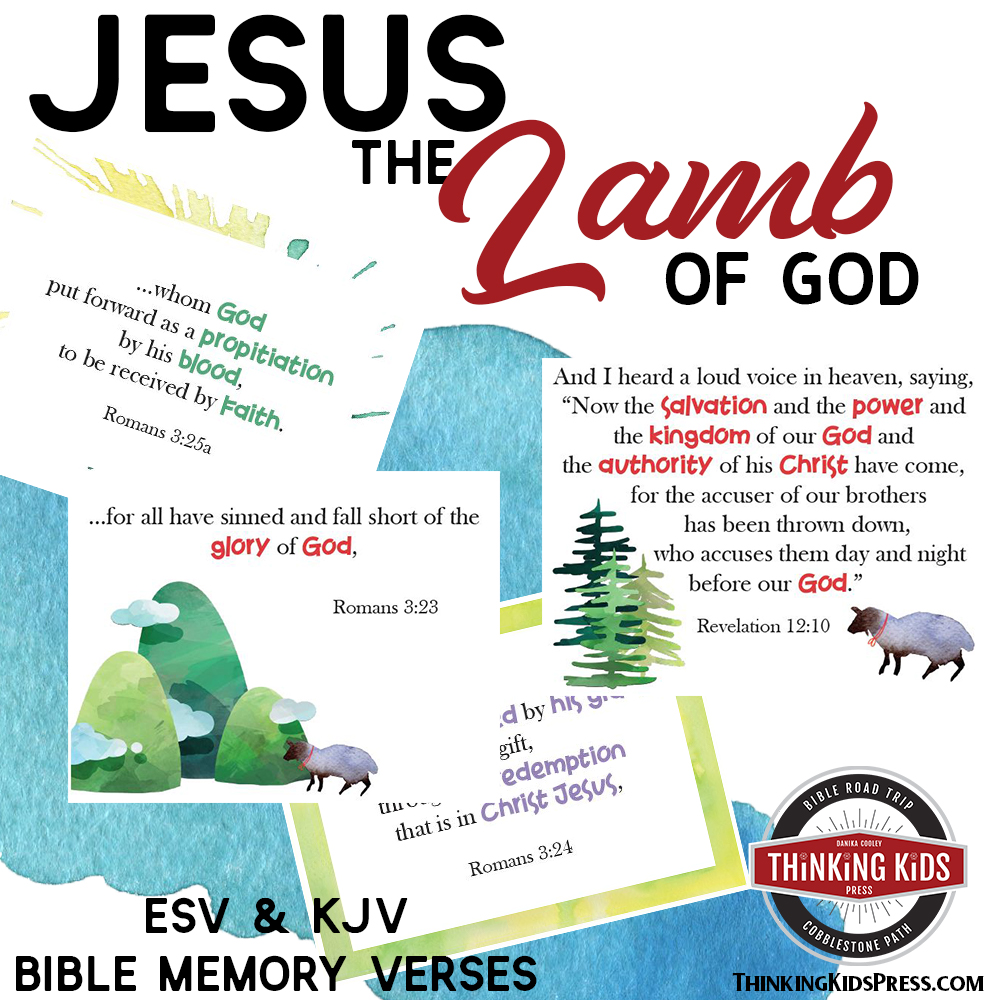 Jesus, the Lamb of God, Bible Verses for Children
Our Hope Bible Verses Bundle: Write, Color, and Memorize Bundle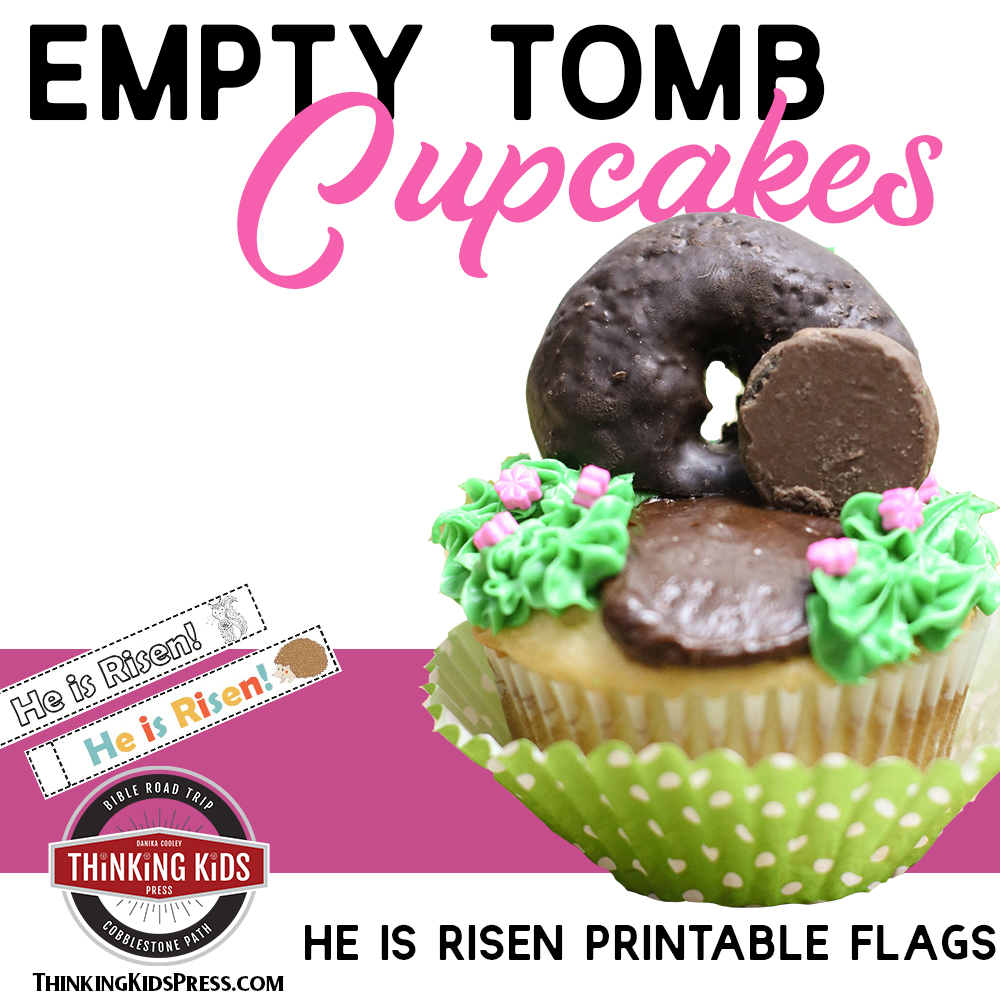 Empty Tomb Cupcakes with He is Risen Printable Flags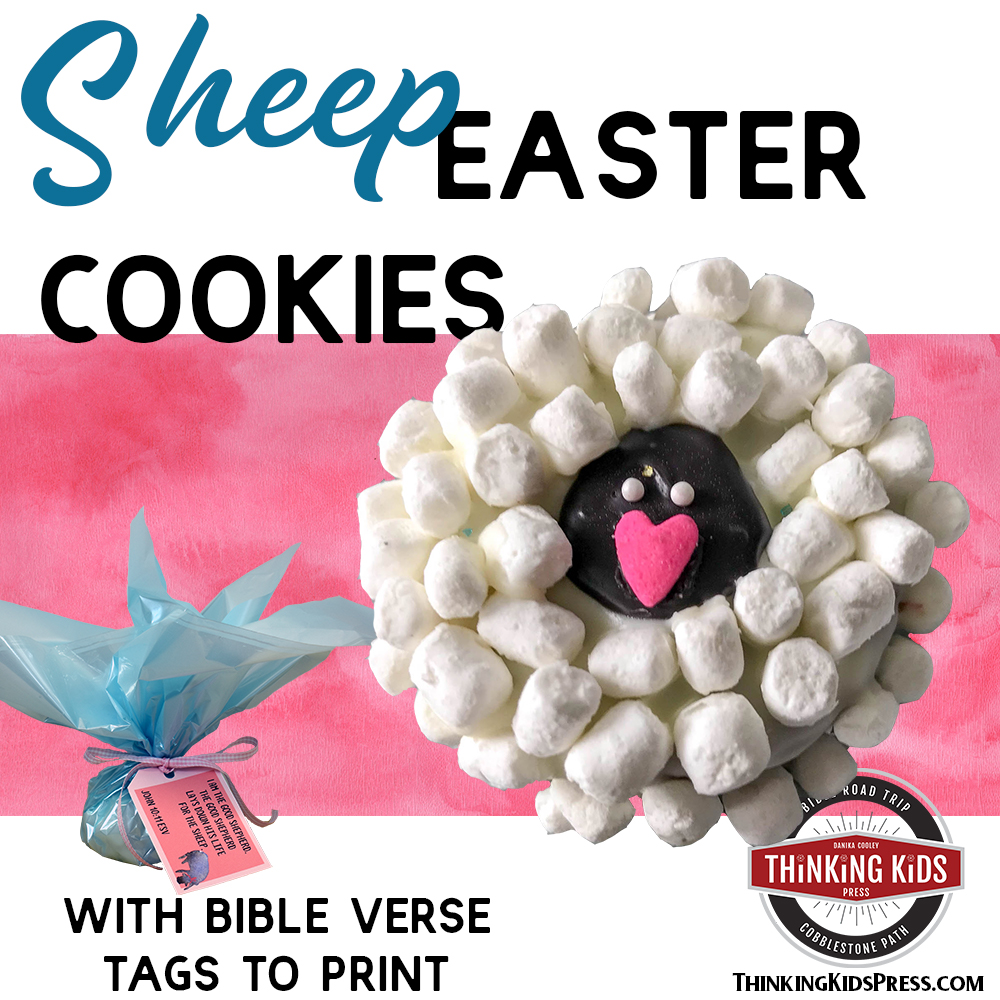 Sheep Easter Cookies with Bible Verse Tags to Print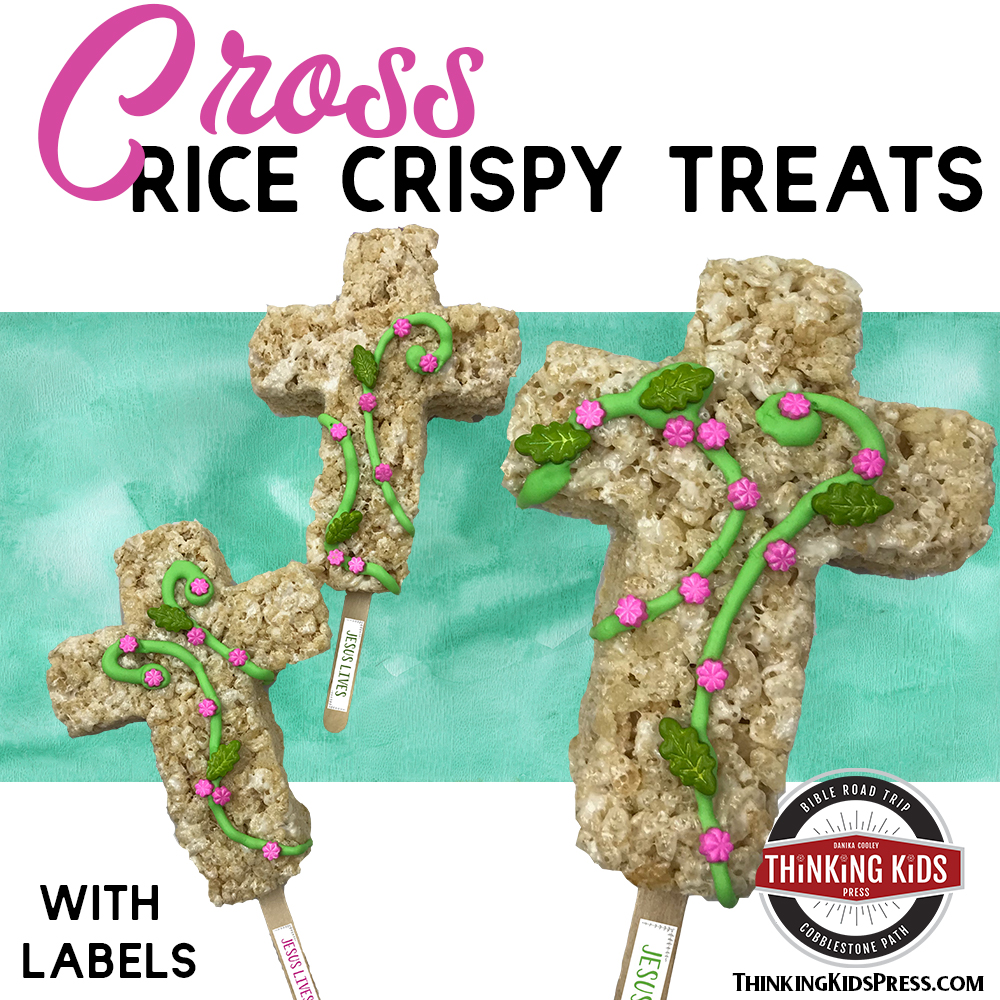 Christian Easter Cross Rice Crispy Treats
100+ Easter Activities for Christian Kids
Easter Story Game
Resurrection Bible Verses: Write, Color, and Memorize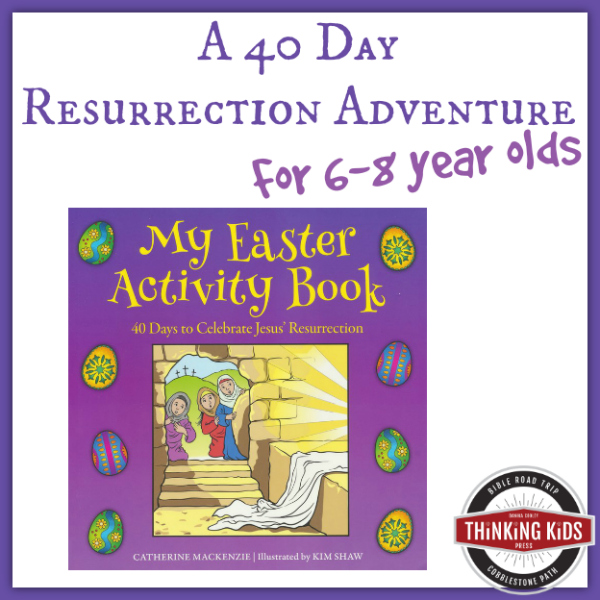 My Easter Activity Book
The Easter Story for Kids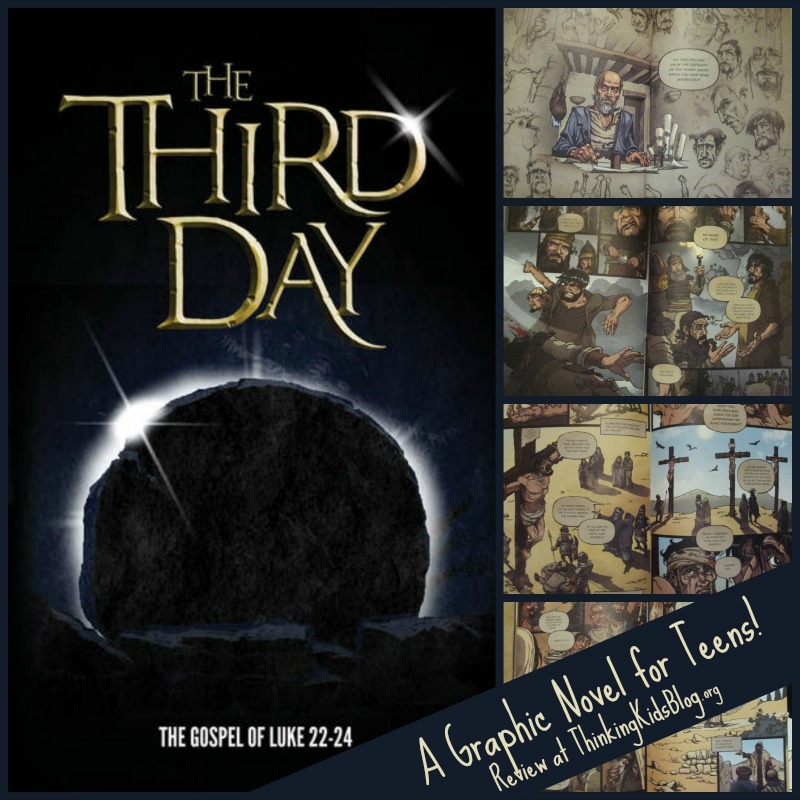 The Third Day: Graphic Novel of Luke 22-24
---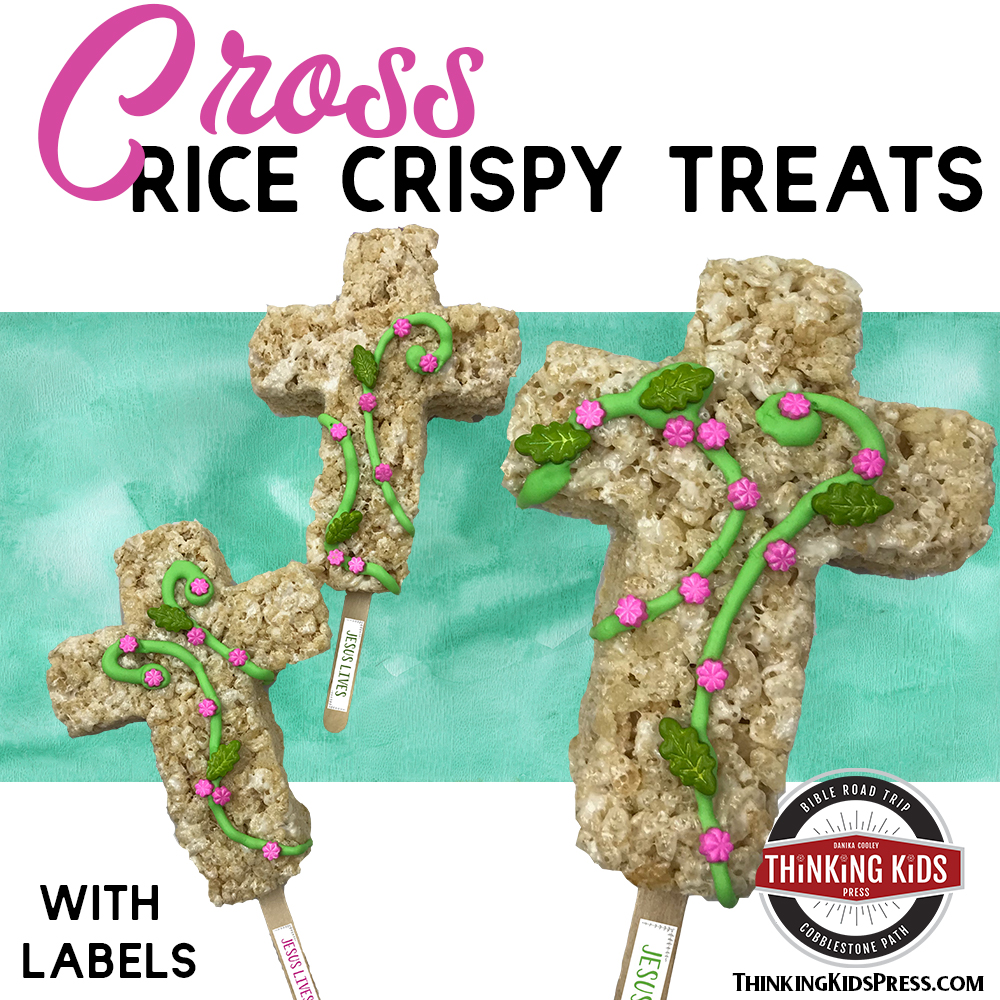 Join the newsletter
Get the Family Prayer Box Project FREE!
Teach your children to pray with this fun project that includes 7 printable sets!