Give thanks with your family this season with this fun list of Thanksgiving activities for kids (there are some great printables too)!
---
---
In the United States of America, Thanksgiving is an historic holiday, with a definite beginning and purpose. It was originally started by the Pilgrims and Puritans in 1621 as a way to give thanks for the harvest after an incredibly tough first year in America.
---
NOW is the perfect time to teach your kids the gospel! Practice the gospel every day during meals. It's quick, easy, and fun!
---
My friend Donald W. White took William Bradford's original journal, annotated it, and rewrote it using modern-day English, titling the book A Plymouth Pilgrim. The book ends with the recorded celebration of the first Thanksgiving. It's a great piece of literature for families and older students.
The holiday of Thanksgiving today serves as a reminder that we are called to be grateful to God for all things.
As you discuss Thanksgiving with your children, here are two passages you can look over:
Psalm 107 ~ Ask your children what character of God is being pointed out in this Psalm over and over again. What does the Psalm say about God's sovereign rule over all things? When are we to praise God and give thanks?
Ephesians 1:3-14 ~ Talk to your family about what this passage means for believers. What cause do we have for daily rejoicing? How does our very salvation work to the "praise of His glory"?
---
Focus on what the Bible says about giving thanks to God with this free devotional Thanksgiving calendar!
---
Thanksgiving Activities for Kids
Here are some studies and activities about Thanksgiving for you to try with your kids this year! These focus on both the history of the American holiday, and on our gratitude to God for all He has given us.
The Super Accurate and Serious Lego History of Thanksgiving from Adventures in Mommydom ~ I love this fun history lesson from my friend Ticia. I'm sure your kids will enjoy it as well!
---
My Thanksgiving Notebook from Path Through the Narrow Gate ~ These fun notebooks are free to download.
---
Give Thanks with a Grateful Heart Card Set ~ This thanksgiving activity card set comes with:
12 Bible verse memory cards in ESV or KJV
10 gratitude list bookmarks
6 "I'm thankful for you" cards
1 memory card divider
---
Free Thanksgiving Notebooking Pages, Cards, and Coloring Pages ~ Download this free pack from NotebookingPages.com and get some writing in!
---
Thanksgiving Calendars from Proverbial Homemaker ~ These cute cards come with Scriptures, quotes, and either writing prompts or discussion starters (you choose!).
---
Thanksgiving Resources We Love
Squanto and the Miracle of Thanksgiving
Fisher-Price Little People Thanksgiving Celebration
LEGO Thanksgiving Harvest 2017 133pcs
Adventures in Odyssey: Thanksgiving at Home
A Plymouth Pilgrim: William Bradford's Eyewitness Account of the Mayflower Passengers
First Thanksgiving Sticker Activity Book (Dover Little Activity Books Stickers)
The Story of the Pilgrims (Dover History Coloring Book)
Coloring Our Gratitude: The Art of Everyday Thankfulness
Stop Your Complaining: From Grumbling to Gratitude
Say Goodbye to Whining, Complaining, and Bad Attitudes… in You and Your Kids
---

---
More Fun Thanksgiving Activity Ideas
---
More Thinking Kids Posts You'll Love
---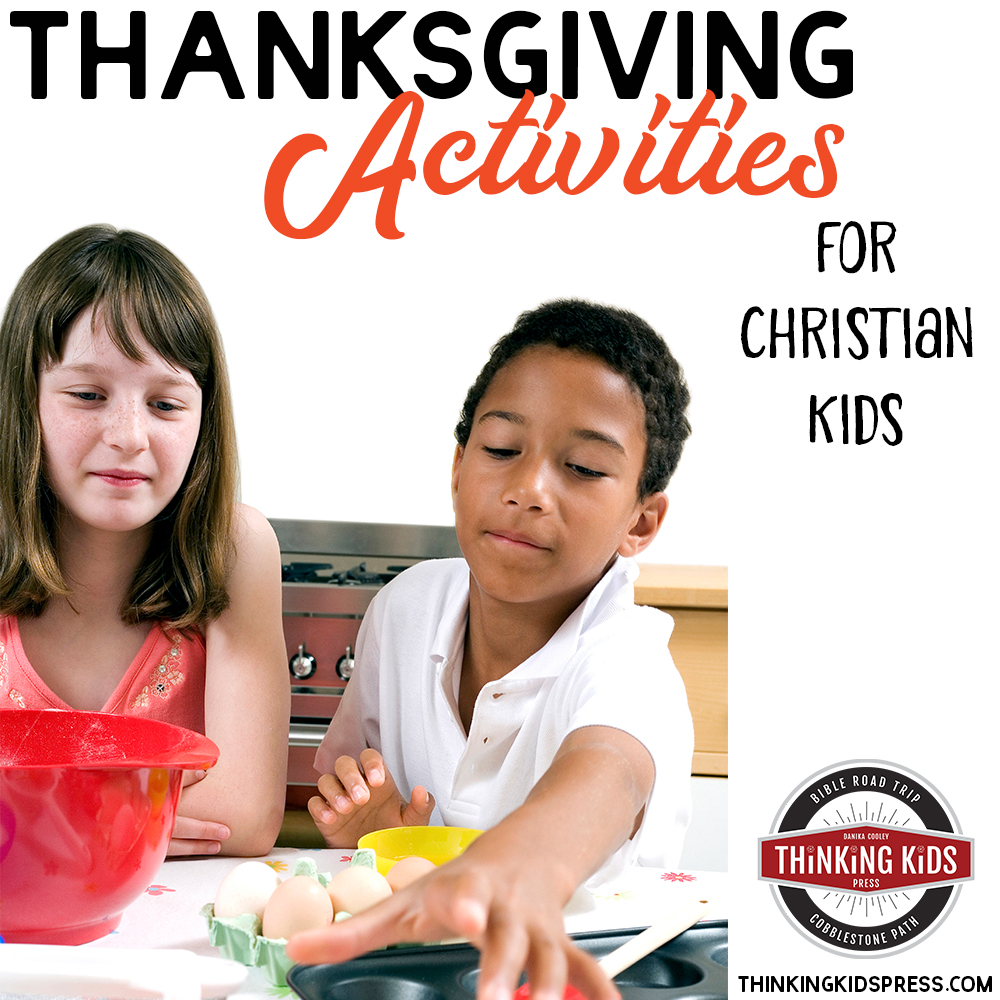 Join the newsletter
Get the Family Prayer Box Project FREE!
Teach your children to pray with this fun project that includes 7 printable sets!