Make a Family Prayer Box Craft and six corresponding sets of Printable Prayer Cards for Kids to teach your children about prayer!
---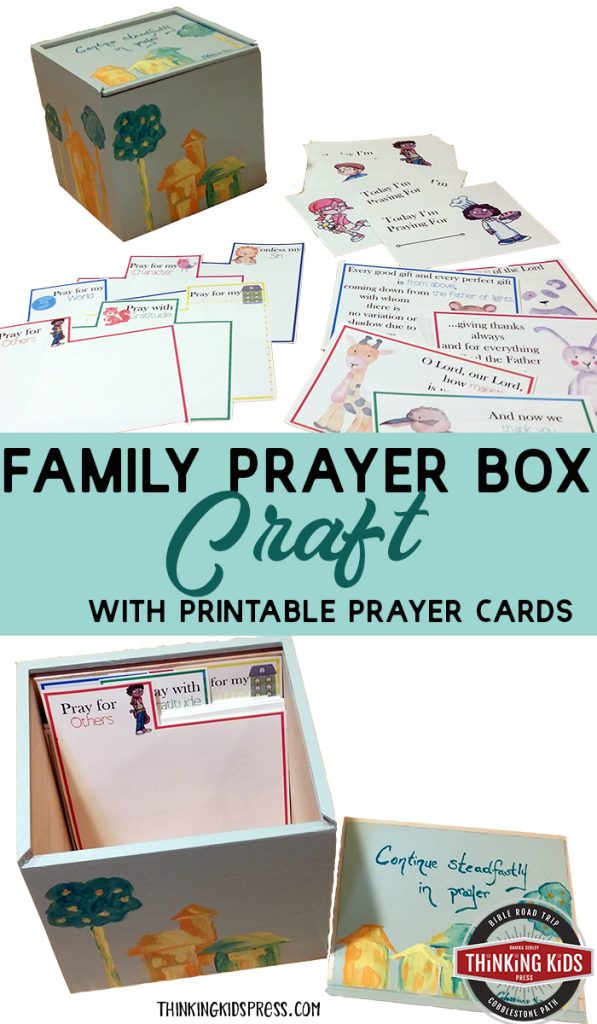 Do you ever wonder how you can really teach your children to pray effectively? The Family Prayer Box Craft with Printable Prayer Cards will help you teach your kids to pray!
Rather than teaching my kids to pray rote prayers or to use a specific formula, I want to teach them to pray for others, to pray with gratitude, to pray for the community and world around them, to pray earnestly for their own character, and to confess their sins.
To help your kids develop a healthy prayer life that covers these areas, I'm going to share with you how to make your own Family Prayer Box. I also have six printable dividers for your prayer box, and six printable card sets for each category so you can complete your box. They're all available in one easy-to-download prayer box craft ebook–my gift to you.
---

---
Prayer Box Craft
Check out this fun video about your prayer box craft and the printable prayer cards that come with it!
---
Printable Prayer Cards For Your Family Prayer Box Craft
You can get started making your Family Prayer Box and printing the dividers and available prayer card sets today. You can subscribe below to receive the Family Prayer Box Project eBook–including all seven printable sets!
You may also want to add the 64 Card Prayer Memory Verse Set!
---
---

Printable Prayer Cards for Your Family Prayer Box Craft
I often get asked how to print Thinking Kids resources. Here's my very best advice. Take it and adapt it for your own good uses.
I often get asked how to print Thinking Kids resources. Here's my very best advice. Take it and adapt it for your own good uses.

Sometimes readers are concerned about using colored ink. If this is the case for you, there should be a setting on your printer that allows you to print in black and white. Printing in grayscale will still use some color, but it will come out prettier than black and white.
Print these cards on duplex (back-to-back or double-sided). You'll want to flip on the SHORT edge for these. You should be able to change the settings for this in the Properties tab of your printer box once you download and tell your computer to print.
I recommend printing on white cardstock so the cards will be more durable and the back won't show through on the front. This is my very favorite cardstock: Neenah Premium Cardstock.
If you plan to rotate the cards to use at meals or during your family devotional time, consider laminating them so they will last longer.
Let your kids write in pen! Frixion erasable pens show up well and erase perfectly. I use them on my planner everyday and I love them. They give kids a fun way to use bright colors–and they still allow room for mistakes.
Right now you can download the entire Family Prayer Box Project eBook, including detailed instructions and all seven printable sets by subscribing to Thinking Kids. I'll send you a few more great printables, too, after you opt in!
---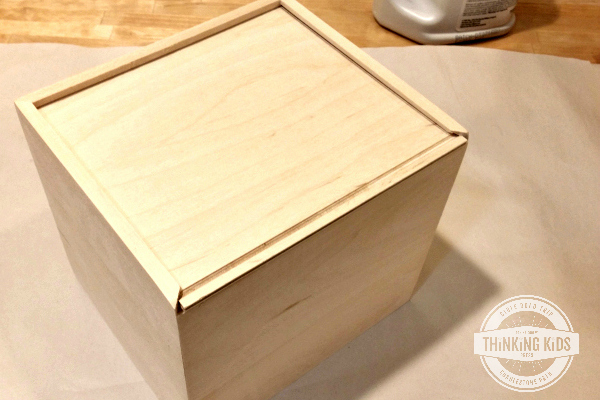 Supplies Needed to Make Your Family Prayer Box Craft
You're going to need a few things to make your family prayer box. You may already have a few of these. If so, that's awesome. I'll tell you what I used below so you can make sure you're all set up before you get started. Because we're moving, a few of the supplies I used are not what I would normally use. I'll tell you what I usually prefer. I have a bit of a wood furniture painting obsession, so I do this a lot.
Walnut Hollow (38365) Unfinished Basswood Box, Card Keeper
Apple Barrel Acrylic Paint Set, 18 Piece (2-Ounce), PROMOABI Best Selling Colors I
Heartybay 10Pieces Round Pointed Tip Nylon Hair Brush Set, Blue
Purdy 144080315 XL Series Dale Angular Trim Paint Brush, 1-1/2 inch
Scotch Greener Masking Tape for Performance Painting, 2050-24A-BK, 0.94-Inch by 60.1-Yards, 1 Roll
Minwax 230004444 Fast Drying Polyurethane Gloss, 1/2 pint
3M 03022 Imperial Wetordry 3-2/3
You'll need:
---
Creating Your Prayer Box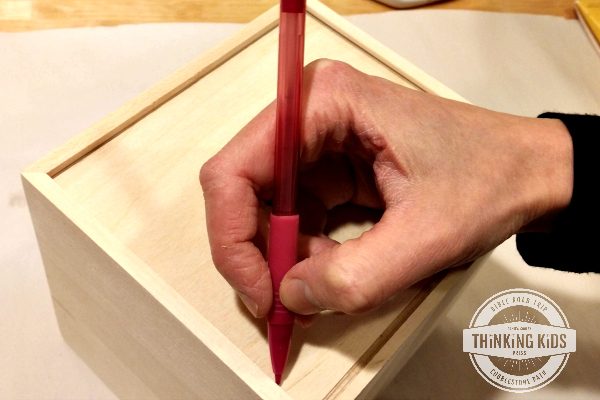 1) Trace lightly around the lid perimeter.
The lid slides tightly into the box and if you paint it, you won't be able to close the box. Take a sharp pencil or mechanical pencil and lightly trace the perimeter.
2) Use masking tape on your perimeter line.
While you can carefully paint up to your pencil line on the lid, it's a better idea to just use masking tape to seal off the edges of your box top. You don't want to have a problem sliding the lid closed.
When you paint the lid, leave the underside unpainted. Be sure to carefully peel off the masking tape while the paint is still wet. If you wait until the paint is dry, you may rip off the paint.
---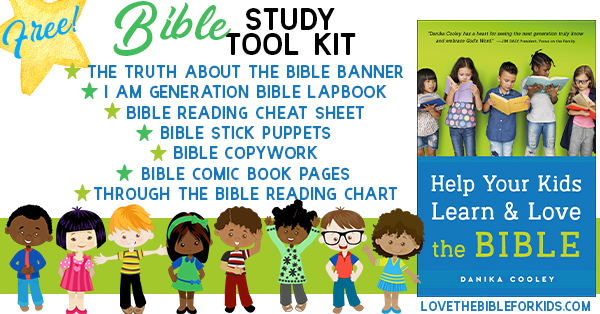 Grab your FREE Bible Study Tool Kit–over 130 pages of Bible resources for your family!
---
3) Paint the outside of the box and the top of the lid.
Use your 1.5″ brush to paint the outside of the box and the top of the lid. Use a good amount of paint (but not enough to drip) with even brush strokes in one direction all the way across. You can paint the rim of the top of the box, but be careful not to paint the track. You still want the lid to slide in.
4) Remove the masking tape and apply a second coat later if necessary.
Once you've painted the top, carefully peel off your masking tape while the lid is still wet. You may want to apply a second coat of paint once the body of the paint has dried. You'll need to reapply the masking tape first. I had a quart of the interior paint I want to use in our new home when we get there, so I used that and only needed one coat.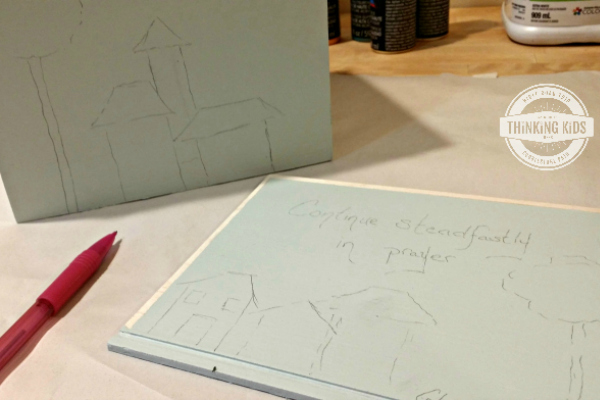 5) Lightly pencil your design on the box.
If you're having trouble coming up with some fun ways to decorate your box I recommend looking around on Pinterest for painted boxes. You can get your kids involved too if you like!
6) Use acrylics to decorate the outside of your box.
Have fun. You can make your decorations as complex or as simple as you'd like.
A lot of the furniture I've painted has been incredibly complex, taking weeks to complete. For this project, I just went with a simple neighborhood theme in four colors. It was fun and quick to do.
7) Use your polyurethane to clear coat your finished design.
Once you're done decorating your Family Prayer Box, you'll want to get ready to clear coat it. The polyurethane will make it bright and shiny, easy to dust, and it will help protect the finish. I love polyurethane. When my boys finish a project on canvas, I coat that with polyurethane too.
Here I'm using a different clear coat product from Miller Paints. Most of my supplies are packed for our move, so I borrowed this from my husband.
You'll want to stir the polyurethane (don't shake or you'll have bubbles). Dip your brush and wipe off one side, then apply a single, even coat from one side to the other across your whole box. Avoid the perimeter and back of the lid, and the track for the lid. Before you leave the box to dry, be sure to check for drips. This is a watery product, so it runs easily if you get too much on the surface or apply it unevenly.
8) Gently sand the dried polyurethane finish.
Once your clear coat has dried for a couple hours, gently sand the clear coat evenly with your 800 sandpaper. If you sand too aggressively, you'll affect the finished decorative paint. The goal is only to disrupt the clear coat a bit to allow proper adhesion for the next coat.
After you've sanded the clear coat, apply another coat of polyurethane. Be sure to check for drips. Let this dry for several hours or overnight before using your box.
9) Print your Family Prayer Box dividers and prayer card sets.
Print your dividers and all the available prayer card sets and cut them out. Assemble these inside your Family Prayer Box. Put your Family Prayer Box somewhere you'll be reminded to use it during your family devotions like on your dining room table or in your living room–wherever you pray!
---
Help Your Kids Learn and Love the Bible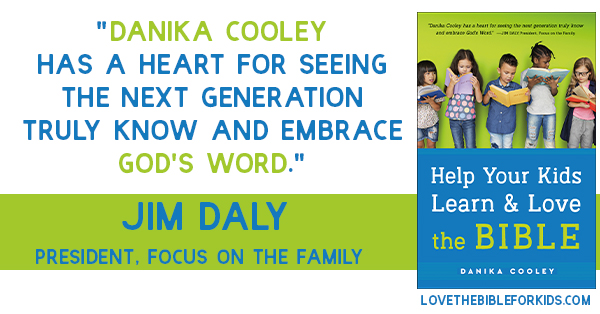 You want your kids to learn and love the Bible. 
You want to teach the Bible…
As parents, we deeply desire the best for our kids. We look for the right schools, we make them eat right and exercise, and we get them involved in extracurricular activities. We take our job as parents seriously.
But are we also putting our time and energy into
teaching them the Bible? Giving them the life-changing, soul-nourishing words of Scripture is not only doable, it's an essential part of parenting kids for Jesus. And the good news is, studying God's Word as a family doesn't have to be difficult!
2 Timothy 2:15, ESV, says:
Do your best to present yourself to God as one approved,
a worker who has no need to be ashamed, rightly handling the word of truth.
Our job, as parents who love Jesus, is to help our kids become approved workers, unashamed and rightly handling the word of truth.
The good news? Teaching the Bible isn't hard. Your family can learn the Bible together.
…and you can!
A Crash Course in Teaching the Bible to Your Kids
Danika Cooley's book, Help Your Kids Learn and Love the Bible, will give you the tools and confidence to study the Bible as a family. It will help you identify and overcome your objections and fears, give you a crash course in what the Bible is all about and how to teach it, and provide the guidance you need to set up a family Bible study habit.
You will finish this book feeling encouraged and empowered to initiate and strengthen your child's relationship with the Lord through His Word.

Help Your Kids Learn and Love the Bible will equip you with everything you need to know to teach the Bible to your kids!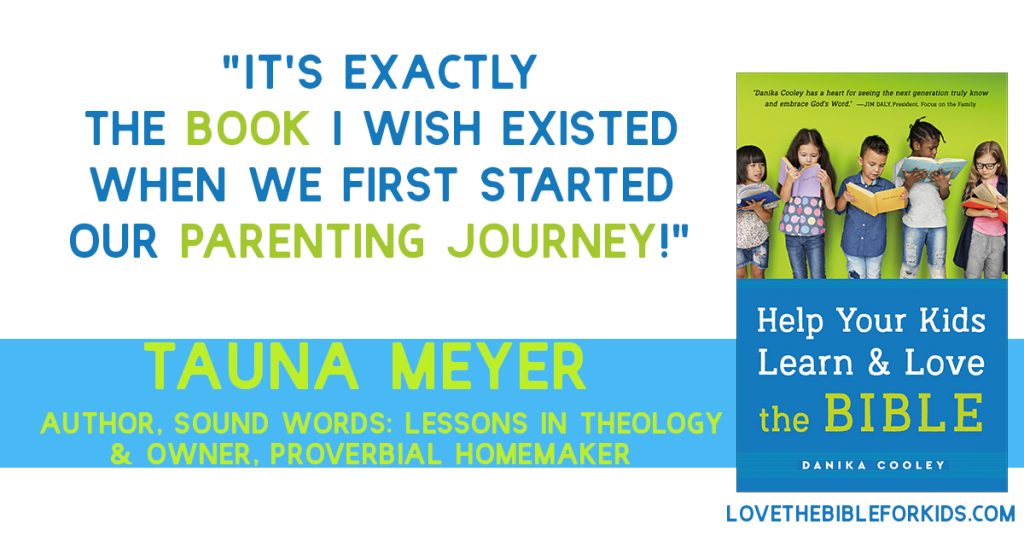 ---
Teach Your Kids the Bible with Bible Road Trip™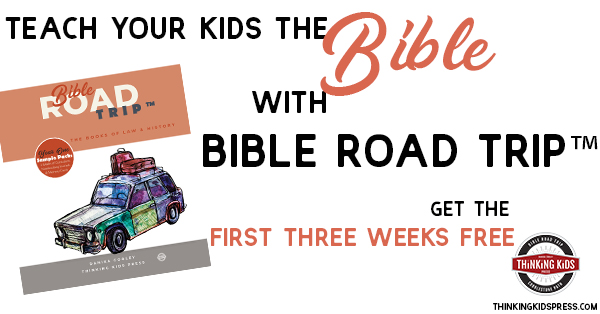 Bible Road Trip™ is a three-year Bible survey curriculum. Take your family through the Bible five times from preschool to high school.
To help you get the most out of your studies, Bible Road Trip™ has an array of coordinating weekly activities:
Researching the section of the Bible you're studying
Reading and discussing the Bible
Memorizing Scripture
Notebooking about your studies
Praying for the nations
Suggestions for further study
Crafting about what you've learned
For your older students: A project to share what they've learned
Bible Road Trip™ also has some great tools you can use along with it, such as:

Notebooking Journals for grades 1-9. Want a structured notebooking journal for high school? Don't hesitate to use the Dialectic journal (grades 7-9).
Bible Memory Card Sets for all five levels of study, preschool to high school. These are available in both ESV and KJV.
Grab your Bible Road Trip™ Year One Sample Pack. You'll get:
The Bible Road Trip™ Parent / Teacher Guide.
The first three weeks of the curriculum for all five learning levels. Week Three is where we really dive into the Bible and begin to our systematic study. Week Three will give you a good feel for the rest of the curriculum.
The first three weeks of the Bible Memory Card sets for all five levels, in ESV and KJV.
The first three weeks of each of the three leveled Notebooking Journals.
Grab the Sample Pack for FREE:

Disciple your kids by taking your family through the Bible together in a meaningful way!
---
Bible Curriculum for Your Kids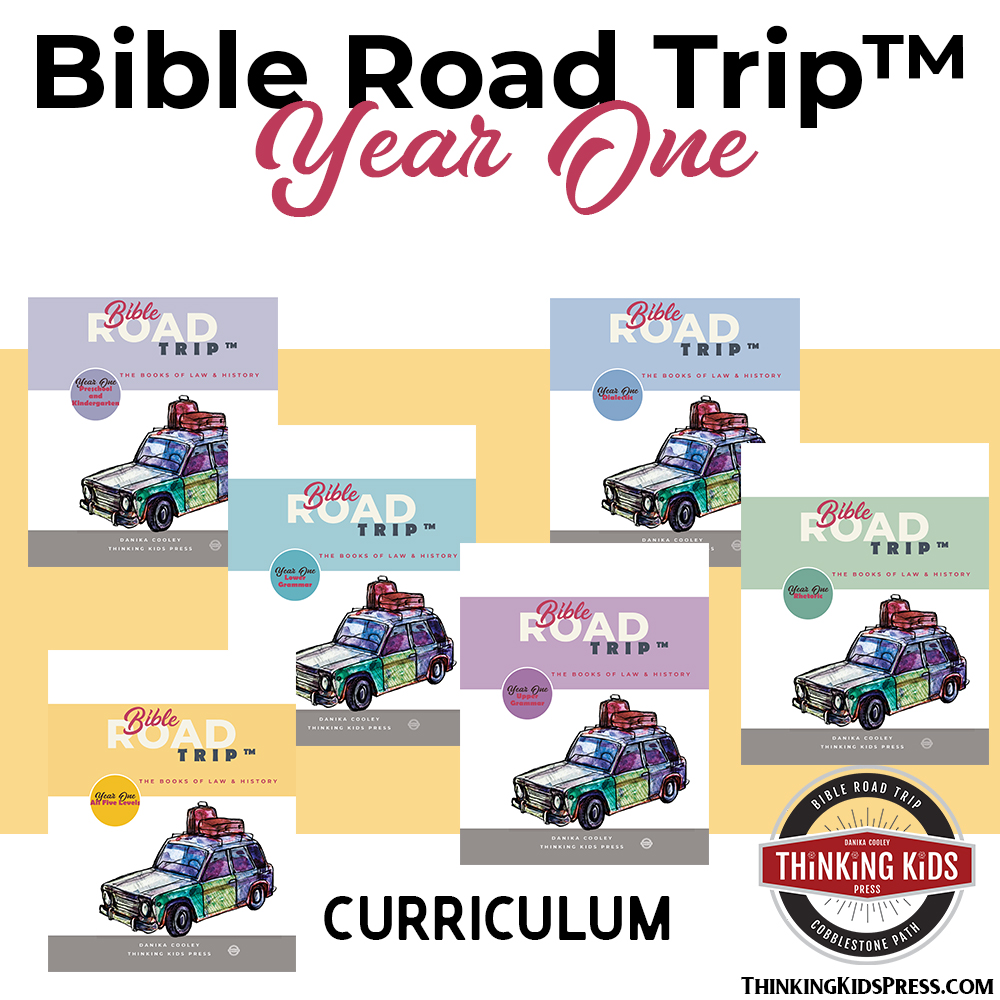 Bible Road Trip™ CurriculumLearn More Here
Bible Road Trip™ Memory Verse CardsBuy Here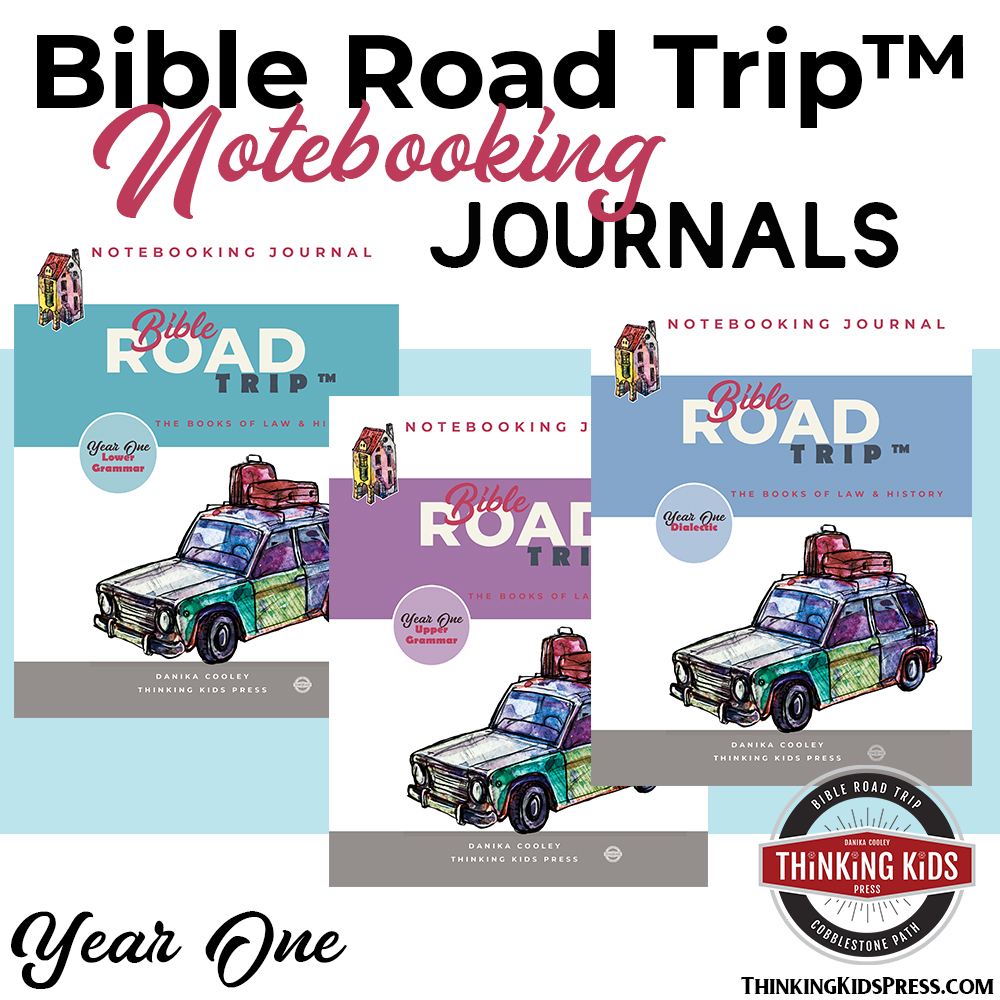 Bible Road Trip™ Notebooking JournalsBuy Here
---
More Thinking Kids Posts You'll Love
---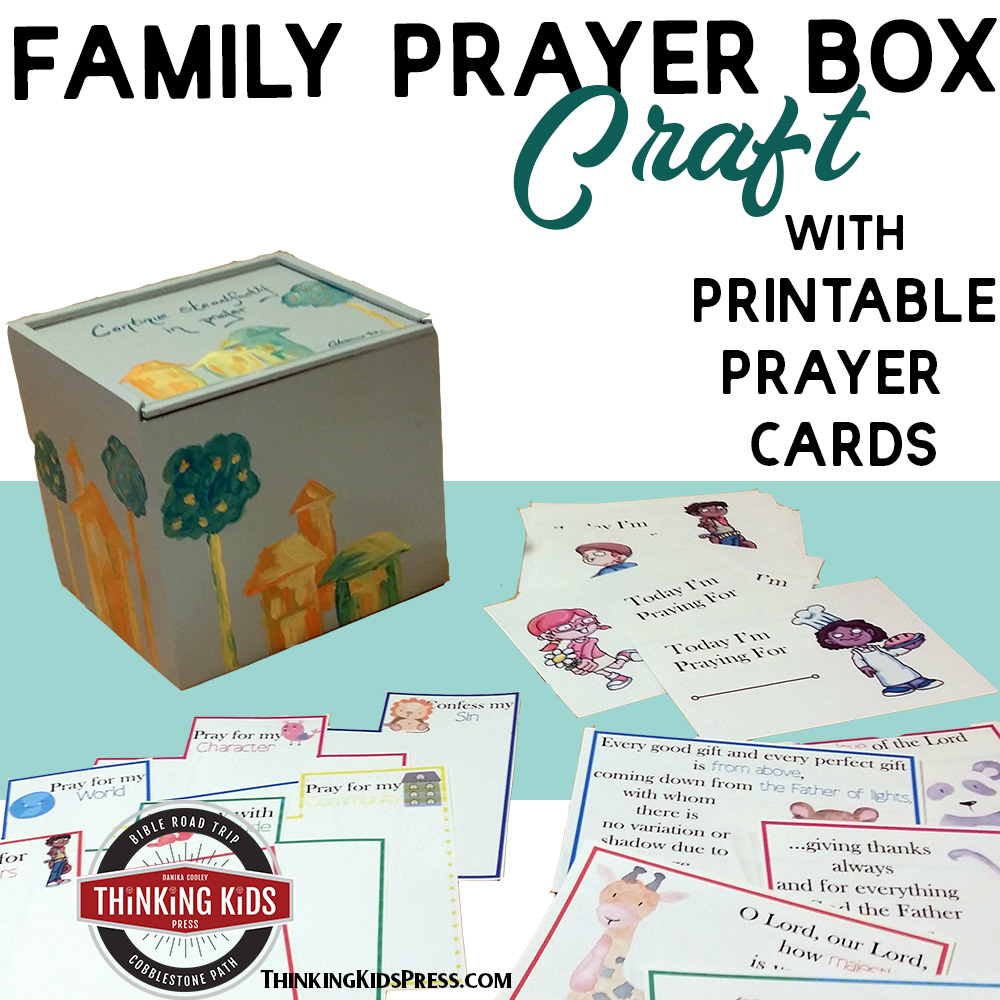 Join the newsletter
Get the Family Prayer Box Project FREE!
Teach your children to pray with this fun project that includes 7 printable sets!