Want your kids to memorize Bible verses? Weekly Bible verses take your kids through the Bible with Bible Road Trip™ memory verse cards!
---
This year I decided to memorize Bible verses using Bible Road Trip™. My kids have been doing it for awhile, but I wanted to do it too! After all, I think planting a few hundred Bible verses in my heart is always a good idea.
I'm going to use the Rhetoric level cards and memorize on the same schedule as my boys. One week down, thirty-one weeks of the New Testament to go!
I want to share with you how to help your kids memorize Bible verses with Bible Road Trip™ Bible Memory Verse Cards.
I'll share how a little about the different sets, how you can print, cut, and store your cards, and how you can use them in your day. There's a video available below, and I go into more depth here in the post.
---

---
What is Bible Road Trip™?
Learn the whole Bible!
---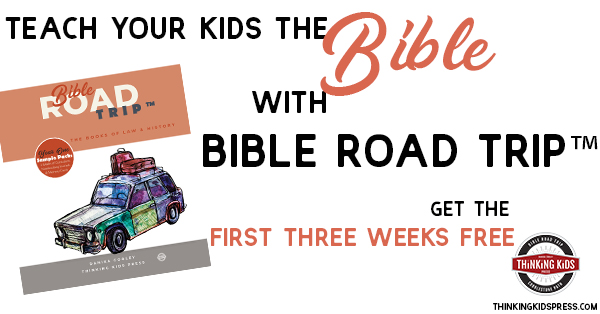 ---
Memorize Bible Verses with Bible Road Trip™
I have so much I want to tell you about memorizing Bible verses with your children that I had to cut about 10 minutes out of this video just to get rid of all the memorization rabbit trails I threw in there. Check out the video–you'll pick up some good information–and then we'll get down to some practical details.
And, take a look at the Bible Memory Cards for Bible Road Trip™.
---
Bible Verses at Five Different Levels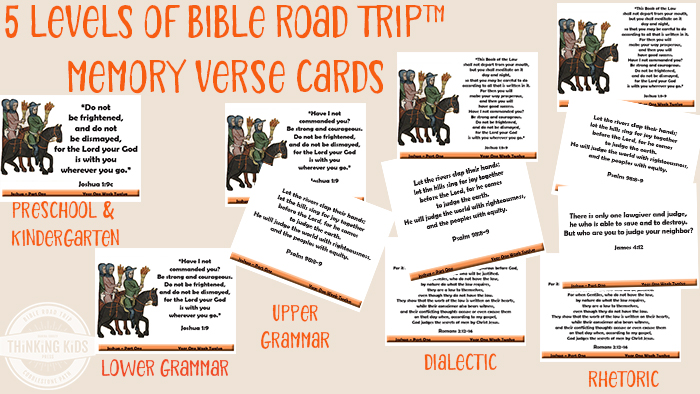 As I discussed in the video above, there are five different levels of
Bible Road Trip™ Bible Memory Verse Cards
. Each level progressively adds additional verses. At the Dialectic and Rhetoric levels, your students will also be memorizing the first 12 chapters of Romans.
The five levels of Bible Road Trip™ are:
Preschool and Kindergarten (ages 3-5)
Lower Grammar (grades 1-3)
Upper Grammar (grades 4-6)
Dialectic (grades 7-9)
Rhetoric (grades 10-12)
You can see the different levels for the Year One Week Twelve cards above. Each level has either more information, or additional verses. While this is not the case for every week, you will find the Bible Memory Verse Card Sets progress with the levels.
I hope this visual example of just one week of the card sets helps you decide which levels will best serve your children. The levels are designed to allow you to circle around and add more depth to your Bible studies as your children develop and grow.
---
Printing Bible Road Trip™ Bible Memory Verse Cards
We print our Bible Memory Verse Cards on white cardstock to make the cards thick and durable. You'll also find that a cardstock with a smooth finish will make the artwork print clearer.
If you'd like, you can also print your cards on regular copy paper and laminate them. When my children were younger, I would print their cards on cardstock and then laminate them as well.
You'll want to print your cards single-sided.
---
Supplies for Your Bible Road Trip™ Bible Memory Verse Cards
You won't need all of these supplies; you can pick and choose which ones you'd like to use. I've just put together some suggestions for you. We've printed ours on cardstock, used a rotary cutter to cut them apart, and we've stored them in a wood box that each child decorated.
Year One Bible Road Trip™ Bible Memory Verse Cards

Year Two Bible Road Trip™ Bible Memory Verse Cards

Year Three Bible Road Trip™ Bible Memory Verse Cards

Neenah Astrobrights Premium Color Card Stock, 65 lb, 8.5 x 11 Inches, 250 Sheets, Stardust White
CARL Professional Rotary Paper Trimmer 18 inch
HP OfficeJet 3830 Wireless All-in-One Photo Printer with Mobile Printing, Instant Ink ready (K7V40A)
SOTOGO 70 Pieces Book Rings Loose Leaf Binder Ring Key Chain Key Rings,Including 1 Inch 1.2 Inch 1.8 Inch Three Size
Scotch PRO Thermal Laminator, Never Jam Technology Automatically Prevents Misfed Items , 2 Roller System (TL906)
Scotch Thermal Laminating Pouches, 8.9 x 11.4-Inches, 3 mil thick, 100-Pack (TP3854-100)
Walnut Hollow Unfinished Wood Recipe Card Box with Hinged Lid for Arts, Crafts, Hobbies and Home Storage
---
Cutting the Cards into Weekly Bible Verses
Once you've printed your Bible Road Trip™ Bible Memory Verse Cards, you'll want to cut them apart.
While you can cut them with a scissors, it's difficult to do that with a scissors. I suggest using a rotary trimmer. Sometimes you can get a great deal on the smaller ones at Costco, or another warehouse store, but I prefer the larger version as they allow you to measure a full sheet of paper easier.
You'll want to cut your sheet in half, stack it, and cut it in half again. The whole process is very quick, and I've demonstrated it for you in the video.
---
Storing Your Bible Verses
There are a couple of ways to store your Bible verses.
You can laminate them, punch a hole in the upper corner, and then stored on a book ring. Be sure to punch your hole far enough in to prevent ripping and far enough out to allow the card to turn on the book ring.
Or, you can store your cards in a recipe-style box that's large enough to hold 4×6″ cards either lying down or standing up. We like to get boxes that are unfinished and then finish them as an art project.
---
Use Your Bible Memory Verse Cards with the Bible Road Trip™ Curriculum
The Bible Road Trip™ Bible Memory Verse Card Sets are designed to be used with the Bible Road Trip™ Curriculum.
Each week of the curriculum, you'll find scheduled Bible reading with discussion questions, books to read about the Bible, engaging videos to watch, notebooking to do, countries to pray for, and more. There are also Bible verses to memorize each week. The Bible Road Trip™ Bible Memory Verse Cards correspond to the assigned verses for each week.
I suggest that in addition to having your children work on memorizing the Bible verses on the cards each week, that you also have them write the verses out on the copywork pages included in the Bible Road Trip™ Notebooking Journals.
The Bible Road Trip™ Bible Memory Verse Card Sets are designed to make memorizing Bible verses easier for you as a family. Just open your memory verse box or flip the cards on your book ring, and you're ready to memorize the next verse!
---
Bible Curriculum for Your Kids
---
How to Print the Bible Road Trip™ Bible Memory Verse Cards
I often get asked how to print Thinking Kids Press resources. Here's my very best advice. Take it and adapt it for your own good uses.
Sometimes readers are concerned about using colored ink. If this is the case for you, there should be a setting on your printer that allows you to print in black and white. Alternately, printing in grayscale will still use some color, but it will come out prettier than black and white.
Print these cards single-sided.
After purchase, the link to your Bible Memory Cards will be emailed to you immediately. If you don't see it, check your spam file.
I recommend printing on white cardstock so the cards will be more durable. This is my very favorite cardstock: Neenah Premium Cardstock.
There are four cards to a page–you'll need to cut them out. I suggest using a rotary paper trimmer. Mine is one of my most-used homeschool tools.
After printing and cutting your cards, consider laminating them  so they will last longer.
---
Teach Your Kids the Bible with Bible Road Trip™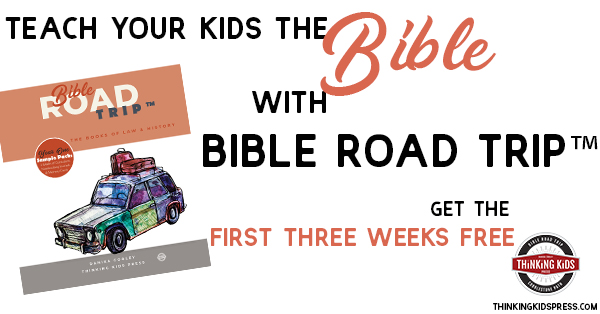 Bible Road Trip™ is a three-year Bible survey curriculum. Take your family through the Bible five times from preschool to high school.
To help you get the most out of your studies, Bible Road Trip™ has an array of coordinating weekly activities:
Researching the section of the Bible you're studying
Reading and discussing the Bible
Memorizing Scripture
Notebooking about your studies
Praying for the nations
Suggestions for further study
Crafting about what you've learned
For your older students: A project to share what they've learned
Bible Road Trip™ also has some great tools you can use along with it, such as:

Notebooking Journals for grades 1-9. Want a structured notebooking journal for high school? Don't hesitate to use the Dialectic journal (grades 7-9).
Bible Memory Card Sets for all five levels of study, preschool to high school. These are available in both ESV and KJV.
Grab your Bible Road Trip™ Year One Sample Pack. You'll get:
The Bible Road Trip™ Parent / Teacher Guide.
The first three weeks of the curriculum for all five learning levels. Week Three is where we really dive into the Bible and begin to our systematic study. Week Three will give you a good feel for the rest of the curriculum.
The first three weeks of the Bible Memory Card sets for all five levels, in ESV and KJV.
The first three weeks of each of the three leveled Notebooking Journals.
Grab the Sample Pack for FREE:

Disciple your kids by taking your family through the Bible together in a meaningful way!
---
Bible Road Trip™ Posts You'll Love
---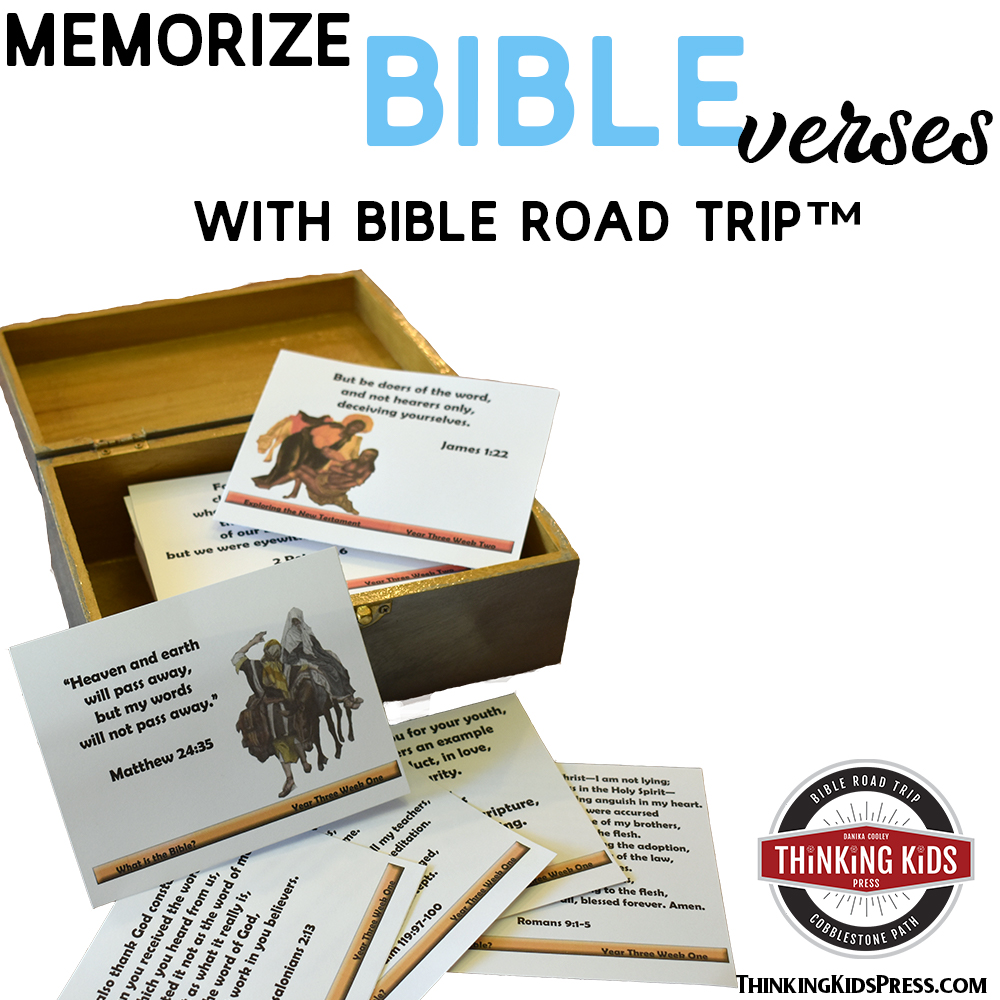 Join the newsletter
Get the Family Prayer Box Project FREE!
Teach your children to pray with this fun project that includes 7 printable sets!