Imagine you really wanted to do something special for your kids, so you set about baking cookies. You haven't gone grocery shopping recently, or really planned for your cookies, nor do you have a recipe, but you've made cookies before and you're confident that you can find enough ingredients in the pantry to make something yummy.
You don't have any flour or eggs, but you find some cereal you can pulverize, and you're certain if you add enough molasses the cookies will hold together. Who needs eggs? You don't have any chocolate chips or raisins, so you throw in some black beans and a few olives. The one thing you do have is frosting and sprinkles. Your cookies might not really taste conventional, but they'll look great!
Homeschool Resource and Curriculum Planning
Let's face it, cookies baked in the way I just described would be a disaster, right? I think the same is true when it comes to our homeschools. If we are completely haphazard about our homeschool learning objectives, or about the homeschool resources and curriculum we use, we may not end up with the fabulous results we're hoping for.
Isn't your child's education worth planning for?
Even with a delight directed homeschool approach, parents must do some homeschool resource planning in order to implement that homeschool technique successfully.
---
1) Choose Your Homeschool Subjects
Before you choose your homeschool curriculum or make a list of homeschool resources to utilize, you'll want to decide which homeschool subjects you'll study with each child. You may not study each subject every year with each of your children. Deciding what subjects to study will help you focus as you plan your curriculum and resources.
Here are a few lists of subjects you'll want to consider:
Primary Homeschool Subjects
Bible
Christian History
Character
Theology
History
Science
Math
Current Events
Physical Education
Language Arts Disciplines
Handwriting
Vocabulary
Reading
Grammar
Spelling
Literature
Research
Prewriting / Notetaking
Writing
Elective Subjects
Music
Art
Foreign Language
Art History
Typing
Computer Science / Coding
Economics / Personal Finance
Life Skills
---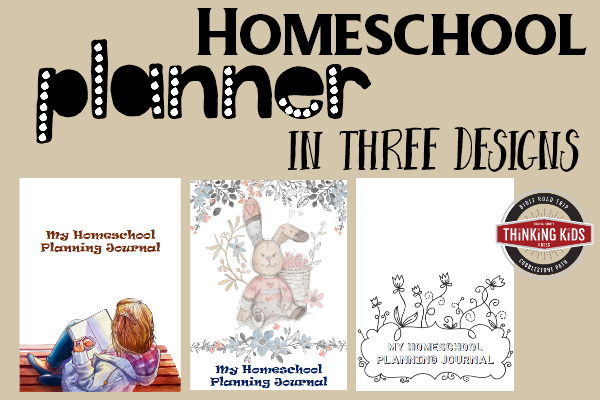 Plan your homeschool objectives, your subjects and curriculum, and your weekly and daily schedules with the My Homeschool Planning Journal.
---
If you use Thinking Kids Press' My Homeschool Planning Journal, you'll find three pages of Subjects to Study.
Again, you will not need every subject to be planned for every child! In fact, for younger children, many of these subjects won't be studied at all.
In the subjects you do choose to study, write your child's name and possible resources or brief plans for that subject. These pages are just to note the general plan of study for the year.
For instance:
In the Bible bubble, I will write "Bible Road Trip".
In Christian History, I'll write "Cobblestone Path".
And for Current Events, I will write "Watch CNN Student News and discuss ~ Monday through Friday". I might even add "15 minutes" to that bubble to remind myself that the daily newscast is 10 minutes long and I need to leave time for a 5 minute discussion.
2) Plan Your Homeschool Curriculum for Each Student
Not every subject you plan to study will need a formal curriculum. You might choose to study art by finding fun, age appropriate project on Pinterest. But you'll want to have curriculum for most of your subjects, particularly as your children get older.
Start your homeschool curriculum planning by making a list of your curriculum options. Be sure to include the following information in your list:
The subject
Curriculum options you're considering
Pros and cons of each curriculum
The price and location of the curriculum
Whether you've obtained the curriculum or not
In the My Homeschool Planning Journal, you'll find enough curriculum planning lists for four students, but you can always print more or less according to your needs.
3) Create a Homeschool Resource and Supplies List
Finally, you'll want to create a homeschool resource and supply list.
As a literature-based homeschool, this list is essential to my planning. It's really important to keep track of the supplies we need for projects and labs we've scheduled for art and science as well.
You'll want your homeschool resource list to contain the following information:
Resource title
Author
Week(s) used (This is so important. You'll want to know when you need the resource!)
Price and location of the resource
Whether you've obtained the resource or not
You supply list should contain these columns:
Supply
The subject the supply is needed for
Week(s) used (This is so important. You'll want to know when you need the supply!)
Price and location of the supply
Whether you've obtained the supply or not
---
You'll find plenty of structured worksheets to help you with your homeschool resource and curriculum planning in the My Homeschool Planning Journal.
---
With a little bit of planning, you can be prepared for the coming homeschool year. Not only will your preparation remove stress, your homeschool curriculum planning will help set your kids up for success.
Your child's education is important.
You wouldn't make cookies without the proper ingredients–don't educate your kids without a plan for both their homeschool curriculum and for the homeschool resources you'll use.
---
More Thinking Kids Posts You'll Love
---
Join the newsletter
Get the Family Prayer Box Project FREE!
Teach your children to pray with this fun project that includes 7 printable sets!