Why are field trips important? Find out why experiential, hands-on learning is valuable. Homeschool field trips are fun, too!
---
Homeschooling is such a gift. We get to chose the curriculum we use, we are able to provide one-on-one attention to each child, and we are able to teach to the strengths our kids exhibit.
Another wonderful part of homeschooling is that we have the ability to regulate our time. That means that we can set aside time to explore rabbit trails in history, celebrate the end of the week with a game day, or declare a reading day–complete with jammies and hot chocolate.
It also means we can take full advantage of field trips with our kids. Field trips are a wonderful way for our children and teens to learn about the world around them!
---

---
Why are Field Trips Important?
When our youngest boys were 9 and 10, we drove through the Western United States, visiting 14 states, the Navajo Nation, 10 National Parks and Monuments, two science museums, a ghost town, and three large cities. The boys were exposed to natural wonders like spectacular lightning storms, mountains, geysers, tar pits, paint pots, enormous caverns, red rock arches and balanced rocks, the Grand Canyon, and petrified trees. In just 17 days, they encountered a wide array of animals: insects as big as their feet, wolf packs, elk, bison, and thousands of bats. Watching the bats come flying out of the main entrance to the Carlsbad Caverns at dusk was truly spectacular.
We drove at night so that during the day we could hike through Arches National Park and climbed inside Native American cliff dwellings, underground kivas, and big brick castles.
The rest of our field trips have been much, much shorter and less involved. I am a huge fan of the day trip! Check out some ideas for field trips here. 
I know it's easy to get involved in the day-to-day homeschool grind, so here are some great reasons why field trips are important:
1) Get Out of the House
Is it weird that this is my #1 reason for field trips? It's not the most important reason to schedule regular field trips, but it's a big one. Field trips give kids something fun to look forward to. They also can be a great way to sort of reset your homeschool environment.
Math frustrations ruling your days? Hike an arboretum.
Sibling rivalry making things tough? Visit the zoo.
Stuck in the doldrums of everyday homeschooling? Head to a play.
Getting out of the house, breaking up your routine, and learning something in a fun environment can do wonders for your homeschool!
2) Encounter God's Wonderful World
One of our favorite field trip ideas was just to head outdoors. There are amazing things to see within driving distance from your home! God's great earth is full of wonders that point to his majesty. Pack a lunch, dress in layers, and go see a waterfall, a lake, a bird preserve, or visit an outlook. Be sure to collect samples for your science collection.
3) Explore Career Ideas
One of the great things about indoor field trips is that kids can see how things (like cheese, circuit boards, and bread) are made. They can also learn about careers they may choose to pursue one day.
These types of field trips sometimes take a little planning, but they open up the world a little more for our kids each time. Even if your children don't become farmers or engineers, they'll have a better understanding of different lifestyles and working environments.
We especially loved going on these types of field trips with friends.
4) Learn History, Science, and the Arts in a Hands-On, Real Life Way
Book and video learning is wonderful. But, there's nothing quite like seeing medieval armor, climbing through a Native American kiva, playing with static electricity on a massive scale, or attending a play in an audience of your peers. These are experiences that just can't be replicated with a book!
So, read about the Gutenberg Bible and what it meant to the world, then go see a copy of it!
Field trips are so important for our kids. As homeschool parents, we have such a wonderful opportunity to plan these outings. And, you can further the learning by notebooking about the experience later.
---
My Field Trip and Travel Journal
Before our Western States trip, I created a field trip and travel journal for my boys to take on our journey. When we got home, I printed our photos and the boys journaled about each site they'd visited. They marked their maps, pasted in photos and paper souvenirs like tickets, and listed all of the places they'd been. We worked on notebooking about one place each day, so it took us a good three weeks or so to do all of our writing. We just skipped any writing classes in our curriculum during that time.
Your kids will love tracking their own travels–big and small–through their own My Field Trip and Travel Journal!
The
My Field Trip and Travel Journal
is a wonderful record of trips for your children, with watercolor artwork and quotes from Christian history throughout.
As your children travel and explore the world around them, you'll want to have a way for them to keep track of where they've been and what they've seen. The My Field Trip and Travel Journal will help them do just that.
Your kids will keep track of:
Places They've Been
Places They'd Like to Go
Mapping Their Journeys
A Record of Their Trips
Trip Dates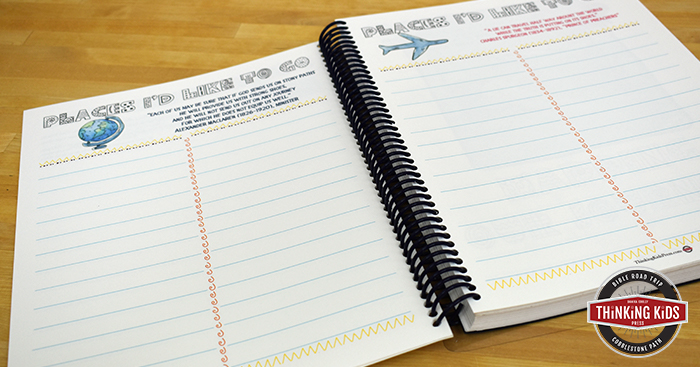 Your kids will learn:
To Keep Lists
About Geography
Where They Are in the World
Notetaking Skills
Basic Memoir Story Writing
To Plan Trips on the Calendar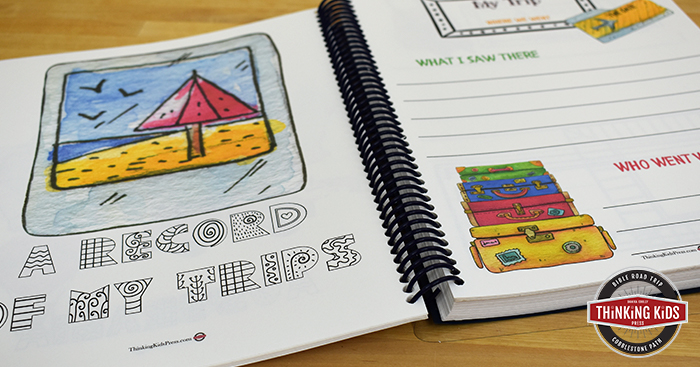 Your kids will record:
Where They Went
The Date of Their Trip
What They Saw
Who Went With Them
Three Things They Learned
A Story About Their Trip
Drawings and Photos About Their Trip
This is a wonderful opportunity for your kids to create a permanent record of their travels, and to develop critical thinking and writing skills at the same time.

---
Books Make Great Gifts!
---
Bible Resources for Your Kids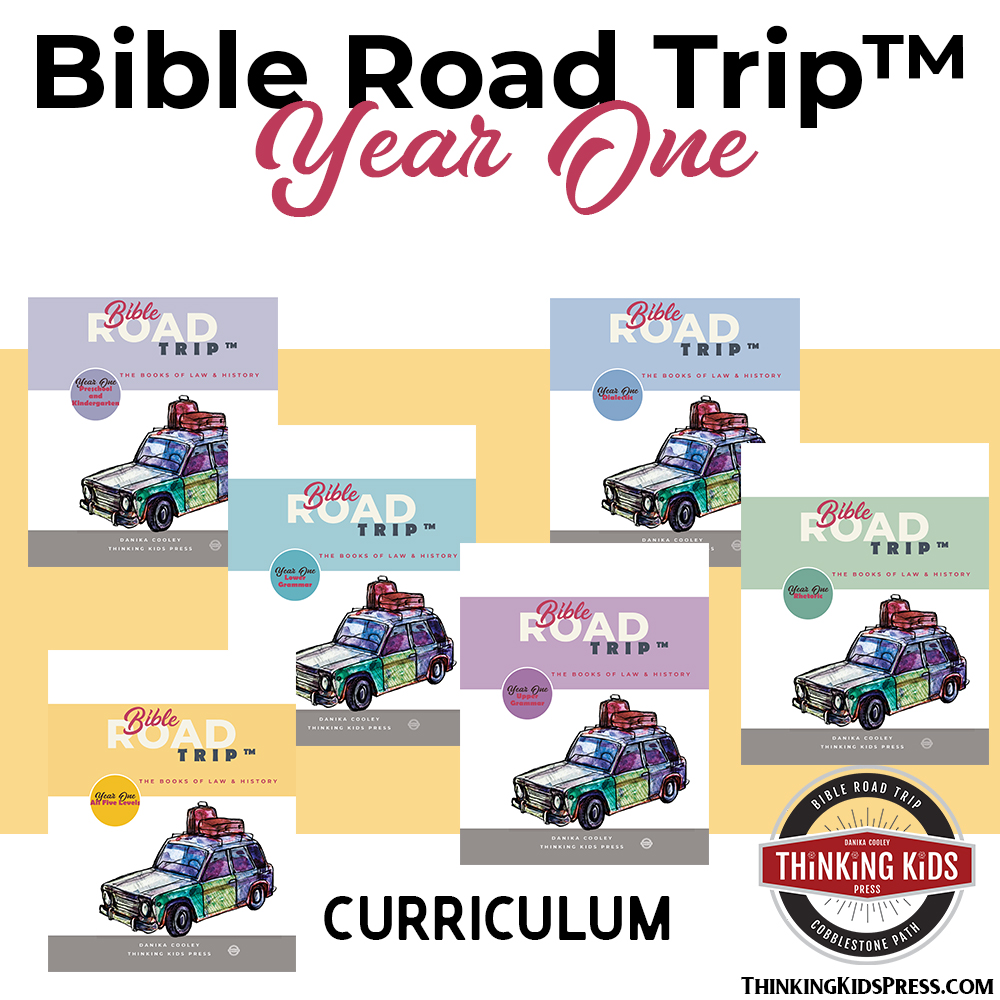 Bible Road Trip™ CurriculumLearn More Here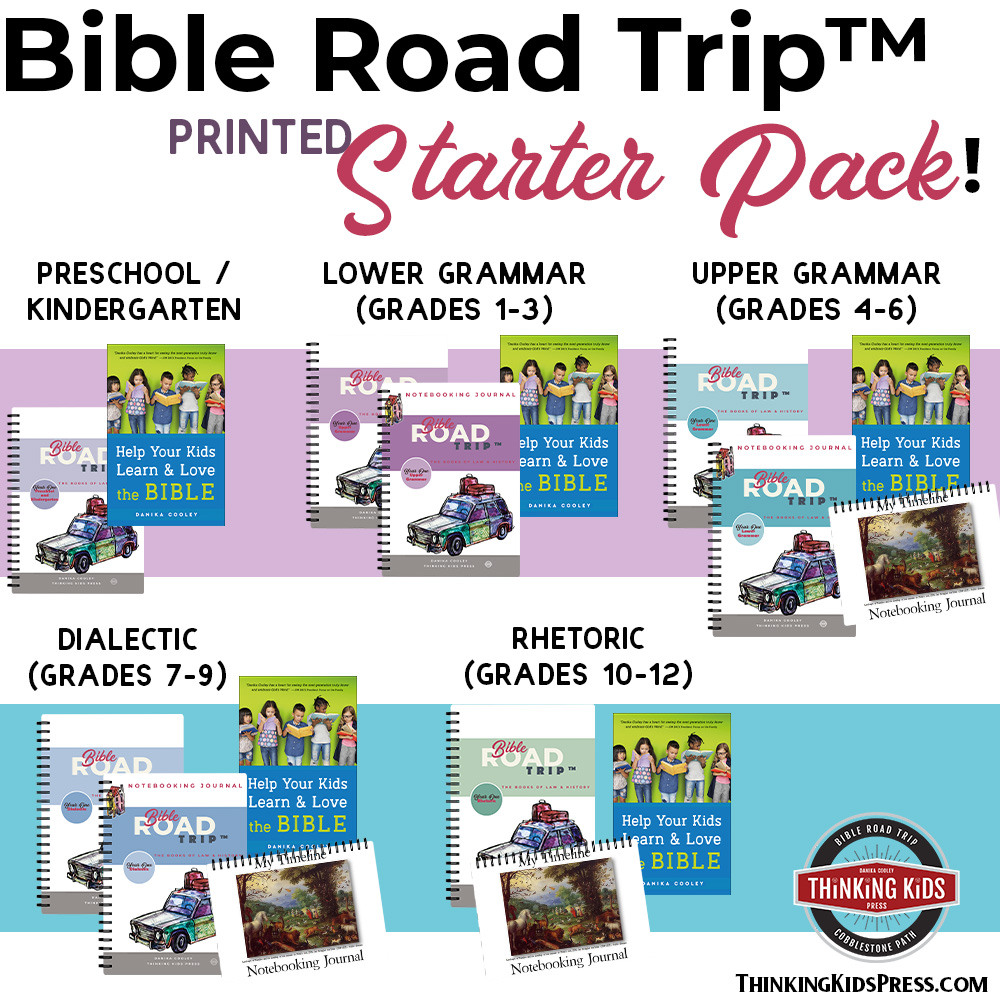 Starter BundleLearn More Here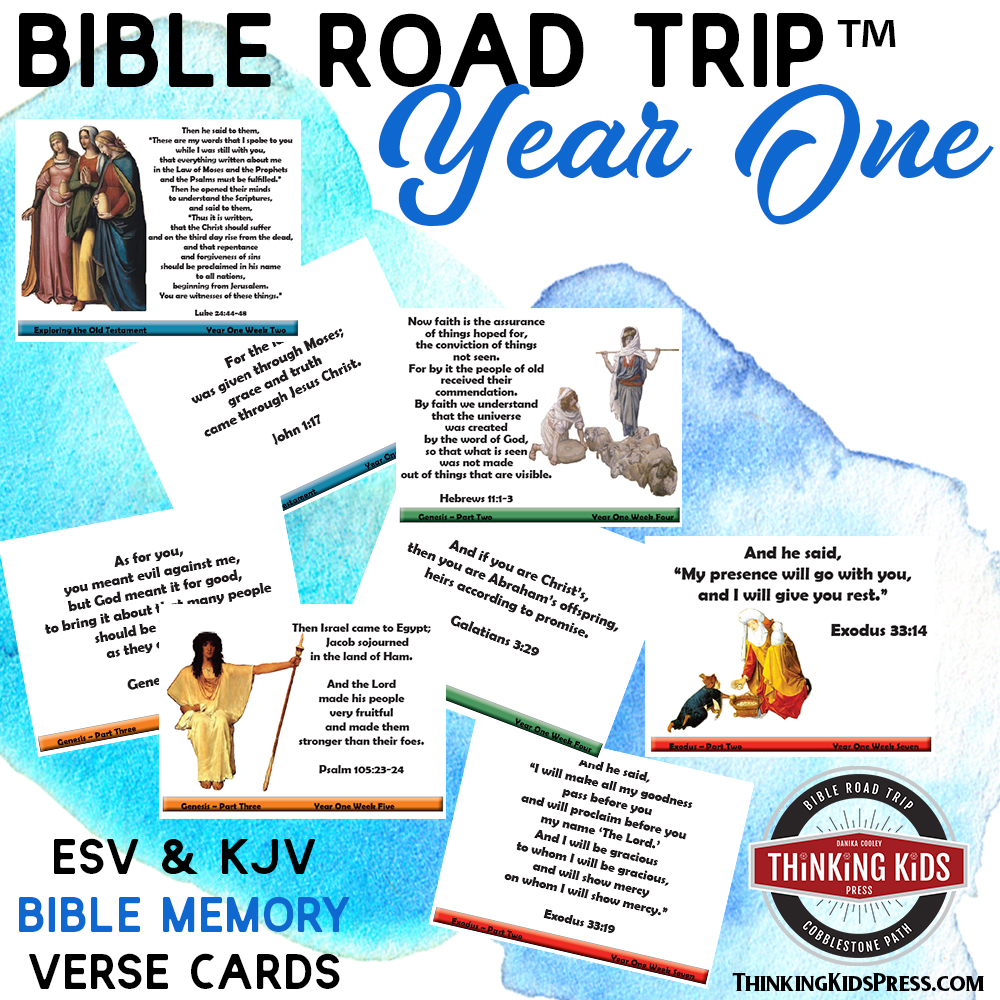 Bible Road Trip™ Memory Verse CardsLearn More Here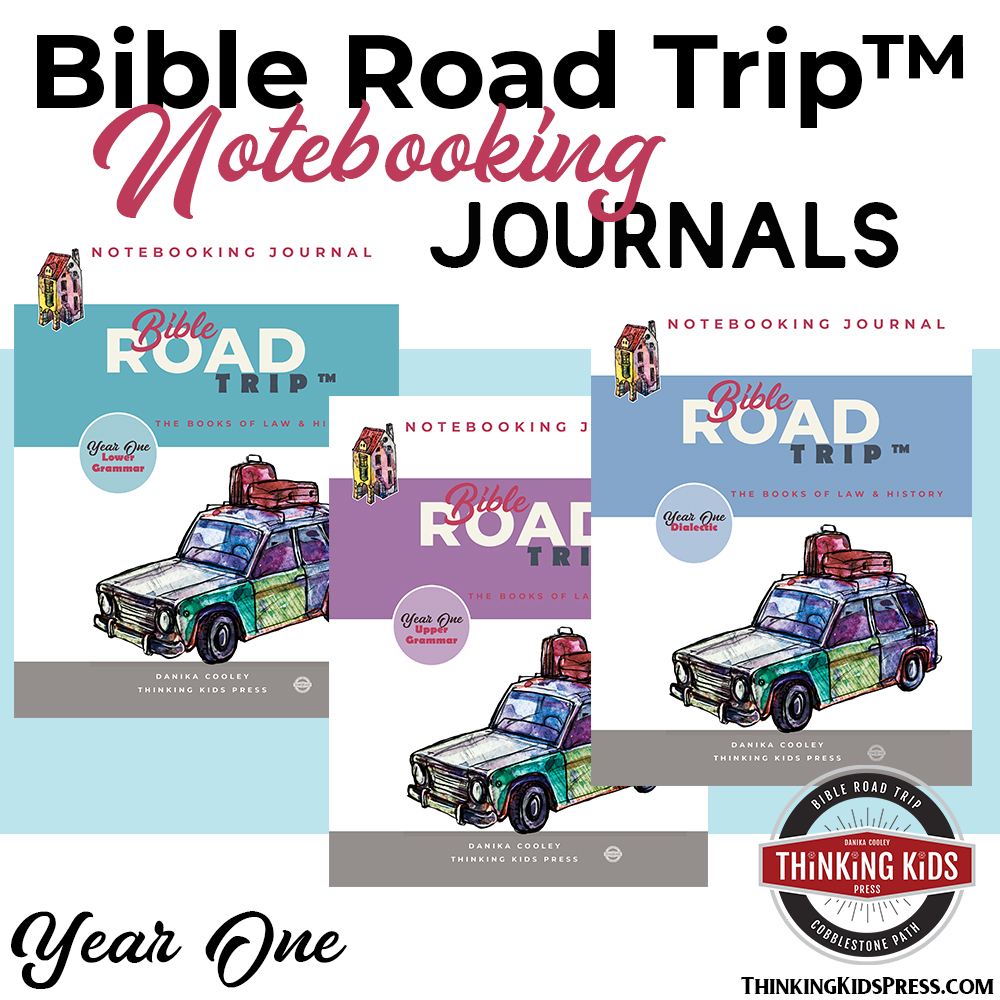 Bible Road Trip™ Notebooking JournalsLearn More Here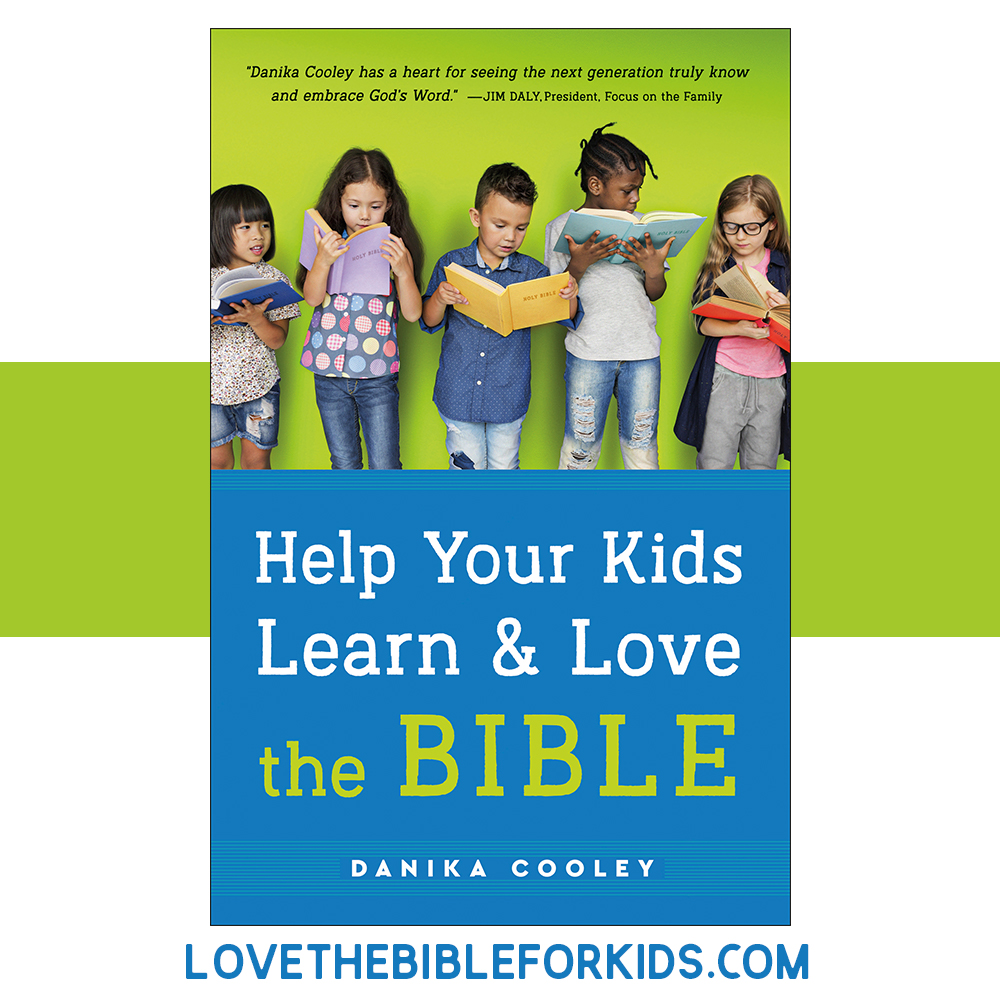 Help Your Kids Learn and Love the BibleLearn More Here
---
Teach Your Kids the Bible with Bible Road Trip™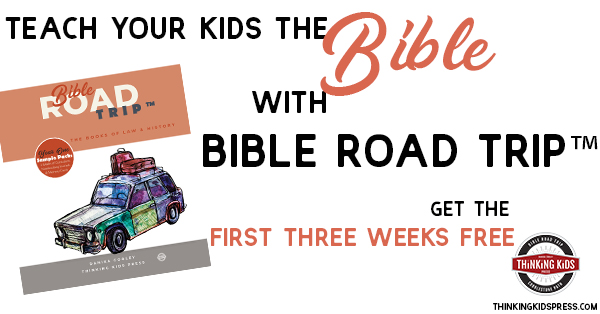 Bible Road Trip™ is a three-year Bible survey curriculum. Take your family through the Bible five times from preschool to high school.
To help you get the most out of your studies, Bible Road Trip™ has an array of coordinating weekly activities:
Researching the section of the Bible you're studying
Reading and discussing the Bible
Memorizing Scripture
Notebooking about your studies
Praying for the nations
Suggestions for further study
Crafting about what you've learned
For your older students: A project to share what they've learned
Bible Road Trip™ also has some great tools you can use along with it, such as:

Notebooking Journals for grades 1-9. Want a structured notebooking journal for high school? Don't hesitate to use the Dialectic journal (grades 7-9).
Bible Memory Card Sets for all five levels of study, preschool to high school. These are available in both ESV and KJV.

Grab your Bible Road Trip™ Year One Sample Pack. You'll get:
The Bible Road Trip™ Parent / Teacher Guide.
The first three weeks of the curriculum for all five learning levels. Week Three is where we really dive into the Bible and begin to our systematic study. Week Three will give you a good feel for the rest of the curriculum.
The first three weeks of the Bible Memory Card sets for all five levels, in ESV and KJV.
The first three weeks of each of the three leveled Notebooking Journals.
Grab the Sample Pack for FREE:

Disciple your kids by taking your family through the Bible together in a meaningful way!
---
Bible Road Trip™ Curriculum
Take a look inside the Bible Road Trip™ curriculum! Let me show you around:
---
More Thinking Kids Posts You'll Love
---
Join the newsletter
Get the Family Prayer Box Project FREE!
Teach your children to pray with this fun project that includes 7 printable sets!