Timeline Creator: World History Timeline for Kids allows your students to map history on their very own timeline book–the perfect resource!
---
In studying world history, it's important that students can place events, people, and even civilizations in context. Once students are old enough to really begin making connections between ideas, events, civilizations, and texts, it's really helpful for them to have a timeline.
A world history timeline for kids becomes helpful around 4th grade. Students in 7th to 9th grade are developmentally at their prime for making connections, and a timeline for them is vital to their understanding of the way events impact the course of history. Creating a timeline can also be very helpful for visual students who learn best by seeing
When my children were old enough to understand that historical and biblical events occurred in time and space, I helped them each become a timeline creator with this printable 132-page My Timeline Notebooking Journal. We printed it on cardstock, bound it, and they've been writing dates in it ever since!
Our world history timeline has become one of our favorite tools in studying history. Using the My Timeline Notebooking Journal has really helped my kids grasp how ideas inform events, and how events in one place can affect events (and leaders) in another.
---

---
Timeline Creator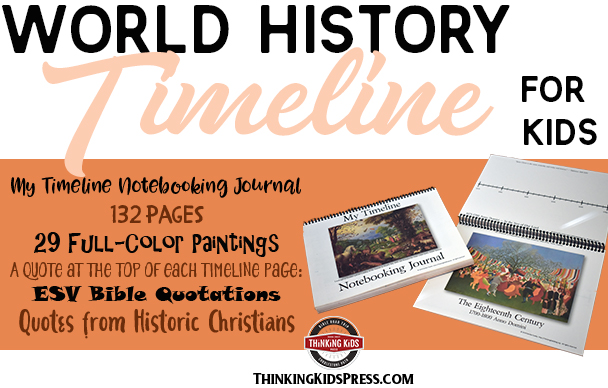 Your child can become a timeline creator too with their very own blank timeline book. Used by tens of thousands of homeschoolers, your child's My Timeline Notebooking Journal can help your child comprehend history in a new, hands-on way.
---

---
World History Timeline for Kids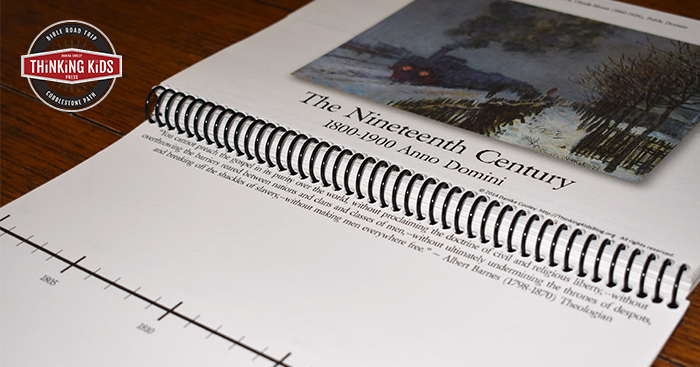 The My Timeline Notebooking Journal is 132-pages, filled with beautiful artwork and plenty of room to record events.
The timeline expands as time progresses since there's just more to record as the centuries progress. The timeline begins in 4000 BC to give you room to record from Creation forward.
---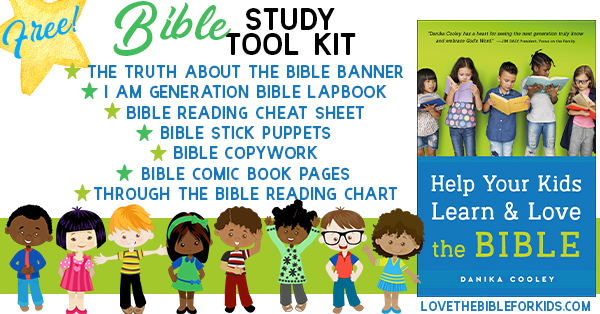 Grab your FREE Bible Study Tool Kit–over 130 pages of Bible resources for your family!
---
The Timeline Page Structure
From 4000 BC to 0 AD, pages cover a century.
Each timeline is broken into 5 year increments.
From 0 AD to 1000 AD, pages cover 50 years.
Each timeline is broken into 2.5 year increments.
From 1000 AD to 2050 AD (for your littlest littles to use later), pages cover 25 years.
Each timeline is broken into 1 year increments.

---
Contents of the Timeline Creator World History Timeline for Kids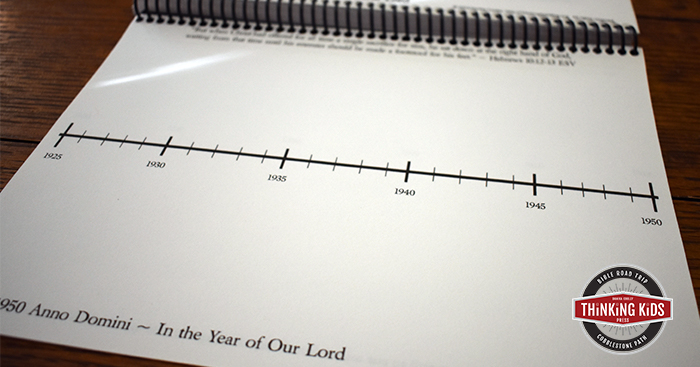 There's more! The timeline isn't just a tool for recording events–it's beautiful and interesting as well. This world history timeline for kids includes:
29 full-color paintings from artists such as Rembrandt, Monet, and Renoir, and from ancient artists. The art is carefully chosen to avoid depictions of: extreme immodesty, angels, demons, mythical gods, Christophanies, or Theophanies (for those who feel those violate the second commandment).
A quote at the top of each timeline page, including:

ESV Bible quotations about time, seasons, and plans.
Quotes from historic Christians such as Charles Spurgeon, Samuel Rutherford, and Hannah More.
---
---
Print and Bind Your World History Timeline for Kids
To print your world history timeline for kids, I suggest printing the pages back to back on
Neenah Premium Cardstock
 for durability and to reduce bleed-through.
You can then take the journals to your nearest office store and have them spiral bound with a plastic cover and back. I suggest printing the pages back to back (duplex on the short side). Alternately, you can also 3-hole punch the pages and store them in a binder.
My boys use a ruler to make their lines and then write their events and dates in different colored pens. My boys love the way these write, and the different colors let the color-code to their hearts' delight: Pilot G2 Retractable Premium Gel Ink Roller Ball Pens.
Students can use a ruler to make their lines and then write their events and dates in different colored pens.

---
Help Your Kids Learn and Love the Bible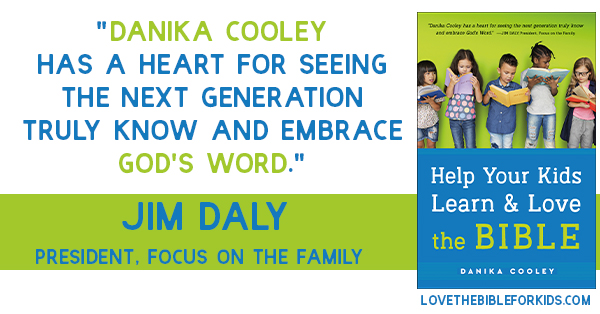 You want your kids to learn and love the Bible. 
You want to teach the Bible…
As parents, we deeply desire the best for our kids. We look for the right schools, we make them eat right and exercise, and we get them involved in extracurricular activities. We take our job as parents seriously.
But are we also putting our time and energy into
teaching them the Bible? Giving them the life-changing, soul-nourishing words of Scripture is not only doable, it's an essential part of parenting kids for Jesus. And the good news is, studying God's Word as a family doesn't have to be difficult!
2 Timothy 2:15, ESV, says:
Do your best to present yourself to God as one approved,
a worker who has no need to be ashamed, rightly handling the word of truth.
Our job, as parents who love Jesus, is to help our kids become approved workers, unashamed and rightly handling the word of truth.
The good news? Teaching the Bible isn't hard. Your family can learn the Bible together.
…and you can!
A Crash Course in Teaching the Bible to Your Kids
Danika Cooley's book, Help Your Kids Learn and Love the Bible, will give you the tools and confidence to study the Bible as a family. It will help you identify and overcome your objections and fears, give you a crash course in what the Bible is all about and how to teach it, and provide the guidance you need to set up a family Bible study habit.
You will finish this book feeling encouraged and empowered to initiate and strengthen your child's relationship with the Lord through His Word.

Help Your Kids Learn and Love the Bible will equip you with everything you need to know to teach the Bible to your kids!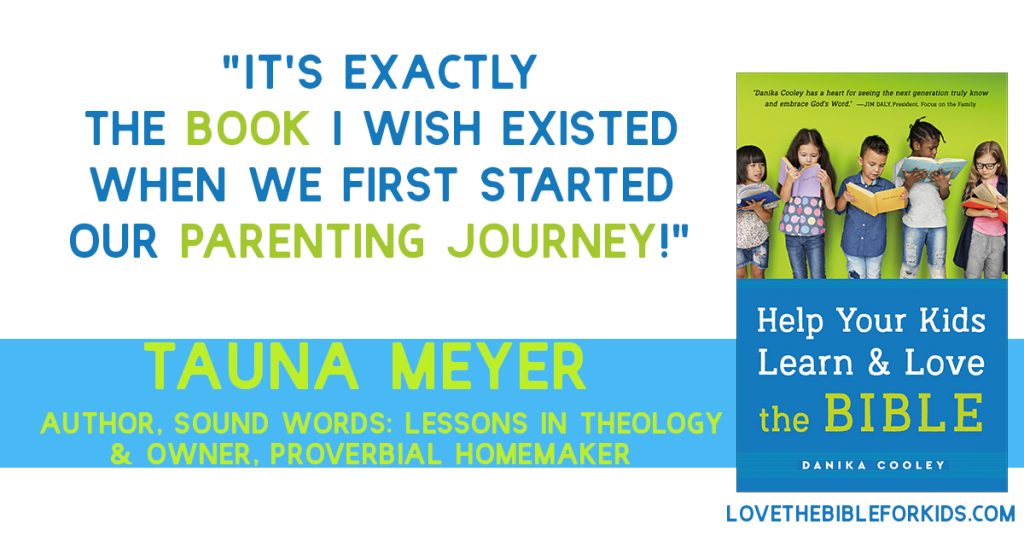 ---
Join the newsletter
Get the Family Prayer Box Project FREE!
Teach your children to pray with this fun project that includes 7 printable sets!