Do you know how to study the Bible at home — even if you haven't read it? It's not hard to get started studying the Bible as a family!
---
Do you ever struggle with how to study the Bible at home with your family?
I mean, should you even do it? What if you get it wrong? What if you really don't know how to study the Bible at home with your kids?
What if you haven't even read the Bible yourself? Isn't that what church and Sunday school are for–so they can tell you what the Bible means?
---

---
Study the Bible?
According to a fall 2016 study by Lifeway with a sample size of 1000 Americans, 11% of Americans have read the Bible once and 9% of Americans have read the Bible more than once.
Not quite 1 out of 10 Americans have read the Bible all the way through two times.
The Barna Group conducted an American Bible Society survey of American adults (The State of the Bible, 2013). The findings? 100% of Protestant adults say there's a Bible in their home. Two thirds of Protestant adults report reading the Bible several times a week. Yet, one third of those couldn't identify the first five books of the Bible, half identified John the Baptist as an apostle, and a quarter didn't know Paul's original name.
Most of us don't really know God's Word.
It's OK if you haven't read through the Bible, either on your own or as a family. You can do it. You should do it. If you're a disciple of Jesus Christ, you're commanded to do it. Let's talk about how.
---

---
How to Study the Bible at Home
When I really came to understand that I was not only supposed to study the Bible at home, but also teach it to my kids, I had a minor panic attack. I mean, I'd never read the Bible all the way through. How was I supposed to teach it? What if I got it wrong? I had read portions of the Bible a number of times. But the prophetic books? Not really.
That was over 15 years ago. I didn't go to school for a Master's degree in theology (though I sure considered it!), but I did take the call to disciple seriously. First, I had to educate myself. Today I write about the Bible for hundreds of thousands of kids. Isn't life funny?
I'm going to give you three steps that will allow you to study the Bible at home with your family. Listen to this video–or read below.
---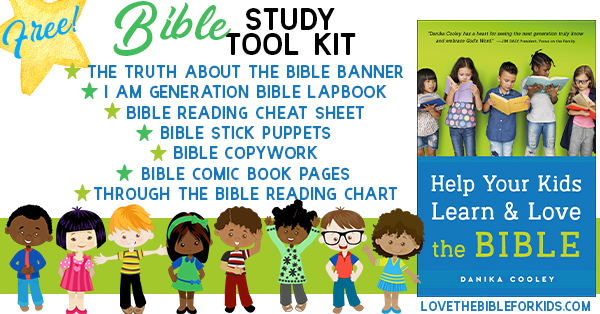 Grab your FREE Bible Study Tool Kit–over 130 pages of Bible resources for your family!
---
Study the Bible at Home
1) Read the Bible. The Whole Bible.
Nothing beats knowing Scripture yourself. Did you know that if you read 12 pages a day from a non-study Bible you can read from Genesis to Revelation in 90 days?
You can read the whole Bible through in 90 days by reading roughly 45 minutes a day if you're a slower reader like me. What can you give up for a half-hour or so a day? Do you watch television? Can you go to bed a little later or get up a little earlier?
As you read, look for the major themes of the story and pay attention to what the Bible tells you about God's nature.
Done reading? Read it again. The only way to really study something is to go through it.
Need a little help approaching the Bible with your kids? Help Your Kids Learn and Love the Bible is your crash course to teaching the Bible to your kids!
---
Listen to the Bible as you cook, drive, or workout.
The Word of Promise Audio Bible: New King James Version
The NIV Listener's Audio Bible: Vocal Performance by Max McLean
NIV LIVE, Audio CD: A New Bible Experience
Holy Bible (King James Version)
NIV, Audio Bible, Dramatized, Audio CD
---
2) Study the Bible.
We parents are pretty busy people. But most of us have some time in the day we can listen to a sermon or lecture.
Do you commute to the kids' school, to work, or to run errands? Do you make dinner? What about the time you spend getting showered and dressed, or your exercise time?
I use those times to listen. I started out listening to our local sermon station on the radio. Not every city has a sermon station, but you can find great resources on the internet. There are great resources available, too, to help you learn more about the Bible systematically, and as you have questions.
Help Your Kids Learn and Love the Bible will help you understand the overall structure and message of the Bible–and how to stay on track as you study the Bible with your kids!
Sermon Audio is an incredible resource. It has over 800,000 free sermons available. You can search by topic, speaker, Bible reference, or date. Alistair Begg, RC Sproul, Paul Washer, Voddie Baucham, CH Spurgeon, and John MacArthur are some of my favorite preachers to listen to.
GotQuestions.org can be a great place to look for answers to your questions about the Bible.
Ligonier Ministries is another great place to look for guidance. They have daily resources available for a donation of any amount, $5 Fridays, and free resources as well. In fact, Ligonier's Crucial Questions series is free in ebook format. There are 20 books available covering basic topics. These are great to share with your older students, and a terrific way to educate yourself.
I suggest you get yourself a great study Bible as well, and maybe some commentaries. Look up referenced verses from the category you're reading. Check out what the notes say about the passage you're stuck on. Look up the geography and history of the place and period you're reading about. Slow down and really understand what you're reading.
---
Dig deeper with resources that will help you study the Bible.
Help Your Kids Learn and Love the Bible
ESV Study Bible
NIV Cultural Backgrounds Study Bible: Bringing to Life the Ancient World of Scripture
The KJV Study Bible (Bonded Leather) (King James Bible)
Crossway ESV Bible Atlas
Encountering the Old Testament: A Christian Survey
Encountering the New Testament: A Historical and Theological Survey
---
3) Teach the Bible.
One of the best ways to learn is to teach. I suggest using a curriculum and being systematic about your study.
In our family, we study using Bible Road Trip™ in the mornings and my husband reads a chapter (usually Proverbs or the Psalms) to us at dinner every night. Easy, right? My kids have been through the Bible several time, and through Proverbs about a gajillion times.
Teaching will help you learn as you go. You'll be solidifying what you learned in your study, and digging deeper to be certain you get it right!
Need an overall game plan? Help Your Kids Learn and Love the Bible will give you a solid plan to study the Bible as a family.
---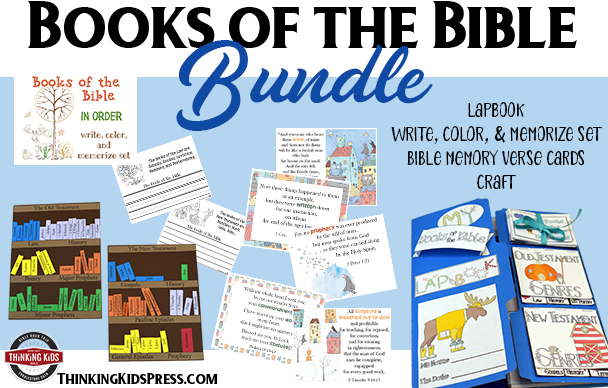 Teach your kids about the books of the Bible with this great family study bundle!
---
Studying the Bible is a lifetime pursuit, and there's no better time to start than today. Knowing God's Word well will help you feel confidant as you teach your own children what Scripture says — and what it means.
---
Books Make Great Gifts!
---
Bible Resources for Your Kids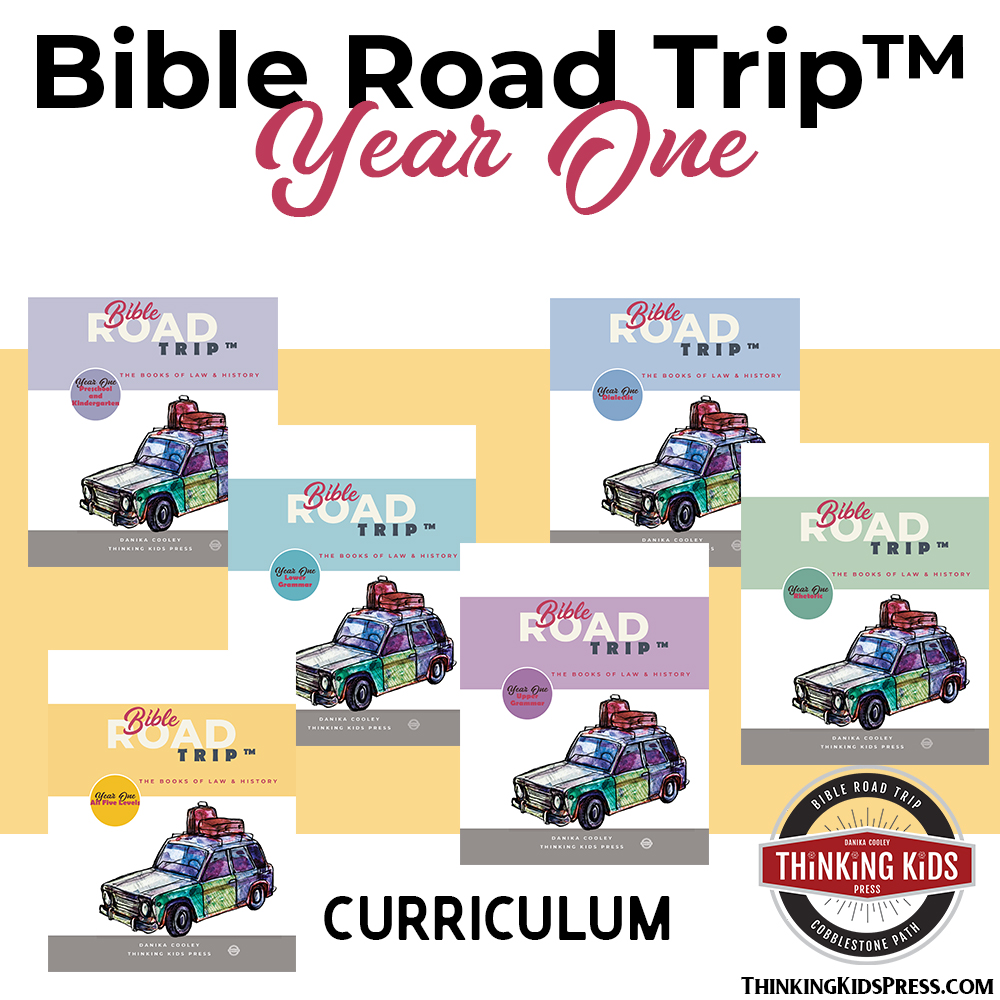 Bible Road Trip™ CurriculumLearn More Here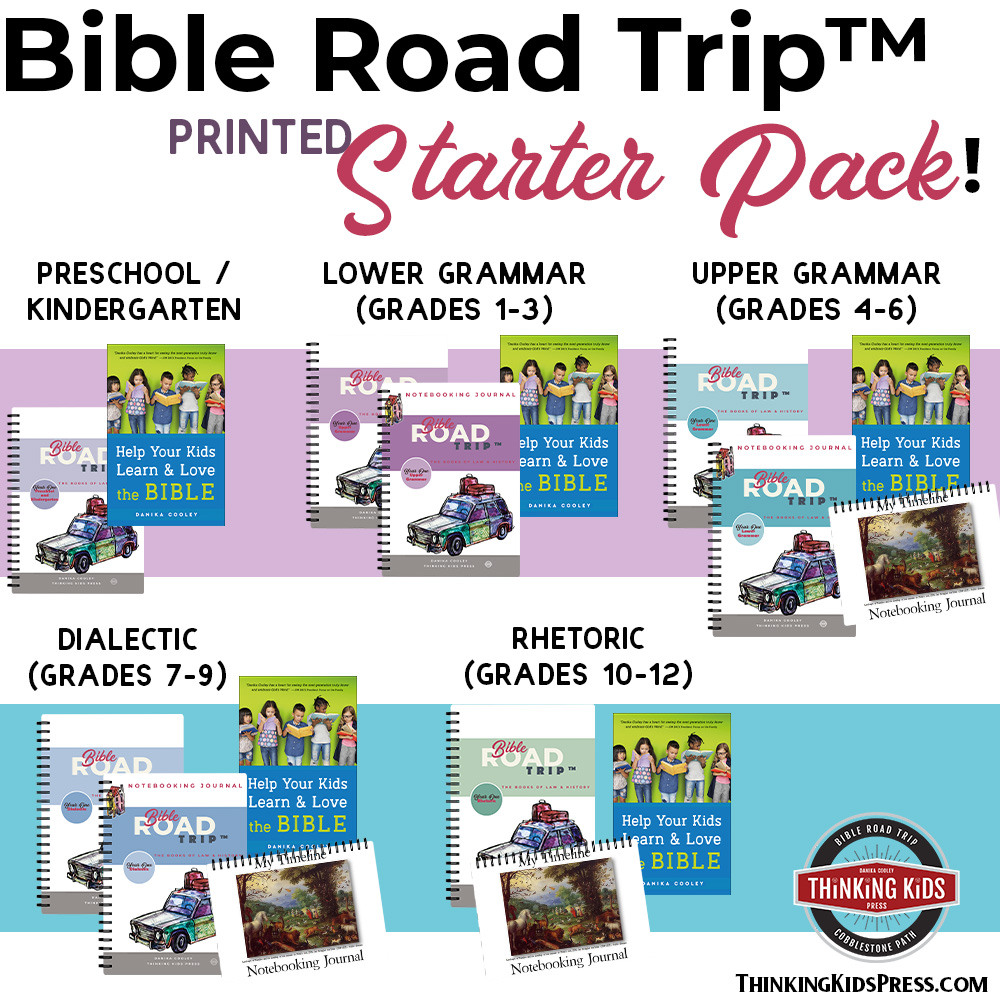 Starter BundleLearn More Here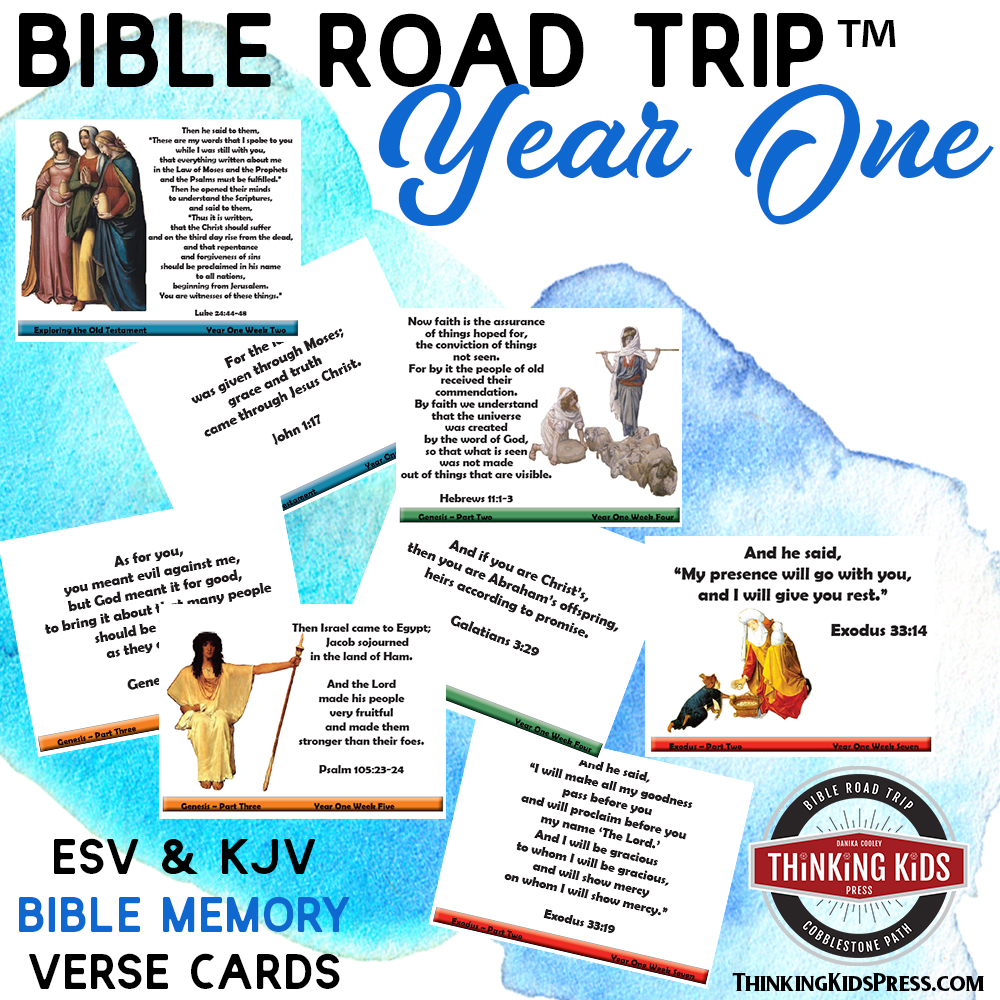 Bible Road Trip™ Memory Verse CardsLearn More Here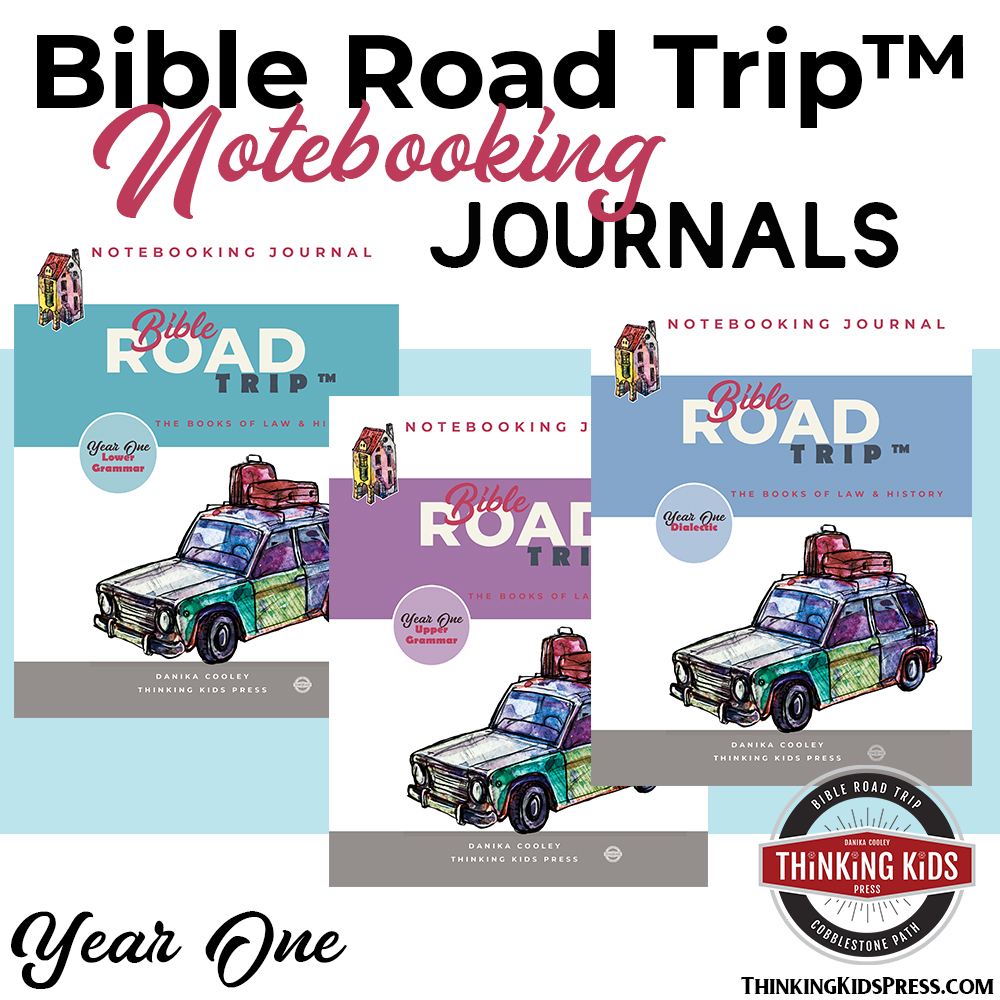 Bible Road Trip™ Notebooking JournalsLearn More Here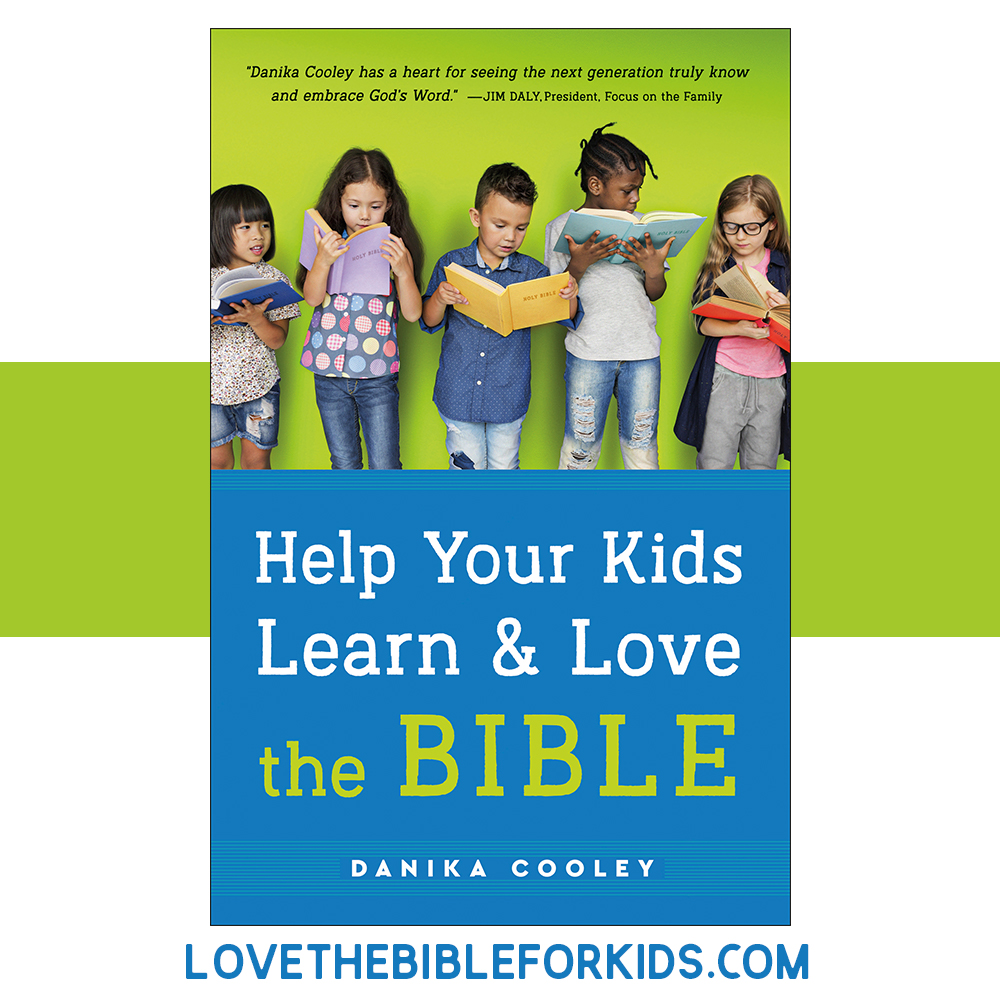 Help Your Kids Learn and Love the BibleLearn More Here
---
Teach Your Kids the Bible with Bible Road Trip™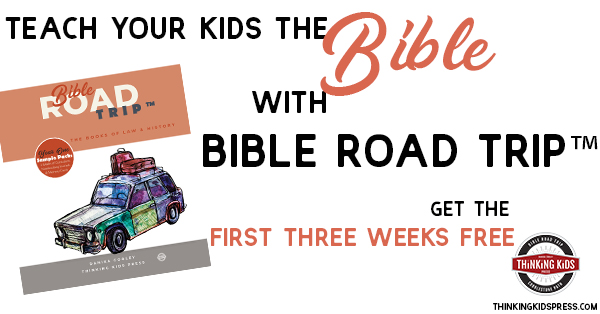 Bible Road Trip™ is a three-year Bible survey curriculum. Take your family through the Bible five times from preschool to high school.
To help you get the most out of your studies, Bible Road Trip™ has an array of coordinating weekly activities:
Researching the section of the Bible you're studying
Reading and discussing the Bible
Memorizing Scripture
Notebooking about your studies
Praying for the nations
Suggestions for further study
Crafting about what you've learned
For your older students: A project to share what they've learned
Bible Road Trip™ also has some great tools you can use along with it, such as:

Notebooking Journals for grades 1-9. Want a structured notebooking journal for high school? Don't hesitate to use the Dialectic journal (grades 7-9).
Bible Memory Card Sets for all five levels of study, preschool to high school. These are available in both ESV and KJV.

Grab your Bible Road Trip™ Year One Sample Pack. You'll get:
The Bible Road Trip™ Parent / Teacher Guide.
The first three weeks of the curriculum for all five learning levels. Week Three is where we really dive into the Bible and begin to our systematic study. Week Three will give you a good feel for the rest of the curriculum.
The first three weeks of the Bible Memory Card sets for all five levels, in ESV and KJV.
The first three weeks of each of the three leveled Notebooking Journals.
Grab the Sample Pack for FREE:

Disciple your kids by taking your family through the Bible together in a meaningful way!
---
Bible Road Trip™ Curriculum
Take a look inside the Bible Road Trip™ curriculum! Let me show you around:
---
More Thinking Kids Posts You'll Love
---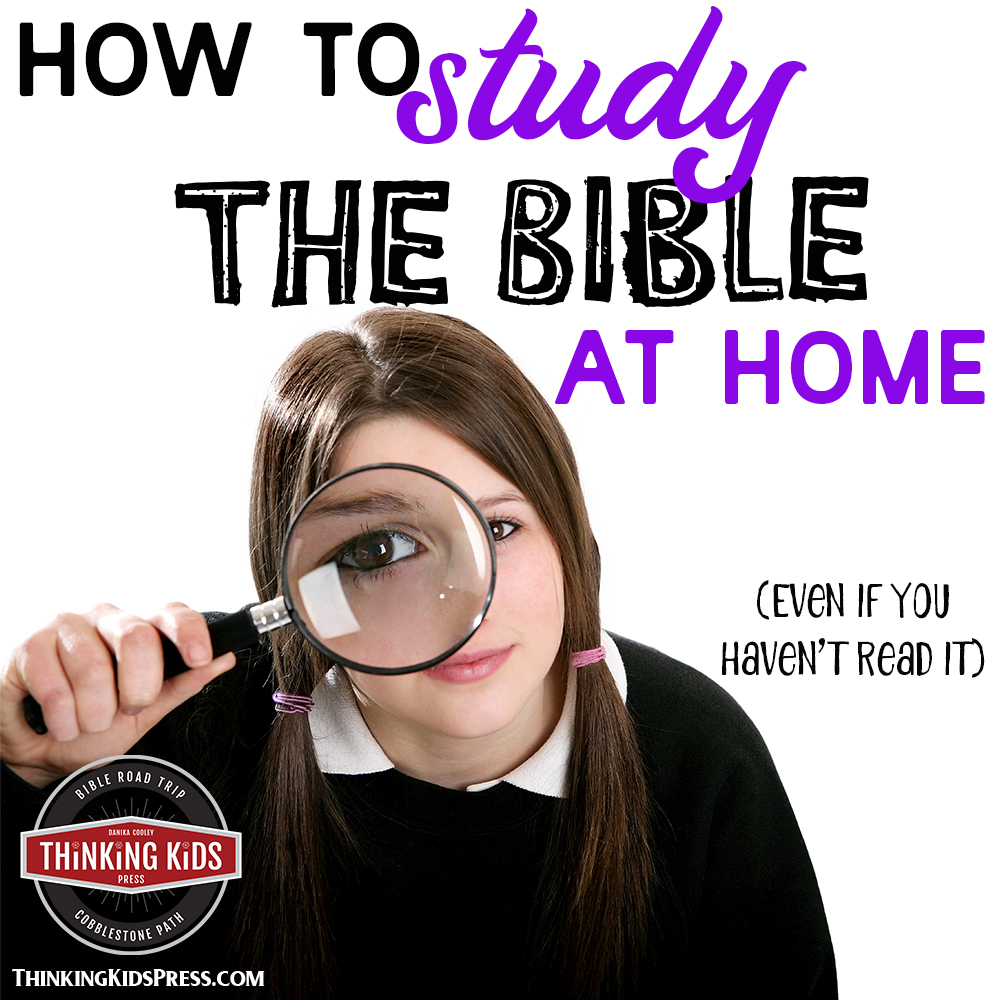 Join the newsletter
Get the Family Prayer Box Project FREE!
Teach your children to pray with this fun project that includes 7 printable sets!