Looking for a Bible curriculum for your kids? Check out the buzz on Bible Road Trip™ – reviews from moms like you!
---
Are you looking for a unique children's Bible curriculum for your family or homeschool?
Do you want your children to actually study the Bible rather than just reading Bible stories written for kids?
Tens of thousands of families agree that Bible Road Trip™ fits the bill!
A Unique Children's Bible Curriculum
Bible Road Trip™ is a three year survey Bible curriculum for kids from preschool to high school with coordinating notebooking journals and Bible verse memory cards.
---

---
Bible Road Trip™ Reviews
"Let another praise you, and not your own mouth;
a stranger, and not your own lips." ~ Proverbs 27:2 (ESV)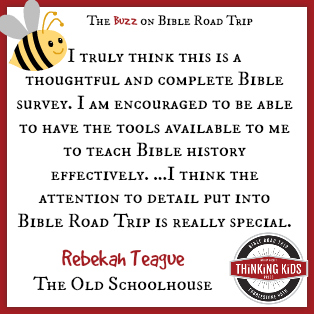 Rebekah Teague at the Old Schoolhouse: I truly think this is a thoughtful and complete Bible survey. I am encouraged to be able to have the tools available to me to teach Bible history effectively. …I think the attention to detail put into Bible Road Trip is really special.
---
---
Georgia: "We have been using Bible Road Trip as the basis for our homeschool this year and we are in love. It is great to see my children gleaning from God's word each day!"
Melissa H: "Wow! We are almost finished with Year One and even I have learned so much! We are really enjoying the engaging questions and the mapwork. I'm so glad our family found BRT!"
Nicole at Schooling in the Sun: "I liked that this is something that we can all do as a family, regardless of our different learning styles and levels.  The Notebooking Journals ensure that each of my kiddos can work at their own pace, while still learning verses together and reading the same stories.  The crafts, also, surprisingly appealed to both my non-crafty son and my artsy daughter–although both were eager to create, you can see that they did so in very different ways!"
---
---
Joelle at Homeschooling for His Glory: "BRT is one of the best Bible curriculums out there. It is solid and sound in theology, yet easy to implement. You study the Bible from cover to cover and get a real sense of what the Bible is all about with age appropriate readings and discussion questions as well as notebooking activities, perfect to engage the whole family."
---
Lee P.: "We are in week 3 with a kindergarten and almost 3yo. We love the 365 bible stories and the what's in the bible with buck Denver. They are excited to read every day!"
Melissa H.: "Aw, we JUST started our Road Trip yesterday! I'm loving the layout and the flexibility. The kids aren't excited about the memorization, but I took your lead and told them they'd get a licorice for each verse they memorized 🙂 we'll see how that goes."
Deanna at His Treasure Seekers : "I like that Danika has created the program as an adaptable tool for families. "The goal is to acquaint our children with the Word of God, not to create busy work." If the suggestions she makes for each lesson aren't helpful, it's not going to cause problems if you decide to skip them with your family. On the other hand, she provides some wonderful ways to engage children…I think my favorite part of the curriculum, however, is the Notebooking Journal. The pages Danika has created are just stunning!"
---
---
Anne Marie at Future Flying Saucers: "I LOVE this Bible Curriculum!! And I plan on getting each year, sending the downloads to the printer and binding the Teacher guides and the notebooking journals. Something that I think is neat, is that over the years, my children are going to have notebooks FILLED with their thoughts about Jesus and who God is. What a treat it will be for them to pull these journals out 5, 10, 20 years later and read what they wrote about Solomon and Samson, David and Paul. Memories are wonderful to make, but scripture is eternal."
---
Rachel at Titus 2 Homemaker: "I have to say that Danika and I must be "kindred spirits," because as I read through her explanations of why she set things up the way she did, I found myself nodding and thinking, "Yep. That's why I made that decision with our unit studies, too.""
Misty at Harris Sisters GirlTalk: "Bible Road Trip was hands down my success story from this school year."
---
---
Dawn W.: "We are a large family (14kids) and this is our second year with Bible Road Trip. We love it. We pick and choose what is important to us and it's wonderful to see the kids in the word daily. Buck Denver and incorporating Drive through History is a wonderful way to add more life to the lessons. Seriously, who doesn't love Buck Denver? All the kids sit down and watch the videos together. We also are working our way through the recommended books. Kids ages 16, 14, 13, 11, 10 are doing it now. Hoping to start with my 9, 7 and possibly more next year. Thank you so much for the resources that I don't have to put together myself."
---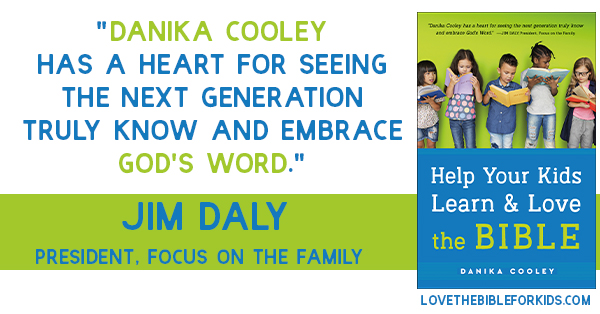 ---
Cassandra at The Unplugged Family: "I love Danika's heart and the flow of the program does exactly what she promises – it gets you and your kids into scripture- deep into scripture.  Not only reading the passages, but understanding them and asking questions, finding truths, themes, connections – and then Notebooking about what you are learning."
---
Sandra M.: "We have been using Bible Road Trip for over a year now. I'm loving that my children 7, 5 & 3 are digging deep into the scriptures with me. We have had many valuable and beautiful times sharing together and it's not uncommon for them to say "Don't stop." when I say we are finished. Thank you so much for all the work you have put into this program it has been a blessing in our home."
Katie at Daily Life: "We have now been using The Bible Road Trip for the last five months and we LOVE it. We were able to get a copy of the book we needed and the What's in the Bible DVDs. AJ and I have learned so much. We love using the note booking pages to fill in the information that she learns. It is a wonderful program that is all planned out and easy to use. We plan to continue with it this year and to use year 2 next year."
---
---
Melanie R.: "I really appreciate the curriculum….  My children and I have learned so much using it. I love the completeness of it and especially love all of the recommended books and resources you have included. My children loved Tirzah and God King. They kept yelling for more. Your questions after the recommended Bible reading are thought provoking and you have made the Old Testament, which was difficult for me to reconcile to the New Testament in my own heart understandable for my children and easy for me to teach. You have also taken the mystery out of the Old Testament for me as well."
---
Bible Resources for Your Kids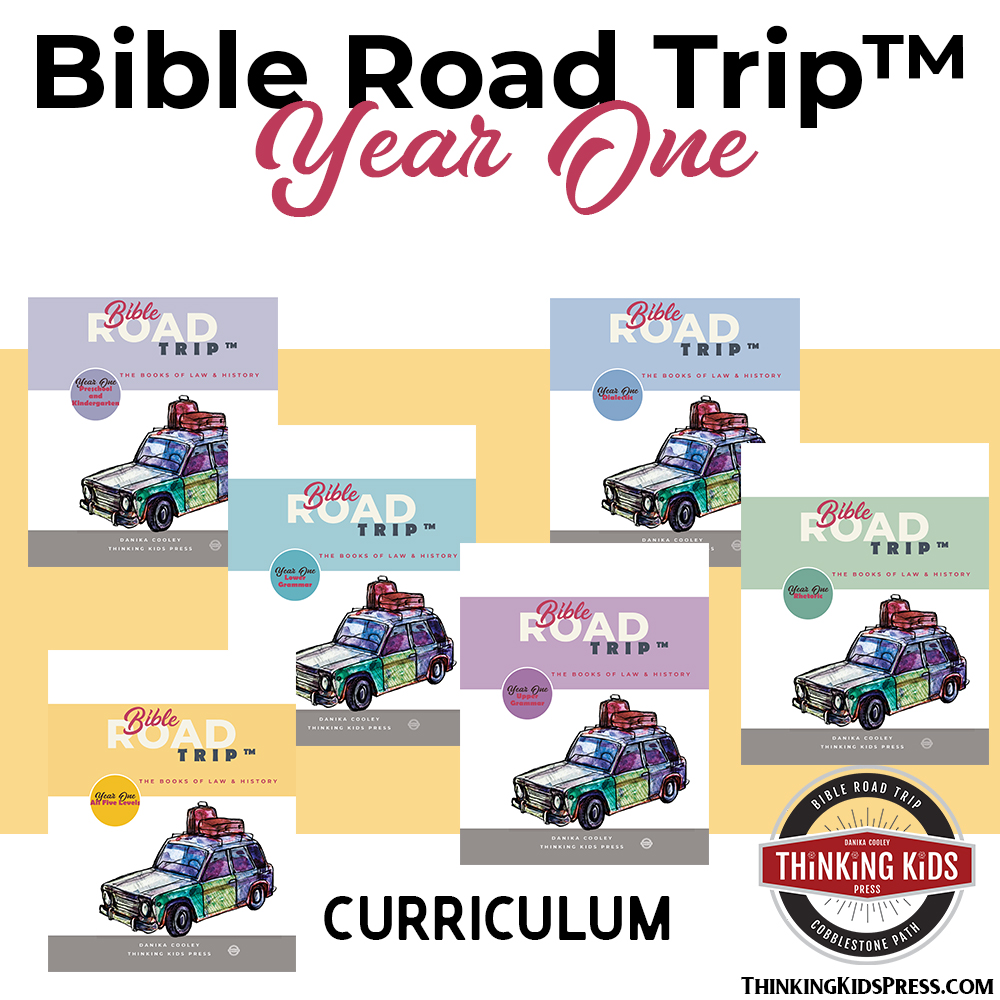 Bible Road Trip™ CurriculumLearn More Here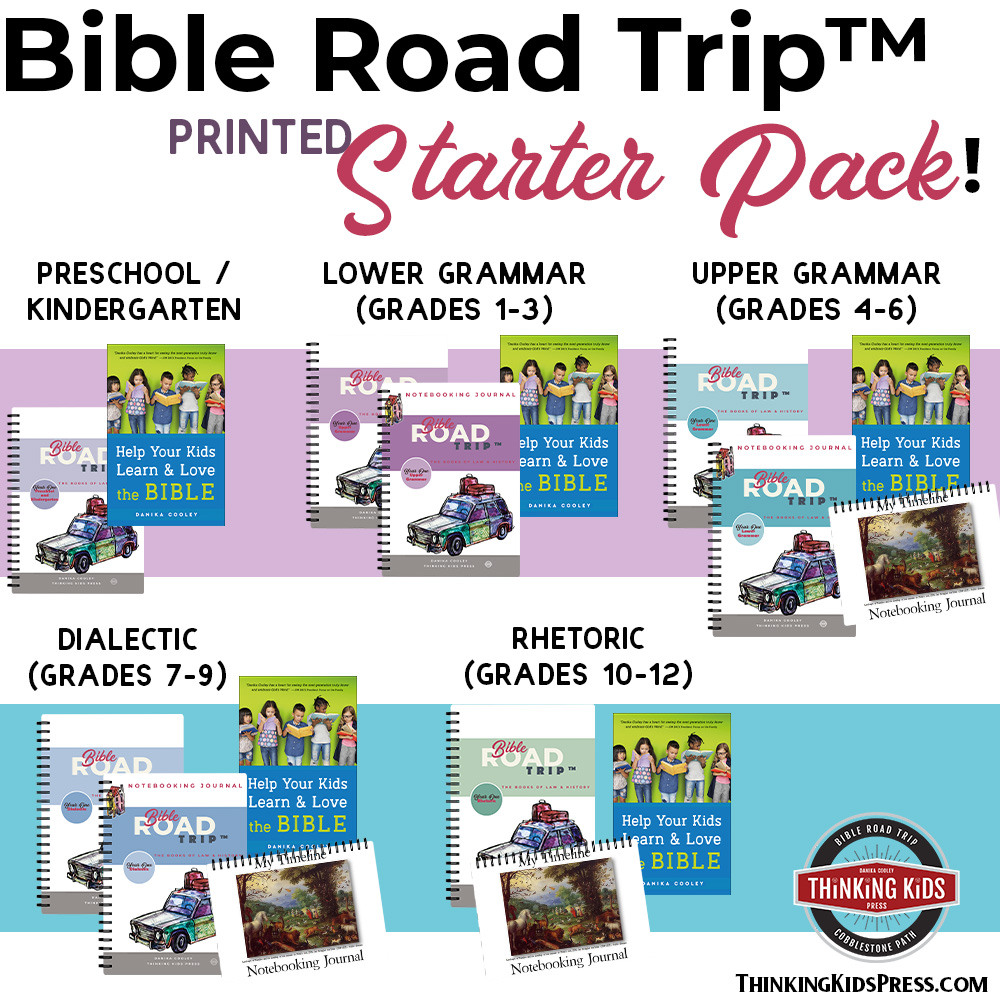 Starter BundleLearn More Here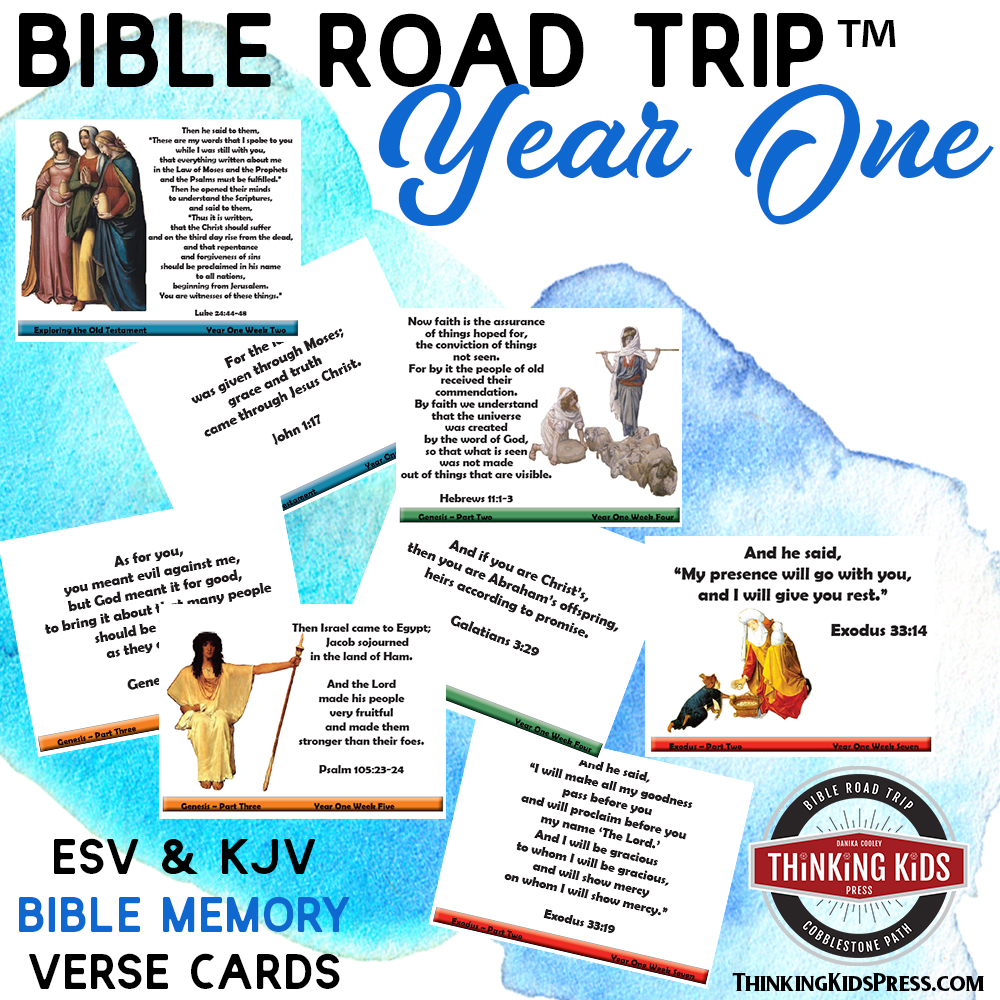 Bible Road Trip™ Memory Verse CardsLearn More Here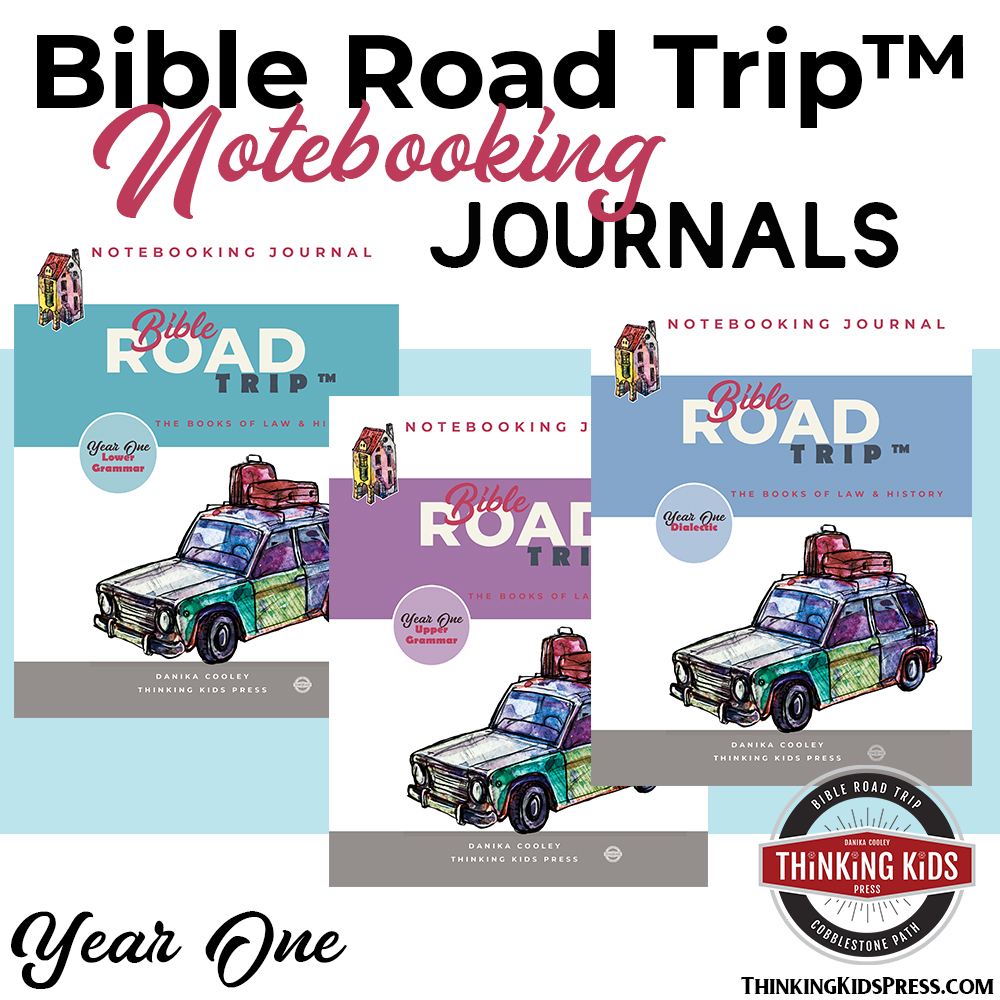 Bible Road Trip™ Notebooking JournalsLearn More Here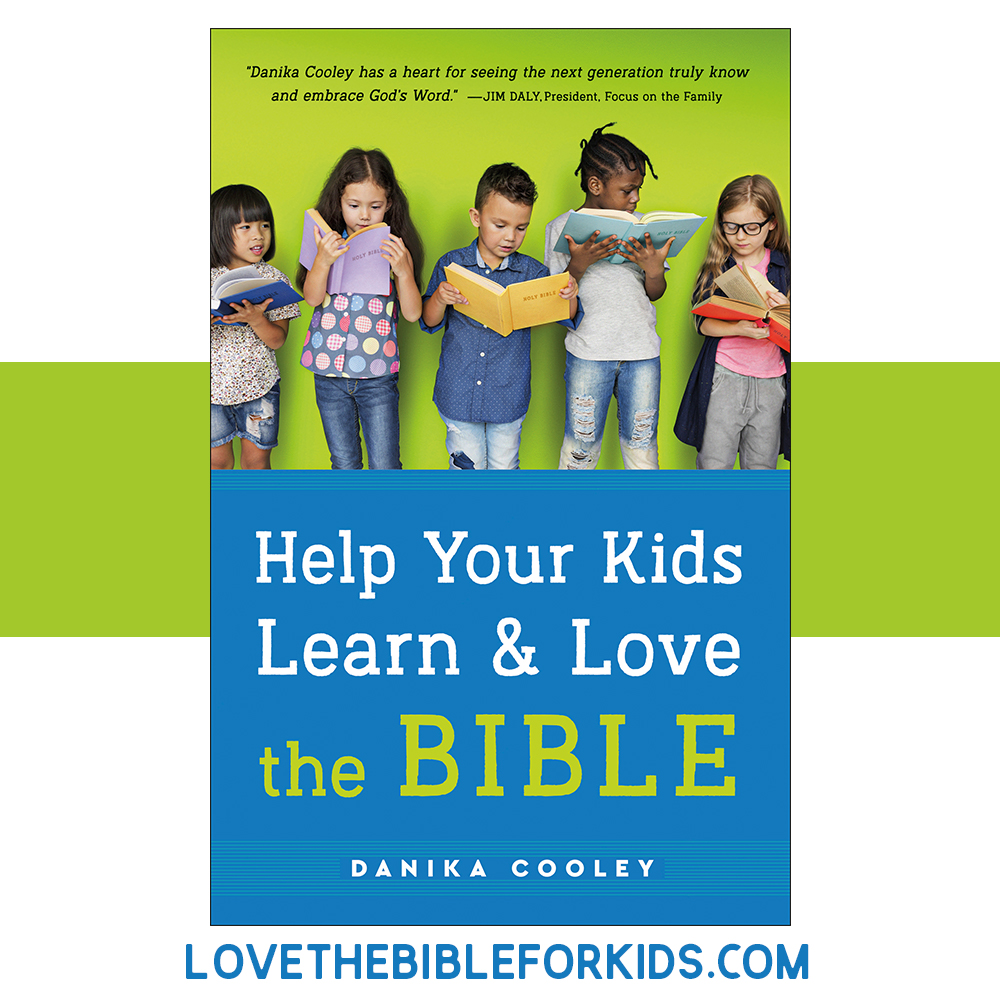 Help Your Kids Learn and Love the BibleLearn More Here
---
Keri at Growing in His Glory : "The Lord is teaching me that it doesn't all have to get done nor does it have to be perfect. This time is about helping my children grow in love for God and His Word. Thus far, Bible Road Trip has been everything in a Bible curriculum for my children that I could want. And the beauty is that I'm learning and growing right there with them!"
---
Jacelyn G: "We just started year one and love the notebooking pages. They have helped us to stay on track and dig deeper in the Word."
Karyn at Teach Beside Me: "I love that she has designed it this way because the teacher's manual works for all the different levels. So if you have kids of varying ages, you can ALL do this Bible study curriculum together as a family. You won't need something different for the differing ages; you'll just need a different level of note booking journal. Each level goes a little deeper into the studies to help kids think more and grow more."
Gina: "We've been using this for our bible study curriculum and we love it! I downloaded the free notebooking sheets and have been checking books and videos out of the library."
---
---
Tauna at Proverbial Homemaker: "The children hear a daily reading of the scripture passages associated with the lesson and my oldest (7) has begun trading off with me, stretching his reading muscles with Children's Bibles and even a full text ESV Bible. My emerging reader (5) gets this kind of practice in simply by reading and writing in the copywork pages. The notebooking pages in Bible Road Trip and Sound Words are a great way for my 7 year old to work on writing complete sentences, summarizing, creatively representing what he learned in drawings, and so on."
---
Christine G.: "I cannot tell you how much our whole family has been blessed by this. Years ago, I read the book Heart of Wisdom and was introduced to the idea of spending much more of our school day in God's Word, but somehow the idea was like the seed that fell by the wayside–quickly sprouting up, but dying away. Your curriculum has made the idea like the seed scattered on good soil. What a gift you have given our whole family."
Ticia at Adventures in Mommydom: "About four years ago I looked at what was currently being offered for kids to learn about the Bible and bemoaned the lack of anything that wasn't fluff but still had a hands on element to it. So I started making my own curriculum. I guess Danika also thought the same thing because she created Bible Road Trip."
The McKinnon Family: "This curriculum has been so great! This is our first year homeschooling & we have loved doing this as a family (kids ages 5-12). The additional resources have been fun & insightful and your curriculum is rigorous enough to keep everyone challenged. Appreciate you investment in families of faith! We've decided to keep working through the summer & start with Year Two!"
---
---
"Bug", age 8, at Schooling in the Sun: " I really liked how we went over Bible stories and were able to do some of my favorite ones.  The armor of God was very fun and I learned where salvation, truth, spirit, etc. were on the armor.  My favorite part was the story of the builder."
"Firefly", age 12, at Schooling in the Sun: "I really, really enjoyed doing this, and I think it is something that I would like to keep doing. I know that a lot of other kids my age would enjoy it because it's not only a story, but you get to also draw and do activities with it. My favorite part about it was drawing about the stuff we learned, and I also liked doing the suit of armor."
Joyice: "This is, by far, my favorite whole-group Bible study! The creator, Danika, has excellent notebook pages, activities, and lessons planned out with a host of excellent resources divided into various ages/grades from preschool to high school."
---
Bible Road Trip™ Curriculum
Take a look inside the Bible Road Trip™ curriculum! Let me show you around:
---
Teach Your Kids the Bible with Bible Road Trip™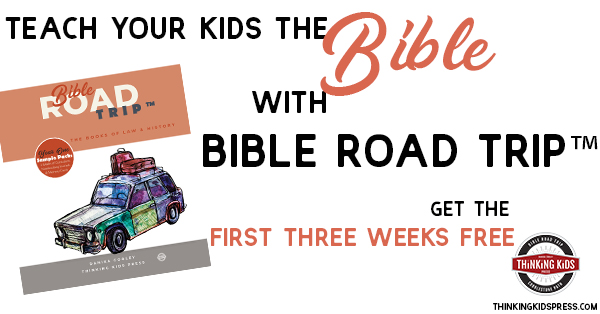 Bible Road Trip™ is a three-year Bible survey curriculum. Take your family through the Bible five times from preschool to high school.
To help you get the most out of your studies, Bible Road Trip™ has an array of coordinating weekly activities:
Researching the section of the Bible you're studying
Reading and discussing the Bible
Memorizing Scripture
Notebooking about your studies
Praying for the nations
Suggestions for further study
Crafting about what you've learned
For your older students: A project to share what they've learned
Bible Road Trip™ also has some great tools you can use along with it, such as:

Notebooking Journals for grades 1-9. Want a structured notebooking journal for high school? Don't hesitate to use the Dialectic journal (grades 7-9).
Bible Memory Card Sets for all five levels of study, preschool to high school. These are available in both ESV and KJV.

Grab your Bible Road Trip™ Year One Sample Pack. You'll get:
The Bible Road Trip™ Parent / Teacher Guide.
The first three weeks of the curriculum for all five learning levels. Week Three is where we really dive into the Bible and begin to our systematic study. Week Three will give you a good feel for the rest of the curriculum.
The first three weeks of the Bible Memory Card sets for all five levels, in ESV and KJV.
The first three weeks of each of the three leveled Notebooking Journals.
Grab the Sample Pack for FREE:

Disciple your kids by taking your family through the Bible together in a meaningful way!
---
Bible Resources for Your Kids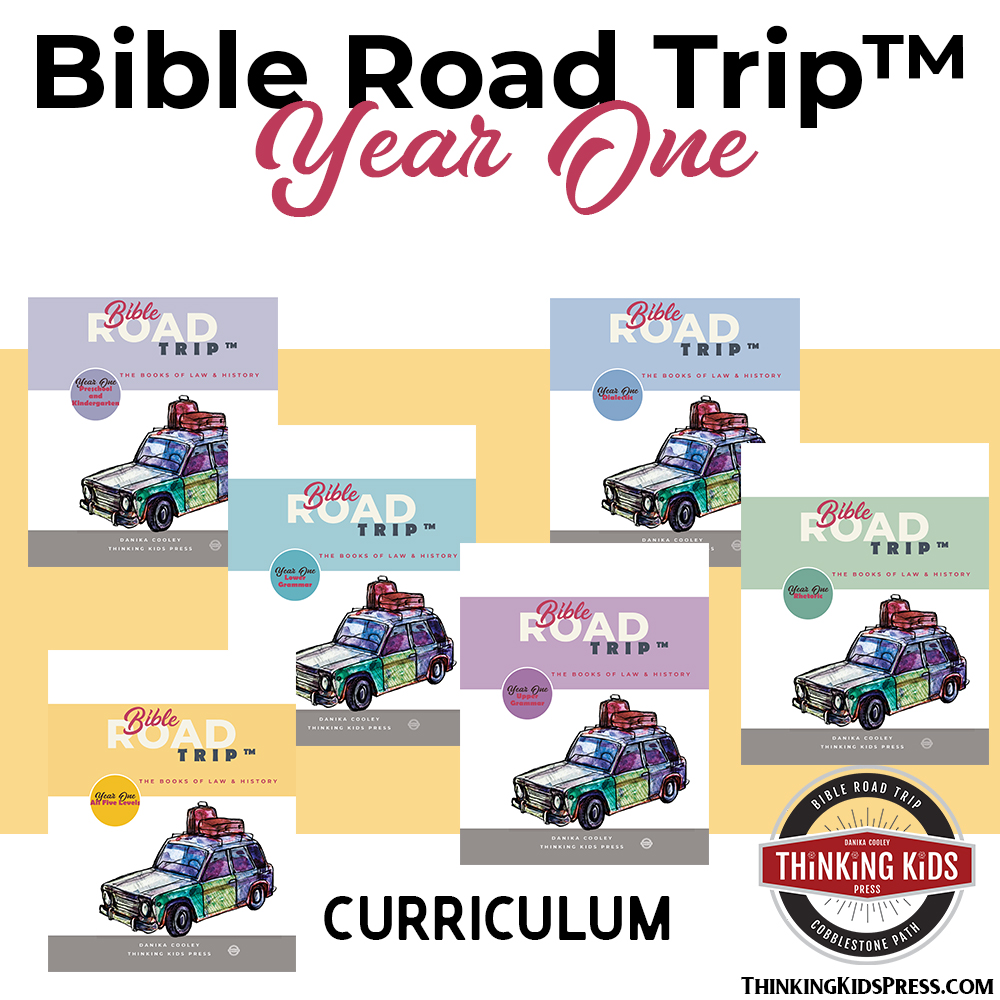 Bible Road Trip™ CurriculumLearn More Here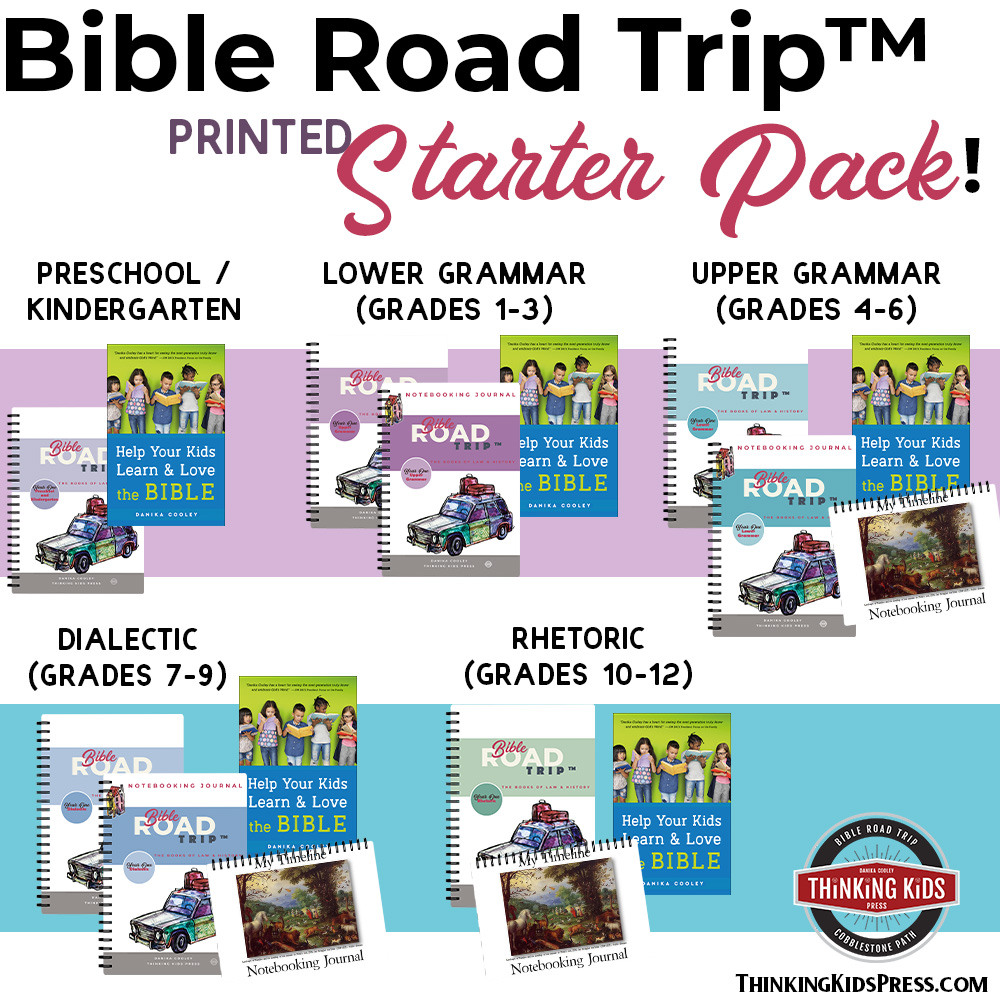 Starter BundleLearn More Here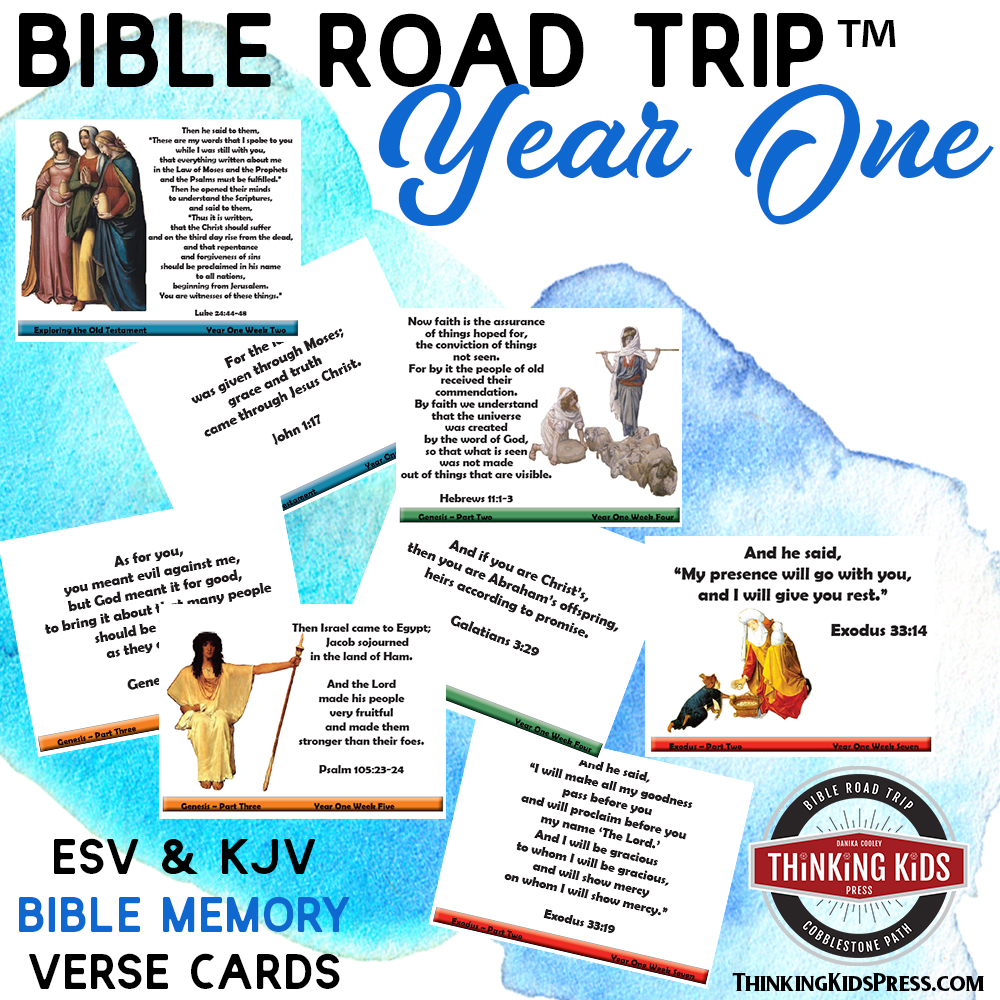 Bible Road Trip™ Memory Verse CardsLearn More Here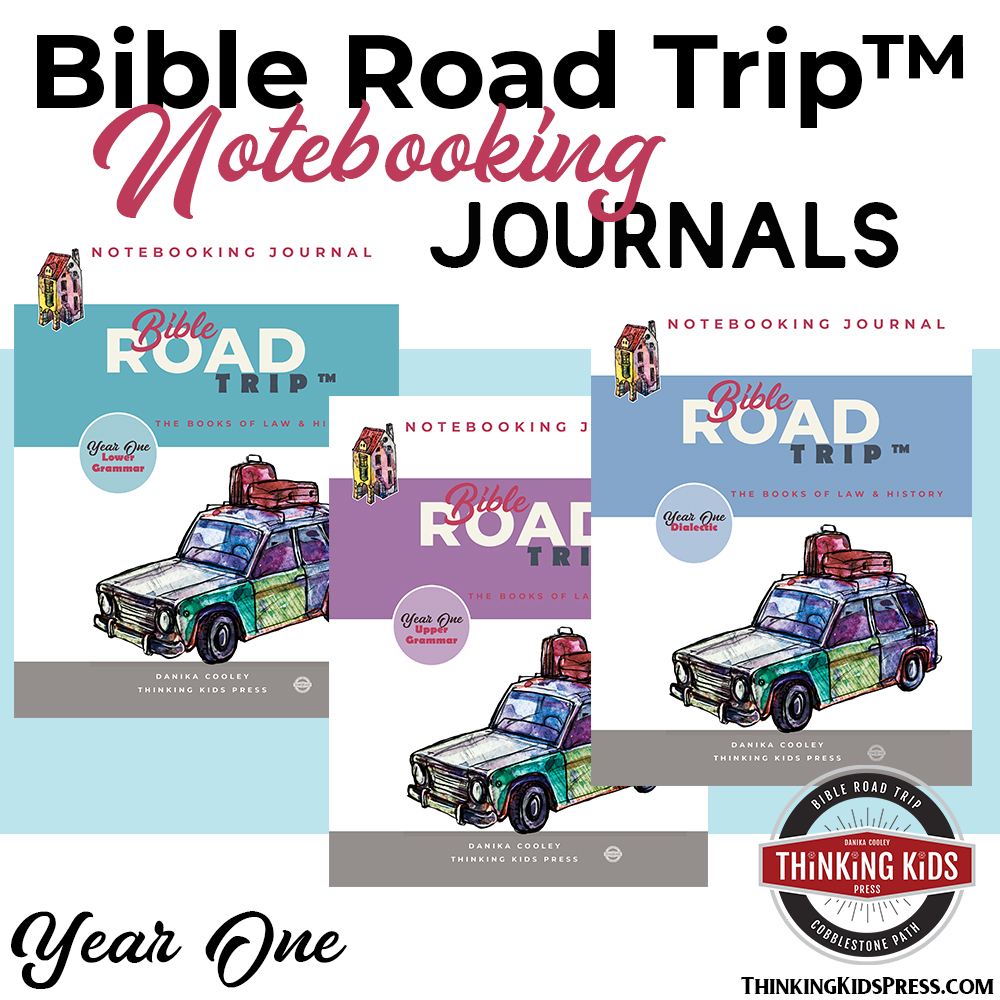 Bible Road Trip™ Notebooking JournalsLearn More Here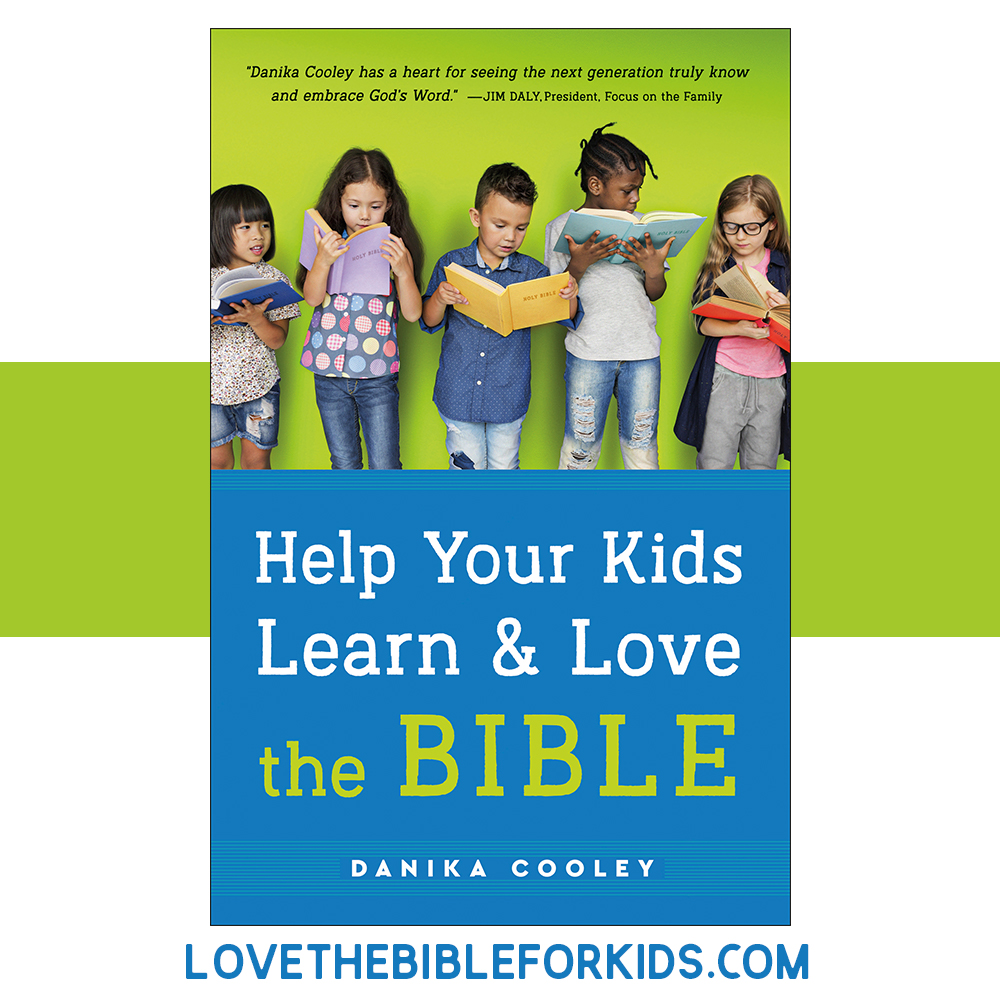 Help Your Kids Learn and Love the BibleLearn More Here
---
More Thinking Kids Posts You'll Love
---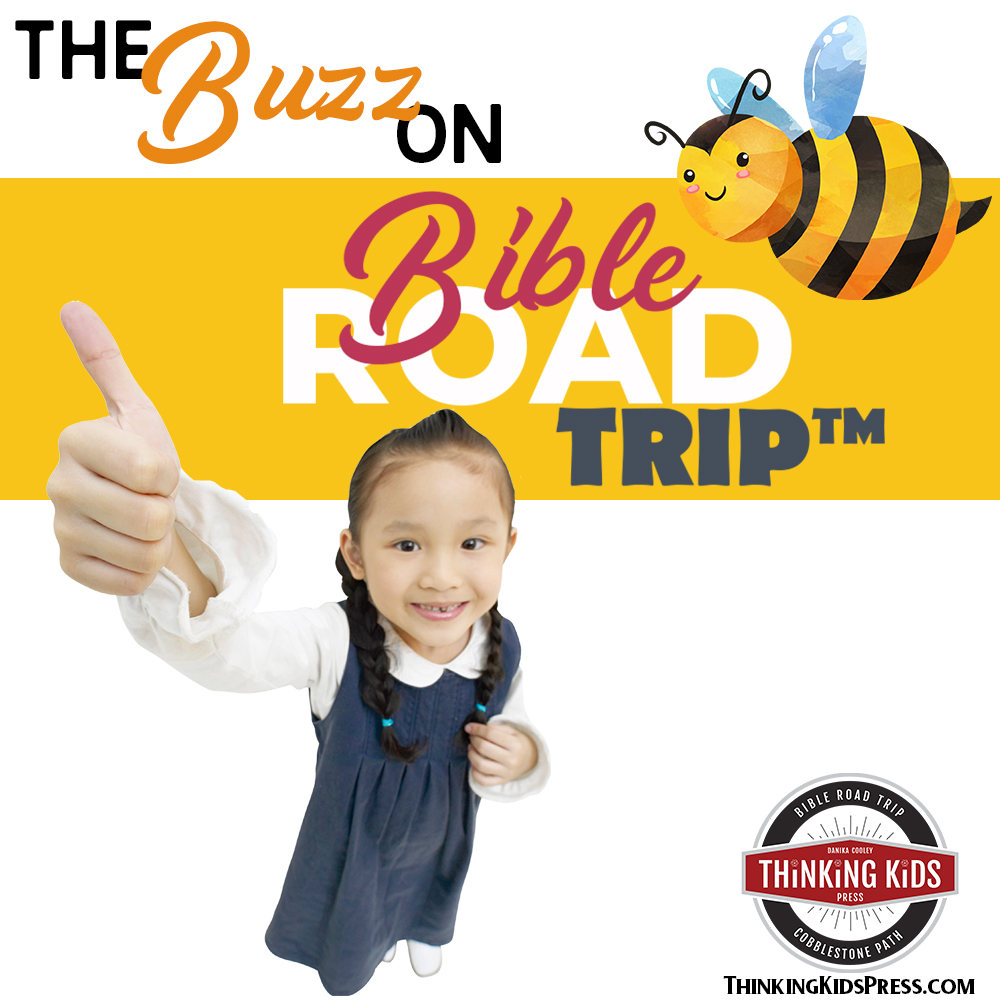 Join the newsletter
Get the Family Prayer Box Project FREE!
Teach your children to pray with this fun project that includes 7 printable sets!