The 5 Solas of the Reformation are slogans that help us remember important Biblical truths. Teach your family about the Five Solas!
---
The Protestant Reformation was a response to Roman Catholic doctrine and theology. That response began with Christians within the Church who sought a return to biblical teachings about salvation, authority, and mediation.
When Martin Luther nailed the 95 Theses to the door of the Wittenberg Castle Church, there was widespread corruption in the Church. But the 95 Theses were a response to a doctrinal teaching–the sale of plenary indulgences, which promised the complete forgiveness of sins in exchange for money. It was the sale of the merit of Christ, a way to buy Jesus' atonement.
The Reform that began with Martin Luther spread like wildfire across Europe. Theologians and Church officials had been calling for reform for centuries, and they lost no time fighting for true biblical teachings.
The Reformation was messy. There were arguments over biblical theology and over how to regard the Roman Catholic Church and other religions. Many, many people died so that we can have the freedom to worship God as we see fit.
In fact, denominations are sort of an outworking of that freedom. You can baptize your infants under Covenantal theology, and I can choose the baptism of believing adults (or children old enough to understand that step) for my family, and we can talk about it as siblings in Christ–and no one dies. We can even still love each other.
---

---
The 5 Solas of the Reformation
Protestants read Scripture in the light of other Scripture. If we have a question about a teaching in the Bible, we can return to the rest of Scripture with that question to hash out the answer. The Bible is inerrant, infallible, and inspired. God does not lie, and His Word does not disagree with itself, so we can be confident that we can find the answers in Scripture.
To explain theology in ways that are easy to remember and that help keep us on the right track when reading the Bible, theologians and historians have come up with terms and slogans we can use to help us communicate and teach effectively. The word Trinity is not found in Scripture, but the Bible's teaching on the Father, Son, and Holy Spirit, the three Persons of the One, Triune God is clear. (This article contains a ton of references if you're up for a rabbit trail!)
The 5 Solas of the Reformation are slogans that help us remember important Biblical truths. At the time of the Reformation, they helped distinguish the difference between Protestant doctrine and Roman Catholic doctrine. Though the slogans weren't used together in a group of five consistently until 1958, the Reformers coined the different phrases in their writings. John Calvin emphasized most together in his writings.
Today, the 5 Solas continue to be important as the orthodox (meaning those who hold to biblical faith, so with a little "o") Church continues to fight to hold to biblical doctrine.
---
---
The Five Solas
Sola means alone in Latin. I'll explain each Sola briefly. I encourage you to go through The Five Solas: Signs to Follow on the Narrow Path seven-day family Bible study and activity pack that my friend Lindsey Stomberg and I put together. It's out just in time for the 500th Anniversary of Reformation Day, and it offers Bible passages and discussion questions to help your family really understand the Five Solas.
Sola Scriptura – By Scripture Alone: The Bible is God's Word, our authoritative, inerrant, and inspired guide. We do not hold any authority–tradition, clerical, political, or otherwise over the authority of the Bible. In fact, we read Scripture in the light of other Scripture.
Sola Fide – By Faith Alone: We are saved by faith alone, not by works or merit. Faith leads to justification (salvation) and then to good works as a sign of our gratitude for salvation.
Sola Gratia – By Grace Alone: We are saved by God's grace through faith. Salvation is a free gift from God. God alone gives the gift of faith and of salvation. We can't earn grace, nor can we earn greater grace through our actions.
Solus Christus – Through Christ Alone: We are saved only by the atoning blood of Christ and it's through Jesus that we know God. We don't need anyone else to approach the Father on our behalf–Jesus does that for us.
Soli Deo Gloria – To the Glory of God Alone: We were created and saved to bring glory to God, the King of the Universe. Everything we do should be for His glory. We don't glorify anyone else, living or dead–only God is to be glorified.
---

---
Reformation Day Family Resources
This October 31st marks the 500th anniversary of Reformation Day, the day Martin Luther nailed the 95 Theses to the door of the Wittenberg Castle Church. That act began the Protestant Reformation.
We can celebrate the return to the biblical truths that Scripture is our authority and that we are saved by grace through faith. It is only the atoning blood of Christ that accomplishes this wondrous salvation. All glory to God!
Some friends and I are excited to offer you a fun family giveaway in celebration of the 500th anniversary of Reformation Day. Before I tell you what you can win, let me tell you who's giving the prizes! I love these ladies and I think you'll enjoy their sites and the resources they offer.
When Lightning Struck!: The Story of Martin Luther
The 5 Solas: Signs to Follow on the Narrow Path, A 7 Day Family Bible StudyBuy Now
When Lightning Struck!: The Story of Martin Luther by Danika Cooley

"Martin Luther's life was too exciting not to be written for teens and younger readers! In this fast-paced, action-packed novel of Martin Luther's life, teen readers (and more than a few adults!) will be introduced to a fascinating time when princes ruled Europe and knights roamed the countryside. They'll learn about a time when powerful forces lined up against each other and believing the wrong thing could get you killed.When Lightning Struck! is far more than just an adventure story, of course. It also tells a theological story. Drawing carefully from Luther's own words, this book introduces readers to a kindred spirit who struggled with what knowing God through Scripture means for daily life. They will understand what was at stake and how powerfully liberating Luther's idea of grace through faith was in his time and in ours!In crisp, enjoyable prose, author Danika Cooley conveys both the drama and the meaning of the Reformation for younger readers like no one before her!"
The 5 Solas: Signs to Follow on the Narrow Path by Lindsey Stomberg and Danika Cooley

"The Five Solas are slogans that were popularized by the Reformers during the reformation of the Church (1350-1648). These slogans are based on biblical truths and sound doctrine. Knowing and understanding the Five Solas is important for your children–it will help read and apply Scripture to their lives.

Each day includes: 

An overview of a Sola or Scriptural concept.
A Bible passage to study with discussion questions.
Additional Scripture passages to read to better understand the intent of each Sola.
A structured notebooking page to encourage independent thinking and writing skills.
A fun family activity to help creatively cement your child's learning process.
A memorable craft to encourage creative expression and further your child's understanding.
Bonus coloring pages for older children and a printable card set for memory games."
---
More Posts You'll Love
---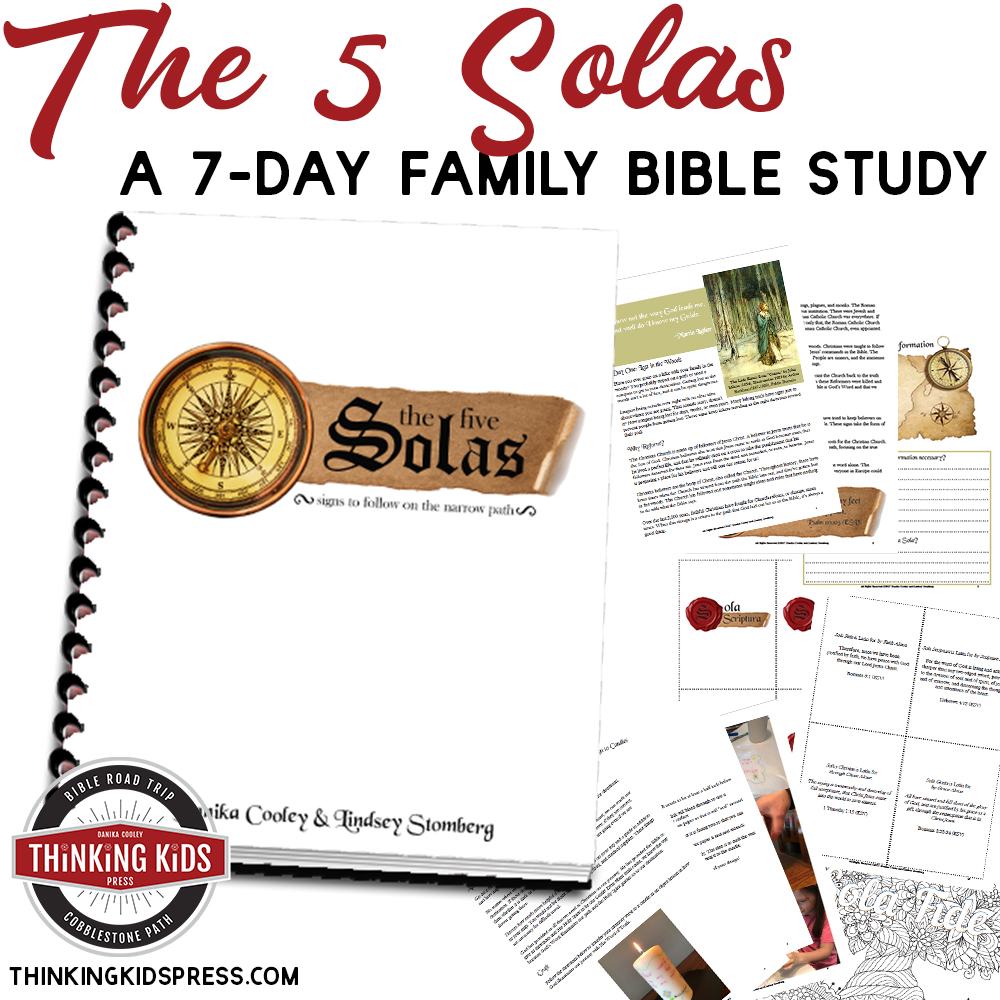 Join the newsletter
Get the Family Prayer Box Project FREE!
Teach your children to pray with this fun project that includes 7 printable sets!