Enrich your Reformation Day party for your family with fun Reformation Day Snacks. Celebrate the beginning of the Protestant Reformation!
---
October 31st is a fun time each year to celebrate Reformation Day.
It's the day that Martin Luther, the Father of the Reformation, nailed the Ninety-Five Theses to the door of the Wittenberg Castle Church.
That act kicked off the Protestant Reformation, a movement to return to biblical teachings about Scripture, faith, grace, Christ, and God's glory.
---

---
Reformation Day Party Ideas
October 31st, 2017 marked the 500th anniversary of Reformation Day. Fun, right?
To help your kids celebrate the yearly anniversary of the Protestant Reformation, I've put together some fun Reformation Day snacks for you, along with printables to complete your presentation.
When Lightning Struck!: The Story of Martin Luther
The 5 Solas: Signs to Follow on the Narrow Path, A 7 Day Family Bible StudyBuy Now
Who was Martin Luther? (Who What Why)
What was the Gutenberg Bible? (Who What Why)
Why did the Reformation Happen? (Who What Why)
Here are some fun ideas for your Reformation Day celebration:
---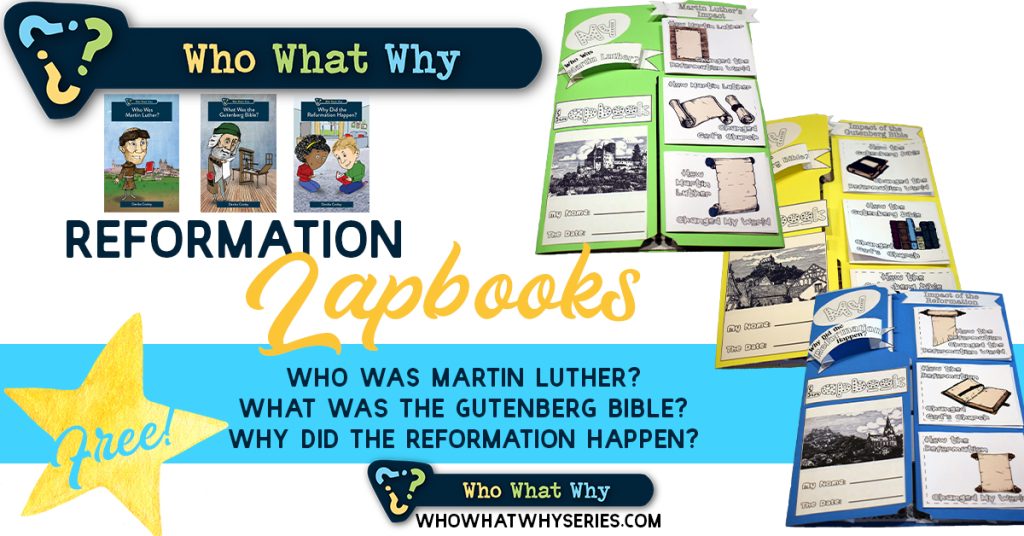 ---
Reformation Day Snacks
Check out this fun video I made of the Reformation Day Snacks! You'll see everything you need to know to assemble your snacks!
---
Tips for Fun Snack Projects with Kids
Working on snack projects with kids is so much fun, but it can be a challenge. If you choose to involve your kids, I have a few suggestions for you.
Expect a mess. Put your child's long hair up, wash little hands, and have them wear washable clothes.
Prepare the food before hand. For little ones, the real fun is in the decorating, so do as much of the prep work as you can before you involve the kids.
Keep basic supplies on hand. I'm embarrassed to tell you how many types of sprinkles I have. We eat really healthy, but when we celebrate, there are always sprinkles involved. It's nice to have a little supply of food decorations. You know, for emergencies.
Set the food to be decorated on a child-size table or on a plastic table cloth on the floor. Nothing ruins the food decorating fun faster than having a child fall off a kitchen stool. Your kids will be intent on their decorating task. They may not remember they're standing high above the ground. (Don't ask me how many children fell off before I realized this!)
It's OK to do easy. We eat vegan, gluten-free cupcakes, so I make mine from scratch. But for special celebrations, there's nothing wrong with decorating store-made cupcakes, or an easy cake mix!
---
Reformation Day Snacks Printable
The Five Solas (read more about the Five Solas for Families) are slogans that remind us of biblical truths. They're signs to follow on the narrow path, which is an analogy that Lindsey Stomberg and I use in the family Bible study 5 Solas: Signs to Follow on the Narrow Path. I thought it would be fun to continue that analogy in the Reformation Day party snacks printables with signs as the labels.
Grab your Reformation Day Snacks Printable over in the store!
An important note: The labels for the Sola Scriptura mini-Bibles are available in the 5 Solas Family Bible Study. 

I recommend printing your labels on
white cardstock
so the labels will be more durable and they'll stand up. This is my very favorite cardstock:
Neenah Premium Cardstock
.
---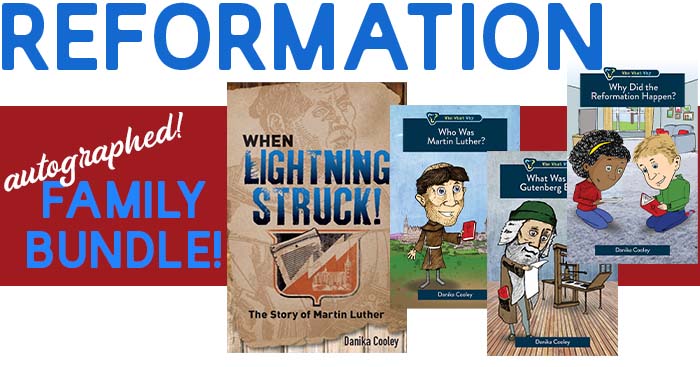 Your kids will love the Who What Why Reformation series with illustrated narratives for 8-11 year olds.
And, Martin Luther's young adult historical fiction story makes the perfect family read aloud!
Grab the autographed Reformation Family Bundle!
---
Supplies Needed to Make Your Reformation Day Snacks
You'll need a few supplies to make your snacks. You may have a few of these items already. If not, these are all fairly inexpensive and will serve you well for multiple projects and snacks.
Note: If Amazon Pantry is not available in your area, some of the food products may be less expensive at your local grocery store. If you live far from a city (like I do), you may find that some things (like the candy eyeballs) are much easier to find online. I linked to everything you may need so you'll know exactly what I'm thinking when I suggest items.
The 5 Solas Family Bible Study
Cardstock, 65 lb

Student Scissors

Elmer's Glue Sticks, 4 Pack

Elmer's Glue, 2 Bottles

Candy White Eyeballs

Thin Ribbon Assortment, 36 Yards

Wilton Chocolate Jimmies Tub

Rold Gold Classic Stick Pretzels

Mini Fall Leaves Sprinkles

Gummi Worms, 5-pound Bag

Jet Puffed Marshmallows

Baker's Dipping Chocolate

Wood Craft Colored Stick

Wooden Clothespins

Pillsbury Funfetti Cake Mix

Pillsbury Funfetti Vanilla Flavored Frosting

Wilton Polka Dots Baking Cups

Pacon Card Stock, Colorful Assortment

---
Putting Together Your Reformation Day Snacks
Your children can help with most of these steps, and you can step in and help whenever necessary, or you can prepare this for your family or group in advance.
1) Print Your Reformation Day Printable, Your Sola Scriptura Printable (from the 5 Solas Study) & Cut Everything Out
Print your labels on white cardstock.
If you're going to make the Sola Scriptura mini-Bibles, you'll want to print those labels on regular paper. You'll find the Sola Scriptura labels in the 5 Solas Family Bible Study.
Note: You'll want to cut out all of your labels in advance. Your older kids can help with this task. If you need more labels, you can just print extra sheets.
---
2) Decorate Your 5 Solas Cupcakes
You'll use the smaller Solas signs on page 2 of your printable to decorate your cupcakes. Make sure you have the Solas signs printed on white cardstock, and that you've cut them out. Using a glue stick, glue them to a clean craft stick. Insert one sign in each cupcake, and voilá, you have decorated your cupcakes!
Each cupcake is a great reminder of one of the five Solas, the sign posts to biblical truth the Reformers wrote about in their letters.
---
3) Make Your Sola Scriptura Mini-Bible Chocolates
One of the central sticking points of the Reformation–the reason the Protestant Church came into being–was Sola Scriptura, By Scripture Alone.
Protestants stand firm on the Bible as our authority–the true Word of God. We look to Scripture for direction rather than to tradition, popes, or councils. These little mini-Bibles are a fun way to remember that Scripture is central to our Christian walk with Jesus.
You'll need two chocolate nugget bars for each mini-Bible. Cut a piece of colored cardstock a bit bigger than two nuggets side-by-side together. Use a glue stick to glue the nuggets on the cardstock.
Use the glue stick to glue the back side of one of your 
Sola Scriptura 
labels (again, these are available in the 
5 Solas Family Bible Study
) to the two bars. Cut a small length of ribbon and glue it to the paper in the middle of the mini-Bible, where the two chocolate bars come together. You'll want to use white glue for the ribbon, as the glue stick won't be sufficient.
Don't forget to glue the That Word Above All Earthly Pow'rs (a phrase from A Mighty Fortress is Our God, a hymn written by Martin Luther) to a clothes pin and attach it to your serving platter.
---
4) Decorate Your Worms (For Your Diet of Worms)
Martin Luther famously stood trial before the Holy Roman Emperor, lesser political officials such as the German princes, and officials of the Roman Catholic Church at the Diet of Worms. The Diet was a formal trial and Worms was a city in Germany.
Kids love to joke about the Diet of Worms because, well, it's a funny name! Let's have some fun with the name and make some awesomely weird worms. My teens tell me these are surprisingly good–they ate all of ours in short order.
You'll want to frost the bottom of your gummy worms and then stick them in a bed of chocolate sprinkles (jimmies). Using some frosting or cake gel, attach your candy eyes to either side of each worm's head. Ideally, you'll want to carefully place each worm on a tray lined with wax paper while the frosting hardens. I didn't do that for the video, but sticking them in the fridge for a half hour made the frosting firm right up so the sprinkles would stay attached.
Put your worms in a bowl, glue your Diet of Worms sign to a clothes pin and attach that to your serving bowl.
---
5) Make Your Marshmallow Hammers
Making this snack is really quick.
Insert one pretzel stick in each marshmallow (like a hammer). Heat and stir your dipping chocolate discs, and dip one side of each marshmallow, then dip that in your sprinkles. I used fall leaf sprinkles. You'll want to lay your hammers on a tray lined with wax paper until the chocolate hardens. If you stick the tray in the refrigerator, it hardens quickly. My boys loved these.
Glue your Hammer Strike sign to a clothes pin and attach it to your serving tray. Now you have little sweet and savory snacks that remind your family of the hammer Martin Luther used to nail The Ninety-Five Theses to the door of the Wittenberg Castle Church.
---
6) Display your snacks for your Reformation Day party!
You're ready to celebrate the Reformation of the Christian Church!
---
Martin Luther and the Reformation
Teach your teens about Martin Luther and the Reformation in an exciting, new way with When Lightning Struck!: The Story of Martin Luther!
Martin Luther (1483-1546) is often referred to as "The Father of the Reformation". Born during a time of superstition, tradition, and spiritual corruption, Luther gave up a lucrative career as a lawyer to become a monk in the Roman Catholic Church–a path he felt would certainly lead to salvation.
As Luther's understanding of the spiritual corruption within the Church grew, and he despaired of true salvation, Luther (now a scholar and priest) sought the Bible for answers. Following his discovery of the true gospel in Scripture, Luther began to preach spiritual freedom to his congregation, and to teach biblical (rather than philosophical) theology at the University of Wittenberg.
It was on October 31, 1517 that Martin Luther penned his Ninety-Five Theses in Latin in response to the abusive indulgence sales practices of the monk Johann Tetzel in a nearby town. Luther nailed the Theses to the door of the Wittenberg Castle Church, the scholarly bulletin board of his day, and mailed a copy to the Archbishop of Mainz. Luther hoped to start a scholarly debate about the practice of selling salvation through plenary indulgences. The response he received was greater–and more dangerous–than he imagined it would be.
Luther's story is exciting. There are death defying moments, epic spiritual battles, narrow escapes, a kidnapping, revolution, and war. As the "Father of the Reformation", Luther is a vital figure in Church history. His sacrifice and willingness to wage battle against the spiritual, religious, and political powers of his medieval world allowed Christians throughout time to embrace the truth of salvation by grace alone through faith alone in Christ alone as explained by Scripture alone once again. May all glory be to God alone!
Read portions of the first eight chapters of When Lightning Struck!:
---

Christian Biographies for Kids | Christian History for Kids | Theology for Kids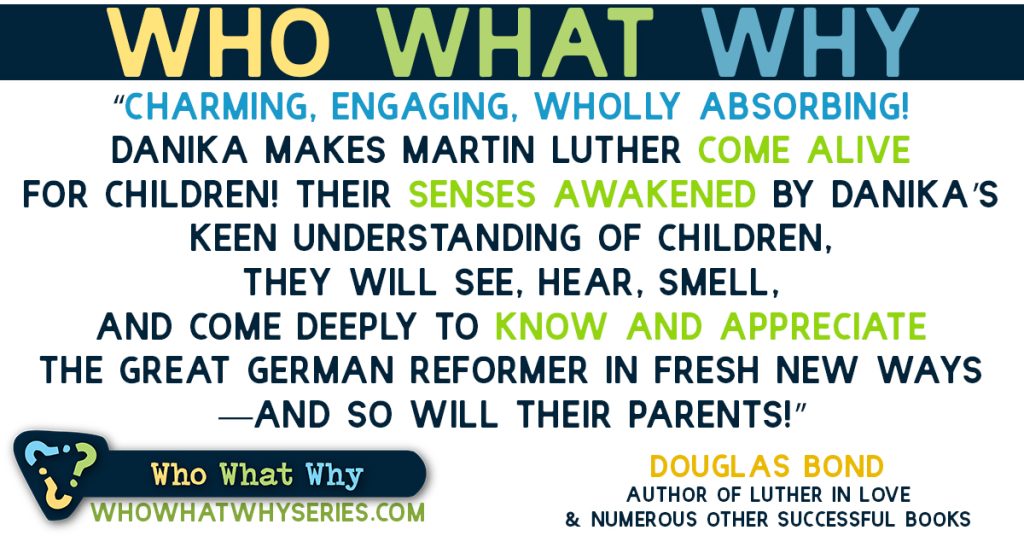 "As for the saints in the land, they are the excellent ones, in whom is all my delight." – Psalm 16:3, ESV  
Christian History Matters for Our Kids.
History matters. Now, more than ever, we see how important it is for our children to know and understand history and the Bible.
Here's why:
God is the sovereign ruler of all things. It's important for our kids to see his hand in the history of nations and in the lives of both peasants and kings. 

Christian history is the story of our family history. Our kids get to see how people who love Jesus follow him.

Understanding history can help our kids learn historic and biblical theology. They learn what the Bible says and what that means for us. They also see when the study of Scripture has taken important turns that have changed the Church.   

Reading Christian biographies and history can be a wonderful way for kids to think outside their own time and culture. God's Church spans centuries and includes people from every nation.    

Christian biographies help kids consider their own faith, walk with Jesus, and the impact their witness may one day have on others–and on history. 
Elementary-aged kids need middle grade resources that are fun, a little sassy, and that teach valuable lessons. 

The Who What Why Series is the perfect resource to teach your kids about history, while helping them apply biblical truths to their lives today.
---
More Thinking Kids Posts You'll Love!
---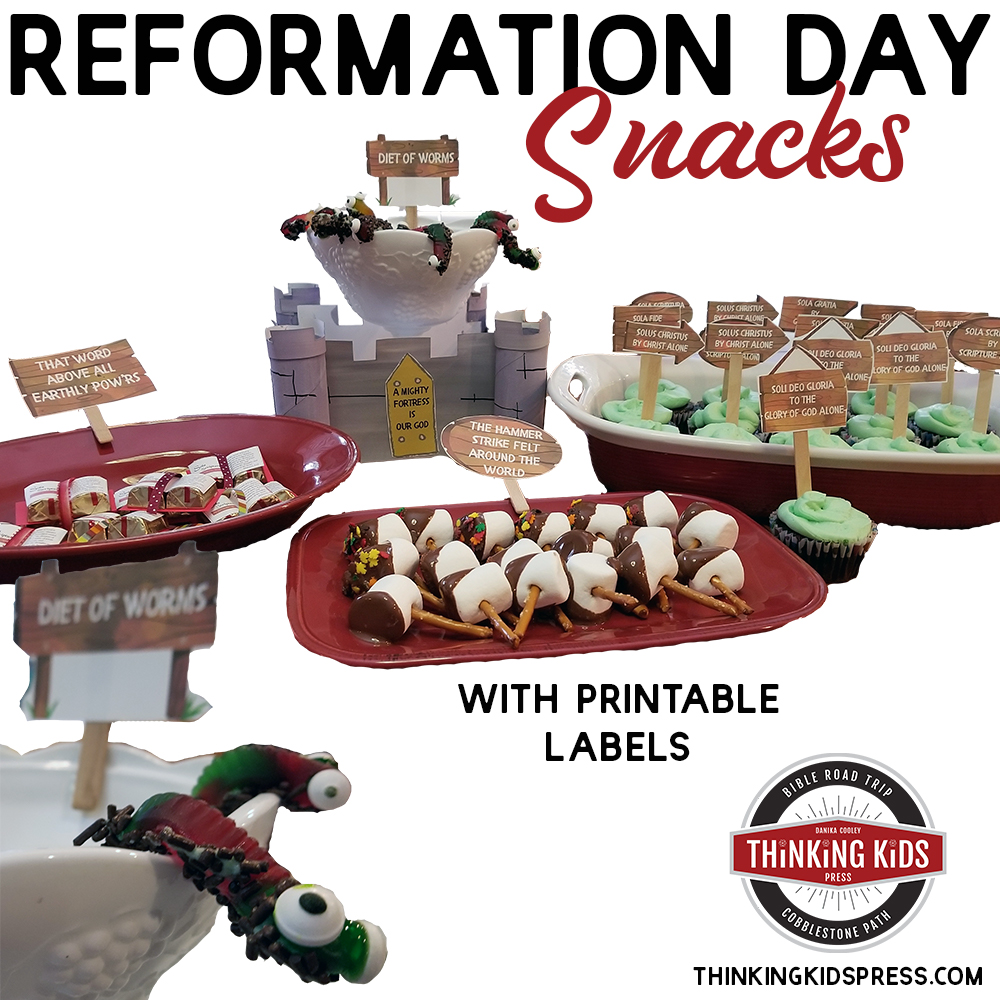 Join the newsletter
Get the Family Prayer Box Project FREE!
Teach your children to pray with this fun project that includes 7 printable sets!