A Mighty Fortress is Our God Lyrics Craft – Teach your kids about the hymn by Reformer Martin Luther with this fun printable craft!
---
The Bible often describes God as our fortress.
The Lord is my rock and my fortress and my deliverer, my God, my rock, in whom I take refuge, my shield, and the horn of my salvation, my stronghold. – Psalm 18:2, ESV
---

---
A Mighty Fortress is Our God
Think about what wonderful imagery that is! In this rough, scary world, God is a safe place for us to rest without worry. Psalm 91 is my favorite fortress passage, and one your children can really appreciate.
Martin Luther, the Father of the Reformation, wrote the hymn A Mighty Fortress is Our God while his little town of Wittenberg, Germany was ravaged by the plague.
Martin fell ill and recovered before his pregnant wife Katie contracted the disease. Their little girl Elizabeth was born, but died before her first birthday. I think of the pain the Luthers must have suffered, and yet they celebrated the truth that God is our mighty fortress–no matter what we suffer in this life.
---
Reformation Resources
When Lightning Struck!: The Story of Martin Luther
The 5 Solas: Signs to Follow on the Narrow Path, A 7 Day Family Bible StudyBuy Now
Who was Martin Luther? (Who What Why)
What was the Gutenberg Bible? (Who What Why)
Why did the Reformation Happen? (Who What Why)
---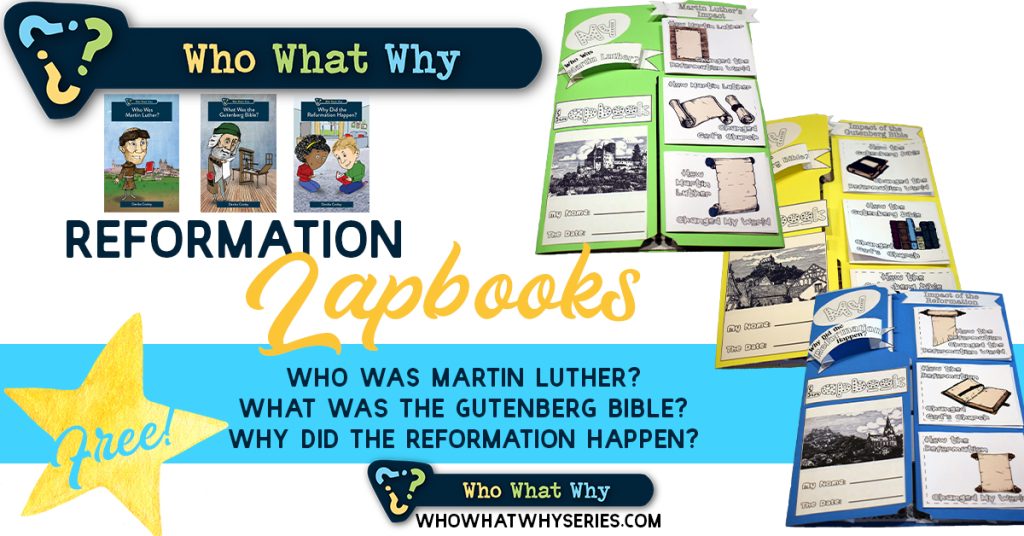 ---
A Mighty Fortress is Our God Lyrics Craft
The A Mighty Fortress Is Our God Lyrics Craft and Printable will help your kids really think about God as our mighty fortress, and about the Reformation song penned by Martin Luther. The craft is part of an ongoing series of Bible crafts and projects at Thinking Kids.
Check out this fun video I made of the A Mighty Fortress is Our God craft!
---
Tips for Art Projects with Kids
Doing art projects with kids can be a challenge. For that reason, many parents forgo this valuable time altogether. As an art major and a parent who has done frequent art projects with my four children, I have a few suggestions for you.
Cover your space. Use painting drop cloths and plastic to keep your furniture and flooring protected.
Cover your kids. Grab a couple of your old T-shirts and throw them over your kids, buy them painting aprons, or designate clothes specifically for crafting.
Do the prep work in advance. Do as much prep work for a project as you can before you get the kids involved. Not everything on the page needs to be their work. It's OK to help.
Schedule several short sessions for one project. Children need several days to be able to create larger projects. Art is time-consuming and requires energy.
Encourage your kids. Children are likely to be frustrated by the disconnect in the artwork they envision and the art they actually create. Remind your kids that they improve every time they create, and tell them how much you love their work (even if you don't know what it is!). Also, stick figures are fabulous.
Operate the hot glue gun. Hot glue burns are terrible. Until your kids are old enough to cook, I'd advise you do the hot gluing.
---
A Mighty Fortress is Our God Lyrics Craft Printable
Grab your FREE A Mighty Fortress Printable craft for your household (and save 50% on a classroom license).

---
Supplies Needed to Make Your A Mighty Fortress is Our God Lyrics Craft
You'll need a few supplies to make your project. You may have a few of these items already. If not, these are all fairly inexpensive and will serve you well for multiple projects.
Cardstock, 65 lb

Student Scissors

Apple Barrel Acrylic Paint Set

10 Pieces Round Pointed Tip Nylon Hair Brush Set

Sharpie Permanent Markers, Fine Point, Black, 12 Count

Colorations Sturdy Recycled Craft Rolls (You'll need 4–you can use empty toilet paper rolls.)

Generic Round Professional Plastic Paint Platte Tray White

Mini Hot Melt Glue Gun with 25pcs Glue Sticks

Elmer's All Purpose School Glue Sticks, 4 Pack

---
Creating Your A Mighty Fortress Project
Before you get started on the craft, read Bible passages that talk about how God is our Fortress, like:
2 Samuel 22:1-3
Psalm 18:1-3
Psalm 31:1-5
Psalm 91
Talk about times your children are scared, and how reassuring it is to know that God is a strong fortress and our refuge. You could even study castles and talk about why they were built the way they are! (This is my favorite book for studying castles.)
Here are the steps for your craft. Your children will perform most of these steps, but step in and help whenever necessary.
---
---
1) Print Your A Mighty Fortress Printable & Cut Everything Out
Once you've registered for your A Mighty Fortress Printable via the form above, you've confirmed your email registration, and you've received the email with your printable, print it out on white cardstock. Note: If you don't want to paint the walls, feel free to print them on colored cardstock (pages 2-4 of your printable).
You'll want to cut out the four castle walls and the turrets for the keeps along the black lines (you'll make the keeps out of four empty toilet paper rolls). Cut out the lyrics medallions, credit banner, and front door leaving a small margin between your cuts and the outer line. If you try to cut on the line, it will be too involved.
If your children are young, do this step before they get involved with the project.
---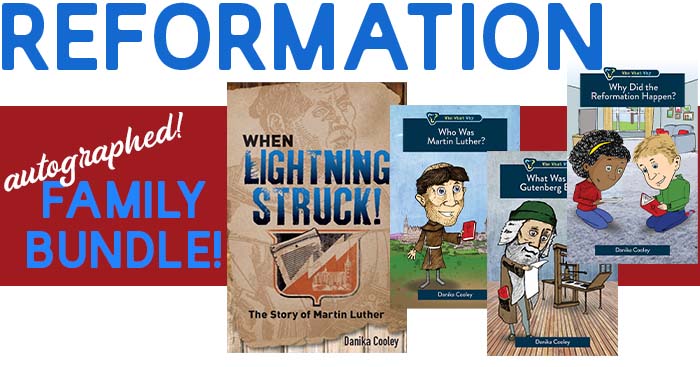 Your kids will love the Who What Why Reformation series with illustrated narratives for 8-11 year olds.
And, Martin Luther's young adult historical fiction story makes the perfect family read aloud!
Grab the autographed Reformation Family Bundle!
---
2) Paint the Fortress Walls and Turrets
This step will be fun for your children. You'll want to cover your surface with paper or a cheap plastic tablecloth. Throw an old shirt over each child.
Let your child choose a color and paint away! I picked gray, but I thought it would look nice with purple and white accents.
---
3) Paint the Toilet Paper Rolls
Have your children paint the four toilet paper rolls that will become the fortress keeps. This can get a little messy–you may want to help your child hold the paper rolls upright on the paper, or you may want to hold them for your child with your fingers on the inside.
After the walls, turrets, and keeps of your fortress are thoroughly painted, take a long break and let them dry.
---
4) Add Stone Wall Accents in Permanent Marker
Once your paint is dry, you can use a permanent marker to add some stone wall accents if you'd like. This is quick and easy–your children should have fun doing it.
---
5) Use Hot Glue to Attach the Turrets
Technically, a turret is a small tower on top of a bigger tower. You're actually attaching a merlon and embrasure sequence. But we'll call it a turret, because it's easier and makes sense.
You'll want to do this step unless your children are older and have been trained in hot gluing. You know your kids–just be sure they don't get burnt. Hot glue burns are terrible (as are the burns from the metal tip of the gun).
Run a thin line of hot glue along the bottom of the turret, then roll your toilet paper roll keep onto it. You'll repeat this to make four keeps.
---
6) Glue Two Keeps to a Fortress Wall
Run a thin line of glue along each side of the front of one of the fortress walls and press a keep on each side.
Repeat this step with another wall and two more keeps to create two complete fortress walls.
---
7) Use Hot Glue to Attach the Final Two Fortress Walls
Run a thin line of hot glue on the short edges of one of the remaining fortress walls, on the unpainted side. Press the wall onto the outside of two of the keeps. Repeat this step on the other side, using the last fortress wall. This will create a box, with a keep on each corner. See below for the finished fortress shape.
---
8) Use a Glue Stick to Decorate Your Fortress with Lyrics
Now that your fortress is painted and built, your child can attach the front door, attribution banner, and lyrics using a glue stick.
You've already cut out all of the banners, so this will be quick!
Glue the front door to one side.
Attach the lyrics banners, two on each side next to the front door side.
I've numbered the lyrics banners on the printable, so you'll want to pay attention to that when you cut them out, but in order, the lyrics banners are:
Green
Pink
Yellow
Blue
Attach the attribution banner to the back wall of the fortress.
You're almost done!
---
Martin Luther and the Reformation
Teach your teens about Martin Luther and the Reformation in an exciting, new way with When Lightning Struck!: The Story of Martin Luther!
Martin Luther (1483-1546) is often referred to as "The Father of the Reformation". Born during a time of superstition, tradition, and spiritual corruption, Luther gave up a lucrative career as a lawyer to become a monk in the Roman Catholic Church–a path he felt would certainly lead to salvation.
As Luther's understanding of the spiritual corruption within the Church grew, and he despaired of true salvation, Luther (now a scholar and priest) sought the Bible for answers. Following his discovery of the true gospel in Scripture, Luther began to preach spiritual freedom to his congregation, and to teach biblical (rather than philosophical) theology at the University of Wittenberg.
It was on October 31, 1517 that Martin Luther penned his Ninety-Five Theses in Latin in response to the abusive indulgence sales practices of the monk Johann Tetzel in a nearby town. Luther nailed the Theses to the door of the Wittenberg Castle Church, the scholarly bulletin board of his day, and mailed a copy to the Archbishop of Mainz. Luther hoped to start a scholarly debate about the practice of selling salvation through plenary indulgences. The response he received was greater–and more dangerous–than he imagined it would be.
Luther's story is exciting. There are death defying moments, epic spiritual battles, narrow escapes, a kidnapping, revolution, and war. As the "Father of the Reformation", Luther is a vital figure in Church history. His sacrifice and willingness to wage battle against the spiritual, religious, and political powers of his medieval world allowed Christians throughout time to embrace the truth of salvation by grace alone through faith alone in Christ alone as explained by Scripture alone once again. May all glory be to God alone!
Read portions of the first eight chapters of When Lightning Struck!:
---

Christian Biographies for Kids | Christian History for Kids | Theology for Kids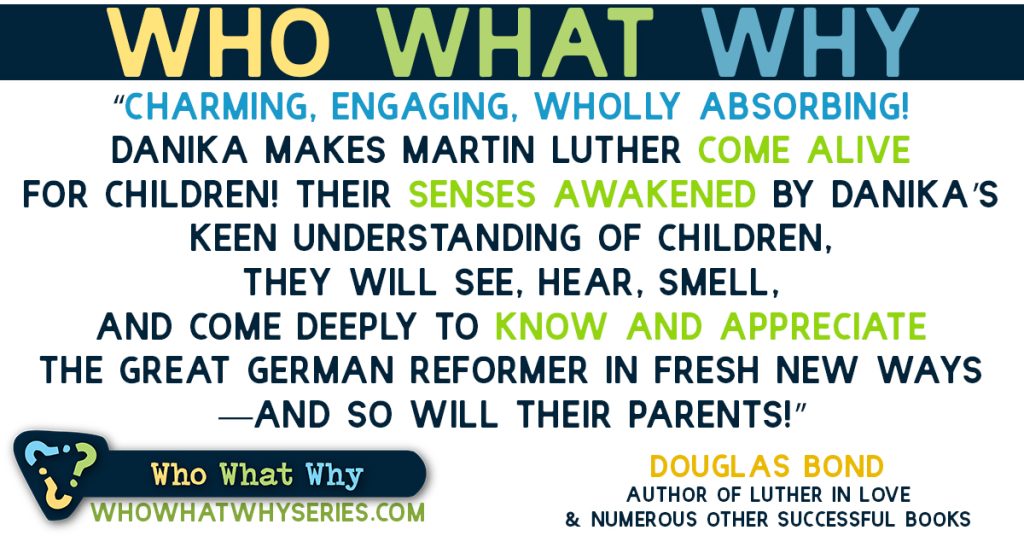 "As for the saints in the land, they are the excellent ones, in whom is all my delight." – Psalm 16:3, ESV  
Christian History Matters for Our Kids.
History matters. Now, more than ever, we see how important it is for our children to know and understand history and the Bible.
Here's why:
God is the sovereign ruler of all things. It's important for our kids to see his hand in the history of nations and in the lives of both peasants and kings. 

Christian history is the story of our family history. Our kids get to see how people who love Jesus follow him.

Understanding history can help our kids learn historic and biblical theology. They learn what the Bible says and what that means for us. They also see when the study of Scripture has taken important turns that have changed the Church.   

Reading Christian biographies and history can be a wonderful way for kids to think outside their own time and culture. God's Church spans centuries and includes people from every nation.    

Christian biographies help kids consider their own faith, walk with Jesus, and the impact their witness may one day have on others–and on history. 
Elementary-aged kids need middle grade resources that are fun, a little sassy, and that teach valuable lessons. 

The Who What Why Series is the perfect resource to teach your kids about history, while helping them apply biblical truths to their lives today.
---
More Thinking Kids Posts You'll Love!
---
Join the newsletter
Get the Family Prayer Box Project FREE!
Teach your children to pray with this fun project that includes 7 printable sets!