Martin Luther changed the way we live life as Christians. Grab these free printable Valentine's day cards for kids with encouraging Martin Luther quotes!
---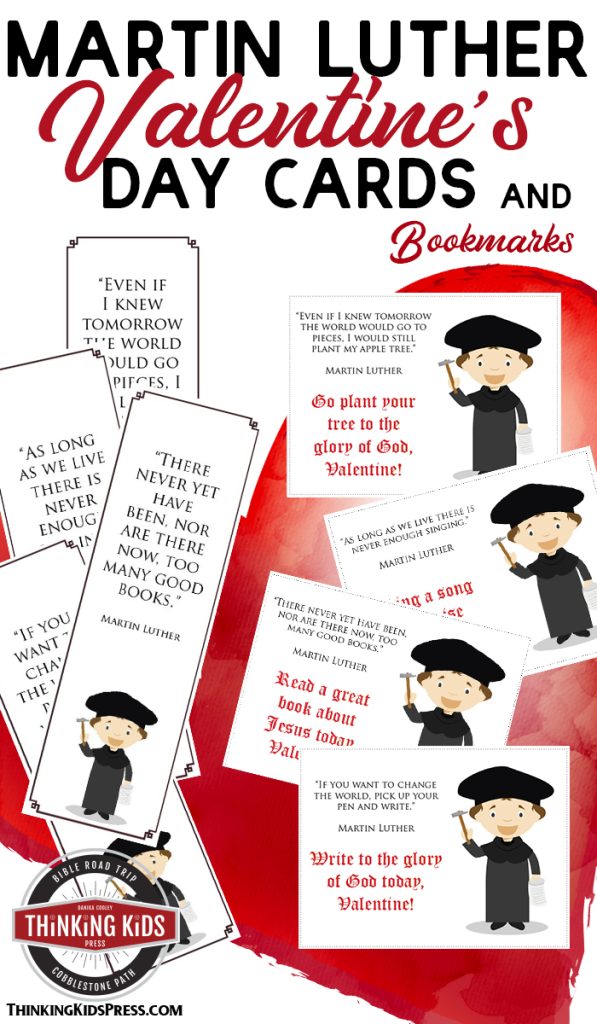 Valentine's Day cards were always a quandry for me as my kids were growing up.
I mean, I wanted something that wasn't overly mushy. Something that encouraged my children and their friends. Something with character. Also, something free.
Can I get a "Yes, girlfriend!"?
As a fan of Christian history, I thought it would be really fun to offer you some encouraging, free, printable Valentine's Day cards. For fun, I'm throwing in four bookmarks. I loved giving my kids a book each Valentine's Day with a new bookmark. Now you can too!
---

---
Martin Luther – Love, Marriage, and Encouraging Quotes
Why Martin Luther on Valentine's Day?
Well, really, the guy changed the way we Christians see love and marriage. In his day, back in the late 15th and early 16th centuries, marriage was seen as something of a worldly vice that kept you from God. People thought the best way to serve God was to become a monk or a nun, take a vow of celibacy, and serve the Church and God.
Martin saw God as an angry judge. That is, he saw God that way until he truly met him in the pages of Scripture. When Martin was saved by grace through faith, he came to know God as his loving Savior–and that changed everything.
It was while Martin was living as a kidnapped outlaw knight in the tower of the Wartburg Castle that he translated the New Testament into German. He also started writing about marriage in the priesthood, encouraging Christian monks and nuns to marry. Martin Luther never intended to live out his good advice, considering himself forever a monk.
God had other plans.
Martin Luther married Katharina von Bora in 1525 after he helped her flee her convent with her fellow nuns. Martin Luther loved Katie and taught a high view of marriage to Christian believers.
For your kids, though, I didn't want to put mushy marriage quotes. Instead, I chose Martin Luther quotes that will encourage your children to glorify God in joy.
---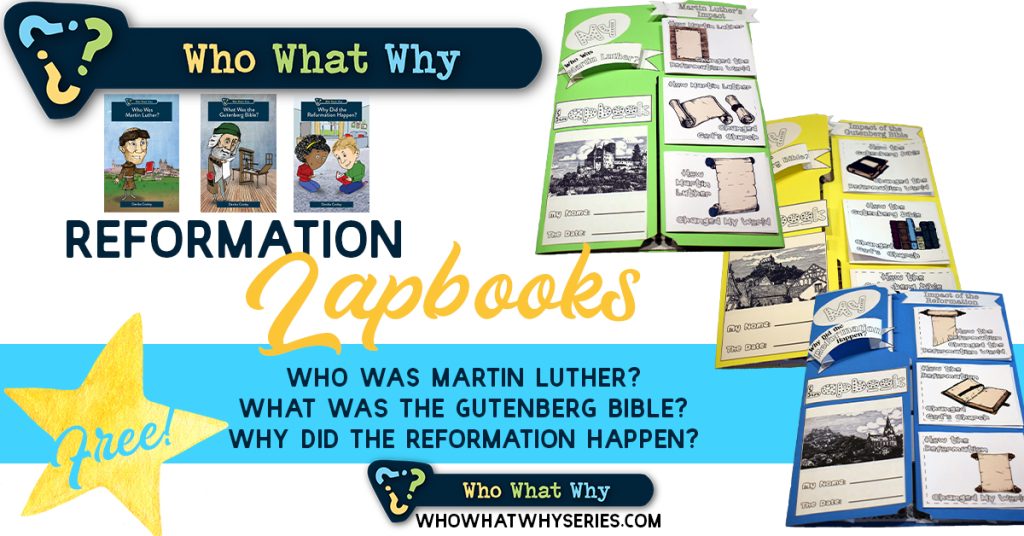 ---
Reformation Resources
When Lightning Struck!: The Story of Martin Luther
The 5 Solas: Signs to Follow on the Narrow Path, A 7 Day Family Bible StudyBuy Now
Who was Martin Luther? (Who What Why)
What was the Gutenberg Bible? (Who What Why)
Why did the Reformation Happen? (Who What Why)
---
Printable Valentine's Day Cards & Bookmarks
Download fun Martin Luther printable Valentine's Day cards and bookmarks for your kids to give to friends!
The cards are cute, with encouraging Martin Luther quotes and Valentine messages that encourage kids to live to the glory of God. (Nothing mushy or weird in these Valentine's Day cards!)
Each bookmark has a Martin Luther quote with a little picture of Luther and his notorious hammer.

---

Christian Biographies for Kids | Christian History for Kids | Theology for Kids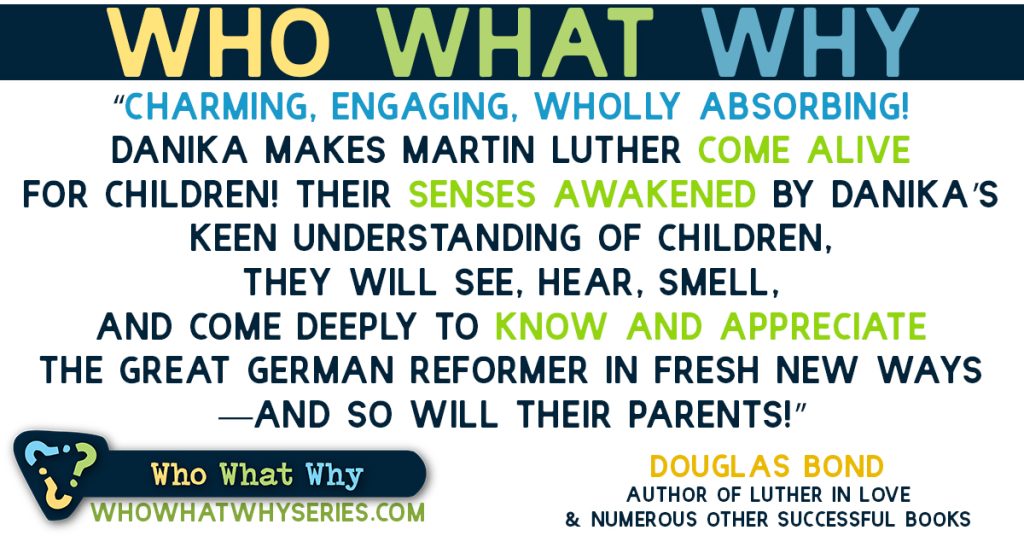 "As for the saints in the land, they are the excellent ones, in whom is all my delight." – Psalm 16:3, ESV  
Christian History Matters for Our Kids.
History matters. Now, more than ever, we see how important it is for our children to know and understand history and the Bible.
Here's why:
God is the sovereign ruler of all things. It's important for our kids to see his hand in the history of nations and in the lives of both peasants and kings. 

Christian history is the story of our family history. Our kids get to see how people who love Jesus follow him.

Understanding history can help our kids learn historic and biblical theology. They learn what the Bible says and what that means for us. They also see when the study of Scripture has taken important turns that have changed the Church.   

Reading Christian biographies and history can be a wonderful way for kids to think outside their own time and culture. God's Church spans centuries and includes people from every nation.    

Christian biographies help kids consider their own faith, walk with Jesus, and the impact their witness may one day have on others–and on history. 
Elementary-aged kids need middle grade resources that are fun, a little sassy, and that teach valuable lessons. 

The Who What Why Series is the perfect resource to teach your kids about history, while helping them apply biblical truths to their lives today.
---
Books Make Great Gifts!
Help Your Kids Learn and Love the Bible
Who was Martin Luther? (Who What Why)
What was the Gutenberg Bible? (Who What Why)
Why did the Reformation Happen? (Who What Why)
When Lightning Struck!: The Story of Martin Luther
Wonderfully Made: God's Story of Life from Conception to Birth
---
More Thinking Kids Posts You'll Love
---
Join the newsletter
Get the Family Prayer Box Project FREE!
Teach your children to pray with this fun project that includes 7 printable sets!