Teach your kids about the full armor of God with a hands-on armor of God costume craft with printable templates & verse cards in ESV and KJV.
---
When my kids were young, they loved pretending to put on the full armor of God. We'd talk about how important it is to suit up and be ready to serve the Lord.
We also talked a lot about how the battle is already won, and how the battle belongs to the Lord (2 Chronicles 20:15, 1 Samuel 17:47). He allows us to serve with him in battle. That's an honor. But we can trust that the Lord has everything under control, and nothing is a surprise to him.
As soldiers of Christ we have specific armor to wear, and important responsibilities. We are to carry the gospel of peace with our shoes of readiness to people who don't know Christ. We are to be strong in the Lord, wrestling against the cosmic powers of this present darkness. We're called to be on guard and awake.
This is all exciting stuff for a child (and for us adults!). To help your child learn about the full armor of God in a hands-on way, you'll love this fun Armor of God costume craft you and your child can do together.
---

---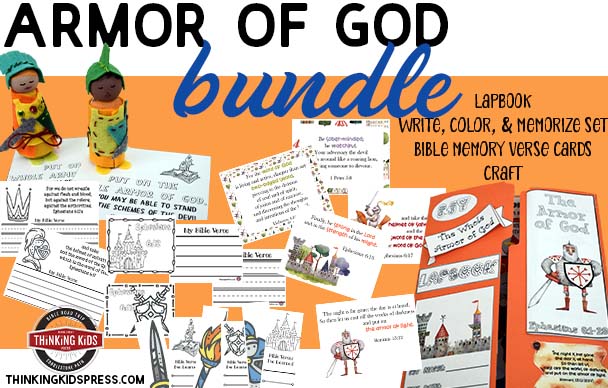 Purchase the Armor of God Bible Study Bundle and save on four products!
---

---
Armor of God
The Armor of God Costume Craft is based on Ephesians 6:10-18 in Scripture. Kids can learn about the Armor of God in a fun, hands-on way using this craft. It will create a doll your family can refer to over and over, discussing the different aspects of the Armor of God.
In the ESV, Ephesians 5:10-18 says:
Finally, be strong in the Lord and in the strength of his might. Put on the whole armor of God, that you may be able to stand against the schemes of the devil. For we do not wrestle against flesh and blood, but against the rulers, against the authorities, against the cosmic powers over this present darkness, against the spiritual forces of evil in the heavenly places. Therefore take up the whole armor of God, that you may be able to withstand in the evil day, and having done all, to stand firm. Stand therefore, having fastened on the belt of truth, and having put on the breastplate of righteousness, and, as shoes for your feet, having put on the readiness given by the gospel of peace. In all circumstances take up the shield of faith, with which you can extinguish all the flaming darts of the evil one; and take the helmet of salvation, and the sword of the Spirit, which is the word of God, praying at all times in the Spirit, with all prayer and supplication.
---
The Full Armor of God Costume Craft
For our craft, we will make a wood dolls with felt and embroidery thread armor of God costumes.
These can be adorned any way you'd like. Your child can practice stitching, use sequins, or even puffy paint or permanent markers. You can also just use the felt undecorated. I found hot glue to be more effective than white glue. You'll want to be sure to help your child with the hot glue so they aren't burned, or you can try felt glue.
Check out this quick video showing you how to construct your Full Armor of God Costume Craft Dolls:
---

The Full Armor of God Costume Craft Printable
The free Full Armor of God Costume Craft Printable, with step-by-step instructions is available in the Thinking Kids Press store.
Grab your printable craft templates and instructions.

---
Supplies Needed to Make Your The Full Armor of God Costume Craft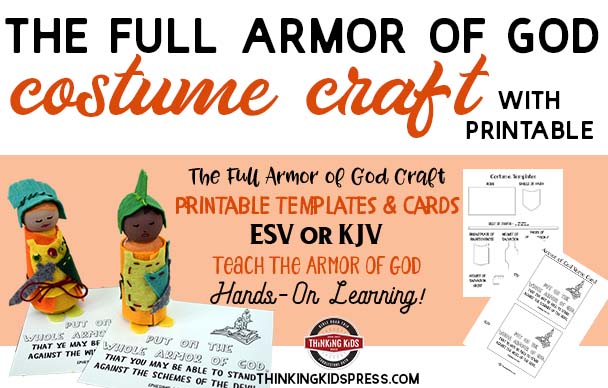 Wood Dolls (about 3 1/2" tall)
Paint
Paintbrushes
Felt
Printable Templates & Cards
Embroidery Thread
Embroidery Needle
Sequins
Hot Glue Gun & Glue Sticks
Scissors
Permanent Markers – Black and Red or Pink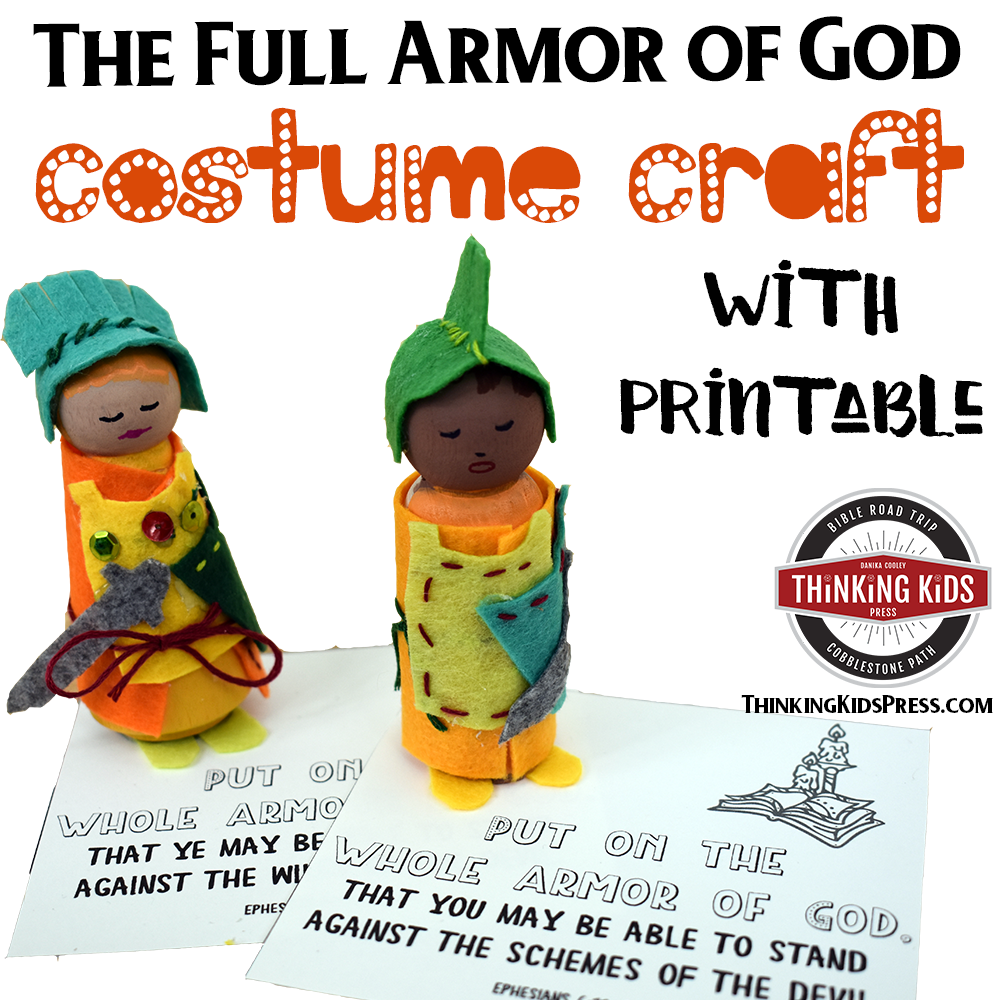 The Full Armor of God Costume Craft Printable

Unfinished Wood Doll Bodies 

 44PCS 4 x 4 inches  Assorted Color Felt 

Scotch Precision Ultra Edge Titanium Scissors

Apple Barrel Acrylic Paint Set, 18 Piece

Nylon Hair Brush Set

Gold Eye Embroidery Needles

 Embroidery Floss 50 Skeins 

 Mini Hot Melt Glue Gun with 30pcs Glue Sticks 

 Mixed Sequins 

Sharpie Electro Pop Permanent Markers

---
Creating Your Armor of God Costume Craft
1)  Paint Your Wooden Doll
You'll want to use a 3 1/2" wooden doll, either male or female. Paint the head of each doll in the skin color of your choice, add hair, and paint a "shirt" on the front.
Use your permanent markers to add eyes and a mouth. I made the eyes on my dolls closed because in Ephesians 6:18, we are told to pray.
---
2) Cut Out Your Printable Armor of God Card and Templates
Your armor of God
base plate verse cards come in either ESV or KJV.
If you need more than one in the version you prefer, just print extra pages. Cut out the card of your choice. Your child can color their base plate card in preparation for mounting their Armor of God costume doll on the card.
Cut out your armor of God costume templates next. These will be used to cut out the felt pieces of armor for your wooden doll. The belt of truth template does not need to be cut out–simply use it to measure a length of embroidery thread for the belt.
---
3) Cut Out Each Piece of Felt Armor
Use your
paper template pieces
to cut out each piece of felt armor. Just lay the piece of paper over the felt and cut it in the same pattern as the paper. You can make multiple pieces of armor for as many dolls as you would like.
Sew the crest of the helmet onto the helmet piece with three strands of embroidery thread and a simple stitch. This is something your child can do as well. I sewed the crest onto the female doll's helmet incorrectly (parallel rather than perpendicular to the long center of the helmet), and it looks more like a bonnet. Roman helmets had the crest running from front to back of the helmet.
---
4) Allow Your Child to Decorate Each Piece of Armor
Your child can play around with very basic stitching on the felt. I recommend using just 3 strands of the embroidery thread. Separate it by dividing the threads in half and carefully pulling them apart. Tie a knot at one end for your child.
Sequins can be knotted onto the felt with the embroidery thread or glued with felt glue. Hot glue will melt the sequins.
Your child can also use puffy paint or permanent markers to apply decorations to their felt armor pieces.
---
5) Dress Your Wood Doll in the Full Armor of God Costume
Once your felt pieces are all decorated, it's time to dress your wood doll. I used hot glue for this. Hot glue is very effective, but it's also very hot, so you'll want to do this part for your child. You can also try felt glue. I didn't have any, so I can only report that white craft glue does not hold well.
First, glue on the helmet and the robe. You'll want to wrap the robe around the body and the helmet should come down over where the doll's ears should be. Next, glue on the breastplate, then tie the belt around the doll's midsection. Glue the shield to the doll's side. Let your child decide where the sword should be glued–it can be facing up or down, ready for battle, or at ease. Last, glue the shoes to the base of your doll so the toes are sticking out in the right direction.
---
6) Glue Your Wood Doll to Your Bible Verse Card Base
Finally, glue your wood doll to the Bible verse card base your child decorated.
You did it! Put your child's work somewhere special and talk about each piece of armor on a regular basis.
---
Help Your Kids Learn and Love the Bible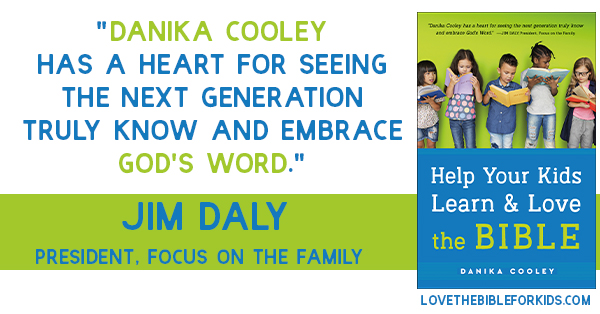 You want your kids to learn and love the Bible. 
You want to teach the Bible…
As parents, we deeply desire the best for our kids. We look for the right schools, we make them eat right and exercise, and we get them involved in extracurricular activities. We take our job as parents seriously.
But are we also putting our time and energy into
teaching them the Bible? Giving them the life-changing, soul-nourishing words of Scripture is not only doable, it's an essential part of parenting kids for Jesus. And the good news is, studying God's Word as a family doesn't have to be difficult!
2 Timothy 2:15, ESV, says:
Do your best to present yourself to God as one approved,
a worker who has no need to be ashamed, rightly handling the word of truth.
Our job, as parents who love Jesus, is to help our kids become approved workers, unashamed and rightly handling the word of truth.
The good news? Teaching the Bible isn't hard. Your family can learn the Bible together.
…and you can!
A Crash Course in Teaching the Bible to Your Kids
Danika Cooley's book, Help Your Kids Learn and Love the Bible, will give you the tools and confidence to study the Bible as a family. It will help you identify and overcome your objections and fears, give you a crash course in what the Bible is all about and how to teach it, and provide the guidance you need to set up a family Bible study habit.
You will finish this book feeling encouraged and empowered to initiate and strengthen your child's relationship with the Lord through His Word.

Help Your Kids Learn and Love the Bible will equip you with everything you need to know to teach the Bible to your kids!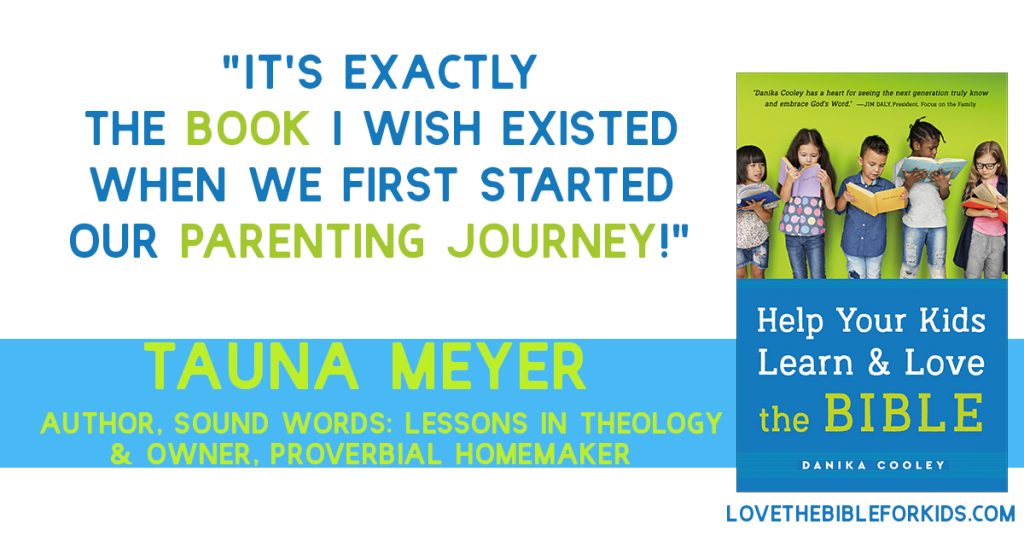 ---
More Thinking Kids Posts You'll Love!
---
Join the newsletter
Get the Family Prayer Box Project FREE!
Teach your children to pray with this fun project that includes 7 printable sets!