Teach your kids about praising God straight from Scripture with this Thanksgiving Bible Lesson for kids — a lapbook and a Bible study!
---
Our family loves Thanksgiving. It is such a special time to focus on praising God for the gifts he has given us.
In fact, every year we play a fun game. Everyone gets a sheet of paper and lists things we're thankful for, from A to Z. For A, I might list: Amy, apples, and avocados. Then I move onto B. I love the game so much I put it in the Thanksgiving lapbook.
Games are fun, and the Thanksgiving A to Z game makes us think about our blessings. But do we have a biblical understanding of giving thanks? Do our kids?
Because that's what we really want, right? We want our kids to know and love our Lord–biblically.
It's important for our kids to slow down and really take a look at different stories in the Bible, so they really understand what Scripture is saying about a subject. That's the reason for our lapbook series here at Thinking Kids. The Thanksgiving Lapbook is super cute and a lot of fun–and really important for your children.
---

---
Thanksgiving Bible Lesson Kids Will Love
The Bible is such an exciting adventure for our kids. We can make it even more fun with hands-on in-depth Bible lessons like lapbooks, copywork, and Bible memory verse cards!
The Thanksgiving Lapbook is an in-depth study your kids will never forget.
---
Get the Thanksgiving Bible Study Bundle and save!
---
Thanksgiving Bible Lesson for Kids
The Thanksgiving Lapbook is a fun, hands-on study of the Bible for your child from the ages of 5-12. You and your child will study:
Stories of thanksgiving from the Bible.
Giving thanks to God, with verses to memorize.
Who we thank when we practice thanksgiving.
Why we thank God.
Ways God has blessed us.
What it means to worship well.
How we must steward our blessings.
Why we thank God even when things are hard.
---
Thanksgiving Bible Lesson and Lapbook for Kids
You'll find the Thanksgiving Bible Lesson Lapbook over in the Family Discipleship section of the Thinking Kids Press store. Don't forget to take a look around while you're there. You'll find some great tools to equip you to teach the Bible and Christian history to your kids!

---
Thanksgiving Minibooks and Activities
Your child will find a number of fun minibooks and activities to cut, assemble, paste, color on, and write in. Depending on the age of your child, they may need a little help assembling the lapbook components.
The minibooks and activities include:
3-D Banner
Lapbook Cover
Layered Book
Verse Frame
Bible Verse Pocket and Memory Cards
Accordion Books
Minibook Game
Exploring the Bible in this hands-on way gives your child a permanent record of their study. They will remember what they've learned through a deep look at praising God in all things.
---
Supplies You'll Need for Your Thanksgiving Bible Lesson for Kids
File Folder, Assorted Colors
Specialty Cardstock
Bright Multipurpose Copy Paper
All-Purpose Glue Sticks
Shappy 8 Rolls 1/4 Inch by 25 Yard Satin Ribbon Double Face Ribbon Fabric Ribbon with Golden Edges, 8 Colors
Titanium Scissors 4 Pack
Stapler with Staples
Erasable Gel Pens
120-Pack Colored Pencils
You'll need a few supplies to put together your lapbook. You probably already have most of these. If not, it's worth investing in them as you will use them again and again with your kids.
A Colored File Folder
A Sheet of Cardstock in a Complimentary Color
Printer Paper
Scissors
1/8″ Ribbon
A Glue Stick
A Stapler
Colored Pens to Write With
Colored Pencils to Color With
---
How to Print and Use the Thanksgiving Bible Lesson Lapbook for Kids
To create the base of your lapbook, place your file folder on a table and fold both sides inward toward the creased spine of the folder. Once the outer edges meet, crease your file folder. This will give you a book that opens in the middle. You will still have a fold in the middle of your book, so I like to glue a piece of cardstock into the middle section of the book to create a thick center that won't bend.
You'll want to print the Thanksgiving Lapbook single-sided on plain printer paper using color ink. In your lapbook pages, you will find step-by-step instructions on each minibook and activity, explaining how to assemble each.
You can watch a quick tutorial for the Thanksgiving lesson lapbook above.
The Thanksgiving Bible Lesson Lapbook will give your child hours of thoughtful Bible study, with visuals they'll never forget.

---
Teach Your Kids the Bible with Bible Road Trip™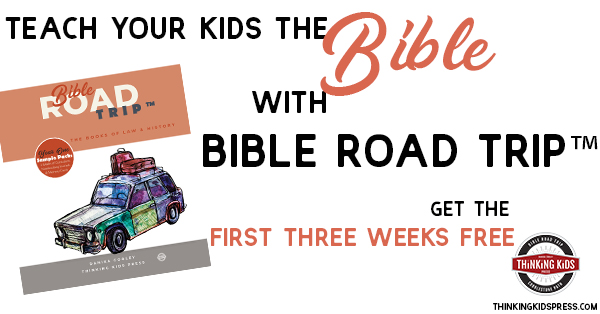 Bible Road Trip™ is a three-year Bible survey curriculum. Take your family through the Bible five times from preschool to high school.
To help you get the most out of your studies, Bible Road Trip™ has an array of coordinating weekly activities:
Researching the section of the Bible you're studying
Reading and discussing the Bible
Memorizing Scripture
Notebooking about your studies
Praying for the nations
Suggestions for further study
Crafting about what you've learned
For your older students: A project to share what they've learned
Bible Road Trip™ also has some great tools you can use along with it, such as:

Notebooking Journals for grades 1-9. Want a structured notebooking journal for high school? Don't hesitate to use the Dialectic journal (grades 7-9).
Bible Memory Card Sets for all five levels of study, preschool to high school. These are available in both ESV and KJV.
Grab your Bible Road Trip™ Year One Sample Pack. You'll get:
The Bible Road Trip™ Parent / Teacher Guide.
The first three weeks of the curriculum for all five learning levels. Week Three is where we really dive into the Bible and begin to our systematic study. Week Three will give you a good feel for the rest of the curriculum.
The first three weeks of the Bible Memory Card sets for all five levels, in ESV and KJV.
The first three weeks of each of the three leveled Notebooking Journals.
Grab the Sample Pack for FREE:

Disciple your kids by taking your family through the Bible together in a meaningful way!
---
Bible Curriculum for Your Kids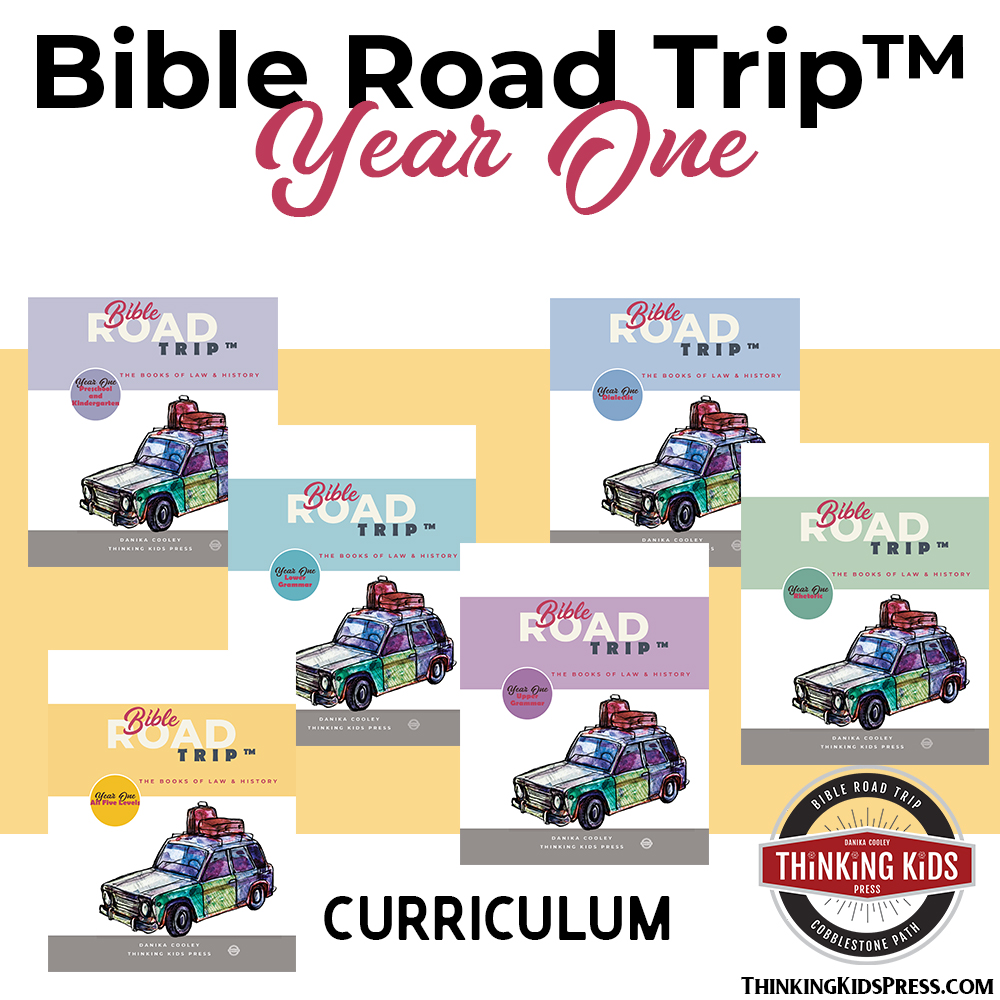 Bible Road Trip™ CurriculumLearn More Here
Bible Road Trip™ Memory Verse CardsBuy Here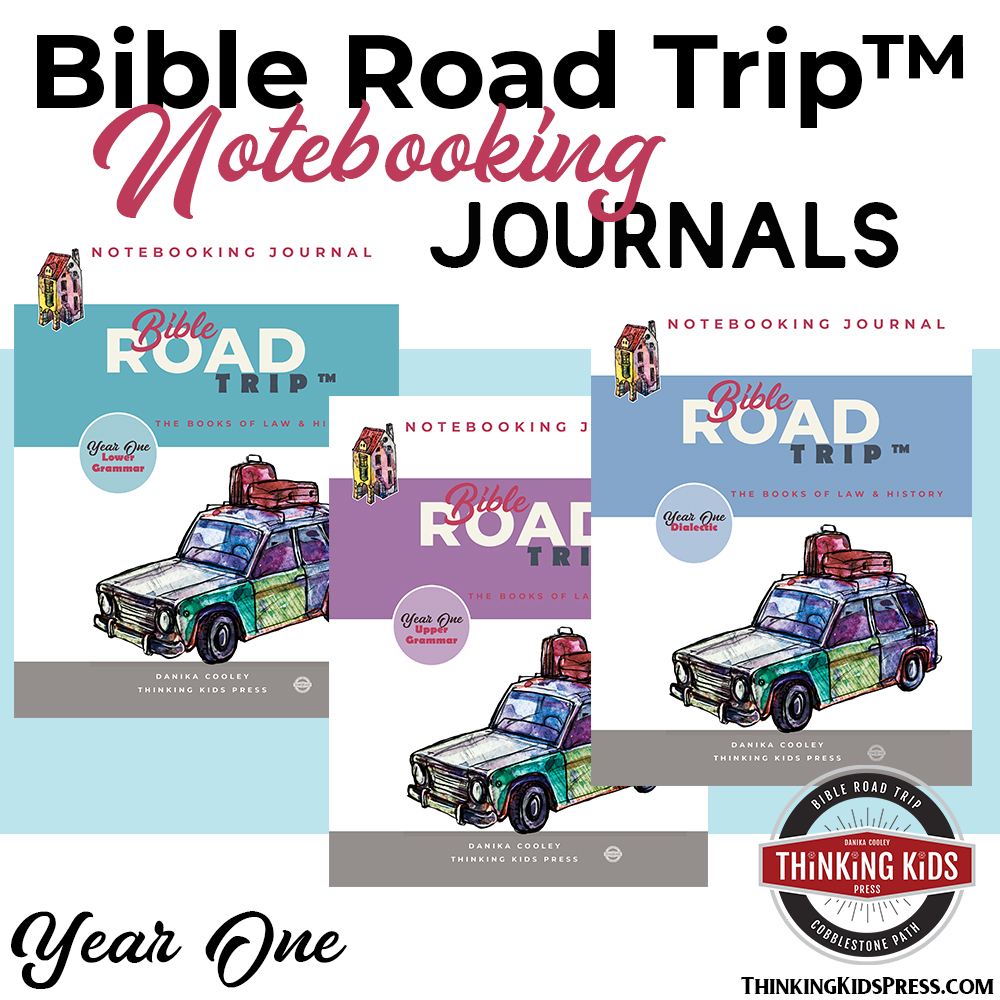 Bible Road Trip™ Notebooking JournalsBuy Here
---
More Thinking Kids Posts You'll Love
---
Join the newsletter
Get the Family Prayer Box Project FREE!
Teach your children to pray with this fun project that includes 7 printable sets!