Teach your children all about God's love – and what the Bible says about love – with these fun love activities for kids! Easy printables and crafts!
---
---
The Bible has so much to say about love doesn't it? It talks about love for God, love for others, and God's great love for us.
1 John 4:8 says: "Anyone who does not love does not know God, because God is love."
Valentine's Day is the perfect time to share some awesome printables, activities, and lessons on love for your kids! You'll find some great ideas here to get you started on looking into what the Bible says about love with your kids.
---

---
Here are some reasons Bible activities are a GREAT tool to help you teach the Bible to your kids!
---
Love Activities for Kids
Here are some great activities about God's love, and the love we're to show others, that you can use with your family and students!
Bible Verses about Love Banner – Kids will love this cute banner craft with 24 devotions about love!
Micah 6:8 Valentine's Bookmark Craft for Kids – Teach kids how God wants us to act in love with this fun Valentine's day bookmark craft for kids features the Bible verse Micah 6:8 in ESV or KJV with cute heart-bearing animals!
1 Corinthians 13 Valentine Wreath Craft for Kids – The 1 Corinthians 13 Love Is Bible verse is wonderful for children to learn. Make a Valentine wreath craft with kids!
Love Bible Verses Bookmarks in ESV or KJV – These fun bookmarks can be used as Valentines and Scripture memory (or just to mark your read-aloud!). — Thinking Kids Press
---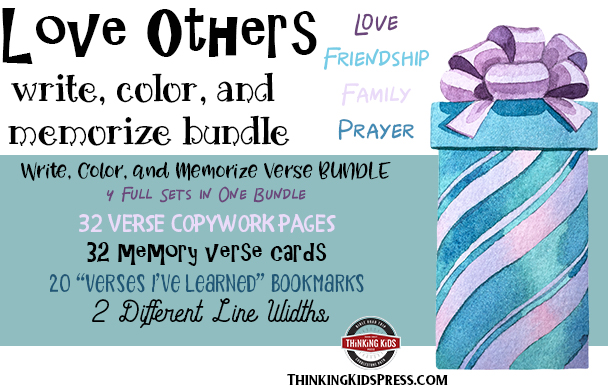 Teach your kids all about what the Bible has to say about love with 4 fun Write, Color, and Memorize sets!
---
Valentine's Day Finger Puzzle ~ This adorable foldable puzzle has great questions with answers straight from God's Word. — Path Through the Narrow Gate
Free Love Printable Pack
~ 70 pages of love Scripture verses, copywork, math, size sequencing activities, bookmarks, simple poem writing, and puzzle and cutting pages. — The Proverbial Homemaker
Bible Verses about Love: Write, Color, and Memorize Set ~ 
This fun set will help your kids memorize 8 Bible verses about love! — Thinking Kids Press
Free Valentine's Day Notebooking Pages
~ Download this set of fun love notebooking pages and cards. Use these for notebooking, copywork, Scripture memory, and more. — NotebookingPages.com
Live Loved by Margaret Feinberg
~ I really like the "adult" coloring and Scripture journaling books by Margaret Feinberg. If you have an artistically inclined older child or teen, these are a great way to do Scripture memorization and copywork. I particularly like Live Loved, which focuses on God's love for us.
---
More Fun Love Activities
---
Help Your Kids Learn and Love the Bible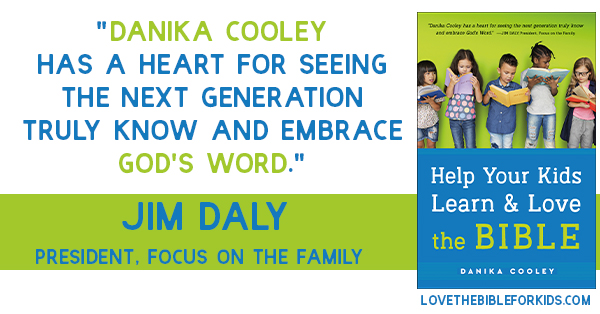 You want your kids to learn and love the Bible. 
You want to teach the Bible…
As parents, we deeply desire the best for our kids. We look for the right schools, we make them eat right and exercise, and we get them involved in extracurricular activities. We take our job as parents seriously.
But are we also putting our time and energy into
teaching them the Bible? Giving them the life-changing, soul-nourishing words of Scripture is not only doable, it's an essential part of parenting kids for Jesus. And the good news is, studying God's Word as a family doesn't have to be difficult!
2 Timothy 2:15, ESV, says:
Do your best to present yourself to God as one approved,
a worker who has no need to be ashamed, rightly handling the word of truth.
Our job, as parents who love Jesus, is to help our kids become approved workers, unashamed and rightly handling the word of truth.
The good news? Teaching the Bible isn't hard. Your family can learn the Bible together.
…and you can!
A Crash Course in Teaching the Bible to Your Kids
Danika Cooley's book, Help Your Kids Learn and Love the Bible, will give you the tools and confidence to study the Bible as a family. It will help you identify and overcome your objections and fears, give you a crash course in what the Bible is all about and how to teach it, and provide the guidance you need to set up a family Bible study habit.
You will finish this book feeling encouraged and empowered to initiate and strengthen your child's relationship with the Lord through His Word.

Help Your Kids Learn and Love the Bible will equip you with everything you need to know to teach the Bible to your kids!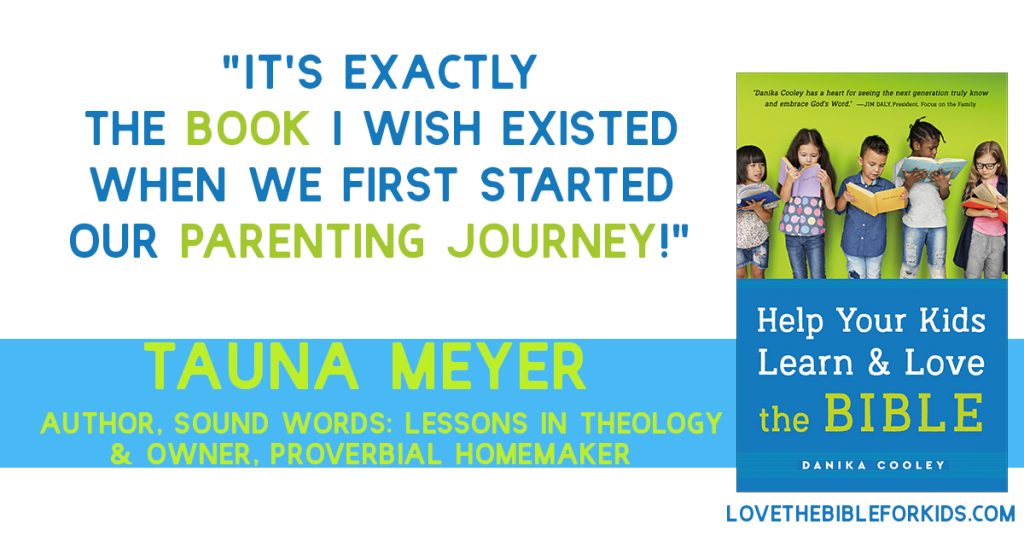 ---
More Thinking Kids Posts You'll Love
---
Join the newsletter
Get the Family Prayer Box Project FREE!
Teach your children to pray with this fun project that includes 7 printable sets!