Art activities are a great way for your kids to spend a few moments or a few hours. Check out this list of over 100 art activities for kids.
---
As a trained artist, it's important to me that my kids know how to express themselves through artwork. Art is a wonderful way for kids to develop the right-hand side of their brain, and for them to develop fine motor skills. You can check out some of the art projects we've done in our home as a family.
It's important that kids work on art activities that create projects you'll want to save forever, and that they work on processes and with different mediums. Those may not be projects you keep for a long time, but learning how a medium works and what different processes do is an important part of art exploration.
---
Essential Art Tools
Strathmore STR-566-5 64 Sheet No 90 Mixed Media Art Journal, 5.5 by 8.5
Art for Kids: Drawing: The Only Drawing Book You'll Ever Need to Be the Artist You've Always Wanted to Be
Child's Introduction to Art: The World's Greatest Paintings and Sculptures (Child's Introduction Series)
The Laws Guide to Nature Drawing and Journaling
The Laws Sketchbook for Nature Journaling
The Nature Explorer's Sketchbook
Apple Barrel Acrylic Paint Set, 18 Piece (2-Ounce), PROMOABI Best Selling Colors I
Prismacolor 3599TN Premier Colored Pencils, Soft Core, 72-Count
Drawing and Sketching Pencil Set In Zippered Carrying Case
Prismacolor Scholar Colored Pencil Sharpener (1774266-2) Pack of 2
Faber-Castell Erasers – Drawing Art kneaded Erasers, Large size Grey – 4 Pack
Artists Loft Fundamentals Watercolor Pan Set, 36 Colors
Prismacolor 27049 Premier NuPastel Firm Pastel Color Sticks, 24-Count
Artlicious – 10 Hand Made All Purpose Nylon Hair Brush Set – Acrylic, Oil, Watercolor Paints
BOOMIBOO Paint Tray Palettes Plastic Pallets with Thumb Hole for Kids,Adults,Students to Acrylic Oil Watercolor Craft Supplies DIY Art Painting,3 pcs
---
You'll want to pin or share this post so you have a list of art activities available to you for those free moments when you want to whip out a list of fun art projects for your kids.
We love working on Bible crafts in our home. Below is a fun art activity I did with my nieces when they were very young. We made a poster for each day of Creation, using foam and stickers to create a separate sheet for each day of Creation.
But now, O Lord, you are our Father; we are the clay, and you are our potter; we are all the work of your hand.
Isaiah 64:8, ESV
---
Grab some fun reads for your kids and help them learn more about history and God's Word.
---
Art Activities for Kids
1) Learn about the hymn A Mighty Fortress Is Our God with this fun printable lyrics craft.
---
2) Keep an art journal. Your child can experiment with color, stroke, medium, and ideas!
3) Check out some amazing art projects on Pinterest art boards for lower elementary, upper elementary, middle school, and high school.
4) Set up an art center with essential art tools so your kids can freely explore.
5) Learn about and emulate Andy Goldsworthy, an artist from the Land Art movement.
---
6) Retell Bible stories with free printable craft stick puppets.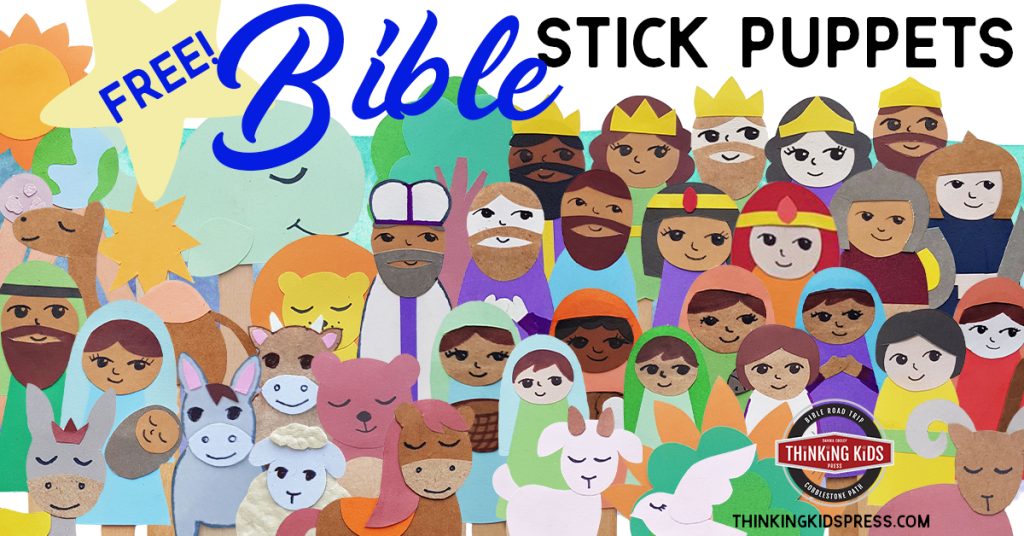 ---
7) Your older kids and teens can learn new techniques on YouTube.
8) Set up a time once a week to create as a family.
9) Work on a fun pop culture art project inspired by artist Mike Kelley.
10) Let your kids try watercolor cotton swab painting.
11) Try paper plate twisting art for a modern look.
---
12) Make a Noah's Ark craft based on the 1846 painting by Edward Hicks.
---
13) Work on art projects to understand Michelangelo and the way he worked.
14) Study pop culture artist Andy Warhol and do a project inspired by his artwork.
15) Crumpled paper art is a fun way to try a new technique.
16) Let your little ones make some fun and creative masks with these printables.
---
17) Paint a 7 Days of Creation poster.
---
18) Use Scripture-based coloring books to allow your kids (boys and girls!) to practice their colored pencil techniques.
19) Do you have a teen who is gifted at art? Teach them to use Adobe products, like Illustrator and PhotoShop. They can create graphics files and sell them on sites like TheHungryJPEG. (There's a real need for great Christian and Bible inspired artwork!)
20) Make some black glue art Star Wars droids.
21) Try out some process art with shapes made from recycled objects.
---
22) Work on these Bible Christmas crafts with your kids.
---
23) Explore scientific reactions in art with this fun art activity.
24) Encourage kids to work together with this cooperative shapes and colors painting.
25) Recreate Starry Night by Vincent Van Gogh with your preschoolers.
26) Let your littles make a Mondrian-inspired Play-Doh art project.
27) Use Bible Road Trip™ to craft through the Bible a week at a time.
---
28) Make air dry clay empty tomb sculptures.
---
29) Use cotton swabs to paint a field of tulips.
30) Paint cherry blossoms using cotton balls.
31) Try this interesting Monet water lily project using salt, watercolors, and pastels.
32) Make Van Gogh inspired paintings with forks.
33) Let natural beauty inspire your art with these Northern Lights paintings.
---
34) Paint a Family Prayer Box (this is a great project to store Bible memory verse cards as well!).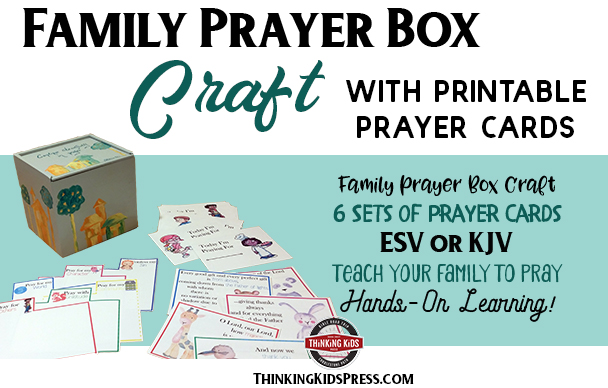 ---
35) Try this preschool process art activity using balloons.
36) Set up this salt and watercolor art activity for your toddlers.
37) Teach your kids about the scientific artist Linneaus with this printable timetable.
38) Learn more about scientific art with these art activities based on Linneaus.
39) Teach your kids about the artwork of Georgia O'Keeffe with these printable art cards.
---
40) Create a quilled Noah's ark rainbow.
---
41) Make a yarn rainbow.
---
42) Make stained glass artwork.
43) Work with your kids on this printable art history timeline.
44) Make Eric Carle inspired artwork.
45) Show your younger kids how to make butterfly squish art.
46) Work with your older kids to practice drawing perspective.
---
47) Use art activities to teach the Bible in a way kids will remember for a lifetime.
---
48) Throw an art activities party for your younger kids.
49) Try this cotton swab rabbit art project.
50) Your older kids might have fun with this DIY wall art project using round tip sponge brushes.
51) This easy circle punch art project for kids turns out to be quite elegant.
52) Help your kids create monogram melted crayon art.
---
53) Create a paper house craft and decorate it to teach Joshua 24:15.
---
54) Set your teens up to create easy canvas art.
55) Try drawing comic strips. Maybe illustrate a Bible story.
56) Work on a Madhubani painting from India. This one is a fish, but you could try it with all kinds of subjects.
57) Complete a nature walk with this spray bottle nature art.
---
58) Make a God is My Light lantern.
---
59) This fun sunflower art project is perfect for summer and little ones.
60) Check out this permanent marker tile art project.
61) Try this ribbon weaving process art with your kids.
62) Make this fun shaving cream marbled art project with your little ones.
---
63) Create a Parable of the Sower wheel.
---
64) Create Montessori art inspired by nature.
65) Help your teen learn to weld and make found metal sculptures.
66) These beautiful paper flowers can be made from recycled supplies.
67) Teach your kids beginning printmaking with this fun rainbow art project.
68) Work with polymer clay to create small figurines. You can insert wire to help it stand up.
---
69) Put together this Jeremiah 1:5 Scripture poster craft and learn about Leonardo da Vinci's womb sketch.
---
70) Paint star of Bethlehem sand dollar ornaments.
71) Make I Love You to the Moon rocket cards.
72) Try this beautiful red and gold process art watercolor project.
73) Do a wet-on-wet watercolor painting.
74) Try woodworking with your older kids. They can use balsa wood to carve sculptures or to create wood blocks to print with.
---
75) Create a 1 Corinthians 13 "Love Is" Bible verse wreath.
---
76) Rainy day? Try this rainbow art activity for kids. Be sure to let them know that they'll be putting their art on in the rain.
77) Try citrus printing process art. We've done this with apples and bell peppers. It's fun!
78) Teach your kids about the science of shadows with outdoor shadow art.
79) Study an artist or an art movement. Follow that rabbit hole as far as your child wants to take it!
80) Work on watercolor resist techniques with this windy day art project for kids.
---
81) Make a God's Love heart lantern.
---
82) Create a Mondrian inspired suncatcher with your young children. Older children could try this idea with recycled materials or with colored vellum.
83) Take your kids to an art museum.
84) Make beautiful stained glass butterflies with your kids.
85) Using a fine tip permanent marker to trace around watercolor can make a painting more modern and it can make it really pop.
86) Use dot markers to teach your littles about the pop art of Roy Lichtenstein.
---
87) Make a Resurrection wreath with your kids.
---
88) Stencils can be a fun way to get kids painting. Check out how this mom used a homemade stencil to help her toddler create cat art.
89) When I was a kid, I loved making crepe paper bleeding art.
90) Visit an artist with your kids and ask them about their process. How do they work? How do they sell their work?
91) This is a fun idea! Clean out your junk drawer and make a 3D sculpture at the same time.
92) Do you have a child who is obsessed with lipstick? This lipstick resist process art activity is a great way to put that obsession to good use.
---
93) Make these fun layered flower Proverbs 31 cards.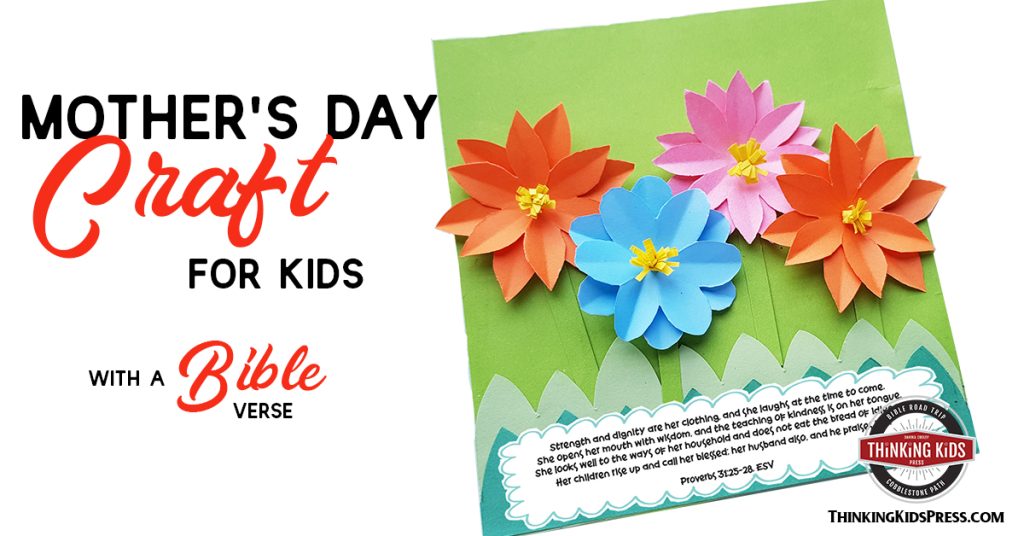 ---
94) Your older kids and teens can create something beautiful using Wycinanki Polish art techniques.
95) Try painting on wet plaster. (Pour the plaster into a small cardboard box or a metal frame.)
96) Quick and easy fingerprint flowers are a fun and sentimental craft.
97) Practice drawing simple objects in your house. Do line drawings, and learn to shade.
98) Use roll on deodorant bottles to make a mess-free painting tool.
---
99) Paint a Fruit of the Spirit tree and talk about God's gift of the fruit of the Spirit.
---
100) These stained glass heart suncatchers look quick and easy to make. You could do this with any shape.
101) Paint space using watercolors with this fun technique.
103) This is a really fun and different idea! Learn to paint on cake. Your whole family can get in on this!
104) Try spray bottle process art. Or, use water pistols to paint outside.
105) Do some negative space activities. Draw the space between objects rather than the objects themselves.
---
106) Sew an Armor of God costume craft.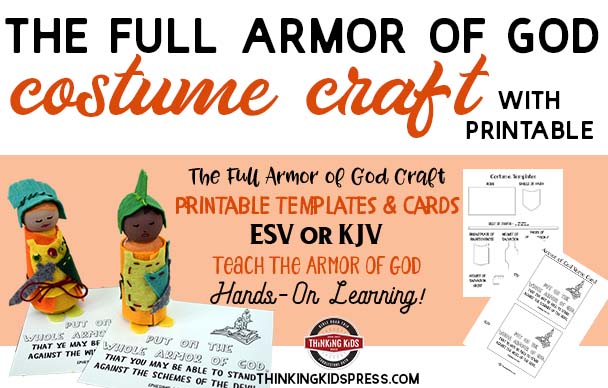 ---
107) Don't have time to clean up a painting mess? This is an interesting mess-free painting idea.
108) Let your teens use an exacto knife to cut shapes out of cardstock to create a scene.
109) Your older kids and teens might get a kick out of doing infant painting with your small people.
110) Make big art with your kids. For teens, consider allowing them to create murals on their walls or on large panels.
111) Painting on aluminum foil can be really fun. This project is inspired by Vincent Van Gogh. Try drawing on foil as well.
112) Monet's Water Lilies is a beautiful painting. Make it 3D with this paper plate and cupcake liner art project for kids.
113) Encourage your artistic teen to create a portfolio. Many children's magazines accept portfolios. They have specific qualifications, so your teen may need to make a portfolio for each magazine.
114) Different paint brushes create different results. Make paint brushes from nature to experiment with brush effects.
115) Experiment with painting on different surfaces, like plastic wrap, different kinds of paper, stones, or wood.
116) Paint the galaxy (and use glitter!).
117) Absorption painting is a lot of fun and can teach your kids about color combinations and water movement.
118) Go modern with stencil spray art.
119) Study graphic design.
Art activities are a great way for your kids to spend a few moments or a few hours. Be sure to share this list of art activities with your friends, and add your ideas in the comments!
---
Help Your Kids Learn and Love the Bible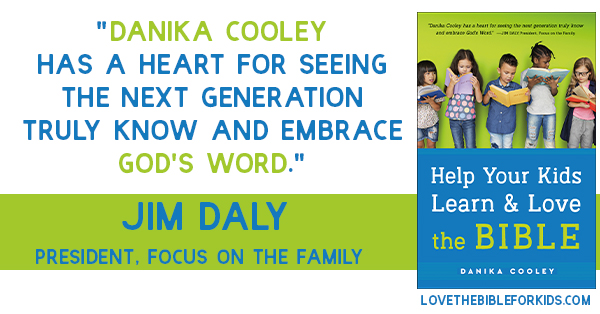 You want your kids to learn and love the Bible. 
You want to teach the Bible…
As parents, we deeply desire the best for our kids. We look for the right schools, we make them eat right and exercise, and we get them involved in extracurricular activities. We take our job as parents seriously.
But are we also putting our time and energy into
teaching them the Bible? Giving them the life-changing, soul-nourishing words of Scripture is not only doable, it's an essential part of parenting kids for Jesus. And the good news is, studying God's Word as a family doesn't have to be difficult!
2 Timothy 2:15, ESV, says:
Do your best to present yourself to God as one approved,
a worker who has no need to be ashamed, rightly handling the word of truth.
Our job, as parents who love Jesus, is to help our kids become approved workers, unashamed and rightly handling the word of truth.
The good news? Teaching the Bible isn't hard. Your family can learn the Bible together.
…and you can!
A Crash Course in Teaching the Bible to Your Kids
Danika Cooley's book, Help Your Kids Learn and Love the Bible, will give you the tools and confidence to study the Bible as a family. It will help you identify and overcome your objections and fears, give you a crash course in what the Bible is all about and how to teach it, and provide the guidance you need to set up a family Bible study habit.
You will finish this book feeling encouraged and empowered to initiate and strengthen your child's relationship with the Lord through His Word.

Help Your Kids Learn and Love the Bible will equip you with everything you need to know to teach the Bible to your kids!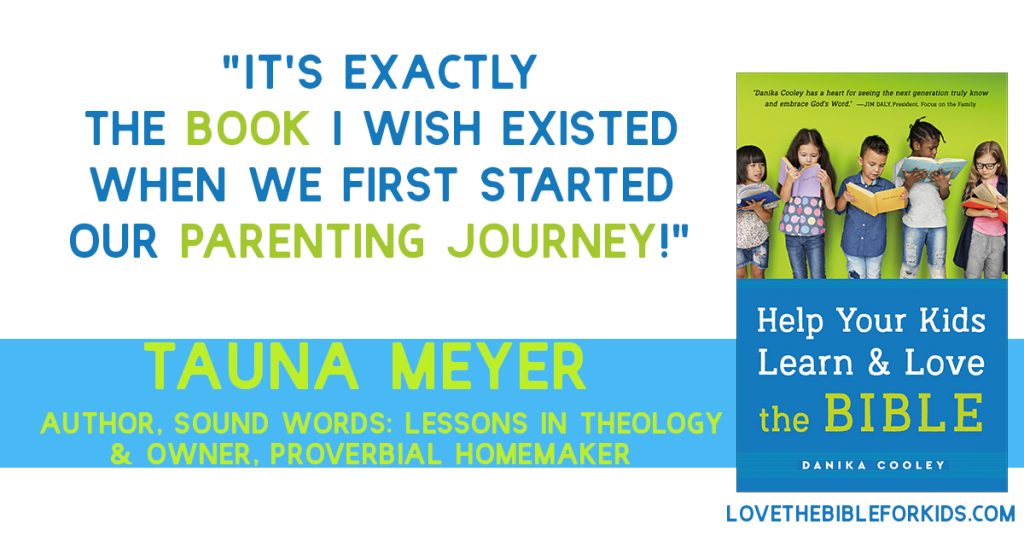 ---
More Thinking Kids Posts You'll Love
---
Join the newsletter
Get the Family Prayer Box Project FREE!
Teach your children to pray with this fun project that includes 7 printable sets!