Do you want to do arts and crafts with kids? Art in the home isn't hard. Find the art materials your kids need. (Hint: It's not that many!)
---
Arts and Crafts with Kids
I love art. In fact, I majored in art. One of my favorite things to do is helping my children create art at home.
You, too, can create art in the home with your kids.
Sometimes we've used art to reinforce concepts we're learning about (like Scripture!), and sometimes we just try new techniques. My kids each have an art journal to experiment in. For projects, I like to have them spend time creating work we can put on our walls.
Sounds expensive, right? It's really not.
You don't need professional-quality art materials for your kids to create fabulous art. In fact, they don't need much at all. There are a few items I think all budding artists need. I'm going to list them for you (with links so you can find what I'm talking about).
I'm also going to take you on a little mini-tour of the arts and crafts for kids we've done in our home.
---

---
Note: Some of these were inspired by kid art sites, but it's been several years since we did the projects, so I'm not able to credit the source of my inspiration in each case.
Art in the Home | How We Do It
This project was so fun. At the time, we were studying the Industrial Revolution.
Each of my younger two boys chose a major city. I helped them sketch the building on newspaper and they cut the buildings out and glued them to a piece of canvas they painted with acrylic paints. For this project I showed them how to take a wide brush, mix colors, and paint a background. When the glue dried, they used a black permanent marker to trace their buildings. I painted over it with a few coats of polyurethane. I love polyurethane for preserving projects.
This was designed as a class project, but I adapted it for our kids to do at home.
The project in the center was created using poster board. I marked each board into 10 strips with a T-square and a permanent marker, then the boys illustrated each of the ten plagues from Exodus. We did this project while reading Exodus, as a part of
Bible Road Trip™
.
For the project on either side, the boys were instructed to paint a fanciful landscape with cheerful colors. They each chose an animal and I cut out the animal's shape from black cardstock. We then glued the shape to the canvas board, and I polyurethaned over the whole thing. I saw something similar to this project–I think on Etsy.
These are our wooden art supply boxes. The boys painted the boxes a solid color with acrylics, then they sketched a basic landscape in their journals. I traced the landscape onto fabric scraps and they glued those down and I (you guessed it) covered the whole thing in polyurethane.
These are three separate projects we created. The far left is a map project that worked well with my commitment to doing sneaky geography. The boys had a list of geographical terms they had to include on their map of an imaginary land. They designed and watercolored the map, and when it dried, they traced each area and labeled the map with their terms (and added a whale or pirate ship here or there). This was so much more fun that a test!
The beading was done when we studied the Hammurabi civilization. Surprisingly, they both loved this and made many more necklaces for every female family member they could think of.
We used paper maché over formed modeling clay (which doesn't dry) to make these Egyptian death masks, then painted them with acrylics. The clay has to be covered with petroleum jelly so the mask can be removed once it dries. The boys loved this project.
The boys made these frescoes by painting with acrylics on partially set plaster. If my husband wasn't a plasterer, we would have just painted Mycenaean emblems on canvas board. After the acrylics dried, I traced the paintings with black permanent marker.
The space ships were made with torn cardstock and glued to another piece of cardstock.  That was a quick and easy project.
The maps of Israel under different kings were made using paper maché over modeling clay, acrylics, and black permanent markers. That was a pretty involved project, but the boys learned a lot about the tribes of Israel, and about how the obedience of the Israelites had a direct impact on their territory as God allowed them to be invaded by surrounding tribes. I absolutely love these maps. You can see more pictures of them in our library.
This is another
Bible Road Trip™
project on the days of Creation. I marked out seven strips on a piece of poster board, and the boys illustrated days 0-6 of Creation. In fact, now you can grab this
project for yourself
.
---
We also did a
polymer clay
project on Brother Andrew after reading his
inspiring biography
.
These are a couple of the art journal pages from one of my boys. In one, he's learning to cartoon using a fine-tip permanent marker. In the other, he's learning about color, and taking notes on what colors he mixed, and how he mixed them. Really, though, he just wanted me to show you his dragon. So, it's small, but see the marvelous penciled dragon he drew on the paint color page?
Note: I created this post originally some 5 or 6 years ago. One of my boys has grown up to be quite the artist. We did art in the home, though, to help explore concepts we were learning about at the time. The memories we made are some of my very favorite.
---
Art Materials for Kids
All the Art Tools You Really Need
You'll notice that above I linked to a few specialty art supplies–like polyurethane, modeling clay, and polymer clay. These items are useful for specific projects (and I just personally love polyurethane for kid projects), but they're not necessary to do art in the home.
Here's a list of the essentials you'll want to add to your home art setup.
Pentalic Sketch Book, Hardbound, 8-1/2-Inch by 11-Inch
FIXSMITH Painting Canvas Panel Boards – 5×7 Inch Art Canvas,24 Pack Mini Canvases,Primed Canvas Panels,100% Cotton,Acid Free,Professional Quality Artist Canvas Board for Hobby Painters,Students & Kids
Derwent Graphic Drawing Pencils, Medium, Metal Tin, 12 Count (34214)
120 Colored Pencils (GIANT EXTRA LARGE SET) – 120 Unique Colors (NO DUPLICATES) – Premium Grade & Pre-Sharpened – Color Coordinating Barrels – Perfect for Kids, Art School Students, or Professionals!
Apple Barrel PROMOABI 18pc Matte Finish Acrylic Craft Paint Set, Assorted Colors 1, 18 Count
36 Colors Watercolor Paint, Fundamental Art Watercolor Pan Set with 1 Brushes,Perfect for Kids, Adults and Beginner Artists by MICRORANGE
Heartybay 10Pieces Round Pointed Tip Nylon Hair Brush Set, Blue
Art Alternatives Paint Tray, 10 Wells with Thumb Hole Pack of 1 (Palette)
Sharpie 75847 Permanent Markers, Ultra Fine Point, Assorted Colors, 24-Count
Other basics art materials for kids you'll want to stock:
Arts and crafts with kids can be fun and memorable. With just a little work stocking art materials for kids, your family can do art in the home. Your kids (and you) will remember the time you spend together!
---
Bible Resources for Your Kids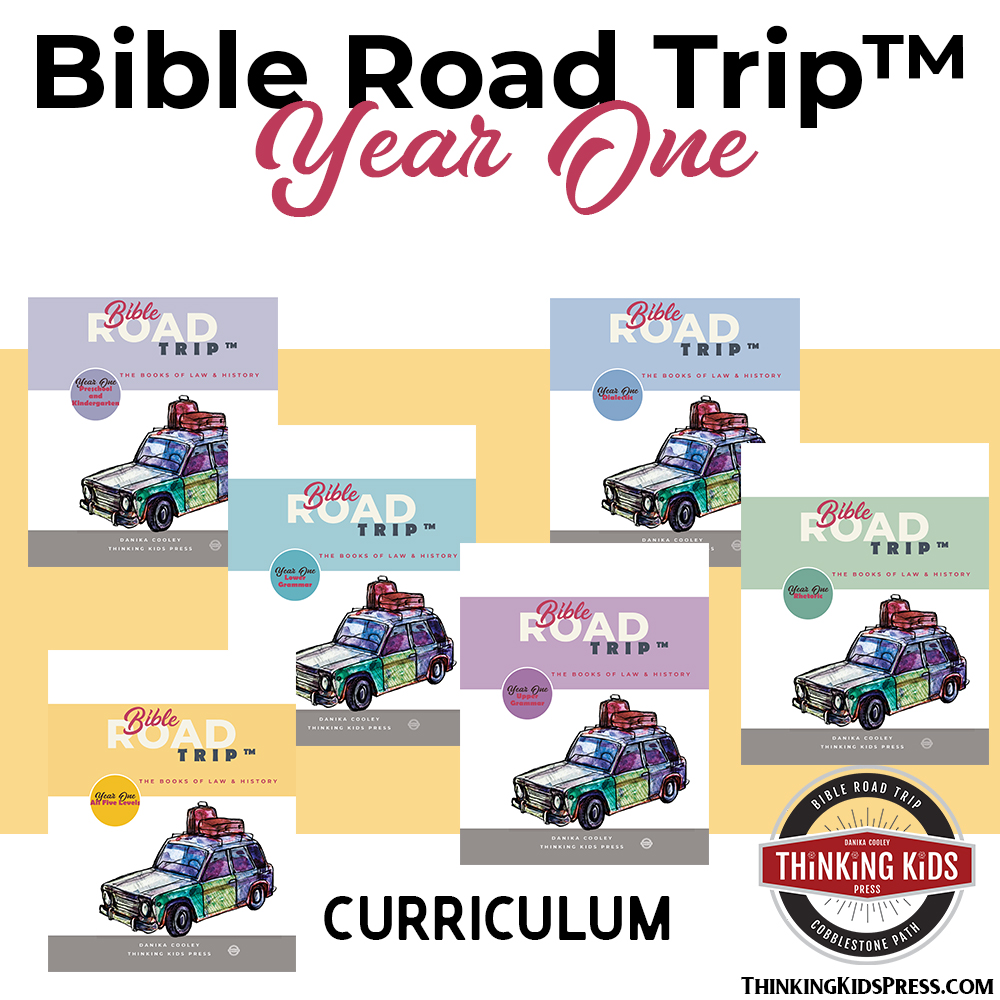 Bible Road Trip™ CurriculumLearn More Here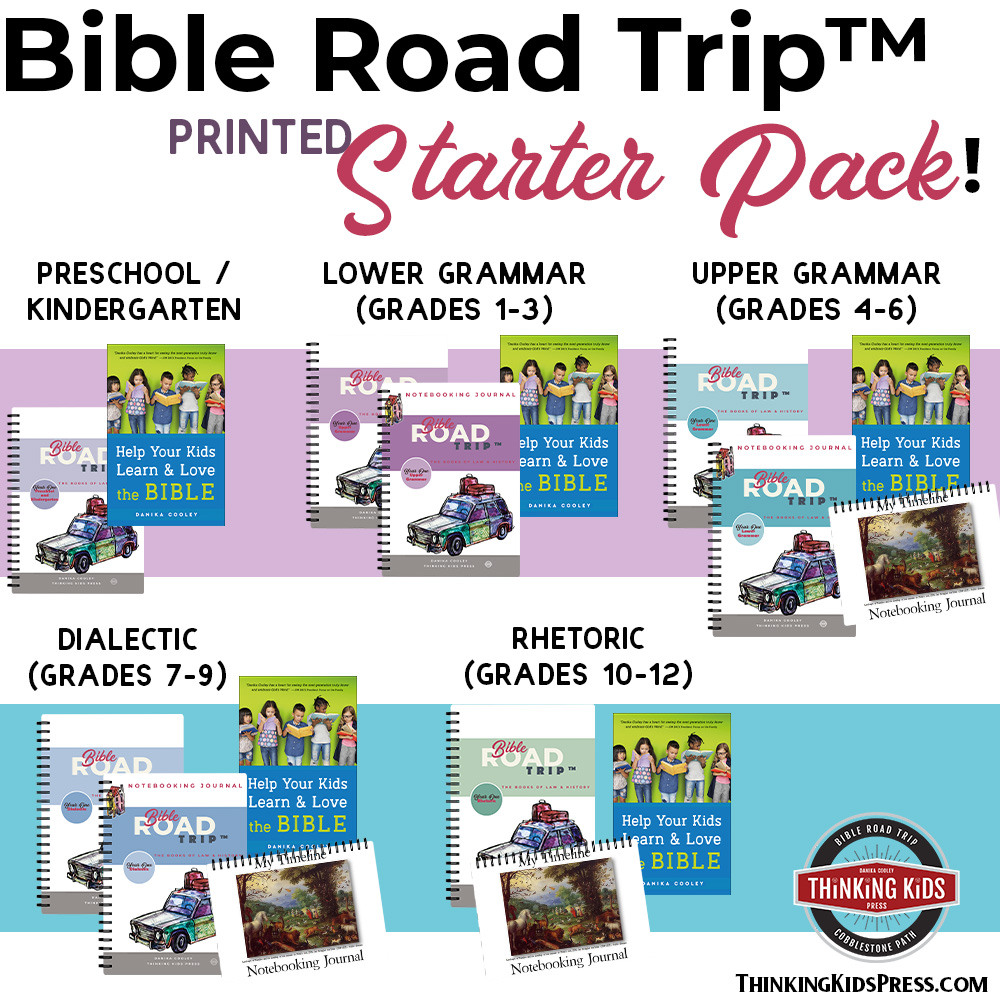 Starter BundleLearn More Here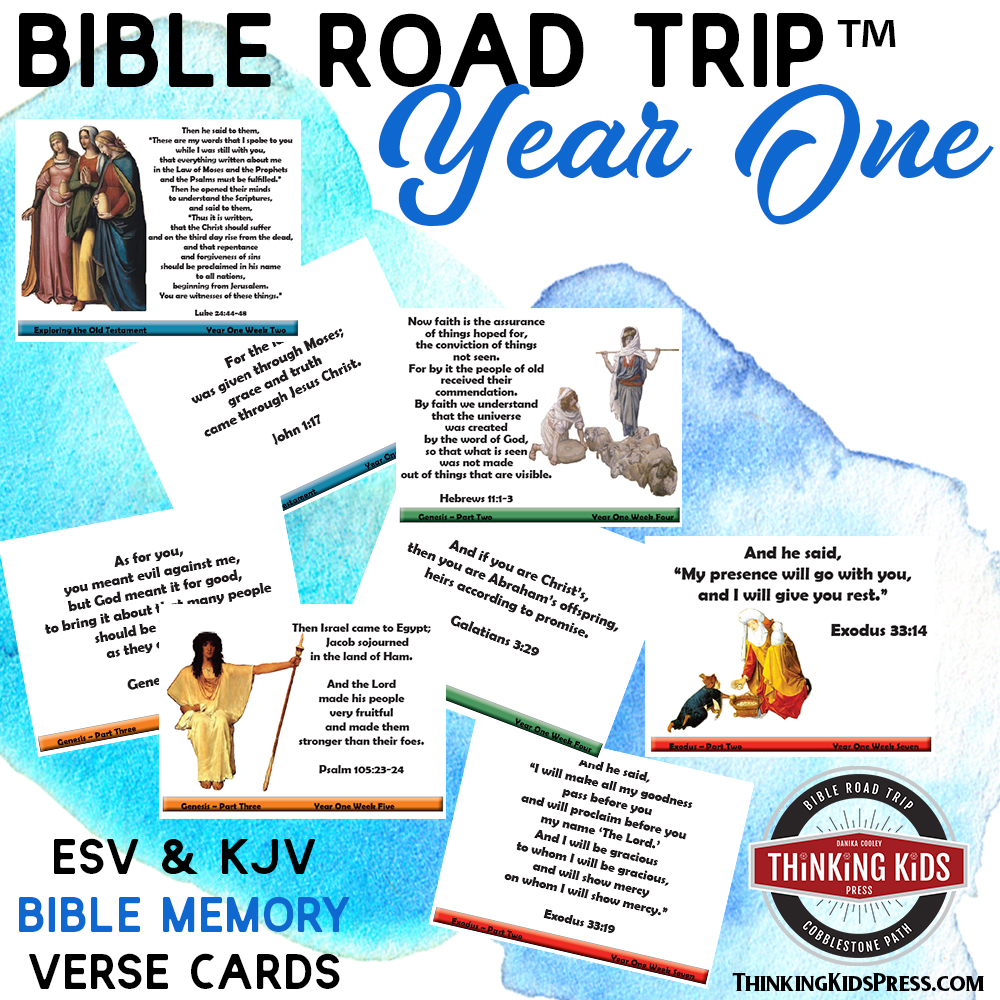 Bible Road Trip™ Memory Verse CardsLearn More Here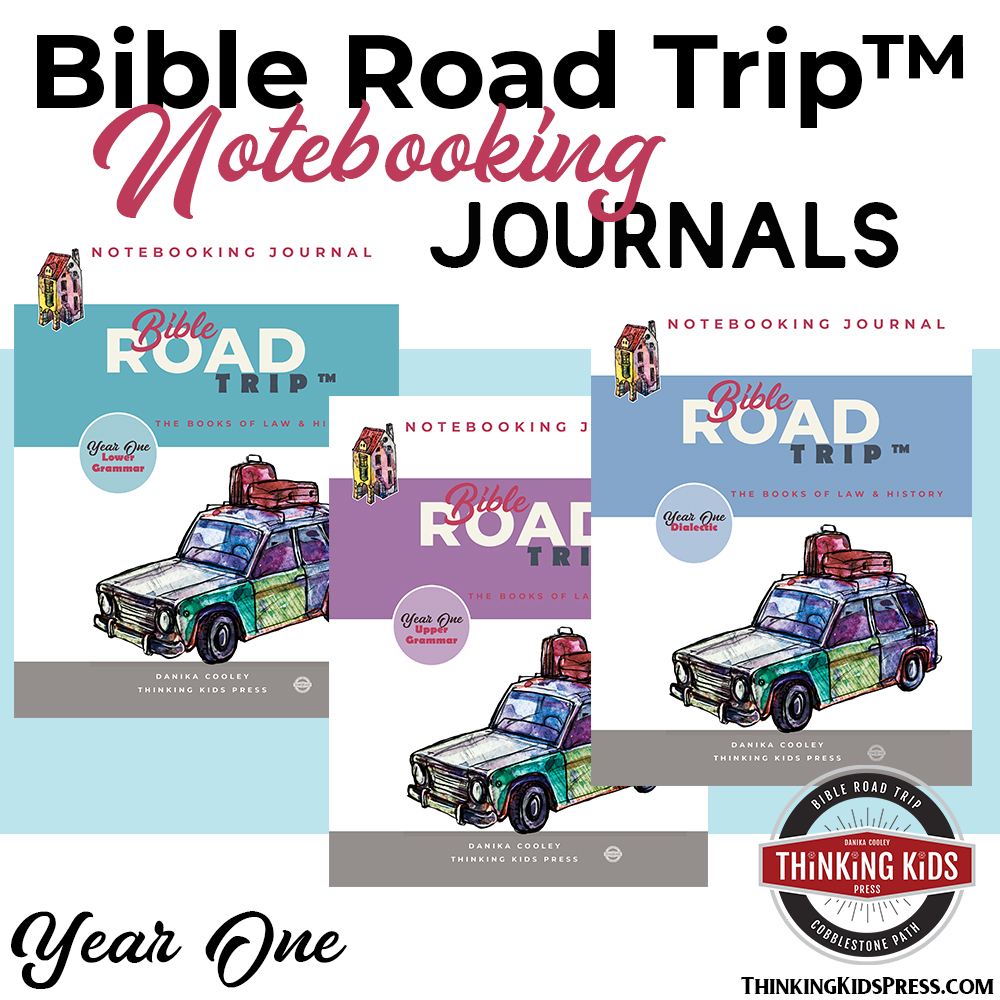 Bible Road Trip™ Notebooking JournalsLearn More Here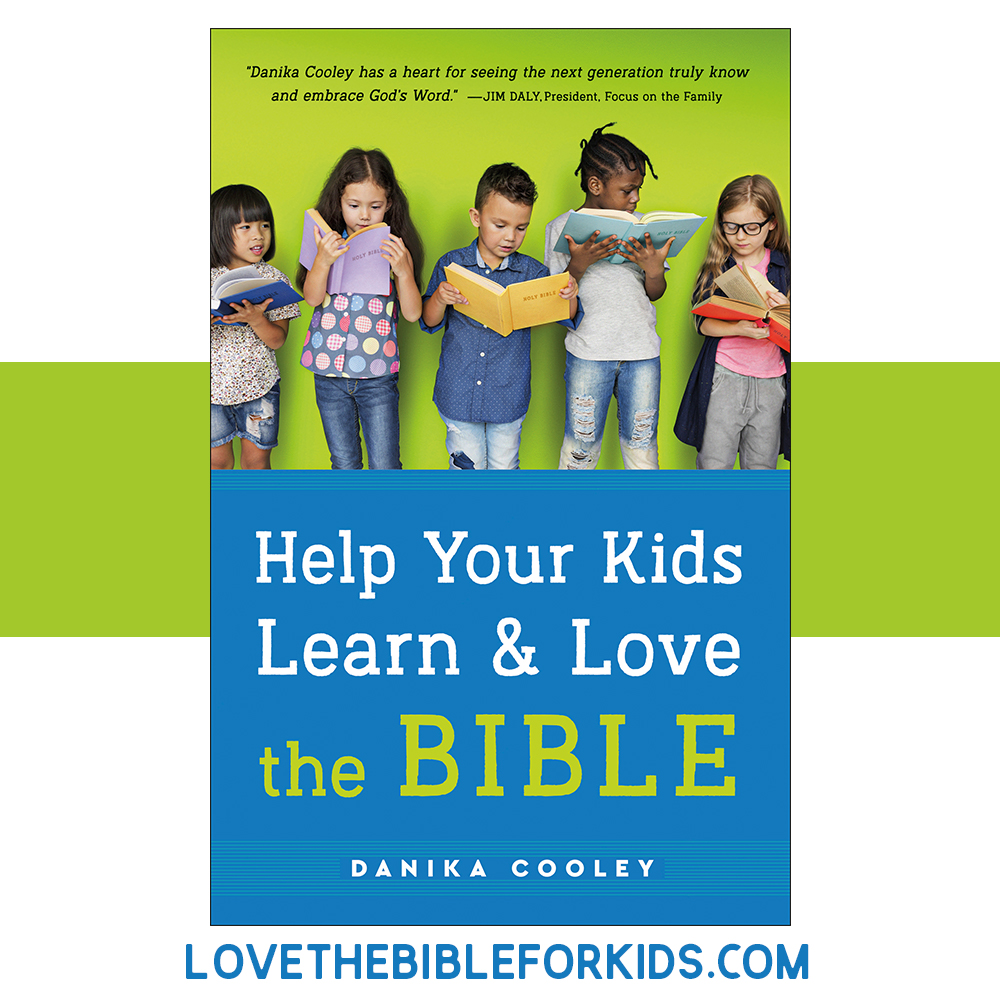 Help Your Kids Learn and Love the BibleLearn More Here
---
Teach Your Kids the Bible with Bible Road Trip™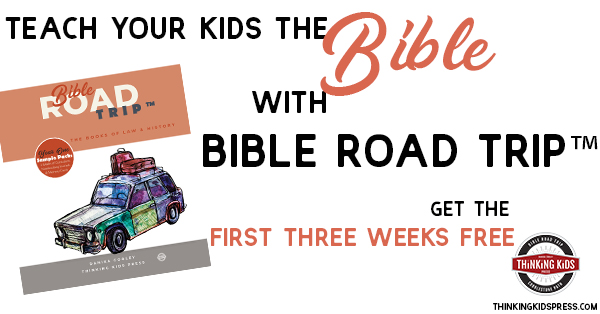 Bible Road Trip™ is a three-year Bible survey curriculum. Take your family through the Bible five times from preschool to high school.
To help you get the most out of your studies, Bible Road Trip™ has an array of coordinating weekly activities:
Researching the section of the Bible you're studying
Reading and discussing the Bible
Memorizing Scripture
Notebooking about your studies
Praying for the nations
Suggestions for further study
Crafting about what you've learned
For your older students: A project to share what they've learned
Bible Road Trip™ also has some great tools you can use along with it, such as:

Notebooking Journals for grades 1-9. Want a structured notebooking journal for high school? Don't hesitate to use the Dialectic journal (grades 7-9).
Bible Memory Card Sets for all five levels of study, preschool to high school. These are available in both ESV and KJV.
Grab your Bible Road Trip™ Year One Sample Pack. You'll get:
The Bible Road Trip™ Parent / Teacher Guide.
The first three weeks of the curriculum for all five learning levels. Week Three is where we really dive into the Bible and begin to our systematic study. Week Three will give you a good feel for the rest of the curriculum.
The first three weeks of the Bible Memory Card sets for all five levels, in ESV and KJV.
The first three weeks of each of the three leveled Notebooking Journals.
Grab the Sample Pack for FREE:

Disciple your kids by taking your family through the Bible together in a meaningful way!
---
Books Make Great Gifts!
Help Your Kids Learn and Love the Bible
Who was Martin Luther? (Who What Why)
What was the Gutenberg Bible? (Who What Why)
Why did the Reformation Happen? (Who What Why)
When Lightning Struck!: The Story of Martin Luther
Wonderfully Made: God's Story of Life from Conception to Birth
---
---
More Thinking Kids Posts You'll Love!
---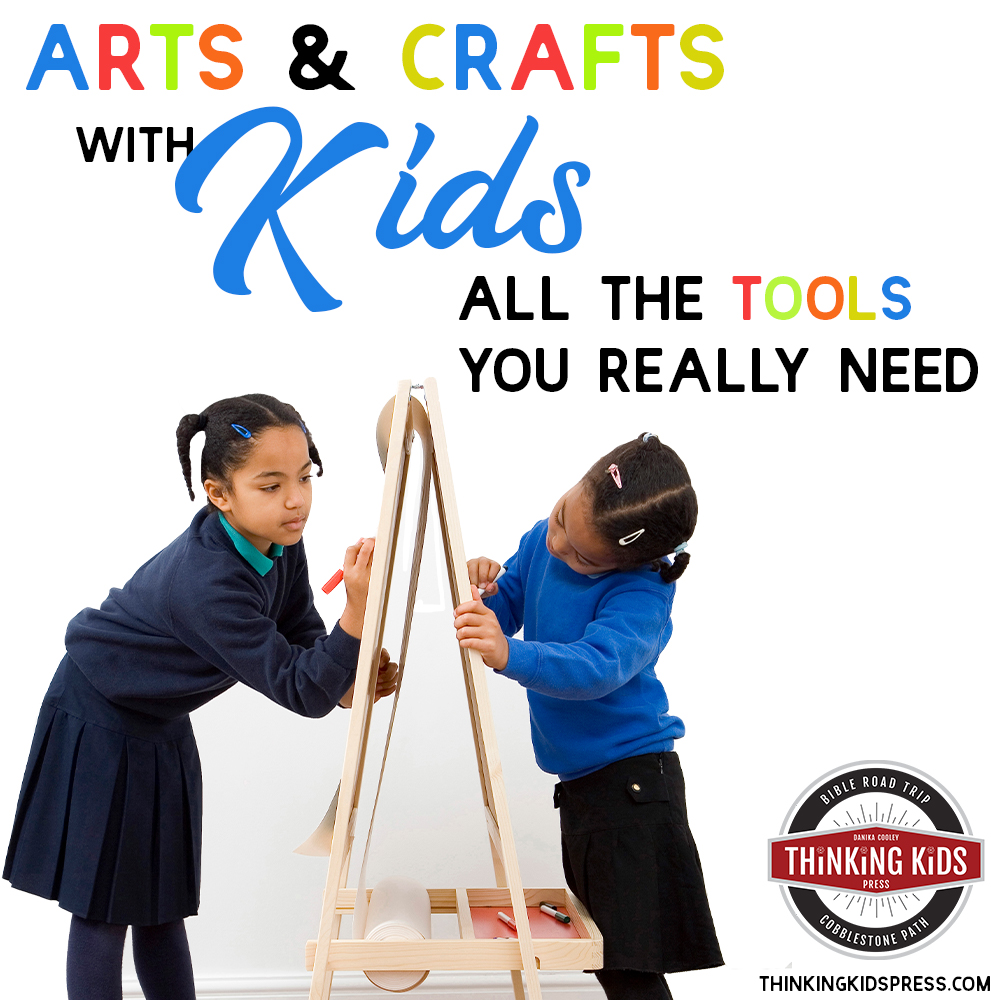 Join the newsletter
Get the Family Prayer Box Project FREE!
Teach your children to pray with this fun project that includes 7 printable sets!