Three years of Bible verses for children with Bible Road Trip™ Bible Memory Verse Cards. Plant God's Word with printable Bible verses for kids in ESV & KJV.
---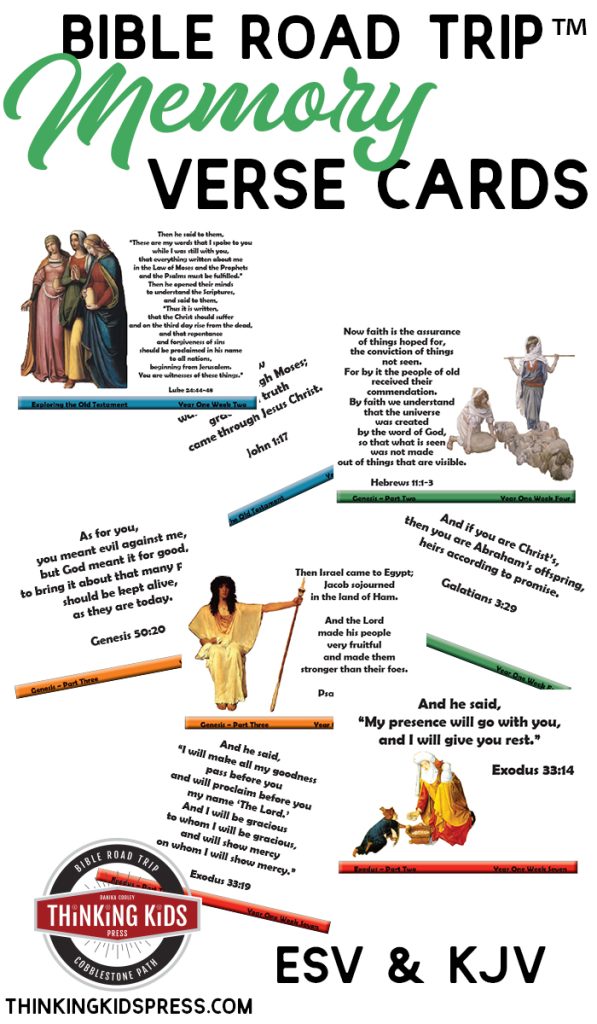 Printable Bible Verses for Children
Why do families need to work through memorizing Bible verses for children?  The Bible answers that question for us!
 How can a young man keep his way pure?
    By guarding it according to your word.
With my whole heart I seek you;
    let me not wander from your commandments!
 I have stored up your word in my heart,
    that I might not sin against you.
The Struggle with Bible Memory (and Family Bible Time)
It's so easy for us to allow the weight and busyness of the world to take precedence in our lives isn't it?
Let's be honest. Seeking the Lord through His Word with our whole hearts is a long, slow, daily process. Our culture is right here, right now, quick fix. Taking the time to learn the Bible isn't a fast thing. It's slow, requires some effort–and it's VITAL. We need to know God's Word. Our KIDS need to know God's Word. That saying that the days are slow, but the years are fast is so true.
---

---
A Bible Memory Verses for Children Solution for Families
I want to help you lead your children through Scripture. I know you're busy, and I know there are so many distractions every day that make getting into the Bible difficult. Bible Road Trip™ is designed to allow you to be able to spend time going through Scripture with your kids–without having to do a ton of planning or research first.
And now, the new Bible Road Trip™ Bible Memory Verse Cards will continue the learning for your family. Just print them and cut them out, and you have the memory verses for the year right at your fingertips! You can work through the verses for each week as you're having a meal, running errands (with an older child reading the card), or during your morning Bible Road Trip™ time! Your kids will always remember the time they spent memorizing with you. More importantly, they'll remember the Word of God.
---
How Bible Memorization Changed My Life
When I was a kid, I attended Christian schools until the middle of sixth grade. I don't remember a lot of what we learned, with the exception of the Bible memory verses. Every week we memorized new Bible verses.
It was those verses that the Holy Spirit has used throughout my life–before and after I was saved–to point me to truth. I remember them when I pray, when I struggle, and when I rejoice. That knowledge of Scripture has just been central to my faith.
I want the same for you and for your children. When I wrote Bible Road Trip™, I knew that Bible memory verses would absolutely have to be a part of the program. That's where the Memorize the Word section came in. I also know that you're busy, and that having ready-made products to go with Bible Road Trip™ will enable you to use the program in a richer, deeper way.
I hope that as your student memorizes the verses at their level, you'll consider using the Rhetoric level cards for your own Bible memory. It will create a sweet way for you to join your children in their journey through the Bible.
Bible Verses for Kids: Bible Road Trip™ Memory Cards
The Bible Road Trip™ Bible Verse Memory Cards will enable you to have each week's Bible memory verses at your fingertips, ready to be used by your students.
Exciting aspects of the Bible Road Trip™ Memory Cards:
Each week is color-coded.
The first card for each week includes a portion of one of the beautiful paintings (all public domain) that you'll find in that week's notebooking journal.
The verses are divided into lines in a manner that will help your student memorize one line (or thought) at a time.
Because the memory verses are different for each level, you'll find a set of Bible Memory Cards available for each level for Year One:

Preschool and Kindergarten (ages 3-5)
Lower Grammar (grades 1-3)
Upper Grammar (grades 4-6)
Dialectic (grades 7-9)
Rhetoric (grades 10-12)

Each level of the Bible Road Trip™ Memory Cards is available in either ESV or KJV.
Each download comes with a family/household use copyright license.  So, if you have three children who will go through the Dialectic level, you may purchase the Dialectic Bible Memory Cards once, store the file on your computer, and hit print each time you need a set.
There is a Classroom License available for church and school classes, and co-ops. Please purchase a new class license each year.
Purchase Year One Bible Memory Cards at:

---
Purchase Year Two Bible Memory Cards at:
---
Purchase Year Three Bible Memory Cards at:
---
How to Print the Bible Road Trip™ Memory Cards
I often get asked how to print Thinking Kids Press resources. Here's my very best advice. Take it and adapt it for your own good uses.
Sometimes readers are concerned about using colored ink. If this is the case for you, there should be a setting on your printer that allows you to print in black and white. Alternately, printing in grayscale will still use some color, but it will come out prettier than black and white.
Print these cards single-sided.
After purchase, the link to your Bible Memory Cards will be emailed to you immediately. If you don't see it, check your spam file.
I recommend printing on white cardstock so the cards will be more durable. This is my very favorite cardstock: Neenah Premium Cardstock.
There are four cards to a page–you'll need to cut them out. I suggest using a rotary paper trimmer. Mine is one of my most-used homeschool tools.
After printing and cutting your cards, consider laminating them  so they will last longer.
Teach Your Kids the Bible with Bible Road Trip™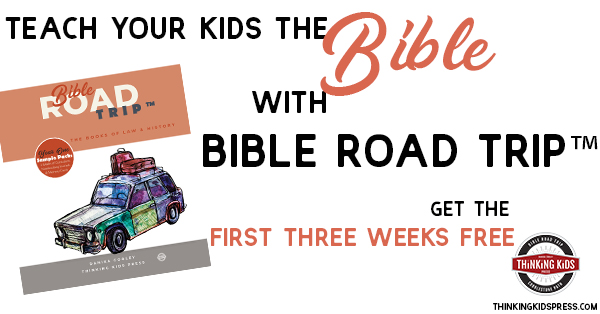 Bible Road Trip™ is a three-year Bible survey curriculum. Take your family through the Bible five times from preschool to high school.
To help you get the most out of your studies, Bible Road Trip™ has an array of coordinating weekly activities:
Researching the section of the Bible you're studying
Reading and discussing the Bible
Memorizing Scripture
Notebooking about your studies
Praying for the nations
Suggestions for further study
Crafting about what you've learned
For your older students: A project to share what they've learned
Bible Road Trip™ also has some great tools you can use along with it, such as:

Notebooking Journals for grades 1-9. Want a structured notebooking journal for high school? Don't hesitate to use the Dialectic journal (grades 7-9).
Bible Memory Card Sets for all five levels of study, preschool to high school. These are available in both ESV and KJV.
Grab your Bible Road Trip™ Year One Sample Pack. You'll get:
The Bible Road Trip™ Parent / Teacher Guide.
The first three weeks of the curriculum for all five learning levels. Week Three is where we really dive into the Bible and begin to our systematic study. Week Three will give you a good feel for the rest of the curriculum.
The first three weeks of the Bible Memory Card sets for all five levels, in ESV and KJV.
The first three weeks of each of the three leveled Notebooking Journals.
Grab the Sample Pack for FREE:

Disciple your kids by taking your family through the Bible together in a meaningful way!
---
Bible Curriculum for Your Kids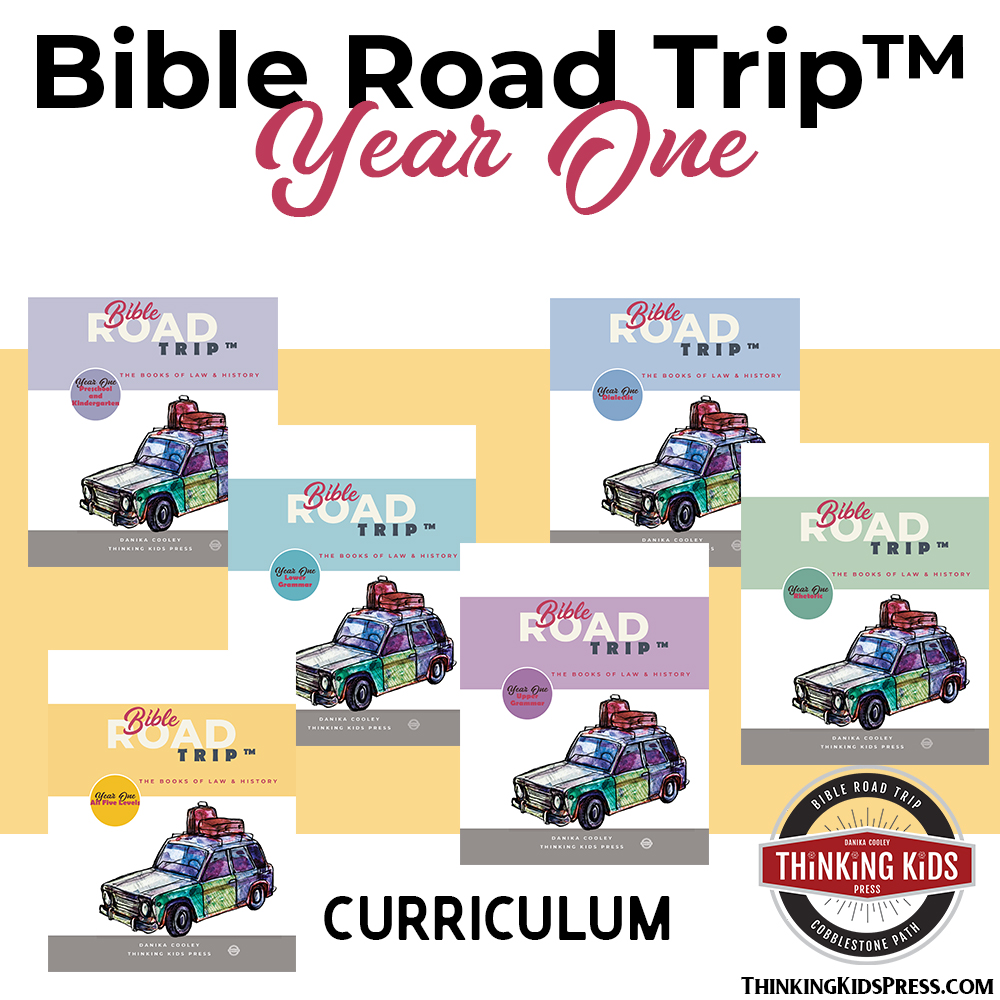 Bible Road Trip™ CurriculumLearn More Here
Bible Road Trip™ Memory Verse CardsBuy Here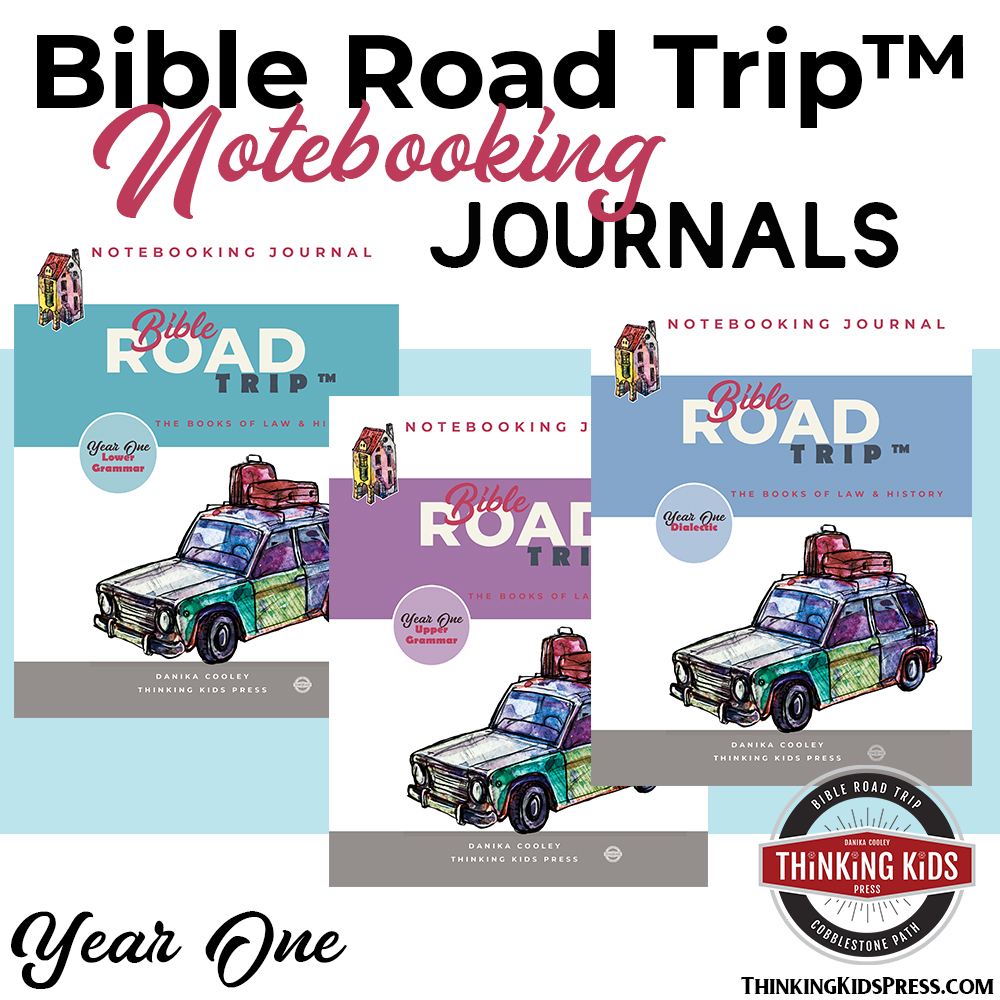 Bible Road Trip™ Notebooking JournalsBuy Here
---
Help Your Kids Learn and Love the Bible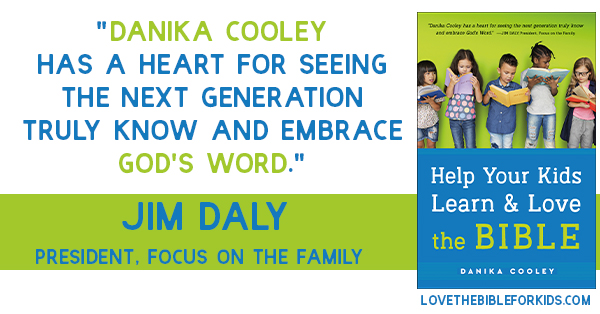 You want your kids to learn and love the Bible. 
You want to teach the Bible…
As parents, we deeply desire the best for our kids. We look for the right schools, we make them eat right and exercise, and we get them involved in extracurricular activities. We take our job as parents seriously.
But are we also putting our time and energy into
teaching them the Bible? Giving them the life-changing, soul-nourishing words of Scripture is not only doable, it's an essential part of parenting kids for Jesus. And the good news is, studying God's Word as a family doesn't have to be difficult!
2 Timothy 2:15, ESV, says:
Do your best to present yourself to God as one approved,
a worker who has no need to be ashamed, rightly handling the word of truth.
Our job, as parents who love Jesus, is to help our kids become approved workers, unashamed and rightly handling the word of truth.
The good news? Teaching the Bible isn't hard. Your family can learn the Bible together.
…and you can!
A Crash Course in Teaching the Bible to Your Kids
Danika Cooley's book, Help Your Kids Learn and Love the Bible, will give you the tools and confidence to study the Bible as a family. It will help you identify and overcome your objections and fears, give you a crash course in what the Bible is all about and how to teach it, and provide the guidance you need to set up a family Bible study habit.
You will finish this book feeling encouraged and empowered to initiate and strengthen your child's relationship with the Lord through His Word.

Help Your Kids Learn and Love the Bible will equip you with everything you need to know to teach the Bible to your kids!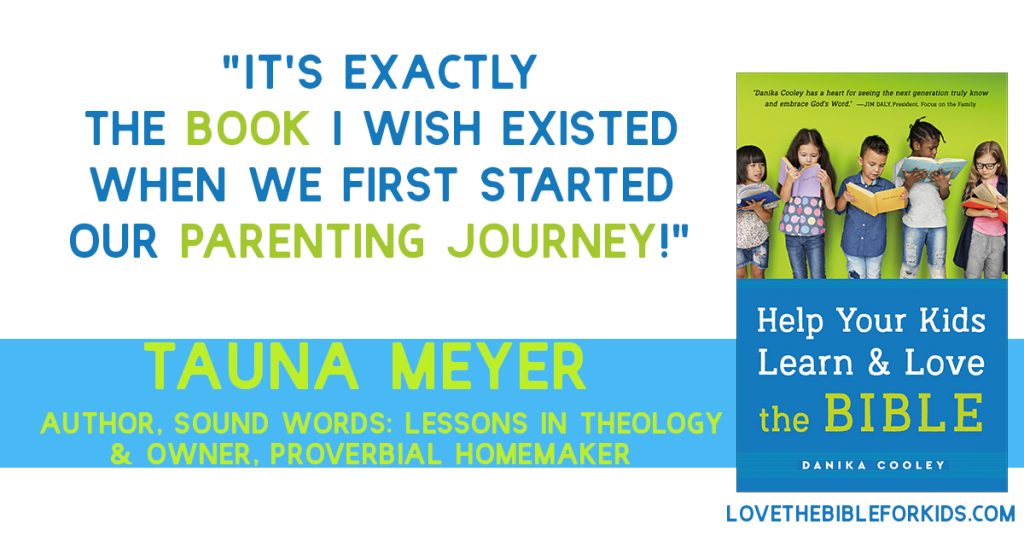 ---
More Thinking Kids Posts You'll Love!
---
Join the newsletter
Get the Family Prayer Box Project FREE!
Teach your children to pray with this fun project that includes 7 printable sets!