Children in church? Yes! Teach your kids to worship by including your children in the church service. Teaching kids to worship with the church is vital.
---
Before we ever knew it was a hotly debated issue in the church, my husband and I decided to keep our children in the church service with us. We started attending a little country church with our 8 and 10 year old. They stayed right beside us, worshiping and listening to the sermon.
By the time our older kids were young teens, we had a baby boy (and another on the way). I sat in the service of our large local church with my kids and let my baby play in the pew with quiet toys. By the time our younger boys were about 15 months, we had them in the nursery. I went with them much of the time. But from the ages of three and four on, the boys sat with us through a weekly church service and then spent another service with me in the children's Sundays School.
Children in Church
It was easy for me to assume my kids weren't really learning a lot in church. I'm certain much of it was over their heads. But I'll never forget overhearing my six- and seven-year-old boys arguing in the bathroom one night when they were supposed to be brushing their teeth. Their little voices got louder and more urgent until they burst from the bathroom, looking to have their disagreement settled.
"Mom!" said the six-year-old. "What is the difference between a Christophany and a theophany? Please give specific examples."
That's when I knew that all those hours spent fretting over the fact that my toddlers had attended church while lying under the pew, or worse–sitting upside down with their feet in the air and their heads dangling toward the floor, had been in vain. My kids not only learned to worship in church, keeping my children in the church service with us had affected them. They'd learned from the preaching. Not only that, they'd absorbed a concept that some adult Christians don't have a handle on.
---
Teach your kids to worship with this awesome Sermon Notebook for Kids!
---
Teach Kids to Worship
My husband and I have allowed our kids to attend Sunday School. In fact, I taught Sunday School for years. We've also allowed them to attend youth group. However, our kids have attended a church service with us once a week. As they aged into the upper elementary grades, they found Sunday School for kids uninteresting and chose instead to attend Sunday School with us during our second service.
I'm an advocate of teaching kids to worship. You can do this at home with Bible Road Trip™ and with a family worship time. However, I'm also an advocate for teaching kids to worship by keeping children in the worship service with their parents. Children in church learn to sing to the Lord, to share compassion and concern for others, and to pray corporately. Believe it or not, children in the church service also learn from the preaching. The reason I advocate for children in the church service, though, is because I see it modeled in Scripture.
I want to thank Christian Focus Publications for providing a copy of Let the Children Worship in return for my honest opinion.
---
---
Does keeping your children in church with you seem daunting? Are you unsure if corporate worship for little people actually has a Scriptural basis? I'm excited to recommend a new resource by Pastor Jason Helopoulos, Let the Children Worship (Christian Focus Publications, 2016). 
Let the Children Worship by Jason Helopoulos
Let the Children Worship is an excellent, respectful treatise on worship: why and how we worship. Jason Helopoulos then talks about the biblical example of children in the worship service, and why teaching kids to worship by keeping them in church has many benefits. He finishes by discussing some tips and potential pitfalls for parents and church leaders.
I really appreciated this short 94-page book. Rather than being heavy-handed or approaching kids in church as an issue that can only be seen from one perspective, Jason Helopoulos gives grace in his discussion of children in the worship service. He acknowledges the frustrations and challenges inherent with keeping children in church, and talks about why the benefits outweigh the obstacles. Additionally, Pastor Helopoulos doesn't do away with children's Sunday School or youth group. Rather, he advocates for those (if they exist) as an addition to the corporate worship service.
I found Let the Children Worship to be thought-provoking and encouraging. This is a book worth reading for all parents and church leaders.
Chapters in Let the Children Worship
Why Does the Church Worship?
What Should Church Worship Look Like?
Let the Children Worship
Blessings and Benefits
Wisdom for Parents
Wisdom for Church Leaders
Not So Helpful Replacements and Objections
---
Resources You and Your Kids Will Love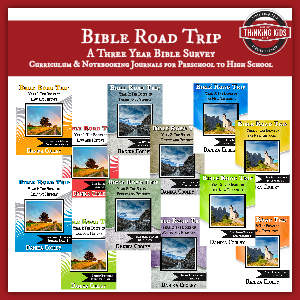 Bible Road Trip: A 3-Year Bible Curriculum for Preschool through High School
My Sermon Notebook
Crayola Fun Effects Mini Twistables Crayons, 24-Count, 1 pack
Crayola Different Colored Pencils, 100 Count, Adult Coloring
Wonderfully Made: God's Story of Life from Conception to Birth
Let the Children Worship
A Neglected Grace: Family Worship in the Christian Home
Parenting in the Pew: Guiding Your Children into the Joy of Worship
The Beginner's Bible My First Church Bag, Noah's Ark, Medium, Canvas
My First Church Bag Flowers Medium
---
More Thinking Kids Posts You'll Love
---
Join the newsletter
Get the Family Prayer Box Project FREE!
Teach your children to pray with this fun project that includes 7 printable sets!