Two great books give a wonderful overview of every book of the Bible and the prophecies of the Bible for kids!
---
There are a lot of books in the world.  Few are as exciting to me as the books that help children understand Scripture better.
I don't think there is any substitute to Scripture itself.  However, it can be difficult for children to discern the overall storyline of Scripture when their understanding of the Bible consists of seemingly isolated hero stories.  When kids think the Bible is really about the people within its pages — Samson, Ruth, or Noah — they can miss the true meaning.
Part of our job as Christian parents is to help our kids better understand the big picture of God's Word.
We want them to know:
Who God is
Who humans are and why we need a Savior
God's great plan for salvation
Jesus' commands for his followers
---

---
Paul Reynolds has written two wonderful books that help put the whole of Scripture into context! They can each be used in morning devotions, at family worship, or read by older children (8-12) on their own. In fact, 66 Books: One Story is a resource used in Bible Road Trip™.
 I want to thank Christian Focus Publications for providing me with a copy of 66 Books: One Story and 30 Prophecies: One Story by Paul Reynolds in return for my honest opinion.
66 Books: One Story: A Guide to Every Book of the Bible (Christian Focus Publications, 2013, 2023) is a 235-page overview of Scripture. ~ Each chapter is just three pages long, making it the perfect length for a family devotion.  The books of the Bible are covered chapter by chapter with the exception of Genesis and the Psalms, which required two chapters, and 2 and 3 John are combined in one chapter.
66 Books: One Story is a wonderful resource for families.  In just over two months, your children can have a deeper understanding of each book of the Bible, and of Scripture as a whole.  Most importantly, they would walk away with a new appreciation for Who God is and what His plan for us entails.
The chapters each contain the same structure:

A short phrase introduces the theme of the book.
A brief introduction explains the storyline, who wrote the book, and when it was written.
The overview contains a few numbered paragraphs which basically condense the content of the book.  These paraphrases initially threw me as the paragraphs are inside of quotation marks, but they are not direct quotations.  When Mr. Reynolds does quote the Bible directly, it is in red italics.  I suppose this is just a stylistic issue.  However, if you plan to hand this book to your child, I think it is important to explain where the overview is directly quoting the Bible and where it is not.
The "Learning From" section is, in my opinion, one of the gems of the book.  Each chapter has three learning points, each of which contains a truth from Scripture (and an explanation of that truth), 3 Bible references to study the truth stated, and devotional questions to discuss with your children.  Here's what I love about the Bible truths that are explained:  they focus on God and His qualities.  Mr. Reynolds does discuss how those qualities affect us, and how we are called to follow God, but his primary focus is on God's sovereignty and holiness.  The focus is not on biblical characters and their personal qualities.
There is a "Salvation Thread" section which explains how each book of the Bible points to Christ and to God's plan for redemption.
Each chapter ends with a key verse for memorization.
30 Prophecies: One Story (Christian Focus Publications, 2019)~ This is such a neat book. At 93-pages, it's not your typical picture book. Instead, it's an oversized book with beautiful graphics that covers 30 Old Testament (and a few New Testament) prophecies fulfilled in the life of Jesus. Each prophecy is covered by a two-page (sometimes four-page) spread. I highly recommend this fabulous book for your family's library. You could even use the book as a unit study for 6 weeks!
Each spread covers:

The prophecy made
The prophet and date of the prophecy
The reaction of the people hearing the prophecy
The fulfillment of the prophecy
How the prophecy fits into God's great story of the gospel
An application of the prophecy to your child
A prayer for your family to offer after reflecting on God's great story.
---
Purchase 66 Books: One Story and 30 Prophecies: One Story
You'll want both these great books by Paul Reynolds on your library shelf! The author, Paul Reynolds, is an assistant pastor at First Baptist Church of Grand Cayman. He is also a father of two.
---
Bible Resources for Your Kids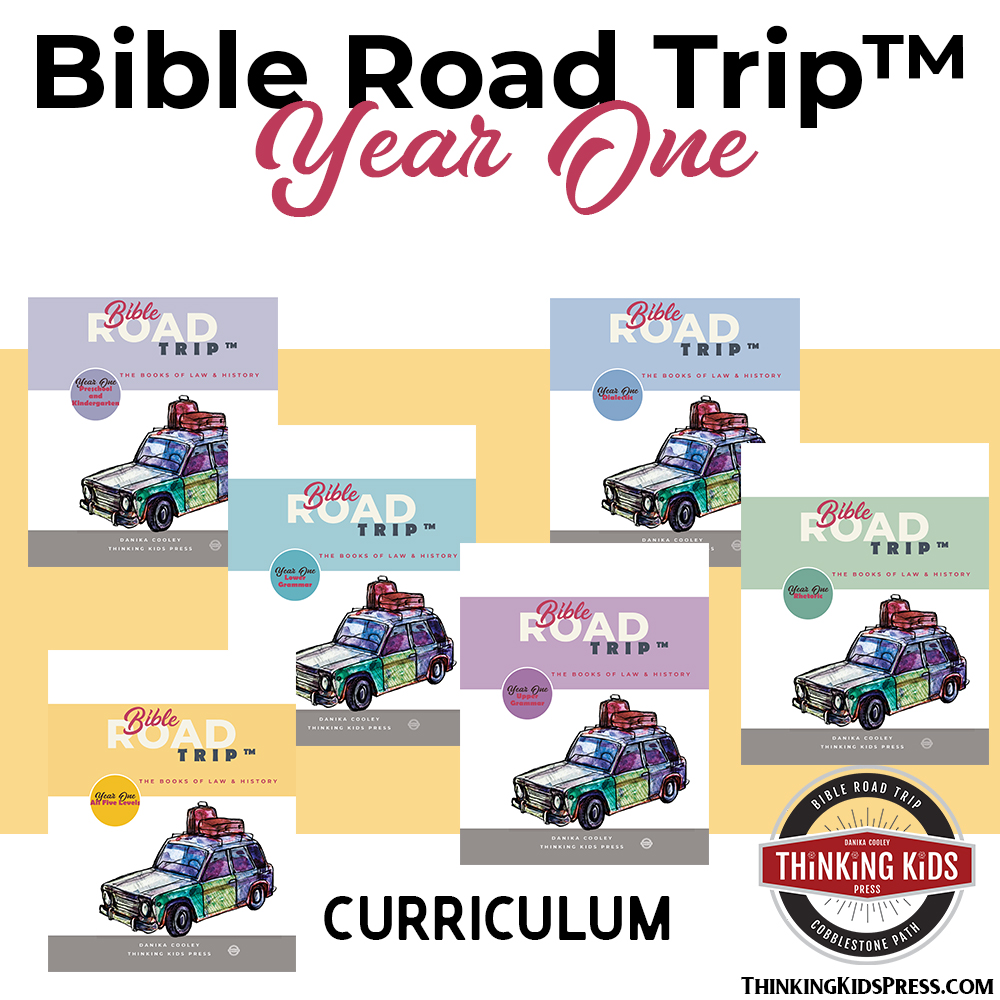 Bible Road Trip™ CurriculumLearn More Here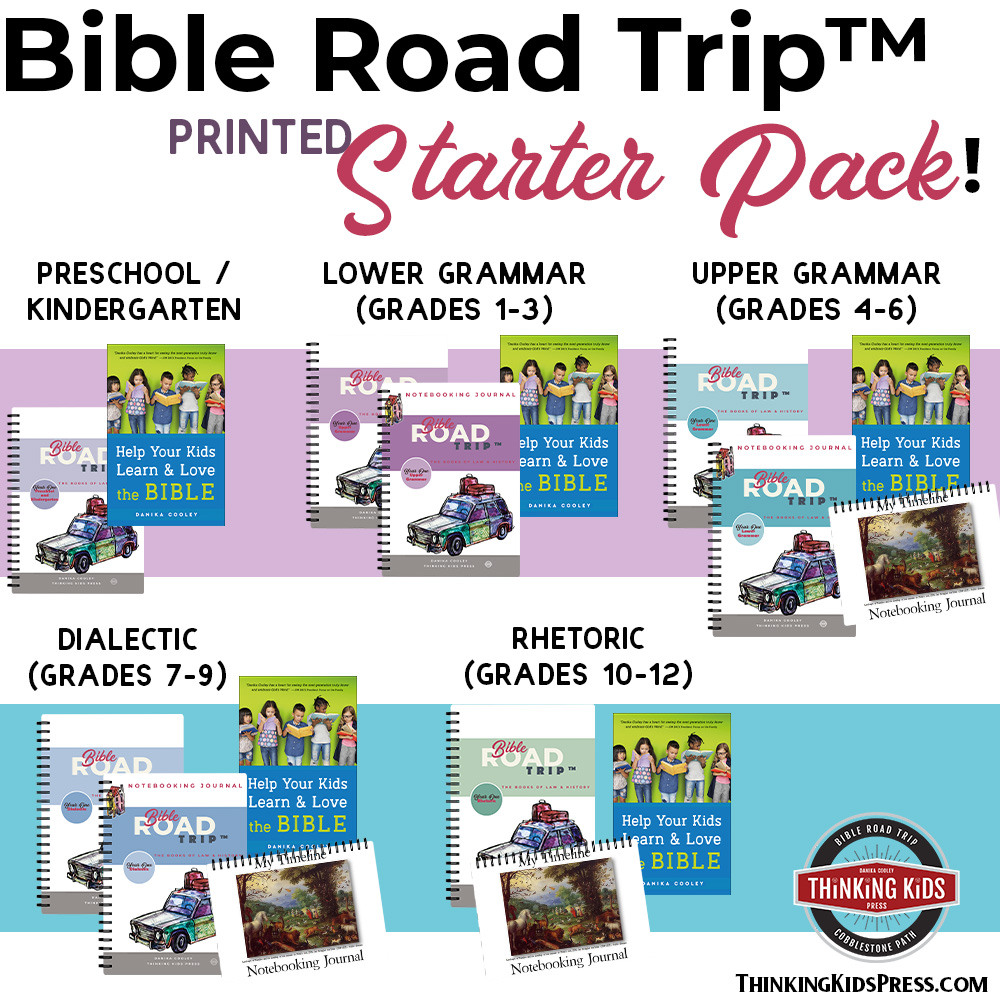 Starter BundleLearn More Here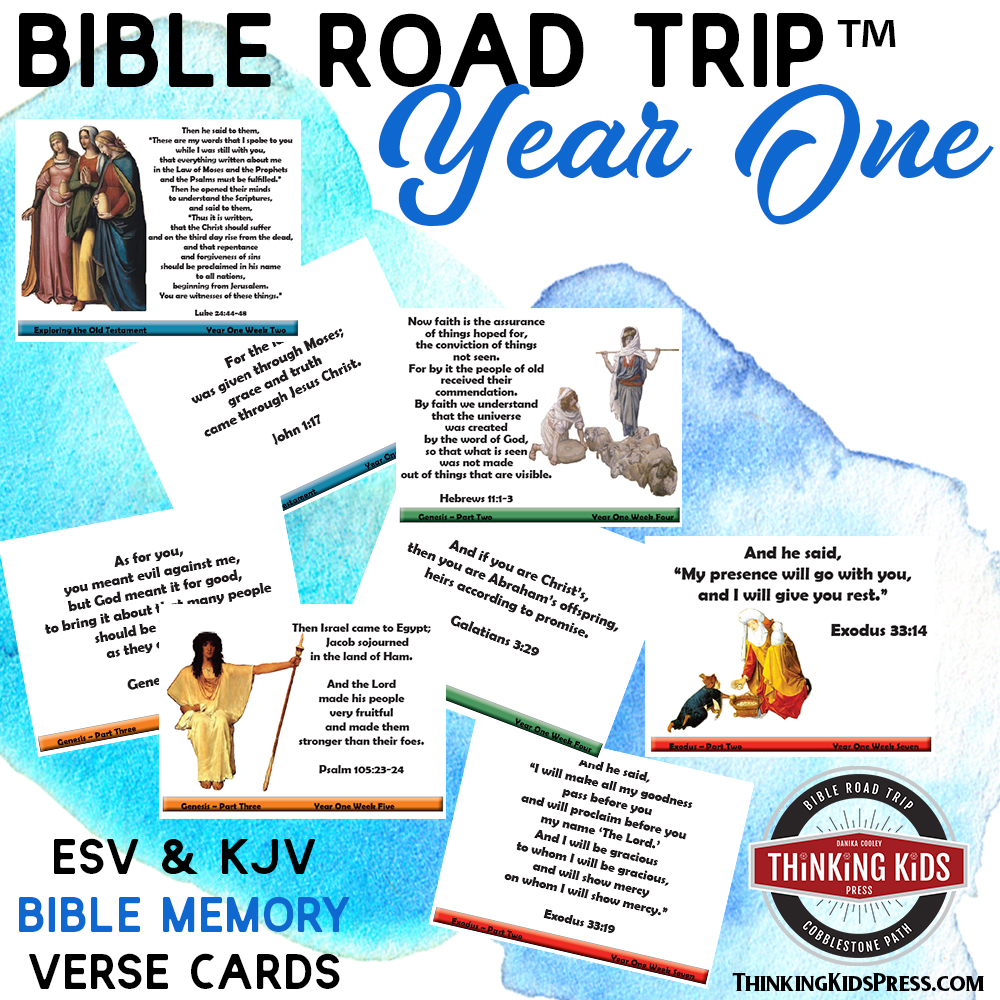 Bible Road Trip™ Memory Verse CardsLearn More Here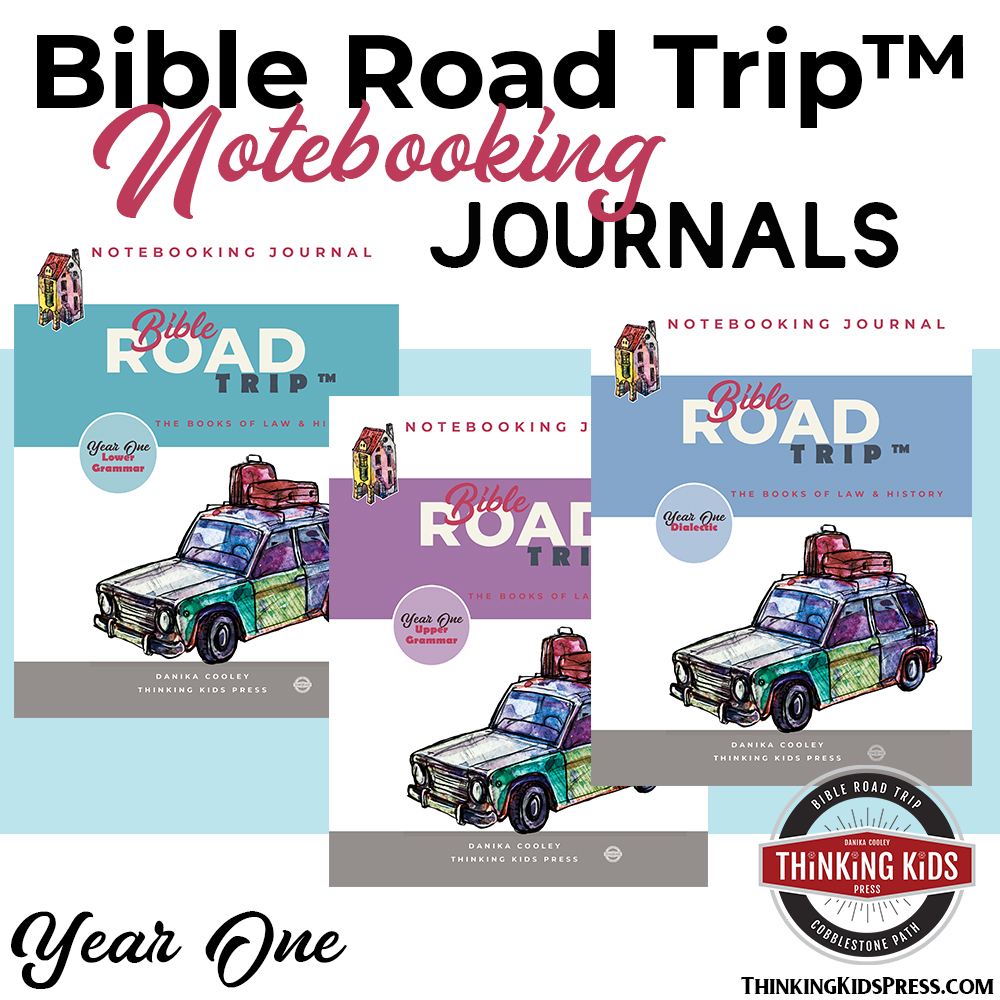 Bible Road Trip™ Notebooking JournalsLearn More Here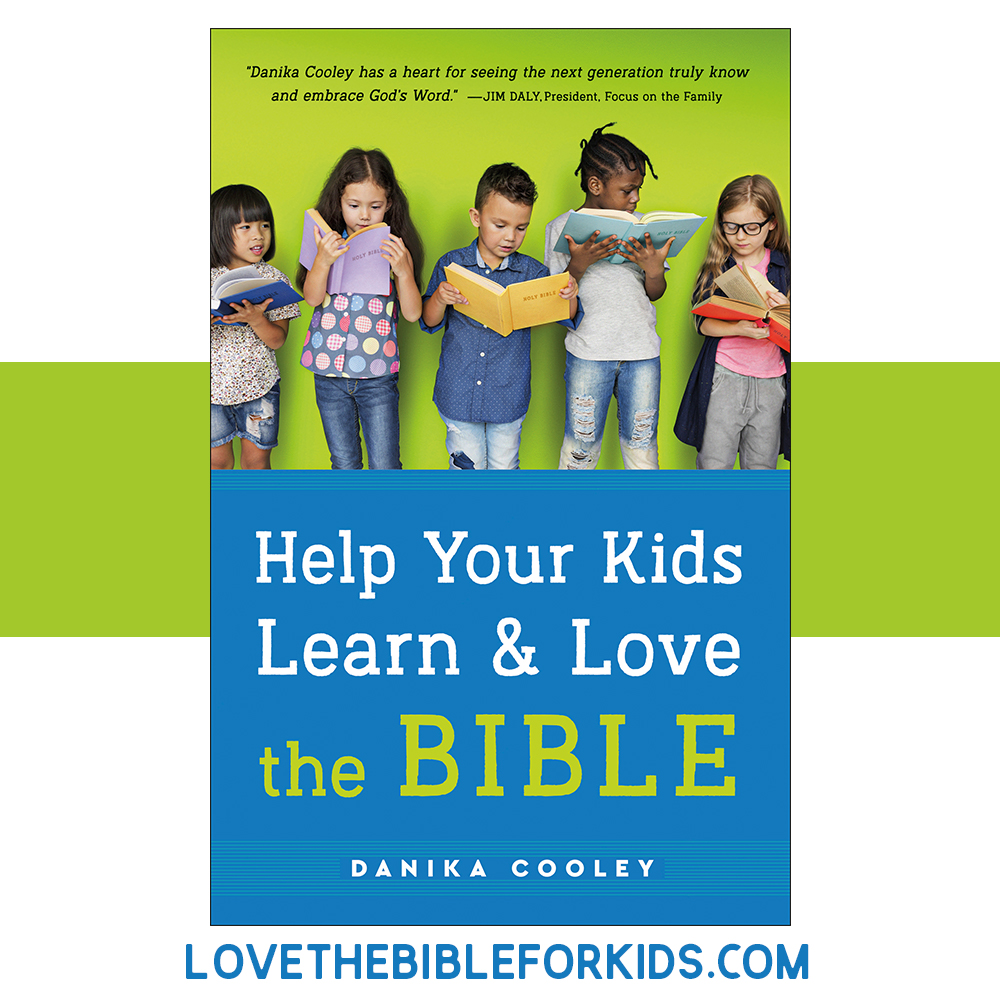 Help Your Kids Learn and Love the BibleLearn More Here
---
Help Your Kids Learn and Love the Bible
Looking for a family discipleship book that will give you a crash course in leading your kids through God's Word? I've got you covered.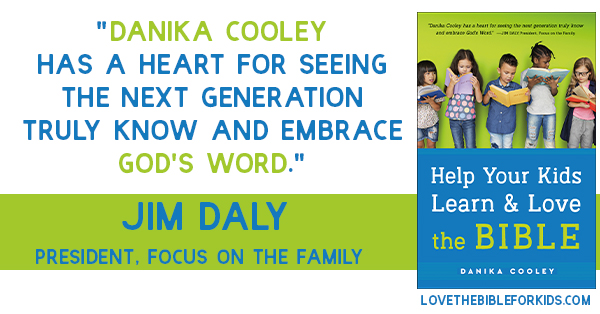 You want your kids to learn and love the Bible. 
You want to teach the Bible…
As parents, we deeply desire the best for our kids. We look for the right schools, we make them eat right and exercise, and we get them involved in extracurricular activities. We take our job as parents seriously.
But are we also putting our time and energy into
teaching them the Bible? Giving them the life-changing, soul-nourishing words of Scripture is not only doable, it's an essential part of parenting kids for Jesus. And the good news is, studying God's Word as a family doesn't have to be difficult!
2 Timothy 2:15, ESV, says:
Do your best to present yourself to God as one approved,
a worker who has no need to be ashamed, rightly handling the word of truth.
Our job, as parents who love Jesus, is to help our kids become approved workers, unashamed and rightly handling the word of truth.
The good news? Teaching the Bible isn't hard. Your family can learn the Bible together.
…and you can!
A Crash Course in Teaching the Bible to Your Kids
Danika Cooley's book, Help Your Kids Learn and Love the Bible, will give you the tools and confidence to study the Bible as a family. It will help you identify and overcome your objections and fears, give you a crash course in what the Bible is all about and how to teach it, and provide the guidance you need to set up a family Bible study habit.
You will finish this book feeling encouraged and empowered to initiate and strengthen your child's relationship with the Lord through His Word.

Help Your Kids Learn and Love the Bible will equip you with everything you need to know to teach the Bible to your kids!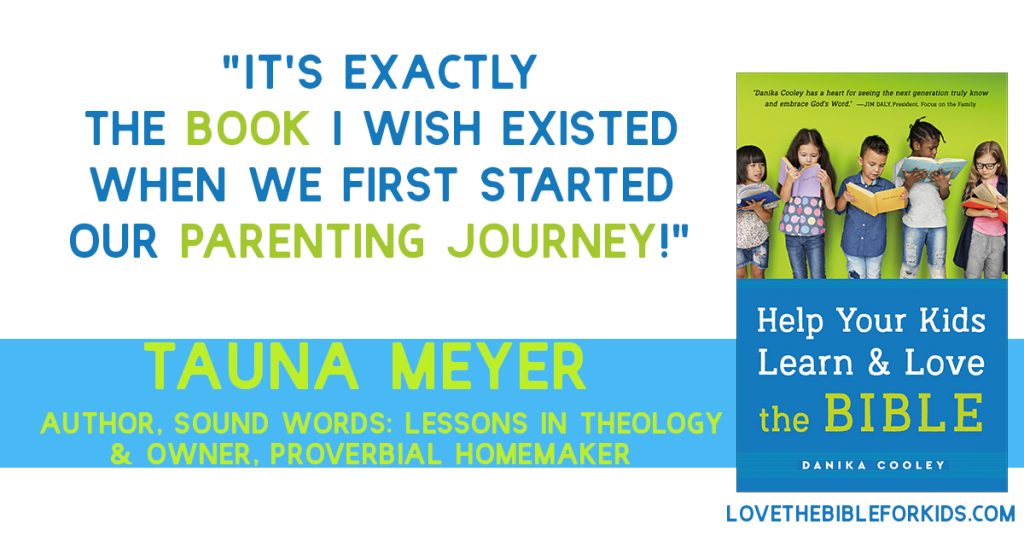 ---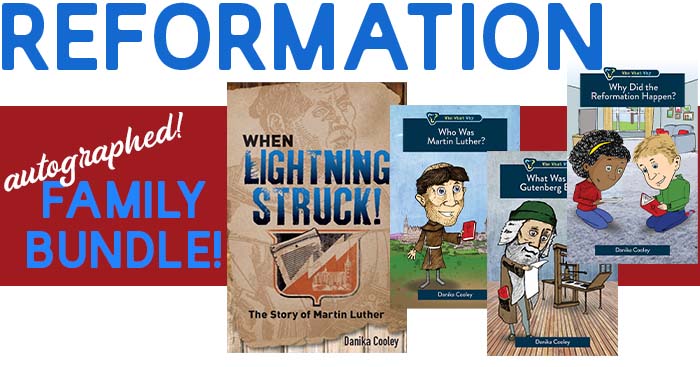 Your kids will love the Who What Why Reformation series with illustrated narratives for 8-11 year olds.
And, Martin Luther's young adult historical fiction story makes the perfect family read aloud!
Grab the autographed Reformation Family Bundle!
---
More Thinking Kids Posts You'll Love
---
Join the newsletter
Get the Family Prayer Box Project FREE!
Teach your children to pray with this fun project that includes 7 printable sets!