God's creation is diverse on purpose! Teach your family about God's design with 10 great physical and ethnic diversity books for kids.
---
Have you ever helped your children consider the diversity of God's creation? Just think about how many kinds of flowers, or fish, or mammals there are!
I was probably five when I had my first playdate. I was a shy kid, so it was a big deal that I met a girl at the swimming pool, made faces at her underwater, and invited her to come over for lunch the next day.
I don't remember what my new friend looked like, but her name was Rebecca. I prepared for her arrival by arranging my stuffed animals and choosing a special peanut butter soup to make from my Sesame Street cookbook. That was the last playdate I'd have for years, and I never did make any recipes from the cookbook.
You see, once my new friend Rebecca arrived at our house and met my older sister Kimberly, she refused to speak. She didn't want to play, and she sat by the window until my mom was able to phone her mother to pick her up. I don't fault Rebecca. I'm certain she didn't know any better, and perhaps she was just shocked. But my little five-year-old heart broke. That was the day I learned that not everyone understands that God created each person uniquely.
You see, Kimberly contracted spinal meningitis at 5 weeks old. She survived, but it left her with a laundry list of diagnosis–like epilepsy, cerebral palsy, and dwarfism. At seven, her wheelchair tray was outfitted with buttons covered in differently textured materials–a way for her to see the levers as she operated the devices on her wheelchair.
Rather than leaving our children to form their own conclusions about the value of others, we can help our own kids understand God's care for each human, and his special design of every single person in his own image.
---

---
God's Creation is Diverse
God delights in variety and in beauty. Look around at the world he's created. An apple tree feeds those who eat from it, but God gave us oranges, lemons, mangoes, and peaches as well. Not only that, he filled the world with elms, maples, and beautiful magnolias.
The Lord has formed each one of us just the way he wants for his very own purposes. That includes the hue of our skin, the texture and color of our hair, and even our physical limitations.
Isaiah 45:7-9, ESV, says:
I form light and create darkness;
    I make well-being and create calamity;
    I am the Lord, who does all these things.

"Shower, O heavens, from above,
    and let the clouds rain down righteousness;
let the earth open, that salvation and righteousness may bear fruit;
    let the earth cause them both to sprout;
    I the Lord have created it.

"Woe to him who strives with him who formed him,
    a pot among earthen pots!
Does the clay say to him who forms it, 'What are you making?'
    or 'Your work has no handles'?
We know, too, that our God is sovereign over the events of our lives. Lamentations 3:37-38, ESV, says:
Who has spoken and it came to pass,
    unless the Lord has commanded it?
Is it not from the mouth of the Most High
    that good and bad come?
Because our God is a good and just and kind God, we can trust him with our circumstances. We can praise him for how he created us, how he created our children, and even for the events that make us who we are–scars, differing abilities, and all.
We are made in the image of God (Genesis 1:27), and his creation is good.
---
---
God's Design for His Church
I've been reading Be the Bridge: Pursuing God's Heart for Racial Reconciliation by Latasha Morrison (Waterbrook, 2019). On page 23, Morrison cites Acts 13:47 and points out: "The Greek term used for Gentiles, ethnos, also means a foreign, non-Jewish people group. It is, of course, the word from which we derive ethnic and ethnicity."
Think about that for a moment. Our God, who loves diversity and color in his creation, created ethnic diversity–ethnic people groups–on purpose. Our ethnicity is not a mistake or an afterthought. We humans can celebrate the diversity with which the Lord created us.
Yet, as Christians, we are one Church under our Lord and Savior Jesus Christ. We are one united people group. We love each other.
Ephesians 4:1-6 says:
I therefore, a prisoner for the Lord, urge you to walk in a manner worthy of the calling to which you have been called, with all humility and gentleness, with patience, bearing with one another in love, eager to maintain the unity of the Spirit in the bond of peace. There is one body and one Spirit—just as you were called to the one hope that belongs to your call—one Lord, one faith, one baptism,one God and Father of all, who is over all and through all and in all.
Praise God for his amazing creation of his people–we are physically and ethnically diverse on purpose. We are one people under God as the Church on purpose.
---
Physical and Ethnic Diversity Books for Kids
We can teach our children of God's creation. He has carefully formed each of us in the womb and shapes the events of our lives. The Lord has created each human in his image, and we are to love one another.
I've put together a list of excellent books that will help your children learn about and celebrate physical and ethnic diversity.
Wonderfully Made: God's Story of Life from Conception to Birth
Different Like Me (Our Daily Bread for Kids Presents)
God Made Me AND You: Celebrating God's Design for Ethnic Diversity
God's Very Good Idea: A True Story of God's Delightfully Different Family
God's Very Good Idea – Coloring and Activity Book (Tales That Tell the Truth)
One Big Heart: A Celebration of Being More Alike than Different
When God Made You
ColorFull: Celebrating the Colors God Gave Us
GraceFull: Growing a Heart That Cares for Our Neighbors
ThoughtFull: Discovering the Unique Gifts in Each of Us
Don't wait to teach your kids about how God designed them purposefully and intentionally. Grab a few of these books and get started learning together!
---
Teach Kids About Life in the Womb
Wonderfully Made: God's Story of Life from Conception to Birth
Your kids will love learning about life inside the womb with Wonderfully Made: God's Story of Life from Conception to Birth, published by Christian Focus 4 Kids.
Wonderfully Made is a science- and Scripture-filled picture book for kids ages 5-11. The book is told from the perspective of a mother telling her child about his or her development in the womb week-by-week. In fact, Wonderfully Made is written to help parents meet the theological, scientific, and relational purposes of teaching kids about life in the womb.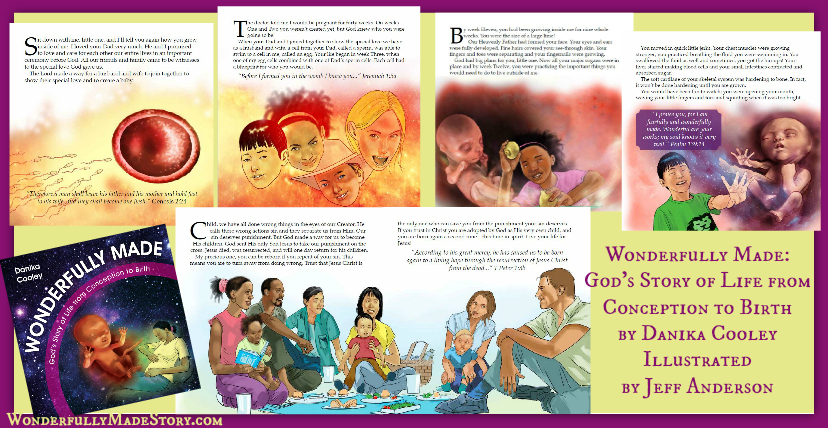 Learn more about Wonderfully Made over at the book page.
Head over to the Thinking Kids Press store for your free Wonderfully Made posters, Bible memory verse cards, and lapbook!
They're a great companion to the book Wonderfully Made, and the perfect way to teach your kids about life in the womb!

Purchase Wonderfully Made now:
Autographed from Danika Cooley: Wonderfully Made: God's story of life from conception to birth
Amazon: Wonderfully Made: God's story of life from conception to birth
Amazon UK: Wonderfully Made: God's Story of Life from Conception to Birth
Christian Book: Wonderfully Made: God's story of life from conception to birth
---
More Thinking Kids Posts You'll Love
---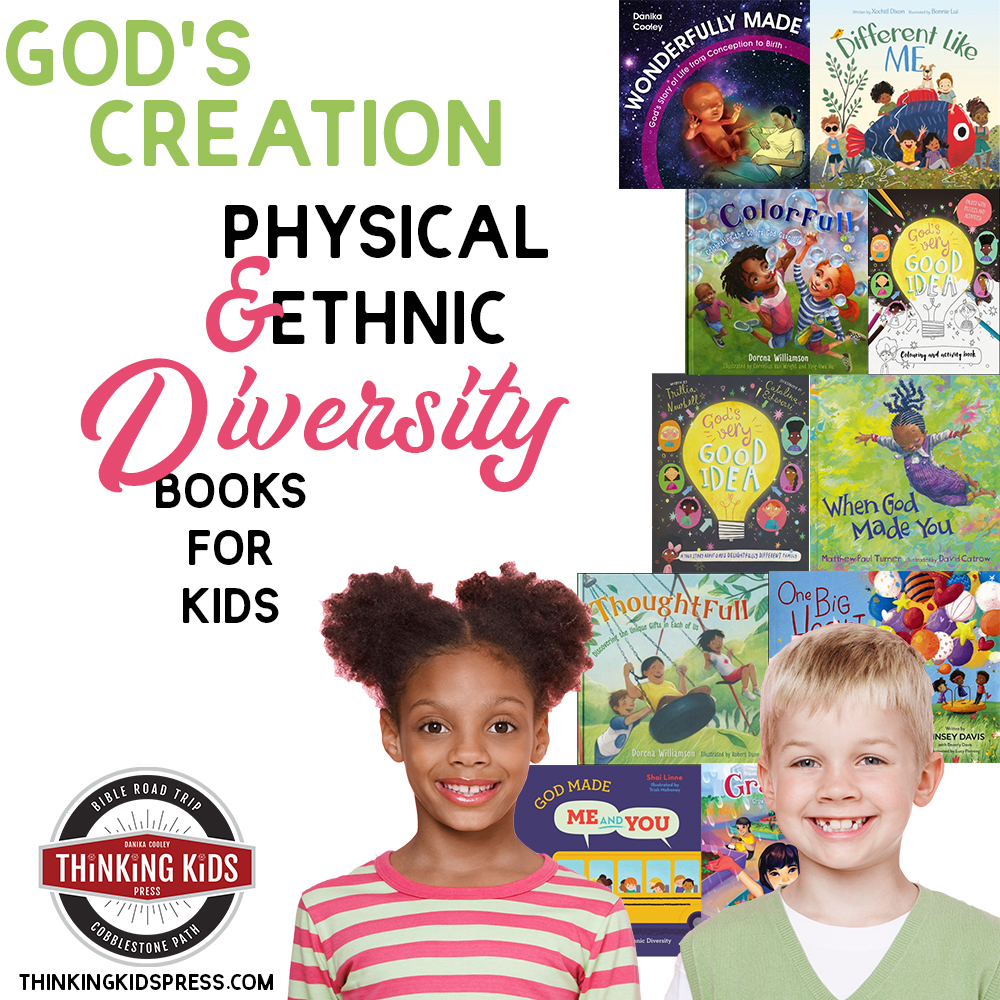 Join the newsletter
Get the Family Prayer Box Project FREE!
Teach your children to pray with this fun project that includes 7 printable sets!