Are you looking for some great Christian children's books about the Bible, science, Christian history, and family read alouds? Check out these suggestions!
---
---
We all know that books are important for kids. There's no question about that. But the kind of books we give our children access to is important as well!
For the Christian home, I encourage you to build your home library with care–making sure the books you choose are theologically sound and that they add value to your child's reading time. As you look at building your library, consider covering a few important categories: Bible, science, Christian history, and family read-alouds. These are all areas that you want to spark an interest and enthusiasm in your child, and they happen to be subjects that can be difficult to supplement well at the public library.
Just for fun, I've added some fun décor as well. I've found some great options to get you started. It doesn't matter if you build your library in a closet, the hallway, or its own dedicated room–you want to make it a place your kids love to visit.
Build Your Library of Rockin' Christian Children's Books – Resources to Get You Started
Let's take a look at some excellent Christian children's books and fun décor to get help you build your library. Maybe you'll find a book or two you hadn't seen before!
---

---
Christian Children's Books About Science
Wonderfully Made: God's Story of Life from Conception to Birth
Big Bible Science: Experiment and Explore God's World
Bugs Big & Small God Made Them All
44 Animals of the Bible
Big Book of Earth & Sky: A 15 Foot Chart Showing the Inner Core to Outer Atmosphere
The Electrifying Nervous System (God's Wondrous Machine)
Breathtaking Respiratory System (God's Wondrous Machine)
The Complex Circulatory System (God's Wondrous Machine)
---
Christian Children's Books About Christian History
When Lightning Struck!: The Story of Martin Luther
Who was Martin Luther? (Who What Why)
What was the Gutenberg Bible? (Who What Why)
Why did the Reformation Happen? (Who What Why)
A Colorful Past: A Coloring Book of Church History Through the Centuries
Little Lights Box Set 1
Little Lights Box Set 2
Little Lights Box Set 3
God's Timeline: The Big Book of Church History
Trailblazer Evangelists & Pioneers Box Set 1 (Trail Blazers)
Trailblazer Missionaries & Medics Box Set 2 (Trail Blazers)
Trailblazer Preachers & Teachers Box Set 3 (Trail Blazers)
Trailblazer Reformers & Activists Box Set 4 (Trail Blazers)
Trailblazer Heroes & Heroines Box Set 5 (Trail Blazers)
Trailblazer Arts & Science Box Set 6 (Trail Blazers)
---
Family Read Alouds
My First Books and More
Family Time: 82 Devotional Life Lessons and Simple Prayers
The Family Pilgrim's Progress
My First Books and More by Carine MacKenzie and Philip Ross

"Who is God? What does he do? Can I know Jesus? Why did he die? Children always have questions about God. They want to know what it means to be a Christian and who Jesus is. This book takes the very popular children's series: My First and combines them into one colourful volume, with a new and exciting section on The Psalms. My First Books and More gives a year's worth and more of bible readings, devotions and memory verses."
For ages 4-10

Family Time: 82 Devotional Life Lessons and Simple Prayers by Andrew Brannigan

"The experiences and beliefs we want our children to have don't just happen! It's hard work. They demand our time and energy. God's command is that his commandments are to be on our hearts and we are to 'impress them on our children'. So this book is a starting point with simple and easy to prepare ways for you to guide and encourage your children in the faith and hopefully have fun while you are at it."
For ages 4-10

The Family Pilgrim's Progress by Jean Watson

"Once upon a time, there was a man called Christian who lived in the City of Destruction with his wife and four children. One day he found a book that sent him on a dangerous adventure to save his life… Bunyan's beloved tale is a parable of the Christian life and has been a treasured resource for centuries. Jean Watson's modern-day translation opens his classic for this generation. Edition includes special features that explain the meaning of the various adventures and illuminate Bunyan's world and thought."
For ages 5-12
It's so important that our kids read. What 
they read is also important! I hope this list helps you get started building your library of Christian children's books.
---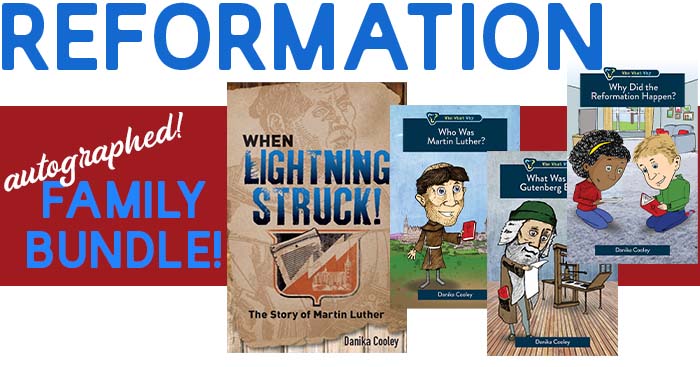 Your kids will love the Who What Why Reformation series with illustrated narratives for 8-11 year olds.
And, Martin Luther's young adult historical fiction story makes the perfect family read aloud!
Grab the autographed Reformation Family Bundle!
---

Christian Biographies for Kids | Christian History for Kids | Theology for Kids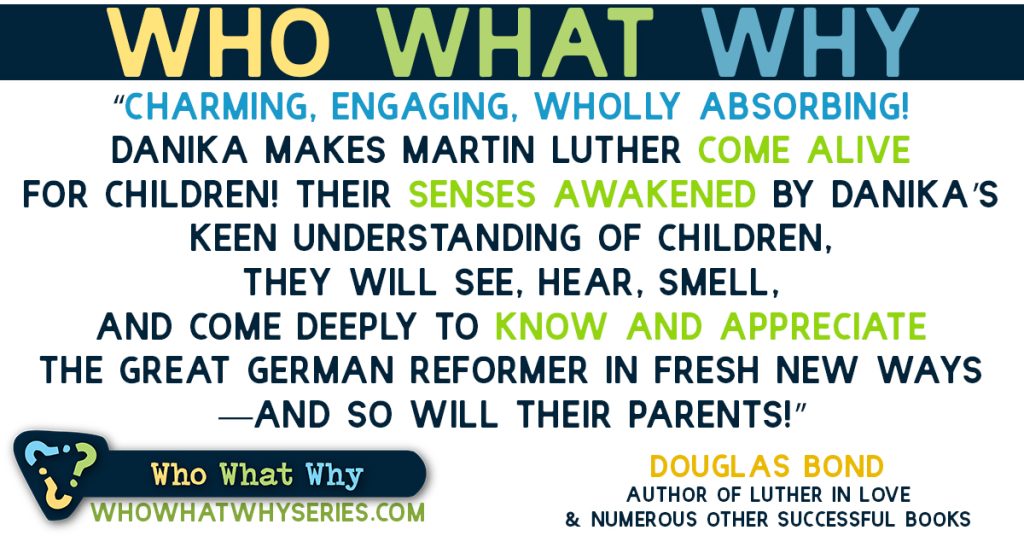 "As for the saints in the land, they are the excellent ones, in whom is all my delight." – Psalm 16:3, ESV  
Christian History Matters for Our Kids.
History matters. Now, more than ever, we see how important it is for our children to know and understand history and the Bible.
Here's why:
God is the sovereign ruler of all things. It's important for our kids to see his hand in the history of nations and in the lives of both peasants and kings. 

Christian history is the story of our family history. Our kids get to see how people who love Jesus follow him.

Understanding history can help our kids learn historic and biblical theology. They learn what the Bible says and what that means for us. They also see when the study of Scripture has taken important turns that have changed the Church.   

Reading Christian biographies and history can be a wonderful way for kids to think outside their own time and culture. God's Church spans centuries and includes people from every nation.    

Christian biographies help kids consider their own faith, walk with Jesus, and the impact their witness may one day have on others–and on history. 
Elementary-aged kids need middle grade resources that are fun, a little sassy, and that teach valuable lessons. 

The Who What Why Series is the perfect resource to teach your kids about history, while helping them apply biblical truths to their lives today.
---
More Thinking Kids Posts You'll Love
---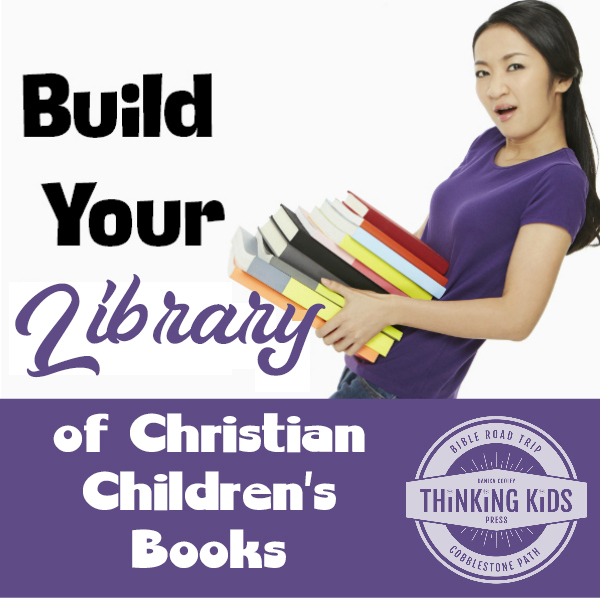 Join the newsletter
Get the Family Prayer Box Project FREE!
Teach your children to pray with this fun project that includes 7 printable sets!