Looking for some fabulous Christian picture books for your children? Be sure to check out the picture books on this list!
---
---
When I became a parent, I wanted my kids to have access to great Christian picture books.
My husband and I decided that it was important to develop a library of our own–not just for our kids, but for our grandchildren, nieces, and nephews, too. I wanted to be able to read my children quality books that are theologically sound, and I wanted them to be able to go back to those books again and again as they grew older.
I've made a habit of studying children's Christian books, and I definitely have some favorites. I've made a list of some of my favorites for kids ages 4-8.
Not only will you love these fabulous Christian picture books for children–they'll love them too!
---

---
Fabulous Christian Picture Books for Children They'll Love
---
Wonderfully Made is the story of each child's preborn life, told from the perspective of the child's mother. This 48-page picture book for 5-11 year olds covers the growth and development process through each week of pregnancy, sharing valuable science and Scripture with kids in a loving way, ending with the story of eternal life available through Jesus Christ when we are born again.
My sincere hope and prayer is that a generation of children will develop a tender understanding of life in the womb, and of their own worth in the eyes of God.
Don't forget to download your free Wonderfully Made lapbook, posters, and Bible memory cards.
---
A Colorful Past: A Coloring Book of Church History is a wonderful way for your children to learn all about the history of the Church in a hands-on way. The book covers important figures from the 1st to the 20th centuries, with drawings by Naomi Kamphius. Your kindergartner can feel successful coloring each scene, while your upper elementary school child will feel satisfied taking care with coloring the details.
Church history is our family history. Pastor Boekestein has created a wonderful resource for your family. As they color their way through church history, your children will find that the focus of A Colorful Past is firmly fixed where it should be: on the sovereign hand of a God who oversees all of history.
---
The Ology is 257 pages of beautifully illustrated theological goodness for 5-12 year olds. Andy McGuire did an amazing job of illustrating abstract concepts, sometimes with fanciful drawings that match Marty Machowski's fanciful descriptions.
I love the metaphors Machowski uses to explain abstract ideas in a concrete way for kids, and I found the truths contained in the book to be well-stated and clear. Anyone up for a wormy strawberry ice cream cone?
---
Tell God How You Feel is an excellent 84-page picture book aimed at 4-9 year olds. Five chapters tell the story of two siblings, Jack and Mia, who brave fear, sadness, rejection, loneliness, and gratitude as their parents take them to the Psalms and then to God in prayer.
This is a really well written book with great lessons that don't feel moralistic or preachy. Plus, you essentially get five stories in one book.
---
God Made All of Me teaches children that God made their bodies, and their bodies are good in an appropriate, God-honoring way.. It then discusses appropriate touch, how to handle unwanted touch (even innocent unwanted touch), how to get help in the case of unwanted touch, and the difference between secrets and surprises. Two of the spreads are dedicated to educating parents and caregivers on how to continue to educate children so that they can help protect their bodies, and discusses why it's necessary to do so.
God Made All of Me is unique, well-written, and an important book for children. I strongly encourage you to consider using it to educate your kids.
---
I love Catherine MacKenzie's wonderful first Little Lights Christian history set for 4-7 year olds. We used the available books with our kids when they were little, and I love that these are available in expanded box sets now.
These five beautifully illustrated hardback books give lessons from the lives of famous Christians from the past – Amy Carmichael, Hudson Taylor, Corrie ten Boom, George Muller and Helen Roseveare. Learn about God's plans for people's lives and His amazing provision.
Catherine MacKenzie's second Little Lights  and third Little Lights Christian history sets are composed of more wonderful read-alouds, and they have an easy-reader section on each spread for your new readers! I highly recommend both sets.
The five beautifully illustrated hardbacks in Box Set 2 continue the Little Lights series and cover the lives of David Livingstone, John Calvin, Martin Luther, Eric Liddell and Mary Slessor.
Box Set 3 includes biographies on C. S. Lewis, Gladys Aylward, Lottie Moon, John Knox and Charles Spurgeon.
---

---
Joey Allen's Big Thoughts for Little Thinkers series made our list of favorites when the kids were younger.  In fact, we love these books so much, they no longer dwell in our home library.  We've loaned them out numerous times, and the last time they just didn't come home.
The four Big Thoughts for Little Thinkers books cover some very important issues for four to seven year olds.  Mr. Allen explains The Trinity, The Gospel, The Scripture, and The Mission in concise, easy-to-understand language and adorable pictures.
---
I love Mark's Marvellous Book!
Part picture book, part children's Bible, this is a fun read with an important purpose. Mark's Marvellous Book has 18 "chapters". Alan Mann takes a section of the gospel of Mark and selects a them for each chapter. He then has a little 6 page story book (told by the children) that focuses on the theme. The simple illustrations are modern and engaging, and the little story sections are fun to read
---
Job is an incredibly important (and very overlooked) book. I believe we owe it to our children to teach them the lessons of God's work in Job's life. The themes of the book are vital to a proper understanding of theology.
Douglas Bond's God's Servant Job is incredible. The book is written in rhyme, which is not easy to do, and has condensed 42 chapters of dense conversation, theology, and story to 32 pages. Throughout the book, Douglas Bond emphasizes God's sovereign rule, Satan's role as accuser (subject to a sovereign God), and the purpose of suffering. It's an incredibly powerful message, incredibly well-written and well-illustrated, and incredibly important.
---
In The Garden, The Curtain and The Cross, author Carl Laferton has done a wonderful job  of presenting the truth of the gospel in a creative and engaging way for 3-6 year olds.
Laferton ties together the symbolism of the Garden of Eden and the New Earth, the temple curtain into the Holy of Holies, and the cross. Through these objects/places, he tells the story of God's plan for redemption from Genesis through Revelation on a level small children can understand well.
Check out the coordinating coloring and activity book!
---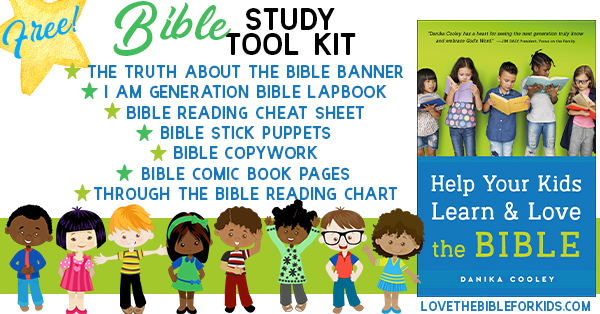 Grab your FREE Bible Study Tool Kit–over 130 pages of Bible resources for your family!
---
Creation Sings is a unique story book based on the biblical account of Creation.
In ten chapters, Carine MacKenzie covers the seven days of Creation, separating animals and humanity into two chapters and including the day of rest. She covers salvation in the tenth chapter. Throughout the book, she weaves in Bible stories related to the chapter's focus, and ends with a verse that "sings" of God's glory. I love it!
---
Two Fat Camels by Douglas Sean O'Donnell is a wonderful picture book on Luke chapters 18 and 19. The book is engaging, creative, and accurate, and the illustrations by Gail Schoonmaker are fabulous.
O'Donnell takes on the important subject of riches and idolatry in regard to salvation. By contrasting the story of the rich young ruler in Luke 18:18-30 with the story of Zacchaeus the tax collector in Luke 19:1-10 with creative commentary added to the storytelling, O'Donnell creates a unique children's Bible storybook. He successfully takes a complex theme and simplifies it, while at the same time making it engaging and fun to read.
---
The Dog's Dinner: A Story of Great Mercy and Great Faith from Matthew 14-15 by Douglas Sean O'Donnell is a great sequel to Two Fat Camels. Dare we hope for a series? Like Two Fat Camels, The Dog's Dinner is illustrated by Gail Schoonmaker.
O'Donnell uses the theme of food (and a dog!) to illustrate God's gifts to humans. He tells of the Father's provision in the Garden of Eden, in the Promised Land, and later in the Wilderness. Kids are then led to relate God's provision of food with His provision of a Savior–sent to save us from "sin and sickness, and death and the devil". God's people were looking forward to a Savior before the birth of Jesus, but also to a great feast.
---
"Ants are not elephants,
and nights are not days.
But God differs from us
in even more ways!"
~ Nicholas Choy
One of the challenges we face as parents when we begin to disciple our children involves vocabulary. After all, how do we explain words like 'holy', 'eternal', 'just', and 'aseity'?
Nicholas Choy's Words about God to Help You Worship Him is a 60-page, hardcover, full-color picture book aimed at ages 3-11. It's a fabulous book!
---
I've decided that God's Family: The Greatest Royal Family Ever by Catherine Mackenzie is one of my favorite preschool and kindergarten picture books. I don't remember ever reading such a clear explanation of the gospel for little people.
I love this book. God's Family: The Greatest Royal Family Ever is a joyful telling of the gospel for preschool and kindergarten-aged kids. Don't miss this one!
---
Children's Bible storybooks often treat the Bible as just a collection of stories–each with a moral–that are completely unrelated. Yet, the Bible is the story of God, of His relationship with us, and of our relationship with Him. It's refreshing to find a Bible storybook that treats the Bible as a story… all of which points us to the Savior, Jesus Christ.
365 Great Bible Stories for Children is a great choice for young children.
---
Help Your Kids Learn and Love the Bible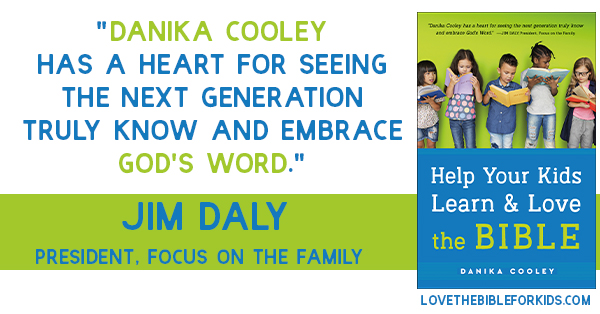 You want your kids to learn and love the Bible. 
You want to teach the Bible…
As parents, we deeply desire the best for our kids. We look for the right schools, we make them eat right and exercise, and we get them involved in extracurricular activities. We take our job as parents seriously.
But are we also putting our time and energy into
teaching them the Bible? Giving them the life-changing, soul-nourishing words of Scripture is not only doable, it's an essential part of parenting kids for Jesus. And the good news is, studying God's Word as a family doesn't have to be difficult!
2 Timothy 2:15, ESV, says:
Do your best to present yourself to God as one approved,
a worker who has no need to be ashamed, rightly handling the word of truth.
Our job, as parents who love Jesus, is to help our kids become approved workers, unashamed and rightly handling the word of truth.
The good news? Teaching the Bible isn't hard. Your family can learn the Bible together.
…and you can!
A Crash Course in Teaching the Bible to Your Kids
Danika Cooley's book, Help Your Kids Learn and Love the Bible, will give you the tools and confidence to study the Bible as a family. It will help you identify and overcome your objections and fears, give you a crash course in what the Bible is all about and how to teach it, and provide the guidance you need to set up a family Bible study habit.
You will finish this book feeling encouraged and empowered to initiate and strengthen your child's relationship with the Lord through His Word.

Help Your Kids Learn and Love the Bible will equip you with everything you need to know to teach the Bible to your kids!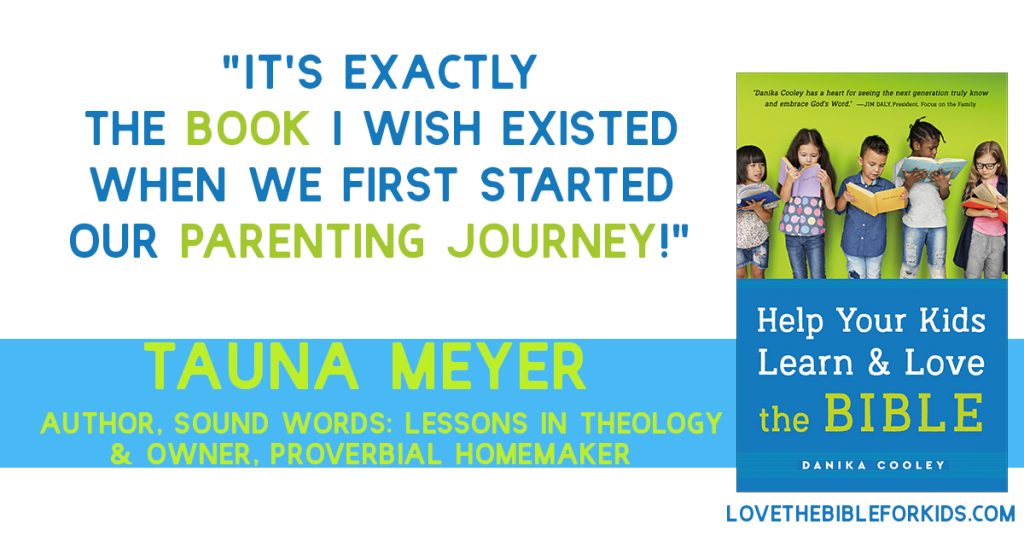 ---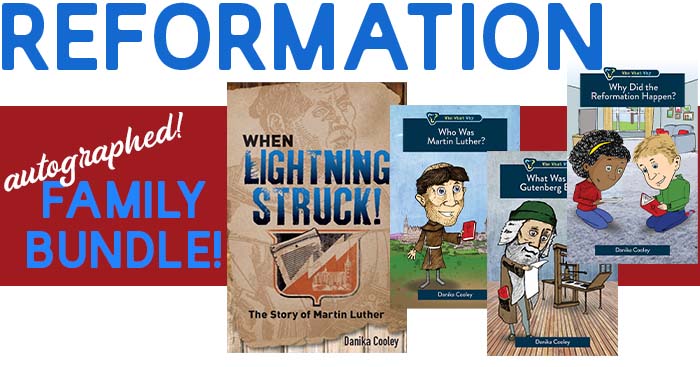 Your kids will love the Who What Why Reformation series with illustrated narratives for 8-11 year olds.
And, Martin Luther's young adult historical fiction story makes the perfect family read aloud!
Grab the autographed Reformation Family Bundle!
---
More Thinking Kids Posts You'll Love
---
Join the newsletter
Get the Family Prayer Box Project FREE!
Teach your children to pray with this fun project that includes 7 printable sets!