The book of Mark in the Bible written just for your 3-8 year olds? Yes, please! Your kids will love these books with amazing illustrations.
---
I want to thank Christian Focus Publications for providing a copy of Mark's Marvellous Book and Meet Jesus in Mark in return for my honest opinion.
The book of Mark for kids is a lofty topic for a picture book.
Most Christian picture books cover a topic (like my book Wonderfully Made), or an annotated Bible story, but a whole book of the Bible?
---
---
The Book of Mark in the Bible …
                                                               …For Your Kids!
Christian Focus Publications has covered the book of Mark for kids not once, but twice!
You'll want to check out both of these books. In our family, we've valued having more than one volume on the same topic. It's a great way to really study a subject in an in-depth way.
Mark's Marvellous Book by Alan Mann is wonderful for younger children.
Matthew Sleeman's Meet Jesus in Mark is perfect for elementary school children and family read alouds!
---

---
Mark's Marvellous Book
Alan Mann, an aeronautical engineer and an elder at the Philip Street Chapel, has done a fabulous job of writing and illustrating a delightful and unique children's book in the 160-page Mark's Marvellous Book (CF4K, 2016). It would be difficult for me to be any more excited about a picture story book related to the Bible than I am about this one.
Part picture book, part children's Bible, this is a fun read with an important purpose.
Mark's Marvellous Book has 18 "chapters". Alan Mann takes a section of the gospel of Mark and selects a them for each chapter. He then has a little 6 page story book (told by the children) that focuses on the theme. The simple illustrations are modern and engaging, and the little story sections are fun to read.
The end of each chapter ends with a one-page synopsis of the section of Mark, tied into the them for the previous six pages.
The illustrations on the synopsis page are a little complex, with cool textured backgrounds. Really, the illustrations throughout are just neat.
The entire package is adorable. I predict this will be a favorite for many kids–one of those books children ask for over and over again. And really, it's so meaningful and important to help lay a scriptural foundation for our kids when they're young.
Alan Mann's
Mark's Marvellous Book
is fabulous. It's fun, each chapter is a readable bedtime or family worship section, it's contemporary, and it's true to the scripture covered. I highly recommend this resource for families with young kids, and as a gift for birthdays. It's that great.
---

---
Meet Jesus in Mark
Meet Jesus in Mark: His Gospel in 24 Readings by Matthew Sleeman (Christian Focus Publications, 2017) sequentially covers the book of Mark in 56 pages.
Each two-page spread retells a passage of the book of Mark, offers a short prayer, and explains a few vocabulary words from the story.
Matthew Sleeman's retelling of the book of Mark for kids offers a clean, succinct narrative. Children will remaining engaged for three or four paragraphs of story as they learn more about Jesus and his story.
The prayer following the story offers explains the purpose for the prayer and then gives a short prayer.
The vocabulary section explains each work or phrase in a paragraph. Matthew Sleeman covers such concepts as: life, sin, hell, treasure in heaven, the Mount of Olives, and the master of the house. These are concepts that can be difficult for young children to understand, and knowing what they mean can help unlock the Bible narrative.
Each spread has charming illustrations by Sally Rowe.
Meet Jesus in Mark: His Gospel in 24 Readings is a great book for family worship time or for bedtime with young children. The book is perfectly aligned with a schedule of a short two-page reading per sitting. While the reading time should be under 10 minutes a sitting, you'll want to leave a few minutes for discussion with your children.
---

---
Purchase Books about the Book of Mark
---
More Bible & Christian History You'll Love
---

Christian Biographies for Kids | Christian History for Kids | Theology for Kids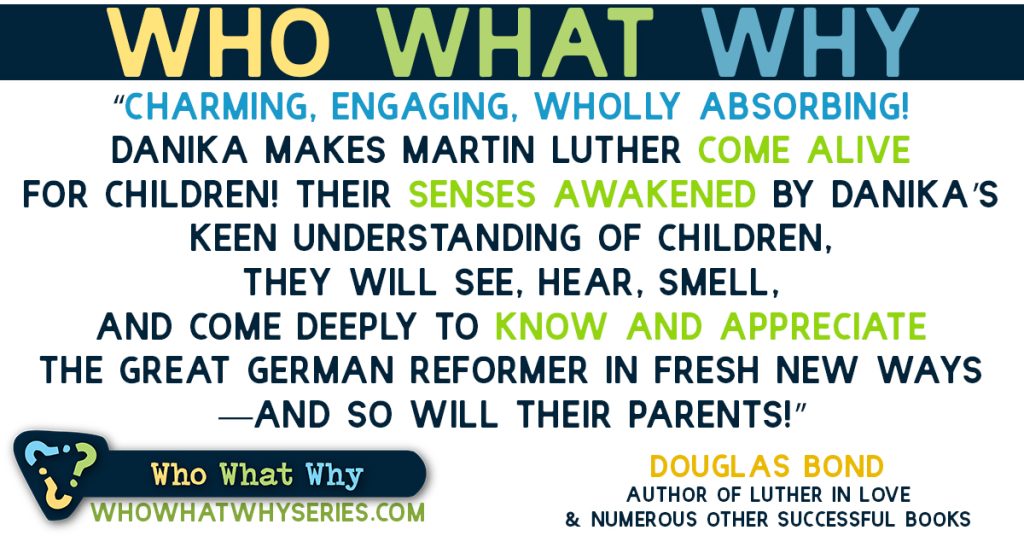 "As for the saints in the land, they are the excellent ones, in whom is all my delight." – Psalm 16:3, ESV  
Christian History Matters for Our Kids.
History matters. Now, more than ever, we see how important it is for our children to know and understand history and the Bible.
Here's why:
God is the sovereign ruler of all things. It's important for our kids to see his hand in the history of nations and in the lives of both peasants and kings. 

Christian history is the story of our family history. Our kids get to see how people who love Jesus follow him.

Understanding history can help our kids learn historic and biblical theology. They learn what the Bible says and what that means for us. They also see when the study of Scripture has taken important turns that have changed the Church.   

Reading Christian biographies and history can be a wonderful way for kids to think outside their own time and culture. God's Church spans centuries and includes people from every nation.    

Christian biographies help kids consider their own faith, walk with Jesus, and the impact their witness may one day have on others–and on history. 
Elementary-aged kids need middle grade resources that are fun, a little sassy, and that teach valuable lessons. 

The Who What Why Series is the perfect resource to teach your kids about history, while helping them apply biblical truths to their lives today.
---
More Thinking Kids Posts You'll Love
---
Join the newsletter
Get the Family Prayer Box Project FREE!
Teach your children to pray with this fun project that includes 7 printable sets!