I want to thank Christian Focus Publications for providing a copies of 101 Devotions For Girls and For Boys in return for my honest opinion.
I first started reading Christian history when my children were young. I knew little about doctrine and theology, and less about the history of the Christian faith.
I was amazed.
I mean, there are centuries of faithful Christians with amazing stories who followed Jesus through all kinds of situations. I felt edified, mentored, and as though I was surrounded by a great cloud of witnesses. I wanted to know more. I started reading Christian history so I could "meet" these amazing, ordinary believers.
I read Christian history to my kids, and the testimonies of faithful Christians helped shape their perspective and character just as they helped shape mine. The stories of other believers also broadened my understanding of doctrine, theology, and the history of the Church. I felt encouraged to explore deeper to discover more about what the Word of God really means.
Devotions for Kids
I want to be clear that above all, we should read Scripture to our kids. The Bible is paramount. That's the reason I developed Bible Road Trip™–to help parents take their kids through the Bible in three years. It's been a blessing to see that happen on a global scale!
That said, I enjoy doing devotions with my kids. We're always looking for new books to read together in the morning to explore new subjects from a Christian worldview. One of the types of devotions we enjoy most is those that come from stories gleaned from Christian history.
---

---
101 Devotions for Kids from Christian History
Rebecca Davis has written two new devotionals for kids, 101 Devotions for Girls: From the Lives of Great Christians and 101 Devotions for Guys: From the Lives of Great Christians (both CF4K, 2017). An author of a number of Christian history books, she has taken stories from each of them and written 101 devotionals for girls, and 101 devotionals for boys.
Each two page spread includes a short story from Christian history followed by a relevant Bible verse and a very short prayer.
These small books would be a great way to spend a little time at night or in the morning with your favorite 5-8 year old fostering discussion about issues like missions, character, and the gospel.
---
101 Devotions for Girls: From the lives of Great Christians (Daily Readings)

101 Devotions for Guys: From the lives of Great Christians (Daily Readings)

---
My boys and I have enjoyed a number of Rebecca Davis' books. We love the Hidden Heroes series, also from CF4K. Each book covers the lives of multiple missionaries and Christian converts in countries not usually covered in Christian history for kids, like Ethiopia, Indonesia, and Central Africa.
The 101 Devotions books are a great introduction to Christian history for your younger kids. I highly recommend Mrs. Davis' Hidden Heroes series as well!
---
More Christian History for Kids from Rebecca Davis
Living Water in the Desert: True Stories of God at work in Iran (Hidden Heroes)

Return of the White Book: True Stories of God at Work in Southeast Asia (Hidden Heroes)

Lights in a Dark Place: True Stories of God at work in Colombia (Hidden Heroes)

With Two Hands: True Stories of God at work in Ethiopia (Hidden Heroes)

The Good News Must Go Out: True Stories of God at work in the Central African Republic (Hidden Heroes)

Witness Men: True Stories of God at work in Papua, Indonesia (Hidden Heroes)

Fanny Crosby: Queen of Gospel Songs

Brother Yun: The Heavenly Man of China (Potter's Wheel) (Volume 4)

With Daring Faith: A Biography of Amy Carmichael

---
More Posts You'll Love at Thinking Kids
Four Reasons to Teach Christian History
Christian History Read & Play Kits
Christian History Box Sets
The Absolutely Enormous List of Christian History Books
---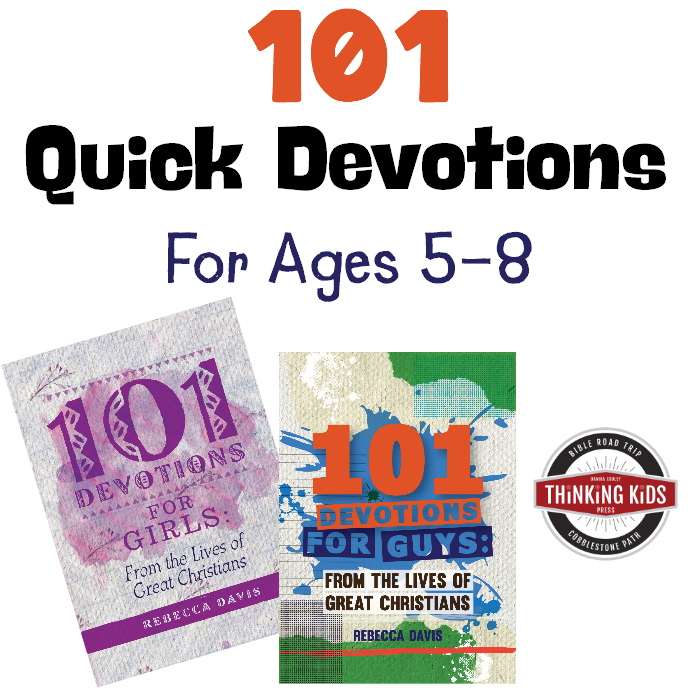 Join the newsletter
Get the Family Prayer Box Project FREE!
Teach your children to pray with this fun project that includes 7 printable sets!