I want to thank Christian Focus 4 Kids for supplying a review copy of Creation Sings, and one for the giveaway, in return for my honest opinion.
The story of the days of Creation from Genesis is a popular theme. After all, we want our kids to know the Bible's Creation story, right? I prefer the term Creation account, as the word story is often used for fiction and myths, but we know the biblical account is history.
The Creation Story for Kids
I taught Sunday School to four year olds for a number of years in a fairly large church, so each Sunday we'd have several new children. No matter what the story was that week, I'd first present the Gospel to the children, and I'd start with the Creation story for the kids. It was astounding to me how many children had never heard the truth that they were created by God.
That's one of the reasons I wrote Wonderfully Made: God's Story of Life from Conception to Birth. The idea that the King of Heaven and Earth made all things, including you and your children, is central to the biblical narrative. It's a fact children need to know and understand fully. It's also the reason the Creation story for kids is never a tired theme.
Creation Sings: How God's Work Declares God's Truth by Carine MacKenzie
Carine MacKenzie's new book, Creation Sings: How God's Work Declares God's Truth (Christian Focus Publications, 2016), is a unique story of the days of Creation for children ages 5-11 years. Carine MacKenzie (who is the mother of another favorite children's author, Catherine MacKenzie) has written more than 150 children's books.
In Creation Sings, Mrs. MacKenzie doesn't just tell the story of each day of Creation. Rather, she begins each day with the biblical account either paraphrased or quoted from the ESV. She then weaves in another story from the Bible that relates to the day of Creation, and uses that story to then relate a story and truth about Jesus. It's a marvelous and creative bit of story-telling. Each section ends with "Creation Sings", a verse glorifying the Creator of all Heaven and Earth.
There are ten sections (or mini-chapters) in this 64-page book. Day 6 of Creation is divided into animals and humanity. Chapters 9 and 10 cover the day of rest and salvation.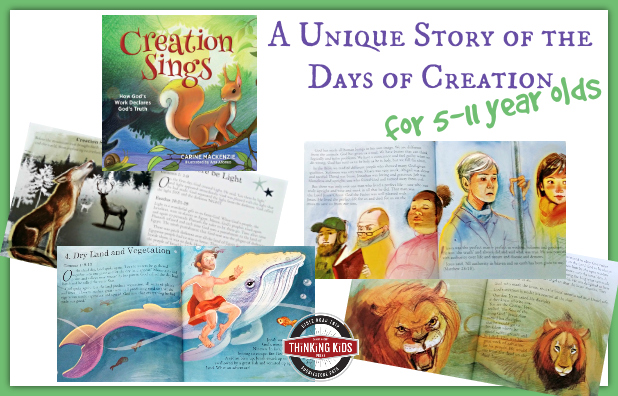 What I Loved About Creation Sings
I love that Creation Sings presents the Creation story for kids, but it doesn't stop there. The book ties in other stories from the Biblical narrative, as well as truth about the Lord Jesus Christ and salvation. This book is a fabulous presentation of the gospel story. It's a meaty, worthwhile read at 64 pages, and it's conveniently divided into ten perfectly-sized nighttime sections.
The illustrations in Creation Sings by Ana Afonso are beautiful. Not only will her multi-media colored pencil and computer graphics draw children in, they are bright and cheerful for parents as well.
Giveaway! Ends 3/10/17
Note: This is an electronic raffle-style giveaway. There is only one mandatory entry. Every other entry just increases your chances of winning.
Giveaway open to residents of the U.S., age 18 and older. Winner must respond to email within 48 hours. Giveaway will end on March 10, 2017 at 11:59pm PST. Entrants will be subscribed to Thinking Kids.
Creation Sings by Carine MacKenzie
You can purchase Creation Sings at
Amazon: Creation Sings
Christian Book: Creation Sings
More books for 5-11 year olds reviewed at Thinking Kids:
Or just check out the Thinking Kids book review indexes for
Thinking Kids Pinterest Book Boards
Join the newsletter
Get the Family Prayer Box Project FREE!
Teach your children to pray with this fun project that includes 7 printable sets!