Do your teens wonder what Reformed theology means? Help them with Reformed theology – understanding the basics with Reformed theology explained.
---
Often, the word
Calvinist
calls to mind stodgy medieval people inventing rules about God's grace. Yet, Reformed theology did not originate with John Calvin (1509-1564).
Reformed Theology | Understanding the Basics
In his book Rebels Rescued: A Student's Guide to Reformed Theology (Christian Focus Publications, 2012), Brian Cosby explains Reformed theology in an understandable way, written especially for teens.
Brian Cosby is an ordained minister in the Presbyterian Church. I happen to be familiar with his work. He's written several books, and two of his children's biographies are fantastic:  John Bunyan: The Journey of a Pilgrim and David Brainerd:  A Love for the Lost – both are in the Christian Focus Trailblazers series.  One of the articles he's written, MTD:  Not Just a Problem with Youth Ministry, explains the infectious Moralistic Therapeutic Deism–a religion that has wormed its way through youth ministries and into sanctuaries. It's worth reading–right after you read about his new book, Rebels Rescued.
Mr. Cosby intertwines stories and metaphors, history, and Scripture to explain each point. Each chapter is followed by four or five "Reflection Questions" meant to spur teen to apply what they've learned.
---

---
Reformed Theology Explained
The 103-page book begins with a brief overview of the Reformation, and an explanation of the five Solas and TULIP–the five central expressions of Reformed theology.
By the end of the nine short chapters, students will have a basic understanding of important points in Reformation theology:
The Five Solas

Sola Scriptura
Sola Fide
Sola Gratia
Solus Christus
Soli Deo Gloria

TULIP

Total Depravity
Unconditional Election
Limited Atonement
Irresistible Grace
Perseverance of the Saints.
---

---
Reformed Theology for Your Teen
Rebels Rescued does a good job of addressing some of the most common concerns regarding TULIP. For instance, the third chapter–Elected by Love–covers the predestination passages in the Bible, the Scriptural testimony of Hell, God's sovereignty, John Calvin, why predestination is offensive to many, the notion of "fairness" and God's love, mercy and grace. Mr. Cosby manages to walk students through that information in just 11 pages–and he does a good job.
Rebels Rescued: A Student's Guide to Reformed Theology  is an excellent resource for students and parents.  A clear understanding of theology is vitally important, yet it is conspicuously missing in our Christian culture. May this be a step toward changing that, one family at a time.
I want to thank Christian Focus Publications for providing me with a copy of Rebels Rescued in return for my honest opinion. 
---
Purchase Rebels Rescued:
Rebels Rescued (A Students Guide)

Amazon: Rebels Rescued: A Student's Guide to Reformed Theology
ChristianBook: Rebels Rescued: A Student's Guide to Reformed Theology
---
Christian Books Teens Will Love
Rebels Rescued (A Students Guide)

God's Story: A Student's Guide to Church History

Water the Earth: A Student's Guide to Missions

---
Martin Luther and the Reformation
Teach your teens about Martin Luther and the Reformation in an exciting, new way with When Lightning Struck!: The Story of Martin Luther!
Martin Luther (1483-1546) is often referred to as "The Father of the Reformation". Born during a time of superstition, tradition, and spiritual corruption, Luther gave up a lucrative career as a lawyer to become a monk in the Roman Catholic Church–a path he felt would certainly lead to salvation.
As Luther's understanding of the spiritual corruption within the Church grew, and he despaired of true salvation, Luther (now a scholar and priest) sought the Bible for answers. Following his discovery of the true gospel in Scripture, Luther began to preach spiritual freedom to his congregation, and to teach biblical (rather than philosophical) theology at the University of Wittenberg.
It was on October 31, 1517 that Martin Luther penned his Ninety-Five Theses in Latin in response to the abusive indulgence sales practices of the monk Johann Tetzel in a nearby town. Luther nailed the Theses to the door of the Wittenberg Castle Church, the scholarly bulletin board of his day, and mailed a copy to the Archbishop of Mainz. Luther hoped to start a scholarly debate about the practice of selling salvation through plenary indulgences. The response he received was greater–and more dangerous–than he imagined it would be.
Luther's story is exciting. There are death defying moments, epic spiritual battles, narrow escapes, a kidnapping, revolution, and war. As the "Father of the Reformation", Luther is a vital figure in Church history. His sacrifice and willingness to wage battle against the spiritual, religious, and political powers of his medieval world allowed Christians throughout time to embrace the truth of salvation by grace alone through faith alone in Christ alone as explained by Scripture alone once again. May all glory be to God alone!
Read portions of the first eight chapters of When Lightning Struck!:
---
Help Your Kids Learn and Love the Bible
Looking for a family discipleship book that will give you a crash course in leading your kids through God's Word? I've got you covered.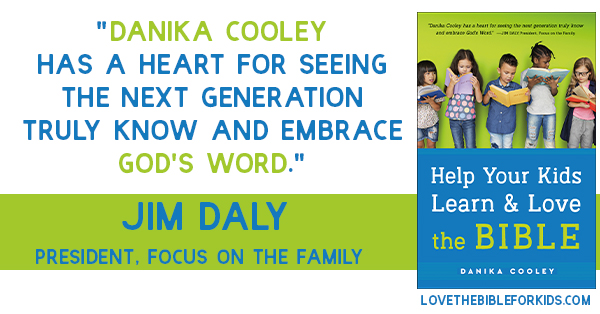 You want your kids to learn and love the Bible. 
You want to teach the Bible…
As parents, we deeply desire the best for our kids. We look for the right schools, we make them eat right and exercise, and we get them involved in extracurricular activities. We take our job as parents seriously.
But are we also putting our time and energy into
teaching them the Bible? Giving them the life-changing, soul-nourishing words of Scripture is not only doable, it's an essential part of parenting kids for Jesus. And the good news is, studying God's Word as a family doesn't have to be difficult!
2 Timothy 2:15, ESV, says:
Do your best to present yourself to God as one approved,
a worker who has no need to be ashamed, rightly handling the word of truth.
Our job, as parents who love Jesus, is to help our kids become approved workers, unashamed and rightly handling the word of truth.
The good news? Teaching the Bible isn't hard. Your family can learn the Bible together.
…and you can!
A Crash Course in Teaching the Bible to Your Kids
Danika Cooley's book, Help Your Kids Learn and Love the Bible, will give you the tools and confidence to study the Bible as a family. It will help you identify and overcome your objections and fears, give you a crash course in what the Bible is all about and how to teach it, and provide the guidance you need to set up a family Bible study habit.
You will finish this book feeling encouraged and empowered to initiate and strengthen your child's relationship with the Lord through His Word.

Help Your Kids Learn and Love the Bible will equip you with everything you need to know to teach the Bible to your kids!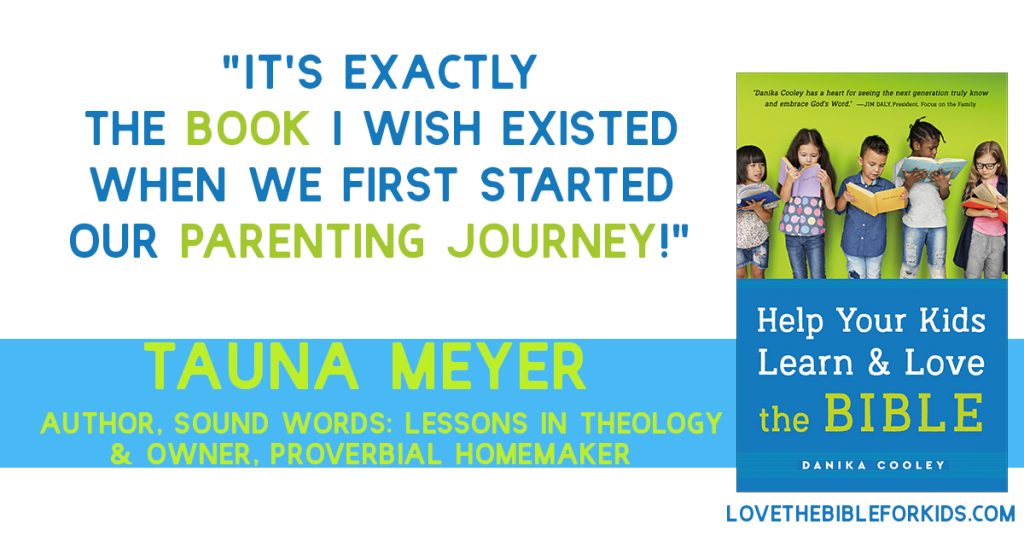 ---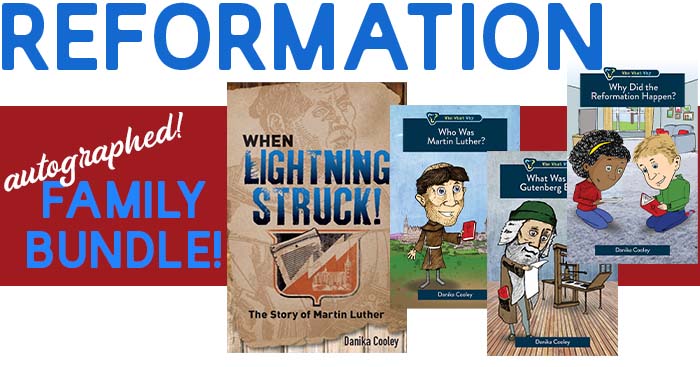 Your kids will love the Who What Why Reformation series with illustrated narratives for 8-11 year olds.
And, Martin Luther's young adult historical fiction story makes the perfect family read aloud!
Grab the autographed Reformation Family Bundle!
---
More Thinking Kids Posts You'll Love
---
Join the newsletter
Get the Family Prayer Box Project FREE!
Teach your children to pray with this fun project that includes 7 printable sets!