Christian life books for your teens will help your kids learn more about Christian living. Help teens explore Christian life basics, the Bible, & theology.
---
Do you ever wonder how you can better help your teens grow in the Christian life? Do you find looking over Christian living books nervewracking?
One of the effective things we've done to help our kids understand Christian living is to assign a book on Christian life, then discuss it with them. It's a great way to get a conversation going! I've also read Christian living books aloud to the boys each morning since they were about eight- and nine-years-old after we studied the Bible with Bible Road Trip™.
You can do it too! You'll be surprised, once you make a habit of incorporating Christian living books into your family rhythm, how much your teens know about the Christian life, the Bible, and even deeper theology. Check out these great books to get you started.
---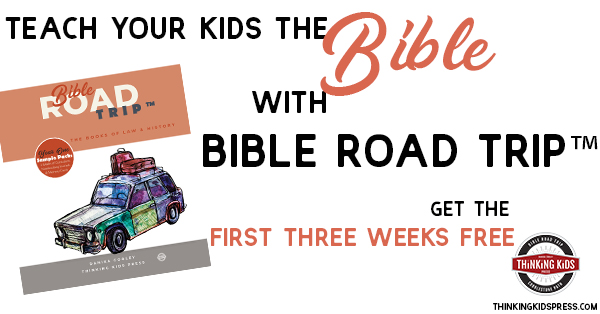 ---
Christian Life Books | The Basics
First Steps Box Set: 10 book set

Rebels Rescued (A Students Guide)

God's Story: A Student's Guide to Church History

Water the Earth: A Student's Guide to Missions

New Believer's Guide to the Christian Life

There are lots of great books on the basics of the Christian life. These are some of my favorite choices for teens.
---

---
Christian Living Books | The Bible
Taking God At His Word: Why the Bible Is Knowable, Necessary, and Enough, and What That Means for You and Me (Paperback Edition)

How to Enjoy Reading Your Bible

How We Got the Bible

Praying the Bible

It's so important that our teens study the Bible. It's also important that they learn about the Bible. These are some great books to get them started.
---
Christian Living | Dig Deeper
Grace Works! (And Ways We Think It Doesn't)

Unimaginable: What Our World Would Be Like Without Christianity

A Visual Theology Guide to the Bible: Seeing and Knowing God's Word

As your teens learn about living the Christian life, you'll want to go deeper with them into theology and apologetics. These three books will give you a good start.
Grace Works! (And Ways We Think It Doesn't) by Douglas Bond (P&R Publishing)

Grace Works! is a wonderful exposition of God's free gift of saving grace. The book is sectioned into 7 parts with 29 chapters (and 2 appendices) for a total of 302 pages. The chapters are hefty in material, but they're broken up by frequent sub-headings, personal narrative, and stories of Church history, making them easier to apply and to divide into smaller chunks if necessary. Each chapter ends with readings in Scripture, the Belgic or Westminster Confessions, study questions, and a prayer focus. These aspects of the book make it ideal for family study.

Unimaginable: What Our World Would Be Like Without Christianity by Jeremiah J. Johnston (Bethany House Publishers)

Unimaginable is a fascinating read, and entirely accessible. It's written as a narrative history rather than a scholarly treatise, so your teens won't struggle at all with the language and format. Dr. Jeremiah Johnston makes a succinct case for the argument that Christianity has changed the world substantially for the better as Christians strive to carry out Jesus' teachings and commands.

A Visual Theology Guide to the Bible by Tim Challies (Zondervan)

Visual Theology is a solid overview of the Christian life. The 155-page book is divided into four sections with two or three chapters per section. Each chapter has several graphics (the "visual" part), and the subsections of the chapters often have little icons that coordinate with the graphics for the chapter. Overall, the book is primarily text, with some color, and interesting visuals. If your middle school and high school students have been raised in church, chapters one through four will likely all be something they've learned before, but it's all good information to review frequently. You really can't hear the gospel too frequently.
---
Martin Luther and the Reformation
Teach your teens about Martin Luther and the Reformation in an exciting, new way with When Lightning Struck!: The Story of Martin Luther!
Martin Luther (1483-1546) is often referred to as "The Father of the Reformation". Born during a time of superstition, tradition, and spiritual corruption, Luther gave up a lucrative career as a lawyer to become a monk in the Roman Catholic Church–a path he felt would certainly lead to salvation.
As Luther's understanding of the spiritual corruption within the Church grew, and he despaired of true salvation, Luther (now a scholar and priest) sought the Bible for answers. Following his discovery of the true gospel in Scripture, Luther began to preach spiritual freedom to his congregation, and to teach biblical (rather than philosophical) theology at the University of Wittenberg.
It was on October 31, 1517 that Martin Luther penned his Ninety-Five Theses in Latin in response to the abusive indulgence sales practices of the monk Johann Tetzel in a nearby town. Luther nailed the Theses to the door of the Wittenberg Castle Church, the scholarly bulletin board of his day, and mailed a copy to the Archbishop of Mainz. Luther hoped to start a scholarly debate about the practice of selling salvation through plenary indulgences. The response he received was greater–and more dangerous–than he imagined it would be.
Luther's story is exciting. There are death defying moments, epic spiritual battles, narrow escapes, a kidnapping, revolution, and war. As the "Father of the Reformation", Luther is a vital figure in Church history. His sacrifice and willingness to wage battle against the spiritual, religious, and political powers of his medieval world allowed Christians throughout time to embrace the truth of salvation by grace alone through faith alone in Christ alone as explained by Scripture alone once again. May all glory be to God alone!
Read portions of the first eight chapters of When Lightning Struck!:
---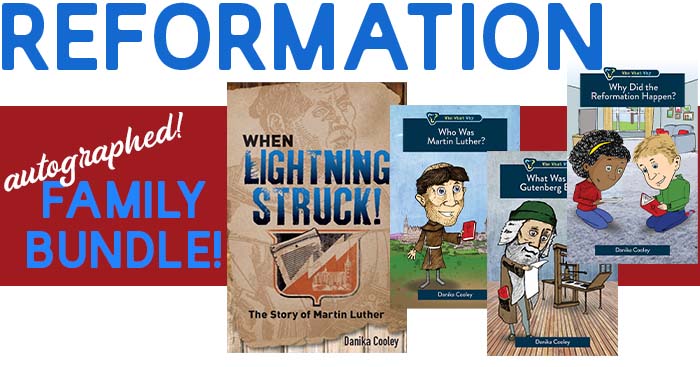 Your kids will love the Who What Why Reformation series with illustrated narratives for 8-11 year olds.
And, Martin Luther's young adult historical fiction story makes the perfect family read aloud!
Grab the autographed Reformation Family Bundle!
---
More Thinking Kids Posts You'll Love
---
Join the newsletter
Get the Family Prayer Box Project FREE!
Teach your children to pray with this fun project that includes 7 printable sets!