Have you ever wondered how to read the Bible with your kids? Find out how to read the Bible with your kids using round robin reading.
---
Reading the Bible with your kids doesn't need to be hard! Our family uses an easy technique to read the Bible together. It keeps the kids engaged and interested in the text.
How to Read the Bible with Kids
Some of the most precious time I've spent with my children has been while we've read the Bible together. I've enjoyed so much getting to hear their little voices (now deep voices) read the Word of God, hearing the questions they have, and challenging them to think through Bible Road Trip™ chapter discussion questions.
As soon as my children were able to read aloud, we began to use round robin reading to read through Scripture together. Reading the Bible together isn't hard… it just takes diligence. (Set a daily time to read together!)
---

---
Read the Bible Using Round Robin Reading
Check out this quick video, and I'll explain how we use round robin reading in our house!
---
How to Read the Bible with Your Kids: Pray!
We start out our reading by praying. We thank God for His Word. The Lord inspired men to write the Bible. It's inerrant and infallible. The Bible is God's Word to us, and it's an important history of his will here on earth. What a gift!
We also ask God to help us pay attention as we read, and we ask the Holy Spirit to reveal his Word to us. (1 Corinthians 2:9-13)
---
Bible Resources for Your Kids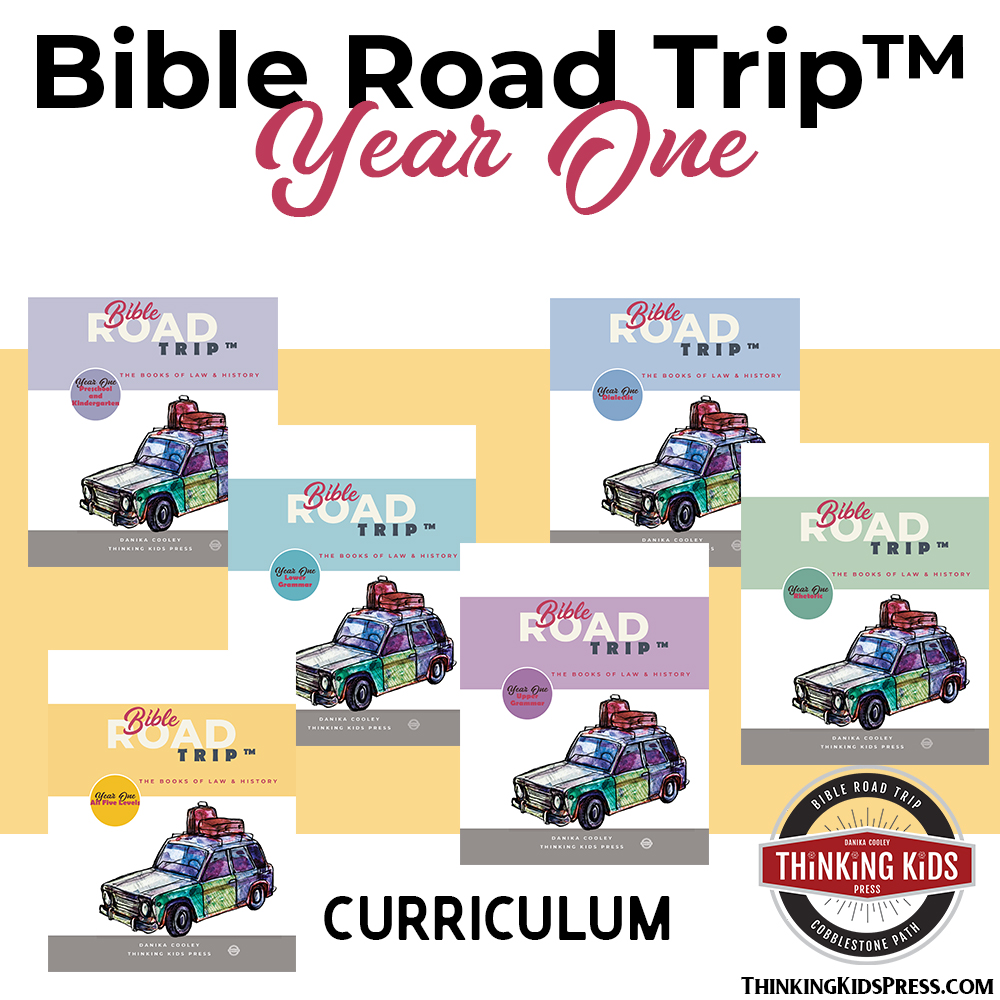 Bible Road Trip™ CurriculumLearn More Here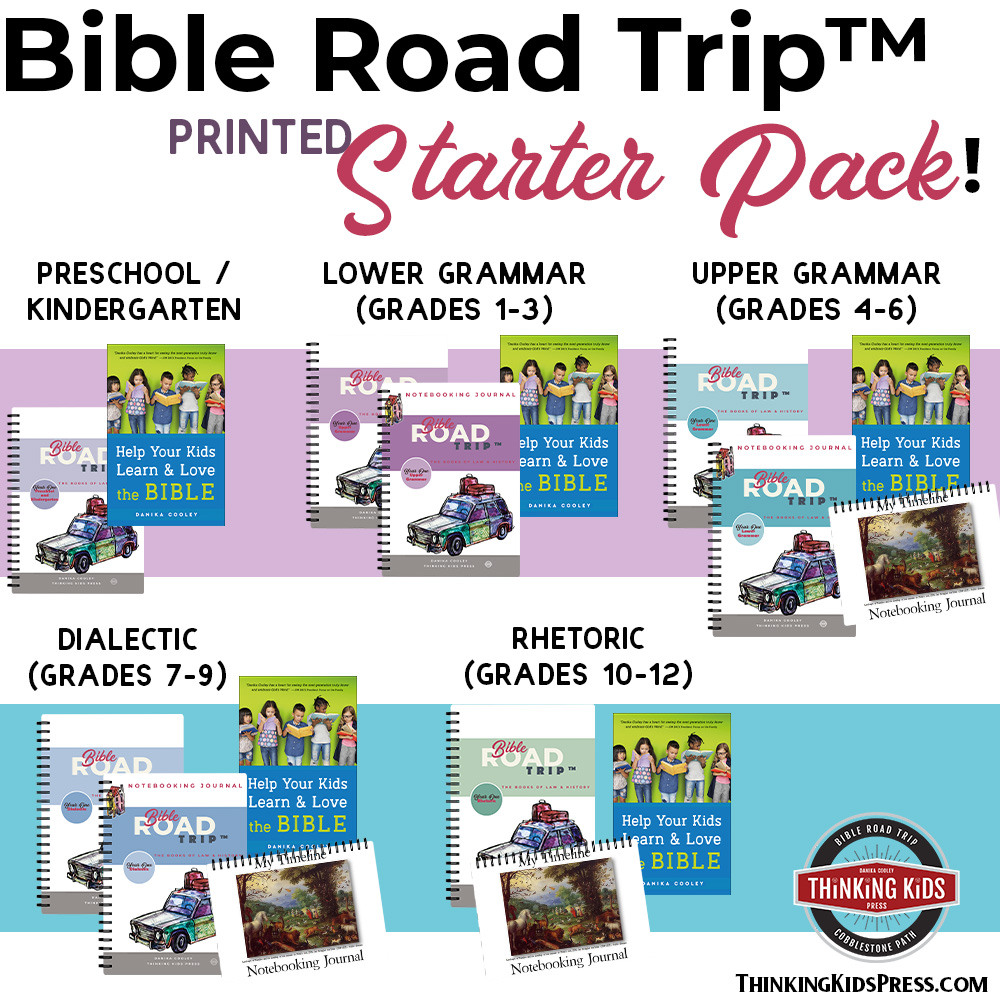 Starter BundleLearn More Here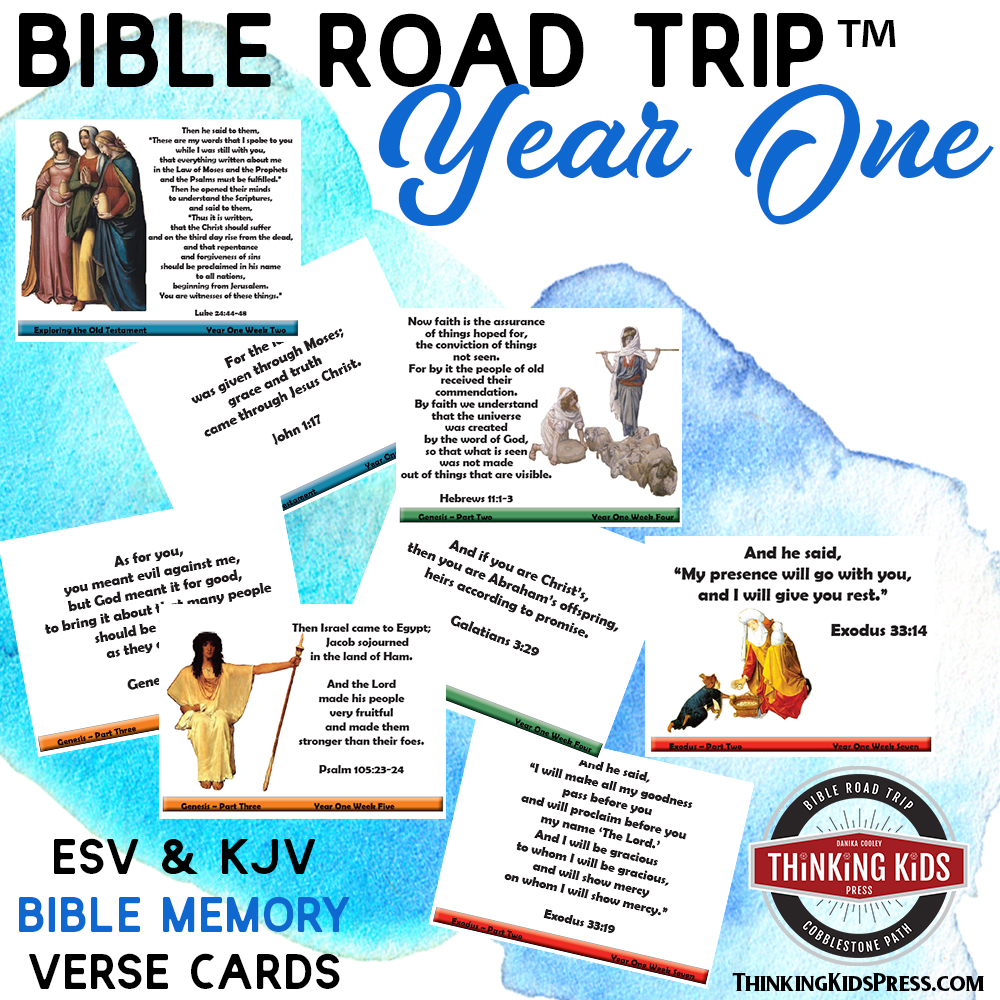 Bible Road Trip™ Memory Verse CardsLearn More Here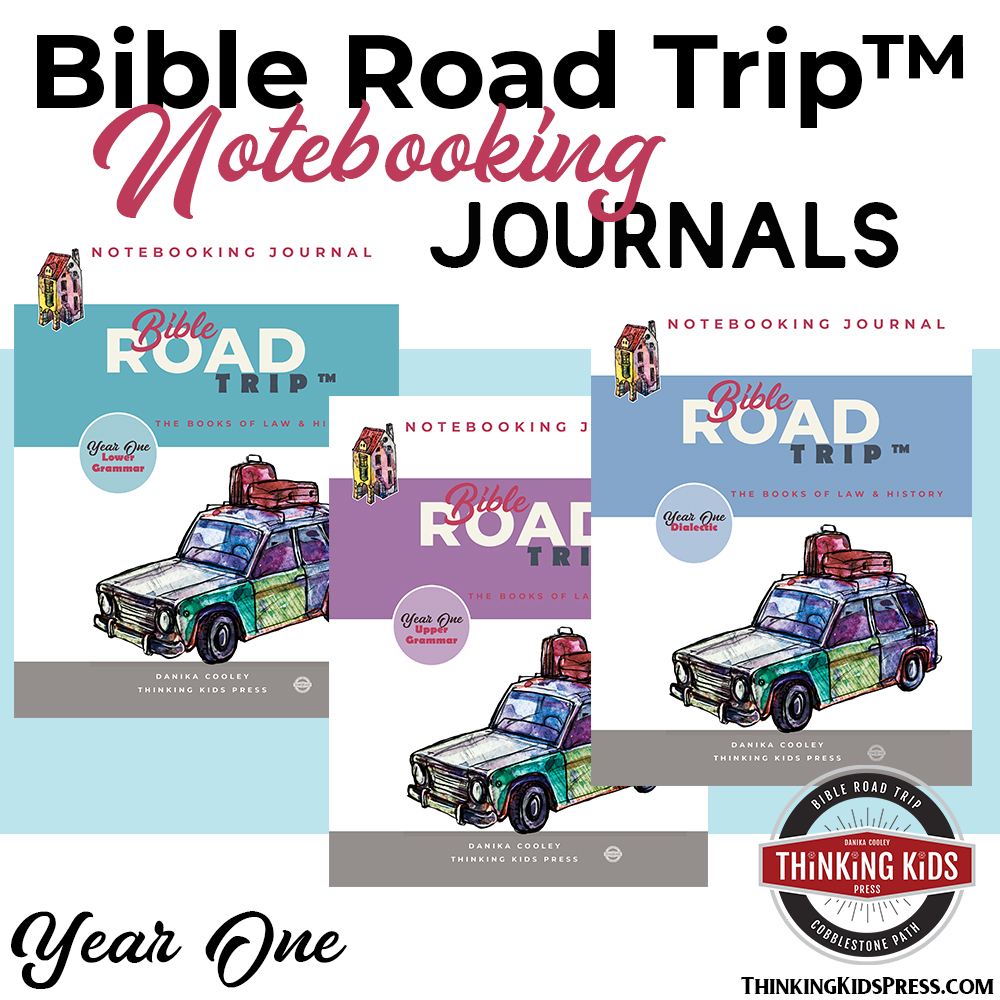 Bible Road Trip™ Notebooking JournalsLearn More Here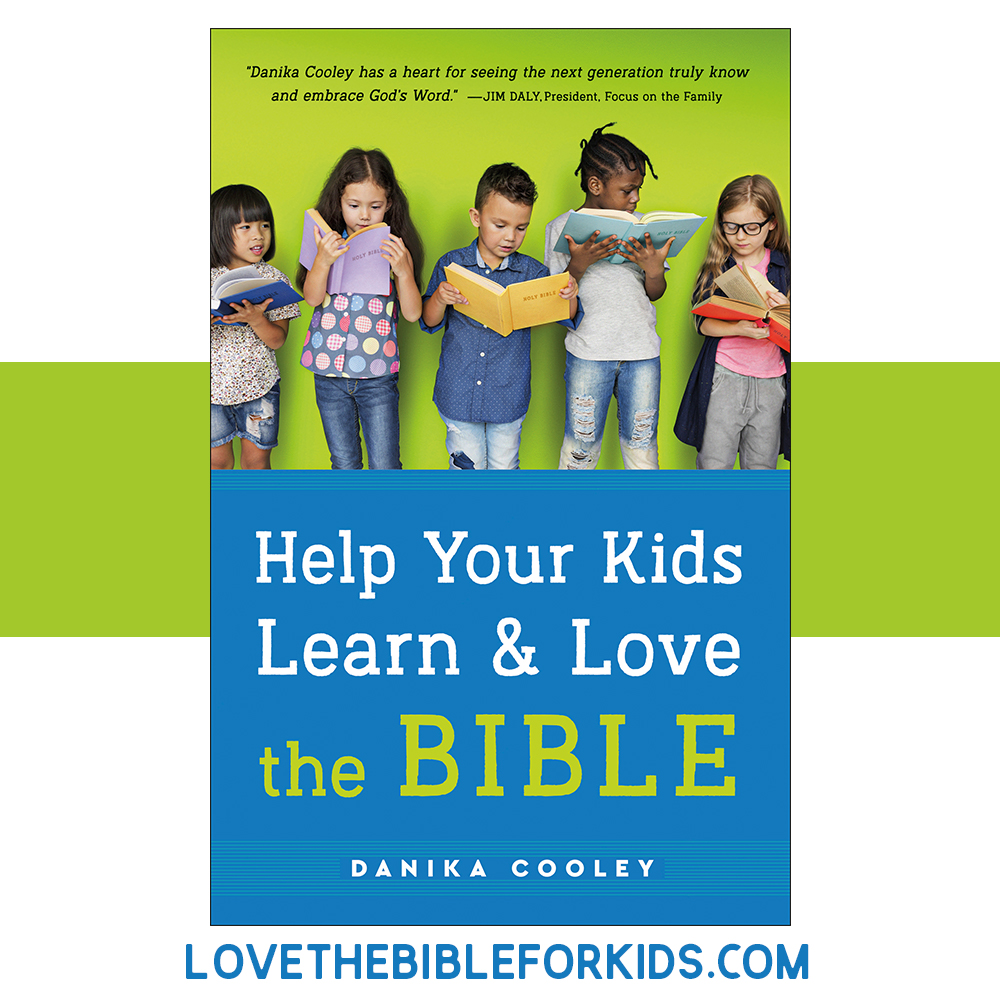 Help Your Kids Learn and Love the BibleLearn More Here
---
How to Read the Bible Together: Round Robin Reading
The round robin reading method of reading the Bible together is pretty simple.
We each take a turn reading a section of the Bible in a circle. So, when we're reading a chapter, each of us will read a paragraph. We go around in a circle until we're done with the chapter. If we're just reading a passage of the Bible, we each read a sentence or two. Again, we take turns by going around in a circle until we're done reading.
---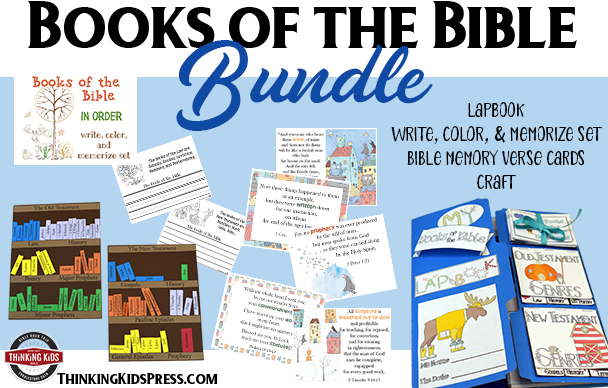 Teach your kids about the books of the Bible with this great family Bible study bundle!
---
How to Read the Bible and Keep Your Kids Engaged
Round robin reading really keeps kids engaged in what they're reading. After all, they're waiting for their turn, so they're careful to follow along with what their sibling is reading. It's fun for them to read, and they tend to pay better attention when they are the reader.
We read a chapter at a time when we're doing Bible Road Trip™ together, and then we go through the discussion questions together. If I feel like one of my children isn't answering questions regularly, or they seem distracted, I'll go ahead and single that child out to answer the next question before I read it.
Round robin reading is a great way to keep your kids engaged as your read the Bible together. Try it out!
---
Teach Your Kids the Bible with Bible Road Trip™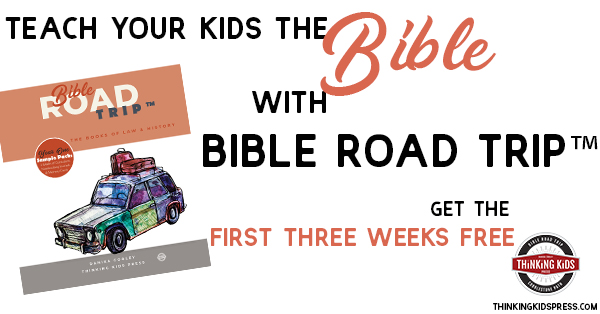 Bible Road Trip™ is a three-year Bible survey curriculum. Take your family through the Bible five times from preschool to high school.
To help you get the most out of your studies, Bible Road Trip™ has an array of coordinating weekly activities:
Researching the section of the Bible you're studying
Reading and discussing the Bible
Memorizing Scripture
Notebooking about your studies
Praying for the nations
Suggestions for further study
Crafting about what you've learned
For your older students: A project to share what they've learned
Bible Road Trip™ also has some great tools you can use along with it, such as:

Notebooking Journals for grades 1-9. Want a structured notebooking journal for high school? Don't hesitate to use the Dialectic journal (grades 7-9).
Bible Memory Card Sets for all five levels of study, preschool to high school. These are available in both ESV and KJV.
Grab your Bible Road Trip™ Year One Sample Pack. You'll get:
The Bible Road Trip™ Parent / Teacher Guide.
The first three weeks of the curriculum for all five learning levels. Week Three is where we really dive into the Bible and begin to our systematic study. Week Three will give you a good feel for the rest of the curriculum.
The first three weeks of the Bible Memory Card sets for all five levels, in ESV and KJV.
The first three weeks of each of the three leveled Notebooking Journals.
Grab the Sample Pack for FREE:

Disciple your kids by taking your family through the Bible together in a meaningful way!
---
More Thinking Kids Posts You'll Love
---
Join the newsletter
Get the Family Prayer Box Project FREE!
Teach your children to pray with this fun project that includes 7 printable sets!