Bible notebooking pages help make learning fun and memorable, encouraging your kids to progress in cognitive and developmental abilities.
---
Notebooking has been an incredible tool for our family.
We've used notebooking in our home
to learn about many different subjects, like science, Christian history, and Bible.
Our kids have been using Bible notebooking pages, in the form of a year-long journal, for years. This tool has helped them grow and develop, and has created a permanent record of the time they've spent in the Bible as well.
You, too, can use Bible notebooking pages as an important part of your plan to teach the Bible. Bible notebooking pages are a great way for kids to record observations and thoughts about what they've learned from their Bible reading that day.
Bible notebooking pages are a great way for kids to record observations and thoughts about what they've learned from their Bible reading that day.
---

---
How to Use Bible Notebooking Pages to Teach the Bible
Notebooking is a time-tested tool that develops and strengthens:

Higher thinking skills
Handwriting
Research skills
Pre-writing skills
Comprehension
Retention
---
How to Notebook (and What is Notebooking?)
---
Bible Notebooking Pages in the Elementary Years
1) Be Patient with Your Young Notebooker
We started using Bible notebooking pages when our boys were in first grade. I would not attempt to notebook with a preschooler or a kindergartener, no matter how precocious the child is.
With young children, you will want to start using Bible notebooking pages with lots of patience. Remember that they are just learning about the Bible, and they are also just learning to write. Forming letters is probably still a chore for them as they work to remember how each letter looks and they work with developing fine motor skills.
Not only will your young students be working hard to physically write sentences, they may struggle to compose a proper sentence. This is completely normal!
2) Use Engaging Bible Notebooking Pages
You'll want to use fun, engaging Bible notebooking pages with lots of room for drawings and interesting looking writing spaces. Make sure your Bible notebooking pages also have appropriate  writing lines for your young notebooker so they can properly form letters and sentences.
3) Keep Your Notebooking Expectations Reasonable
It's important that your notebooking expectations be reasonable. As your children learn to use Bible notebooking pages, they may struggle a bit.
I suggest you read a small section of the Bible to your children, then discuss what they've read (or what you read aloud to them). Allow them to use their Bible notebooking pages, a favorite pen or pencil, and some colored pencils. They can draw a picture to represent something they learned that day, and write a sentence or three about their reading. You may actually need to compose the sentence for them as they learn to notebook.
For instance, if you read the story of David fighting Goliath, your children may notebook: "David killed Goliath. David trusted God."
That's perfect! Praise their efforts with specific things they did well, and end your notebooking efforts for the day. They've worked hard!
4) Encourage Your Notebooker to Expand Their Skills
As your children continue notebooking through the Bible, you'll want to encourage them to think more about what they've read, to write more, to compose their own sentences, and to really have fun using their Bible notebooking pages.
Bible notebooking in the elementary grades makes learning fun, memorable, and your kids will progress quickly in their cognitive and developmental writing abilities.
---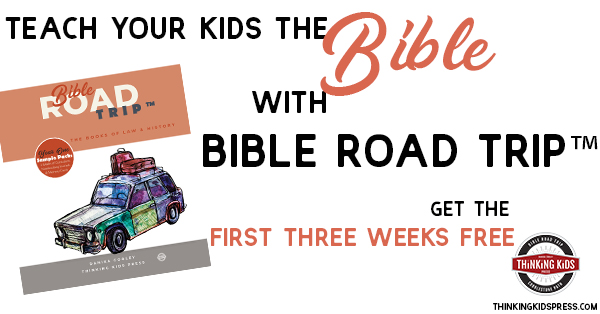 ---
How Bible Notebooking Worked for Us in the Elementary Years
As the boys developed in their notebooking skills, I would read aloud an entire section of material while they worked with their colored pencils, then allow them time to narrate what they'd learned in their notebooks. They each developed their own writing voice as they worked. They would read their work back to me and we'd discuss what they'd said.
In the beginning, my boys frequently asked for spelling help. I helped them when they asked, however, I rarely corrected their spelling. I did always remind them to use their best handwriting. There were days when their writing was pretty messy. However, I really believed that if they had the space to develop cognitively, the developmental practice of handwriting would follow. Switching to cursive helped their handwriting a lot, and I believe that the muscle development and memory that came from the process of handwriting also really helped. I'm glad I bit my tongue, friend.
---
---
Bible Notebooking Pages with Teens
1) Encourage Critical Thinking
As your teens work on Bible notebooking, encourage them to do more than just retell a Bible story. Ask them to think deeply about what the story means in the overarching themes of the Bible. They'll want to record important ideas and arguments they've read in their additional research. Push them to write about how they were affected by what they read, or how they'll change now that they know what God says about an issue.
2) Expect Complete Thoughts
While Bible notebooking pages can be filled out with just a sentence or two, a list, or some killer illustrations in the elementary grades, middle and high school students should be able to record complete thoughts with full sentences that make paragraphs. Encourage your teens to do everything as unto the Lord… even notetaking. Now, that doesn't mean every page will be full. One of my boys writes tiny little letters. It does mean that your teens should do their best and be reasonably complete in their notebooking efforts.
3) Use the Bible Notebooking Pages for Larger Projects
Your teens can use their Bible notebooking pages for larger projects like term papers, short essays, and group projects. Their notes will help them remember what they've read and processed, and will also help them compile information for more complete and polished work.
---
Notebooking Resources for Your Kids!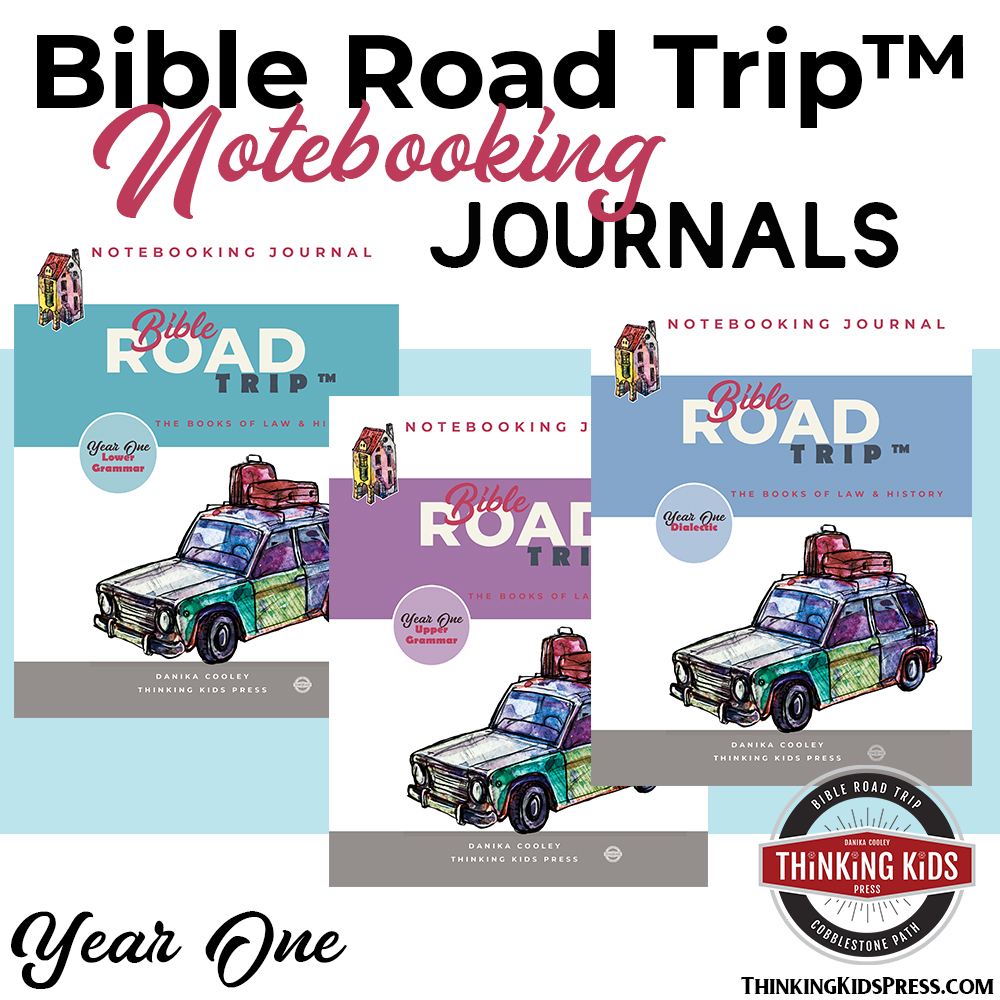 Bible Road Trip™ Year One Notebooking JournalsBuy Here
Bible Road Trip™ Year Two Notebooking JournalsBuy Here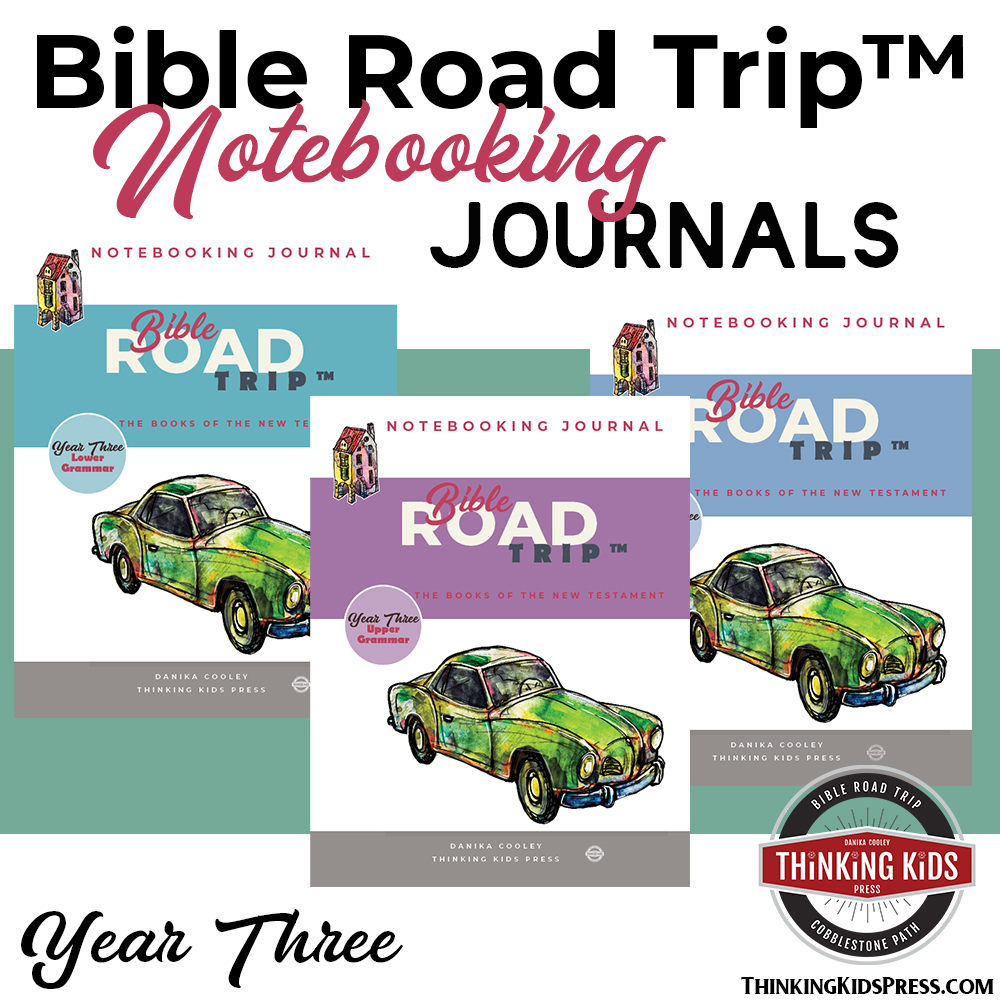 Bible Road Trip™ Year Three Notebooking JournalsBuy Here
My Timeline NotebookBuy Here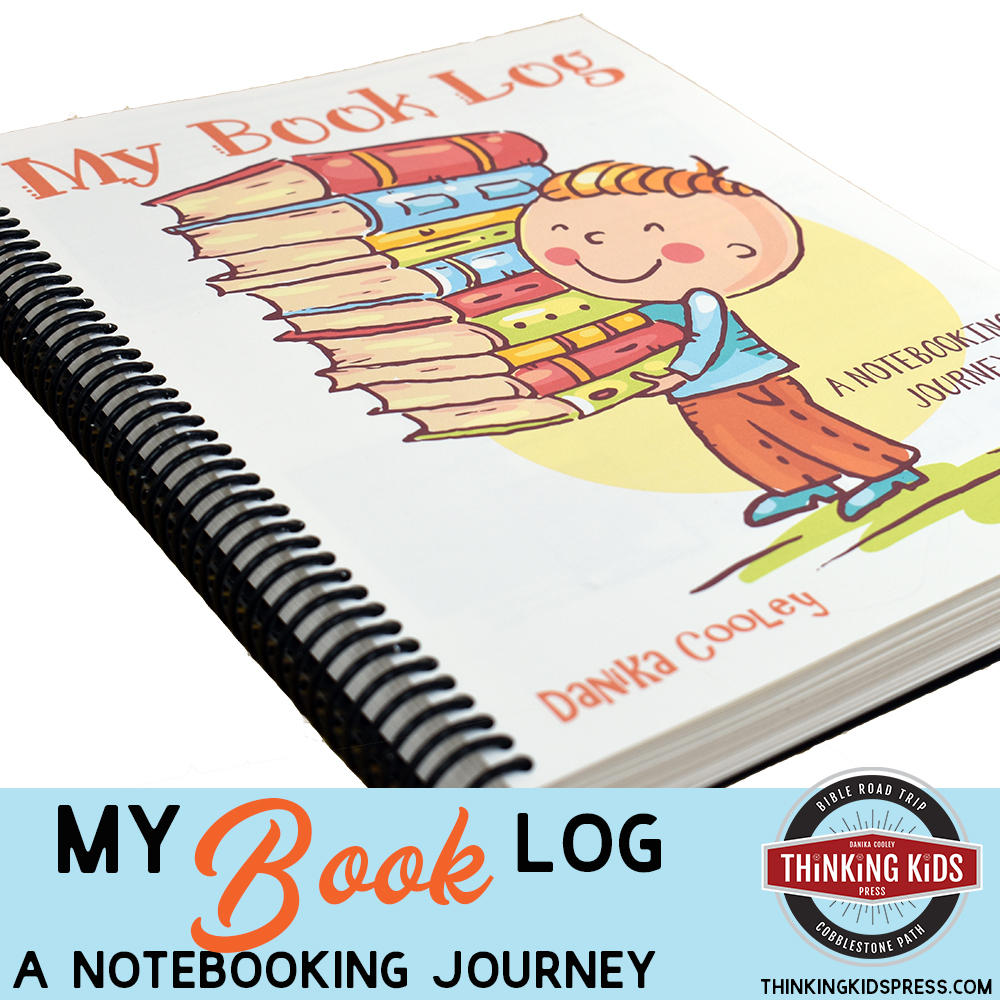 My Book LogBuy Here
My Field Trip and Travel JournalBuy Here
My Sermon NotebookBuy Here
Cobblestone Path™ Church History Research JournalsBuy Here
---
Books Make Great Gifts!
---
Bible Resources for Your Kids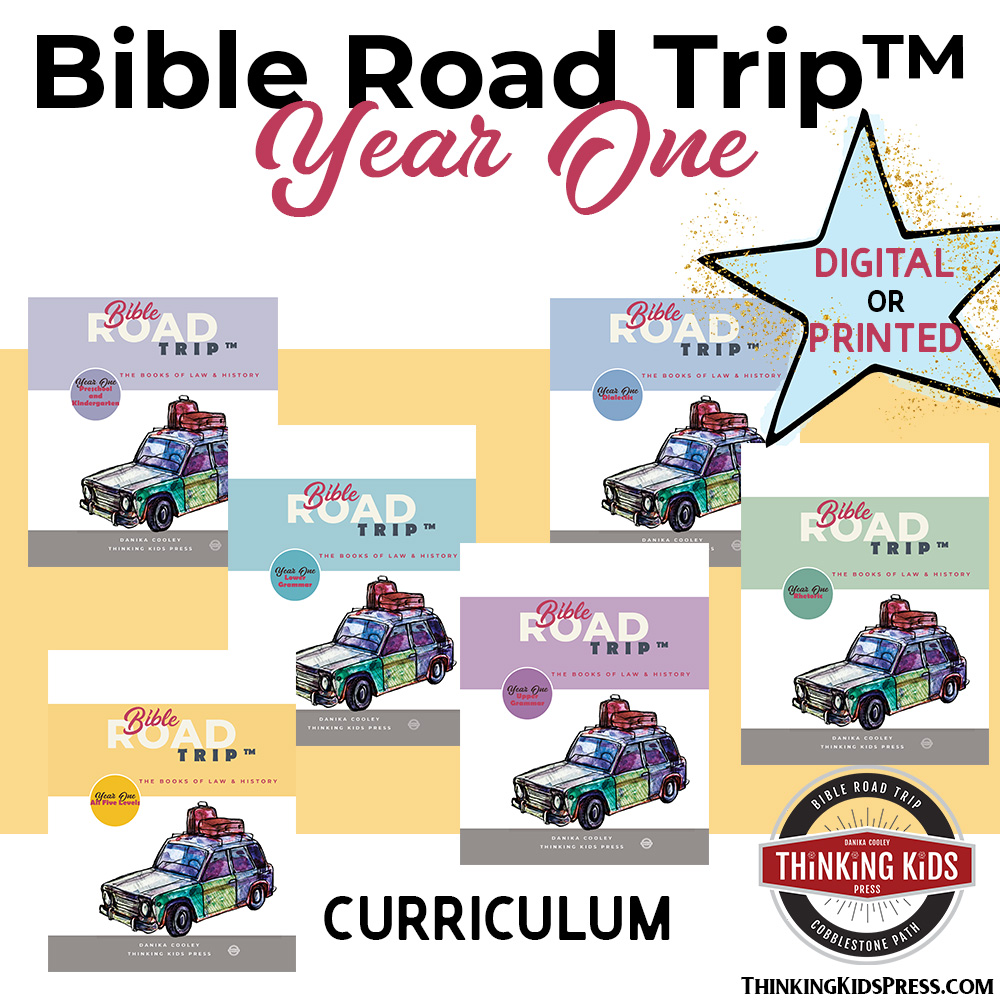 Learn More Here
Learn More Here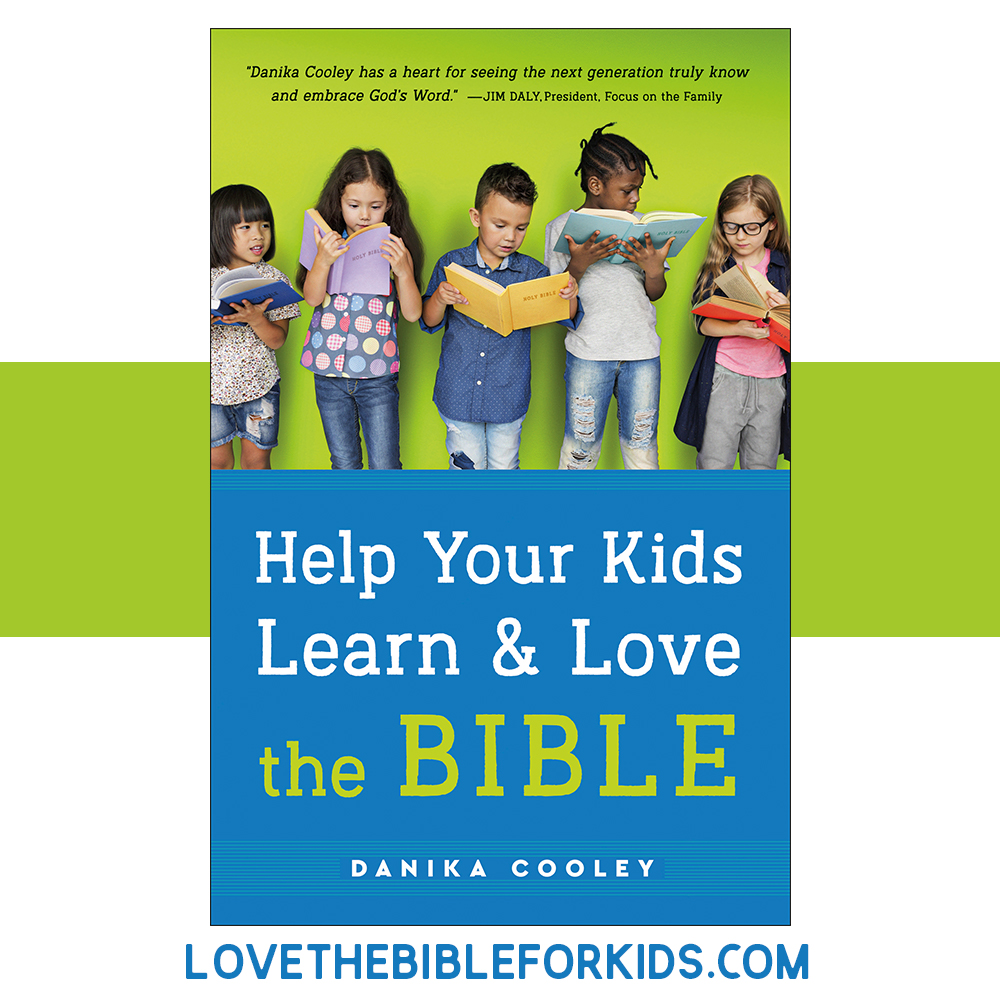 Learn More Here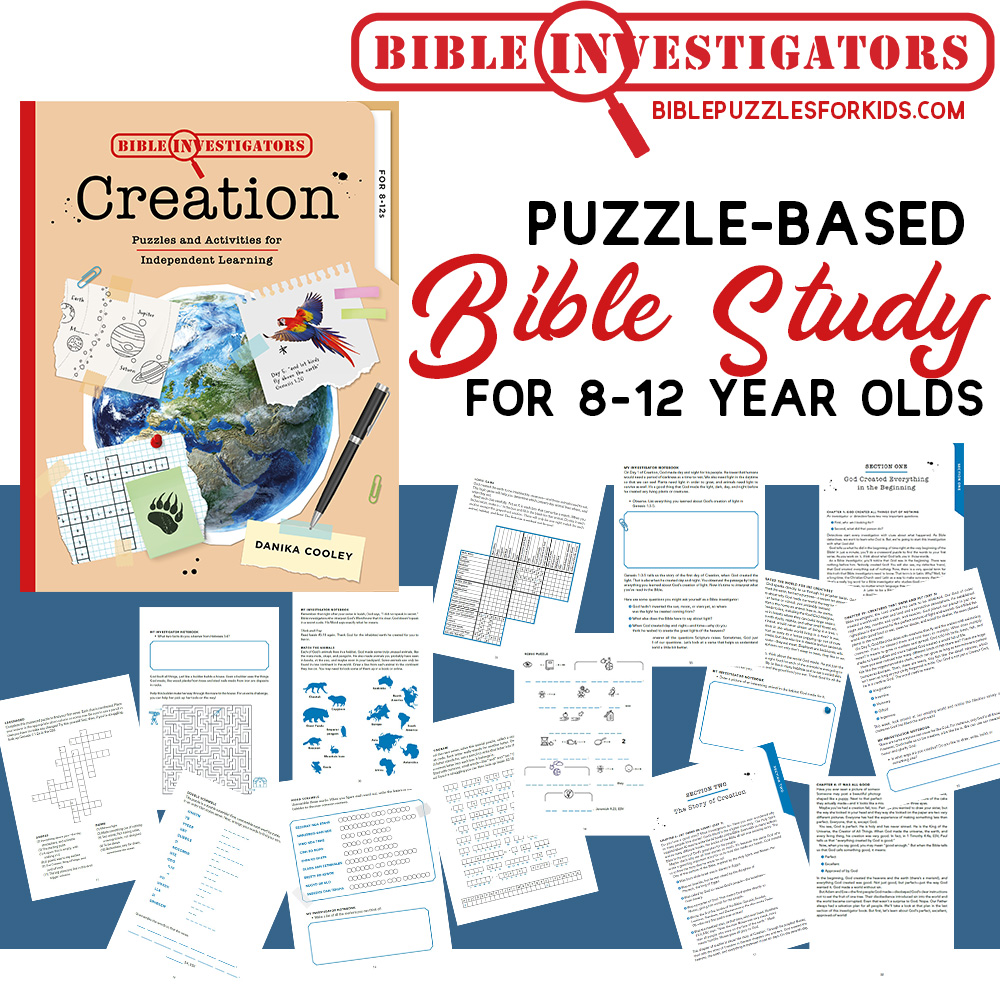 Learn More Here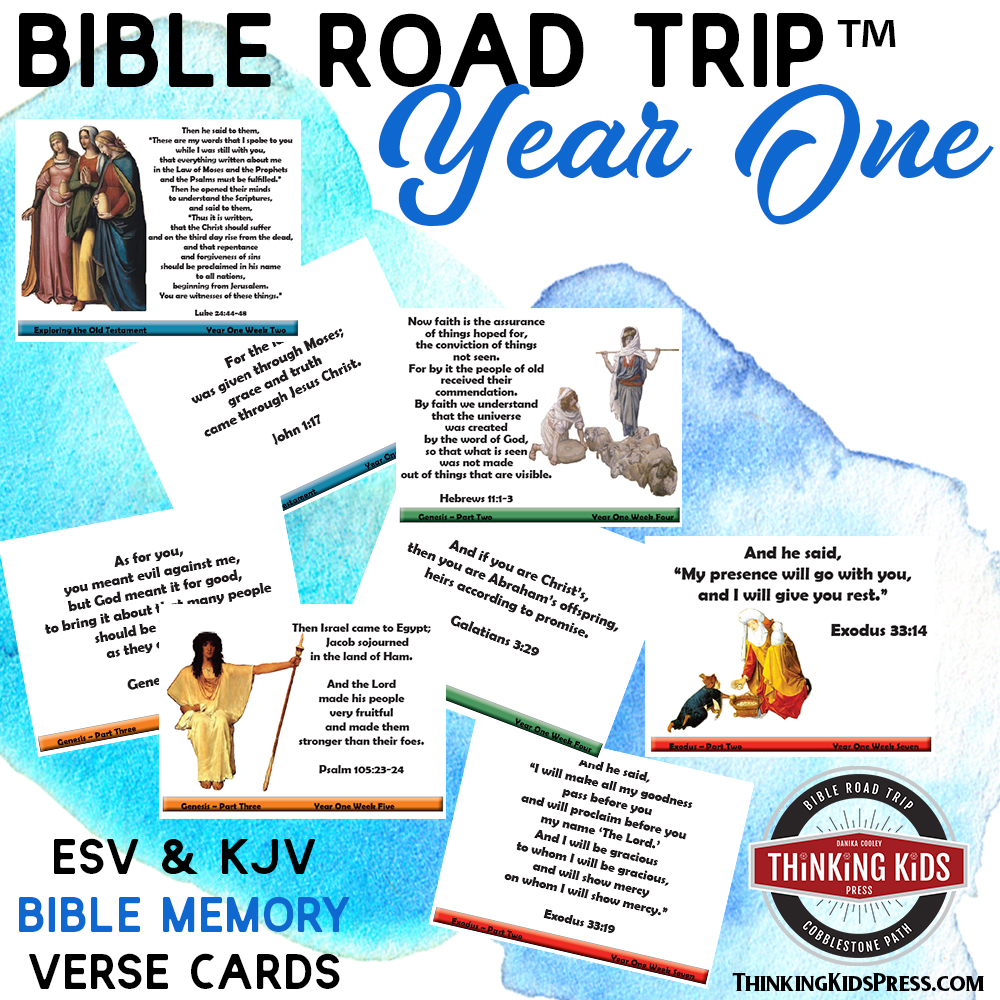 Learn More Here
Learn More Here
---
Teach Your Kids the Bible with Bible Road Trip™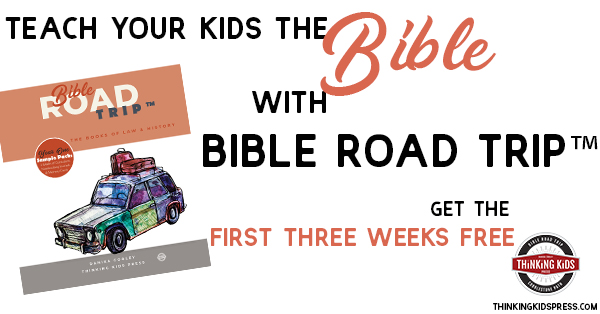 Bible Road Trip™ is a three-year Bible survey curriculum. Take your family through the Bible five times from preschool to high school.
To help you get the most out of your studies, Bible Road Trip™ has an array of coordinating weekly activities:
Researching the section of the Bible you're studying
Reading and discussing the Bible
Memorizing Scripture
Notebooking about your studies
Praying for the nations
Suggestions for further study
Crafting about what you've learned
For your older students: A project to share what they've learned
Bible Road Trip™ also has some great tools you can use along with it, such as:

Notebooking Journals for grades 1-9. Want a structured notebooking journal for high school? Don't hesitate to use the Dialectic journal (grades 7-9).
Bible Memory Card Sets for all five levels of study, preschool to high school. These are available in both ESV and KJV.

Grab your Bible Road Trip™ Year One Sample Pack. You'll get:
The Bible Road Trip™ Parent / Teacher Guide.
The first three weeks of the curriculum for all five learning levels. Week Three is where we really dive into the Bible and begin to our systematic study. Week Three will give you a good feel for the rest of the curriculum.
The first three weeks of the Bible Memory Card sets for all five levels, in ESV and KJV.
The first three weeks of each of the three leveled Notebooking Journals.
Grab the Sample Pack for FREE:

Disciple your kids by taking your family through the Bible together in a meaningful way!
---
Bible Road Trip™ Curriculum
Take a look inside the Bible Road Trip™ curriculum! Let me show you around:
---
More Thinking Kids Posts You'll Love
---
Join the newsletter
Get the Family Prayer Box Project FREE!
Teach your children to pray with this fun project that includes 7 printable sets!