Help your kids to really process what they've learned on field trips and vacations on the 150-page My Field Trip and Travel Journal!
---
When our youngest two boys were 9 and 10, we took an insanely awesome field trip through the Western United States. Imagine this: 17 days, 14 states, the Navajo Nation, 10 National Parks and Monuments, two science museums, a ghost town, and three large cities. It was fabulous.
My boys were exposed to natural wonders like spectacular lightning storms, mountains, geysers, tar pits, paint pots, enormous caverns, red rock arches and balanced rocks, the Grand Canyon, and petrified trees. In just 17 days, they encountered a wide array of animals: insects as big as their feet, wolf packs, elk, bison, and thousands of bats. Watching the bats come flying out of the main entrance to the Carlsbad Caverns at dusk was truly spectacular.
Our family loves hiking and climbing and there was plenty of that going on. We hiked through Arches National Park and climbed inside Native American cliff dwellings, underground kivas, and big brick castles.
---

---
Notebooking Our Field Trip in a Travel Journal
I made a field trip and travel journal for my boys to take on our journey, but it really didn't work out for our kids to write during our trip. I know I read a lot about car-schooling, but that would never fly in our family. Our boys cherish car trips. They provide so much space for observation, and (if we're going to be honest here) eating and sleeping.
When we got home, I printed our photos and the boys journaled about each site they'd visited. They marked their maps, pasted in photos and paper souvenirs like tickets, and listed all of the places they'd been. We worked on notebooking about one place each day, so it took us a good three weeks or so to do all of our writing. We just skipped any writing classes in our curriculum during that time.
My boys have a wonderful record of their trip, they did their notebooking soon enough after our return to really remember the events, and they were able to think critically about everything they saw and did.
Our field trips and travel since have been shorter–mostly one-day trips, but those trips have been important learning journeys for our kids. They notebook about each journey and mark it on their map, including photos from the trip.
If you've been around Thinking Kids for any time at all, you know I'm a huge fan of the practice of notebooking. My children are excellent writers because of it.
Keeping a field trip and travel journal for each child has been a wonderful experience for our family and I wanted to share that with you as well, so that your kids can benefit from the practice.
---
My Field Trip and Travel Journal
The My Field Trip and Travel Journal is available in both digital and print editions!
---
The My Field Trip and Travel Journal is a wonderful record of trips for your children, with watercolor artwork and quotes from Christian history throughout.
As your children travel and explore the world around them, you'll want to have a way for them to keep track of where they've been and what they've seen. The My Field Trip and Travel Journal will help them do just that.
Your kids will keep track of:
Places They've Been
Places They'd Like to Go
Mapping Their Journeys
A Record of Their Trips
Trip Dates
Your kids will learn:
To Keep Lists
About Geography
Where They Are in the World
Notetaking Skills
Basic Memoir Story Writing
To Plan Trips on the Calendar

---
---
Where I've Been and Where I'm Going
Do you remember all of the trips you went on as a child? Neither do I. There are some I remember, but I don't know the location. Your children will have a permanent record of the places they've explored! There are two lists for your children to use.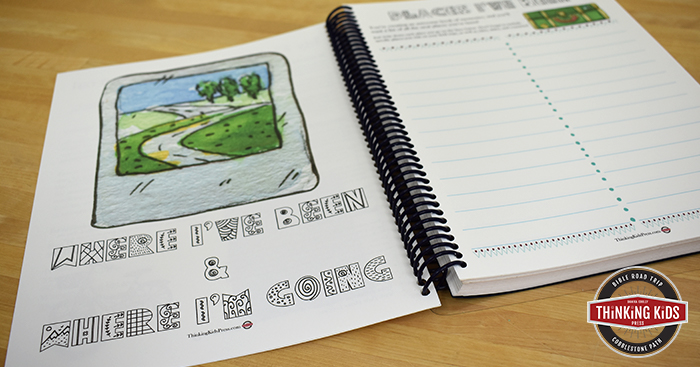 Your kids will record:
Places They've Been
Places They'd Like to Go
As your children fill out the list of places they've been, remember to prompt them about day trips and small field trips as well as vacations and road trips. The one-hour trip to a factory to see cheese made is an important field trip and should be recorded.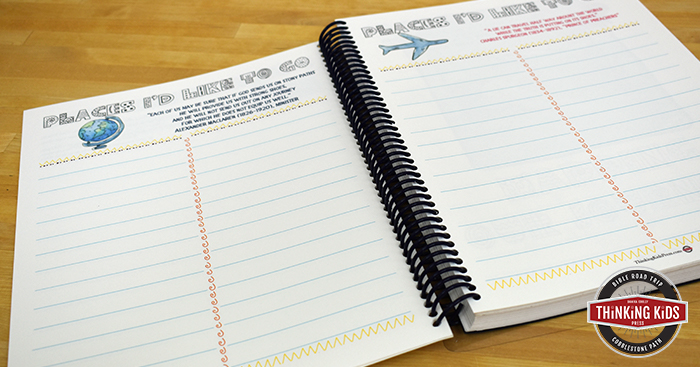 Don't panic if your child lists some truly exotic places they'd like to go on their list. Just affirm that dreaming is fun and that God may take them some exciting places in the course of their life.
---
Mapping Our Journeys
Your child will have the opportunity to map where they've been and to plan where they'd like to go. Your child's journal will have blank continent maps and country maps of the United States and Canada.
The journal also contains pins and hot air balloons to cut out and paste to the maps to show where your child has been and where they plan to visit.
Your kids will be able to:
Label the Countries of the World
Mark Where They've Been
Show Where They'd Like to Go
Color in Different Countries
Mark Their Home Location
---
How to Notebook (and What is Notebooking?)
---
A Record Of My Trips
The My Field Trip and Travel Journal provides four pages of structured notes for each trip. Your child's journal will have space to record 31 journeys.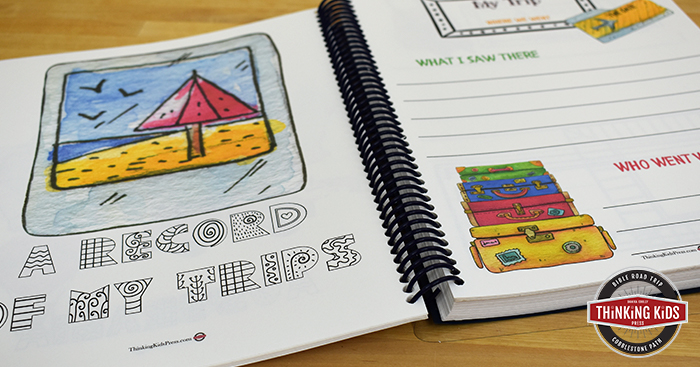 Your kids will record:
Where They Went
The Date of Their Trip
What They Saw
Who Went With Them
Three Things They Learned
A Story About Their Trip
Drawings and Photos About Their Trip
This is a wonderful opportunity for your kids to create a permanent record of their travels, and to develop critical thinking and writing skills at the same time.

---
Coordinating Resources We Love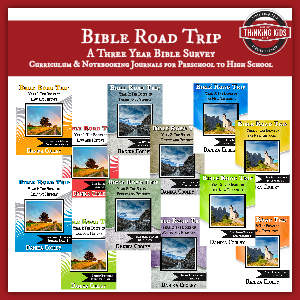 Bible Road Trip: A 3-Year Bible Curriculum for Preschool through High School
When Lightning Struck!: The Story of Martin Luther
Wonderfully Made: God's Story of Life from Conception to Birth
Neenah Astrobrights Premium Color Card Stock, 65 lb, 8.5 x 11 Inches, 250 Sheets, Stardust White
Crayola Fun Effects Mini Twistables Crayons, 24-Count, 1 pack
Crayola Different Colored Pencils, 100 Count, Adult Coloring
TruBind 10 Mil 8-1/2 x 11 Inches PVC Binding Covers – Pack of 100, Clear (CVR-10ASN)
TruBind TB-S20 Spiral Coil Binding Machine (TB-S20)
TruBind 8-1/2 x 11 Inches 12 Mil Sand Texture Polycovers – Pack of 100, Black (CSD12-ASBK)
TruBind 20mm (3/4-Inch) Standard Black Coil Bindings, Pack of 50 (COIL20-BK)
TruBind Heavy-Duty Coil Cutting and Crimping Tool
---
Field Trip and Travel Stickers
Your journal comes a page of field trip and travel badges your child can cut out and paste to the calendar to mark important trip dates. There is space to write the field trip destination on each sticker.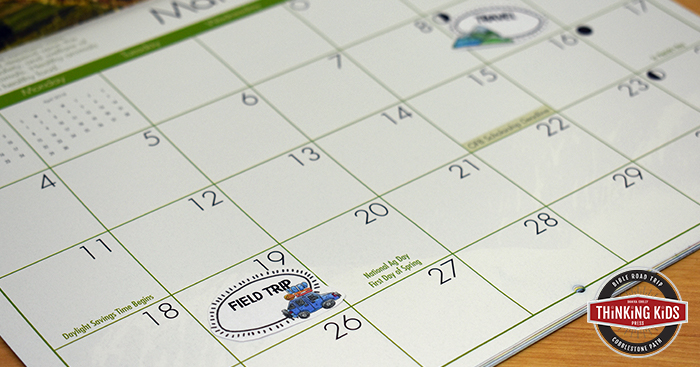 Your kids will learn:
To Keep Track of Dates
To Plan Ahead
To Anticipate Their Field Trips
The My Field Trip and Travel Journal will give your kids a permanent record of their trips, and will help them really think through what they've seen and learned!
It's available in both digital and printed versions!

---
Books Make Great Gifts!
---
Bible Resources for Your Kids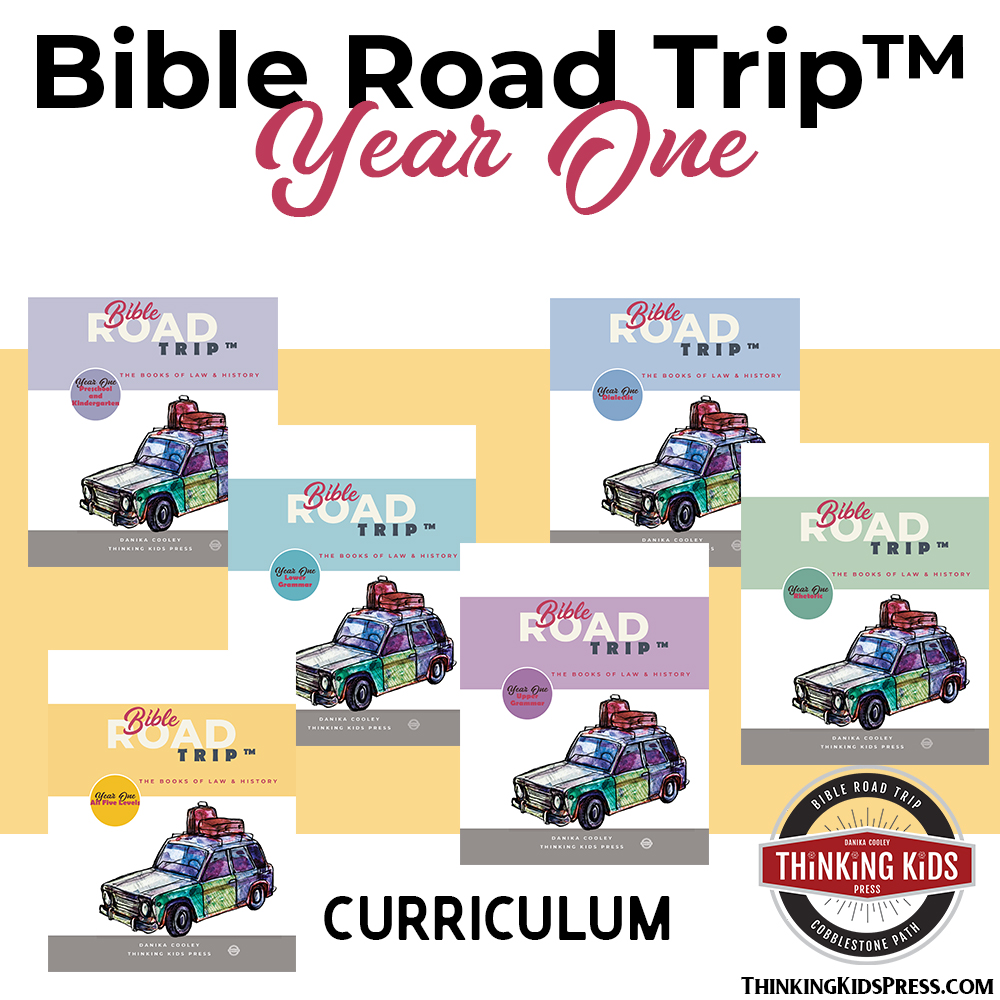 Bible Road Trip™ CurriculumLearn More Here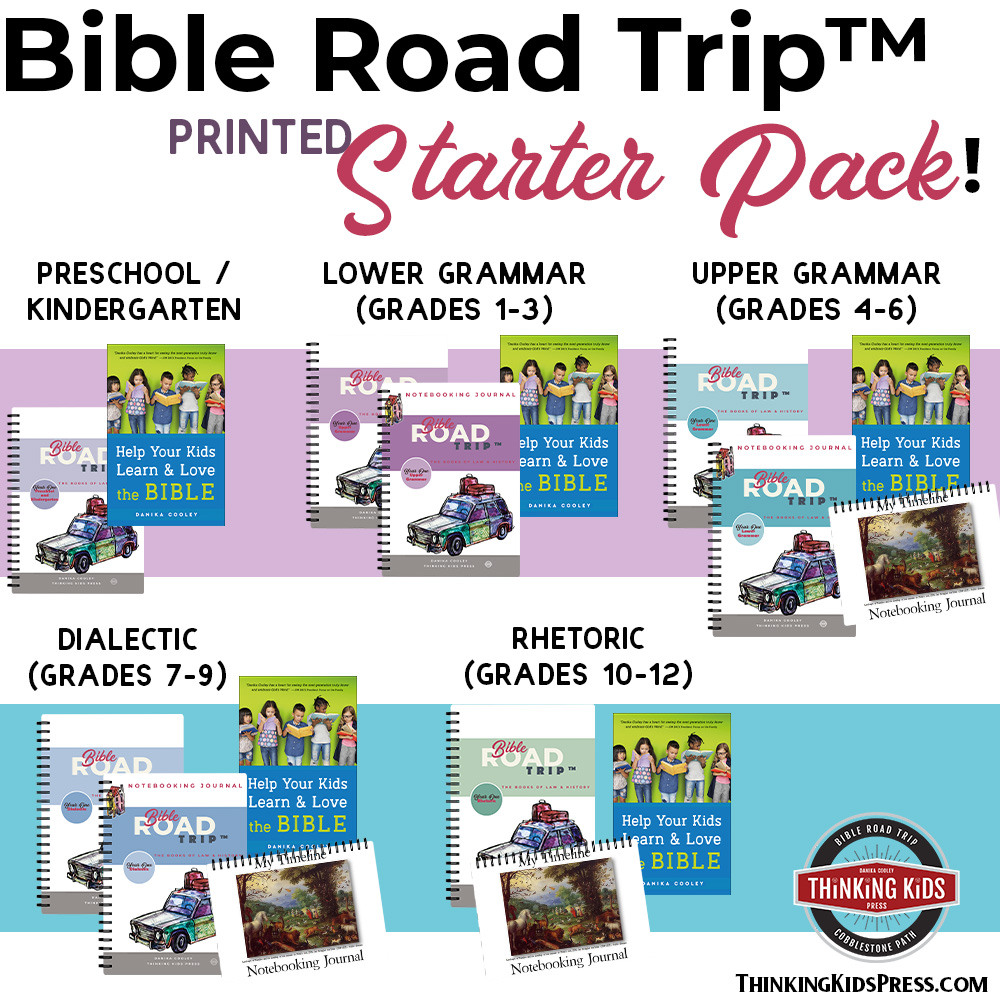 Starter BundleLearn More Here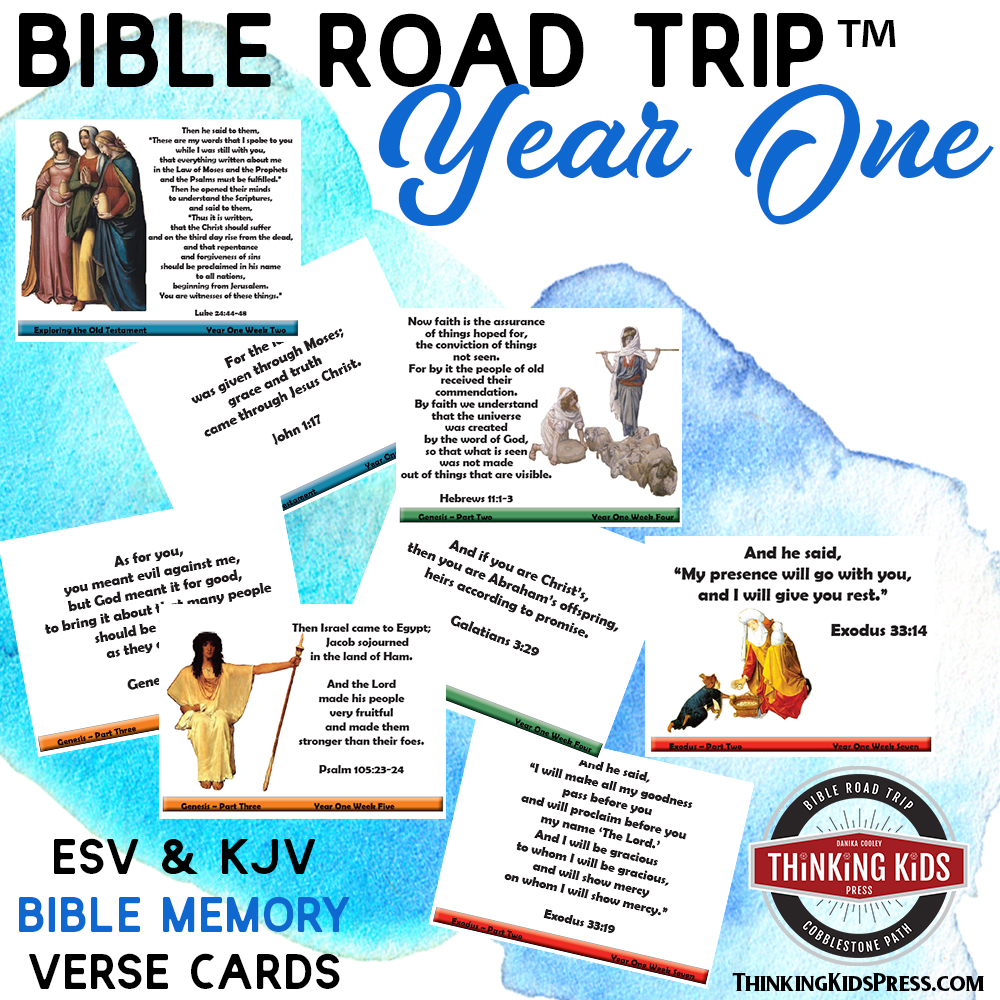 Bible Road Trip™ Memory Verse CardsLearn More Here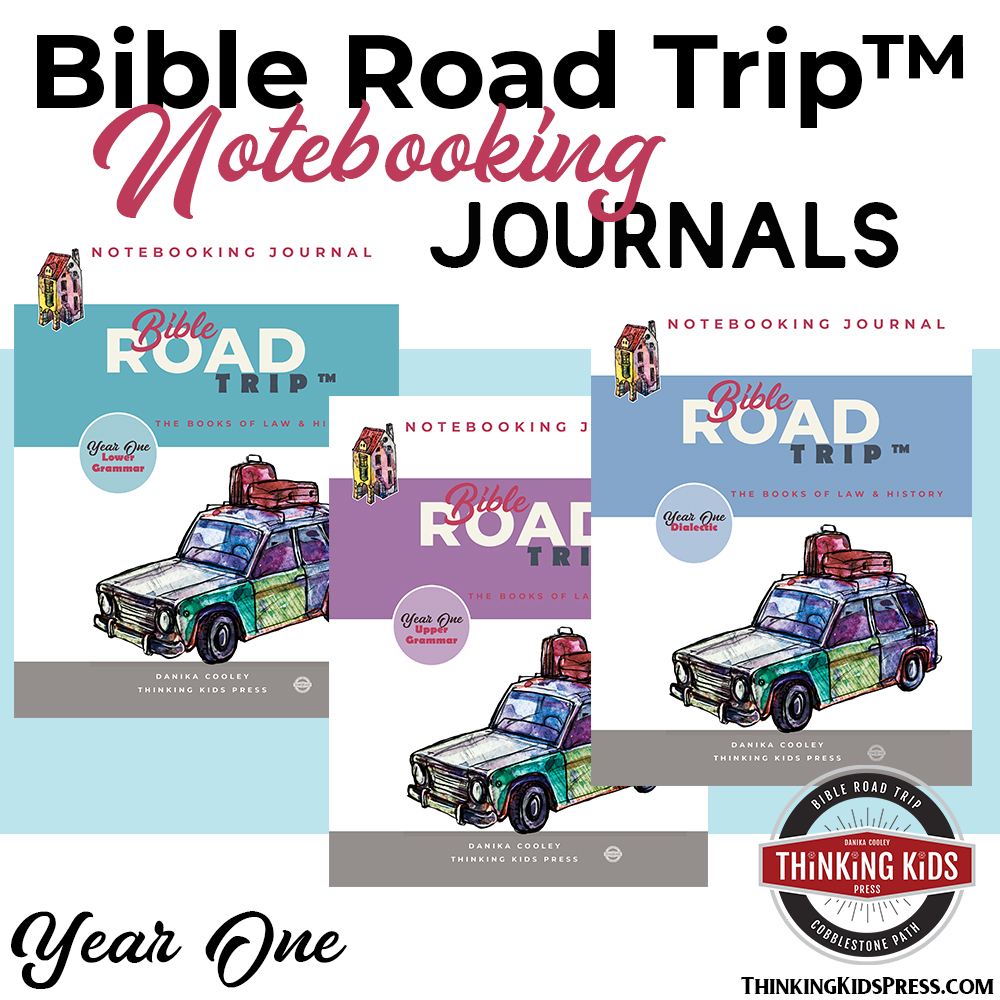 Bible Road Trip™ Notebooking JournalsLearn More Here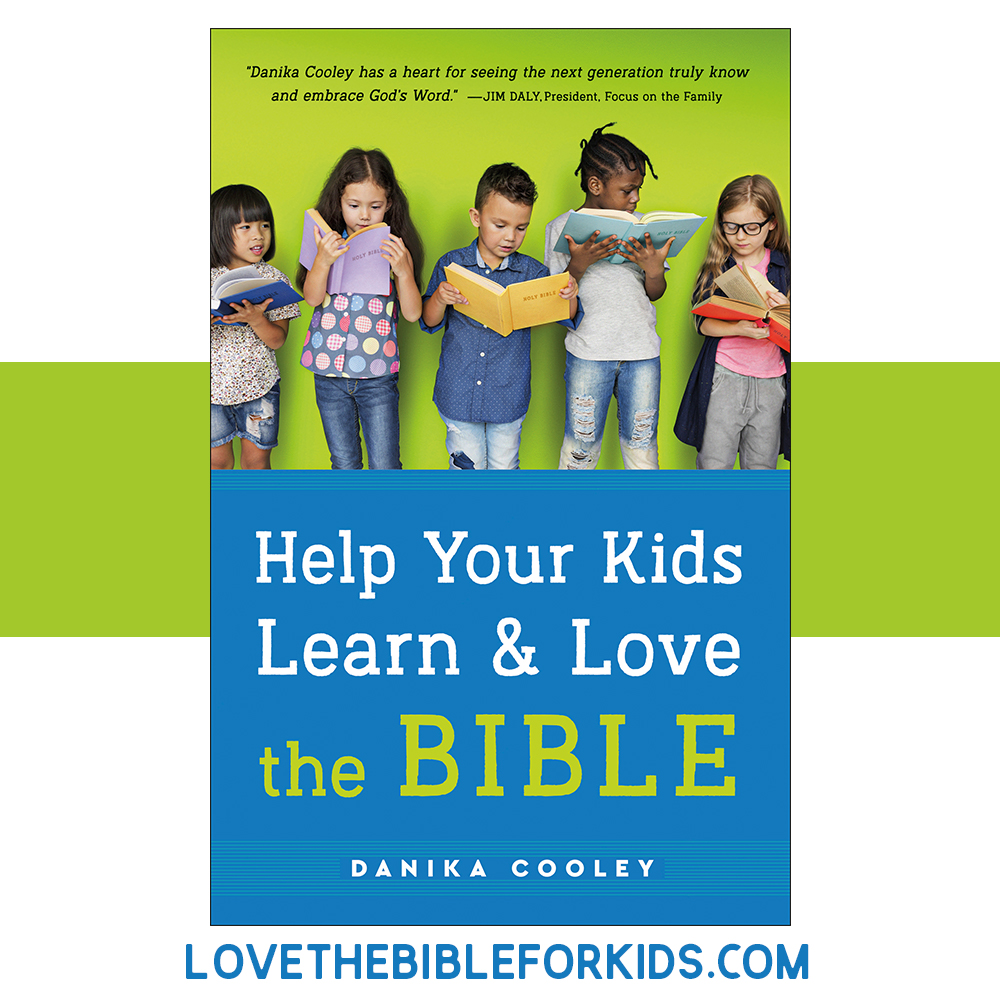 Help Your Kids Learn and Love the BibleLearn More Here
---
Teach Your Kids the Bible with Bible Road Trip™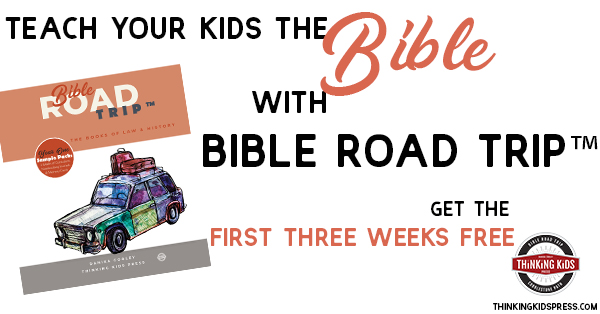 Bible Road Trip™ is a three-year Bible survey curriculum. Take your family through the Bible five times from preschool to high school.
To help you get the most out of your studies, Bible Road Trip™ has an array of coordinating weekly activities:
Researching the section of the Bible you're studying
Reading and discussing the Bible
Memorizing Scripture
Notebooking about your studies
Praying for the nations
Suggestions for further study
Crafting about what you've learned
For your older students: A project to share what they've learned
Bible Road Trip™ also has some great tools you can use along with it, such as:

Notebooking Journals for grades 1-9. Want a structured notebooking journal for high school? Don't hesitate to use the Dialectic journal (grades 7-9).
Bible Memory Card Sets for all five levels of study, preschool to high school. These are available in both ESV and KJV.

Grab your Bible Road Trip™ Year One Sample Pack. You'll get:
The Bible Road Trip™ Parent / Teacher Guide.
The first three weeks of the curriculum for all five learning levels. Week Three is where we really dive into the Bible and begin to our systematic study. Week Three will give you a good feel for the rest of the curriculum.
The first three weeks of the Bible Memory Card sets for all five levels, in ESV and KJV.
The first three weeks of each of the three leveled Notebooking Journals.
Grab the Sample Pack for FREE:

Disciple your kids by taking your family through the Bible together in a meaningful way!
---
Bible Road Trip™ Curriculum
Take a look inside the Bible Road Trip™ curriculum! Let me show you around:
---
More Thinking Kids Posts You'll Love
---
Join the newsletter
Get the Family Prayer Box Project FREE!
Teach your children to pray with this fun project that includes 7 printable sets!