Welcome! If you're interested in discipling children for Christ, I'd love to have you
subscribe to Thinking Kids
. Also, please
follow me on Pinterest
where I've compiled a library of discipleship and homeschool resources for you. Thinking Kids posts contain affiliate links. You can find out more about those on the
disclosure page
.
Are you hoping to help your children learn to pray for others?
Prayer is a practice that even adults struggle with. Sometimes keeping a list is a great way to remember prayer requests, and to focus on others. For kids, a list during prayer can be a little overwhelming. Prayer cards are a great way to help kids learn to pray for others in a way that feels manageable! It never hurts if the cards are adorable, either.
You'll find the the download link for the Prayer Cards for Kids at the very end. These cards are absolutely free to Thinking Kids subscribers.
Prayer Cards for Kids
These printable prayer cards have twelve cute designs:
Kids can write the name of the person they are going to pray for on the front of the card. On the back of each card, there is space to write a few items to pray for.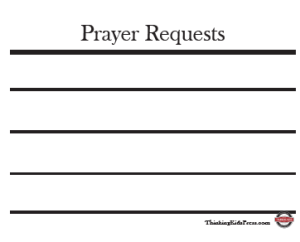 Ways to Use Prayer Cards for Kids
Prayer Cards for Kids can be used a number of ways. Here are a few ideas:
At home, have your child choose someone each day to pray for. Write the person's name on the card. On the back, brainstorm items to pray about. Save the card after praying and use the prayer cards on a rotation, working through one each day.
Fill all the cards out yourself. Place them in a stack on the table, and take turns at each meal praying for someone on the card.
In a group, have each child fill out a card with their own prayer requests. Collect the cards and hand them back out so that each child has someone else's card. Ask children to pray for the requests on the card for a week.
Share other ideas in the comments!
Make a Family Prayer Box
These cards are a part of the
Family Prayer Box
project. They go under the Pray for Others divider. Check it out after you download your cards!
The $500 PayPal Cash Giveaway is over. Subscribe so you never miss another!
The giveaway will run from Thursday, December 1st through Saturday, December 10th (ends at 11:59pm EST). Winner will be notified by email shortly after the giveaway ends and will have 48 hours to respond to claim the prize or another winner will be drawn. You must have a Paypal account to win.
a Rafflecopter
giveaway
How to Print Prayer Cards for Kids
I often get asked how to print Thinking Kids resources. Here's my very best advice. Take it and adapt it for your own good uses.
Sometimes readers are concerned about using colored ink. If this is the case for you, there should be a setting on your printer that allows you to print in black and white. Printing in grayscale will still use some color, but it will come out prettier than black and white.
Print these cards on duplex (back-to-back or double-sided). You'll want to flip on the SHORT edge for these. You should be able to change the settings for this in the Properties tab of your printer box once you download and tell your computer to print.
Trouble downloading? Check out How To Download Thinking Kids PDFs.
I recommend printing on white cardstock so the cards will be more durable and the back won't show through on the front. This is my very favorite cardstock: Neenah Premium Cardstock.
If you plan to rotate the cards to use at meals or during your family devotional time, consider laminating them so they will last longer.
Let your kids write in pen! Frixion erasable pens show up well and erase perfectly. I use them on my planner everyday and I love them. They give kids a fun way to use bright colors–and they still allow room for mistakes.
Check out this beautiful Prayer Card Set for Moms, too! Just $5 for the whole set, and it makes a wonderful gift.
More Subscriber Gifts at Thinking Kids
The Prayer Cards for Kids is a Thinking Kids subscriber gift. When you register to become a Thinking Kids subscriber, you are automatically included on the email newsletter list. You'll get updates on godly parenting resources, homeschool ideas, Christian parenting posts, and you'll have access to the growing list of Thinking Kids freebies including:
Bible Road Trip
~ a 3 year Bible survey curriculum for preschool to high school with coordinating Notebooking Journals! Bible Road Trip is free for download by week, or available for
purchase as a full-year PDF download
.
My Sermon Notebooking Journals
~ Two half-sized 119-page notebooking journals to take notes during sermons with a structured format, Bible verses, quotes from historical Christians and fine artwork.
My Book Journey Notebooking Journal
– A 51-page notebooking journal to record books read, including: title, author, page number, theme, plot, and thoughts!
EVEN MORE! Check it all out at the Subscriber Gifts page.
Your Prayer Cards for Kids download is beneath this graphic!
Download Your Prayer Cards for Kids
Ok, friends! I promised you Prayer Cards for Kids, and you shall have them! Just log into your subscriber account, and then click on the link below and print the copies you need. Don't have an account? No problem! You can sign up right here!

Join the newsletter
Get the Family Prayer Box Project FREE!
Teach your children to pray with this fun project that includes 7 printable sets!
~ Danika Cooley
Danika Cooley is the author of When Lightning Struck! The Story of Martin Luther (Fortress Press, 2015), Wonderfully Made (CF4K, 2016), and Bible Road Trip. Her work has been featured in internationally-recognized children's magazines over 150 times.