What is Bible Road Trip™?
Bible Road Trip is a three-year survey Bible curriculum for preschool to high school. The Bible curriculum is written for five different levels of study, to allow you to custom tailor the program to your children. Your family will go through the books of the Bible in order. Bible Road Trip™ is organized as a unit study, with each year covering specific books of the Bible. Each week covers a book or a part of a book.
The grade levels are as follows:
Preschool and Kindergarten
Grades 1-3 (Lower Grammar)
Grades 4-6 (Upper Grammar)
Grades 7-9 (Dialectic)
Grades 10-12 (Rhetoric)
Each grade level is divided into sections, and you can move children up or down a level in any given section as needed. Also, the Rhetoric level is an excellent choice for parents who would like to study alongside their students.
How is Bible Road Trip™ used?
Bible Road Trip is written at five levels to allow families or classrooms to study the same material at the same time. This can be arranged either with students together for Bible reading with separate assignments for older students, or you can study separately at separate levels and meet together for discussion. The design also allows for customization within schools and churches (please contact me for a classroom license).
Join the newsletter
Subscribe to download the exclusive Bible Road Trip™ Year One SAMPLE PACK!
How do I schedule Bible Road Trip™?
There are a number of sections of Bible Road Trip for each level. Each week has an overview for the parent explaining the book or section of the book covered.
For each level (with a few exceptions at the Preschool and Kindergarten level), you will find the following sections:
Researching the Word
Reading the Word
Memorizing the Word
Notebooking about the Word
Praying about the Word
Learning More about the Word
Crafting Through the Word
For more information on the sections and how they work, please download the free Bible Road Trip Parent / Teacher Guide. The guide is comprehensive, and should not be skipped. If you choose to purchase the full-year Bible Road Trip Curriculum PDFs, the Guide is included.
Once you understand the different weekly sections, you'll want to download the Printable Bible Road Trip Suggested Schedules. These schedules are also included in the full-year PDFs, if you choose to purchase them. Each level has a printable schedule, and there is a schedule for multiple levels as well. I've tried to provide ample time for each section. Or just subscribe and I'll send you the Bible Road Trip™ Year One Sample Pack! It will tell you everything you need to know!

Join the newsletter
Subscribe to download the exclusive Bible Road Trip™ Year One SAMPLE PACK!
It's important to remember that you may not wish to do every section of Bible Road Trip™. If you do, be sure to note the skills being learned in that section, and give your children a break in some of their other curriculum. If your kids are notebooking their way through the Bible, you may wish to assess how much writing they are doing in other areas to make sure your expectations are reasonable.
Why are there additional resources suggested for the Bible curriculum?
Children going through Bible Road Trip™ will be reading and discussing the Bible. That's the most important part of the program. In fact, that's one of the most important things we can do with our kids.
However, there are excellent resources available about the Bible, biblical archaeology, and even biblical fiction (which is suggested for the Upper Grammar level). Bible Road Trip makes use of these excellent resources from reputable sources and scholars, broadening and enriching students' understanding of God's Word.
How do I know which resources to use?
I am asked frequently what resources parents must use with Bible Road Trip™. You need the curriculum, and a Bible. I highly suggest utilizing a good study Bible–we prefer the ESV Study Bible. I think it's a good idea for each child to have their own Bible so they read along or study on their own. Everything else is optional, though I highly recommend the resources for Researching the Word, particularly for the Dialectic and Rhetoric levels.
I've compiled visual lists (with links) of the Bible Road Trip resources for you by level of study:
How is the Curriculum presented?
Full Year PDFs of the Bible Road Trip Curriculum™ contain a Table of Contents, the Parent / Teacher Guide, Suggested Schedules, and 32 weeks of curriculum. Each week has a parent overview, followed by instruction schedules for each level.
Subscribers to the Thinking Kids site will recieve the Year One Sample Pack with the Parent / Teacher Guide, Suggested Schedules, and the first three weeks of the curriculum, Bible memory cards, and notebooking journals. From there, you'll receive an email that will help you decide how you want to access Bible Road Trip™. Or, you can purchase one of the full-year PDF downloads now.
What does each year of Bible Road Trip cover?
Year One of Bible Road Trip covers the books of Law and History, from Genesis to Esther.
Year Two of Bible Road Trip covers the books of Poetry and Prophecy, from Job to Malachi.
Year Three of Bible Road Trip covers the books of the New Testament, from Matthew to Revelation.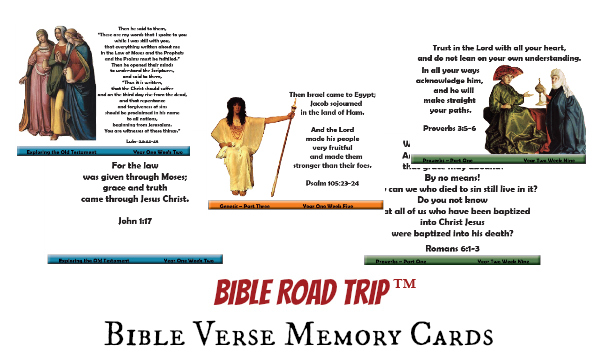 What about Bible verses for children?
Memorization of Bible verses is so important for children.
I want to help you lead your children through Scripture. I know you're busy, and I know there are so many distractions every day that make getting into the Bible difficult. Bible Road Trip™ is designed to allow you to be able to spend time going through Scripture with your kids–without having to do a ton of planning or research first.
The Bible Road Trip™ Bible Memory Verse Cards will continue the learning for your family. Just print them and cut them out, and you have the memory verses for the year right at your fingertips! You can work through the verses for each week as you're having a meal, running errands (with an older child reading the card), or during your morning Bible Road Trip™ time! Your kids will always remember the time they spent memorizing with you. More importantly, they'll remember the Word of God.
How does Bible Road Trip™ approach Scripture? Are you really a Christian?
I think questions about my perspective and the perspective of Bible Road Trip™ are completely fair. I hold to the truth testified to by the Bible that Scripture is the inerrant, infallible, inspired Word of God.
The curriculum is written from an orthodox, Protestant viewpoint. That's orthodox with a small "o", as in conforming to the creeds and beliefs of the early Church. You can find my statement of faith here. I hold to a Reformed view of theology.
However, Bible Road Trip™ is written as a survey of the Bible with an emphasis on God's sovereignty, His plan for salvation, Christ's presence throughout Scripture, and mankind's relationship with God. There are areas of Scripture that respectable theologians throughout history have not agreed upon. (Eschatology, for instance.) I clearly identify those areas in the discussion questions and introduction for each week and leave room for parental teaching. My goal isn't to convince your children that the second half of the book of Daniel is only to be interpreted one way. My goal is to point to the Scriptural truth that Christ is risen, He is returning, and we need to prepare. In areas where the interpretation of Scripture in the last 200 years has veered from the interpretation of Scripture for the first 1800 (or more, in the case of the Old Testament) years of Church history, I chose to write from the historical perspective. The resources used for Bible Road Trip™ are in line with my statement of faith and with the orthodox, historical, Protestant perspective.
What is a Notebooking Journal?
A notebooking journal is a way for students to record their thoughts, narrate the information they've learned, reinforce important facts and ideas, and to illustrate their work. Notebooking journals are often open-ended, with much freedom given to record thoughts.
Bible Road Trip™ notebooking journals allow students to narrate what they've learned in a written and artistic manner. The journals are presented at three different levels, from grades 1-9, with additional writing space in each level. You can absolutely use the Dialectic (grades 7-9) Notebooking Journals for the Rhetoric level (grades 10-12). In fact, I've heard from a number of adults who are doing the Rhetoric level program and using the Dialectic journals for their own Bible study. However, by high school, students may wish to take additional notes or structure their notes to their own preferences. You can choose either option for your high school students.
For more information on notebooking, check out NotebookingPages.com. Debra gives an excellent explanation.
What skills does notebooking develop?
Notebooking provides the opportunity to develop skills in the areas of handwriting, written narration, reading comprehension, pre-writing ~ notetaking and organization, reading comprehension, and research.
How can I check out Bible Road Trip™?
You can sign up below to receive the Year One Bible Road Trip™ Sample Pack. After you've downloaded your pack, I'll give you a few days to explore the curriculum, then I'll email you with more information.
Or, you can purchase the full-year PDFs here. These are convenient, can be stored on your computer or tablet, and can be printed all at once. Learn more about Bible Road Trip™ Year One here.
Join the newsletter
Subscribe to download the exclusive Bible Road Trip™ Year One SAMPLE PACK!
Why are the Bible curriculum and notebooking journals separate?
I'm often asked why all of the notebooking journals are not included in the purchase of the full year-plan curriculum. Friends, the full-year curriculum PDFs range from 480 to 600 pages. The different notebooking journals are anywhere from 235 to 375 pages of material. They are separate resources and must be purchased separately. Alternately, subscribers may download the weekly units as desired.
Can I see the Bible curriculum and notebooking pages before I purchase them?
Yes! You can subscribe to Thinking Kids and receive the Year One Sample pack.
Where do I buy the formatted full-year Bible Road Trip™?
You'll find everything organized by Year at The Bible Road Trip™ Store.
How should I store and use Bible Road Trip™?
The Curriculum:  Some people store the Bible Road Trip curriculum on their computer or tablet and access it digitally each day as they teach. I'm pretty hands-on, so I printed each year's curriculum duplexed (double-sided) on regular paper, 3-hole punched it and stored it in a 2 inch binder. The curriculum is too big to have an office store spiral bind (even double-sided), but you could always have them divided it into two semesters and bind it that way. Don't forget to print an extra cover if you choose that route.
The Notebooking Journals:  My suggestion for the notebooking journals is to print the pages double-sided (duplexed) with the turn on the long side. I like to print in full-color on "Best Quality" to allow my students to fully appreciate the fine art. My middle school children enjoy writing in pen, and to allow for double-sided full-color printing with pen as the writing implement, I prefer to print on cardstock. This prevents much bleed-through from the other side. My favorite cardstock for laser printing is this one: Neenah Premium Cardstock, 96 Brightness, 65 lb, Letter, Bright White, 250 Sheets per Pack (91904). I really like the smooth finish of the cardstock and the way it holds the ink. I like to take my copies to the local copy center (FedEx for me) and have them spiral-bound with a clear plastic front and hard plastic back. For this, my cost is generally around $6 a journal. I appreciate the solid quality of the bound notebook, it's easy to open and write on, and compact for storage. The journals printed and bound in this manner take on a permanent, heirloom quality. For the Year Three Dialectic level journals, I had to split the journals in half and bind them by semester (they're pretty thick). That said, you can always print the notebooking pages single-sided, 3-hole punch them and put them into a regular 3-hole binder.

Join the newsletter
Subscribe to download the exclusive Bible Road Trip™ Year One SAMPLE PACK!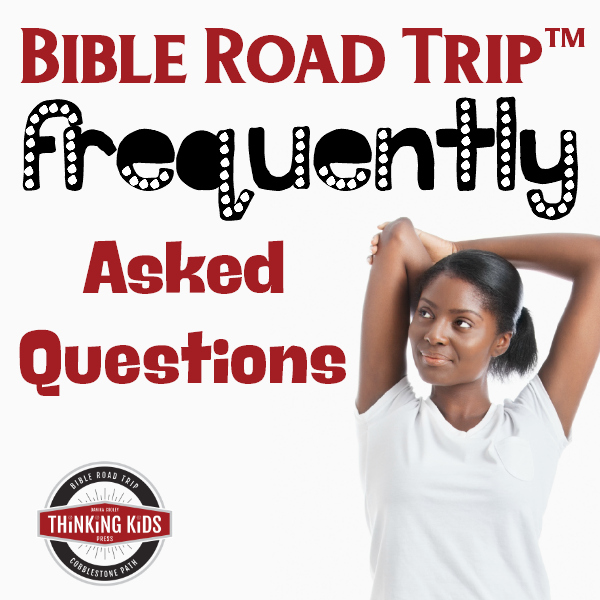 Join the newsletter
Get the Family Prayer Box Project FREE!
Teach your children to pray with this fun project that includes 7 printable sets!