Your teens will love this interesting Thomas Chalmers biography on the Scottish preacher of the 19th Century.
---
Thomas Chalmers (1780-1847) was an interesting figure.
A preacher in the Church of Scotland, he played an influential role during the Disruption and became the first Moderator of the Free Church of Scotland's General Assembly.
Chalmers cared deeply for himself and his own career, yet he later came to care deeply for the poor, unevangelized, and cast aside. Even if he had not played such an important role in the history of Scotland and the wider world through his prolific writings and the missionary work he inspired, Chalmers would be a fascinating character study.
---

---
Thomas Chalmers Biography
Sandy Finlayson has written a biography on Thomas Chalmers (EP Books, 2015) that is a great fit for middle and high school students. Mr. Finlayson is the Library Director and Professor of Theological Bibliography at Westminster Theological Seminary in Philadelphia. He is also the author of Unity and Diversity: The Founders of the Free Church (Biography) (Christian Focus, 2010). Incidentally, Linda Finlayson, Sandy Finlayson's wife, is the author of a number of fabulous books for kids, a few of which have been reviewed here at Thinking Kids: Guarding the Treasure: How God's People Preserve God's Word (Biography), Wielding the Sword: Preachers and Teachers of God's Word (Biography), and Mary of Orange: At the Mercy of Kings (Trailblazers) (all Christian Focus and all excellent).
I really appreciate that Thomas Chalmers opens with a chapter on Scotland from the late 18th to mid-19th centuries. Even for students of history, it's nice to have a presentation of the issues and culture in which the biographical subject lived.
Thomas Chalmers entered the ministry with what appears (to me) to have been little concern for those in his care, or for the glory of God. Rather, he seemed to be very concerned with his own career goals and path. Through Chalmers' work with his first parish in Kilmany, Chalmers came to care about evangelism, the needs of others, theology, and the manner in which science points to God.
Chalmers became an advocate for reform within the system of the church and for social justice. He was gifted as an administrator, and an engaging preacher. He carried these concerns and abilities with him through appointments to parishes at Tron, St. John's, and his role as Professor of Moral Philosophy at St. Andrew's University. He was a prolific author as well.
Even so, Thomas Chalmers was unyielding in his pursuit of the administrative and philosophical reforms he felt were correct. In advocating for financial and structural reform within the church, Chalmers was often harsh toward anyone who opposed him, regardless of any friendship that may have existed.
I think the story of Thomas Chalmers is an interesting cog in the wheel of Church history, but I also think his life makes a great character study. Sandy Finlayson's book will be beneficial to anyone wishing to have a conversation with older students about grace, unity, personal ambition, progressive sanctification, and social justice.
---
Thomas Chalmers would coordinate well with studies involving
Scotland

The 18th and 19th Centuries
Social Justice
Unity and Grace
Personal Ambition vs. God's Glory
---
Purchase Thomas Chalmers  
I'd like to thank EP Books for giving me a copy of Thomas Chalmers by Sandy Finlayson in return for my honest review.
---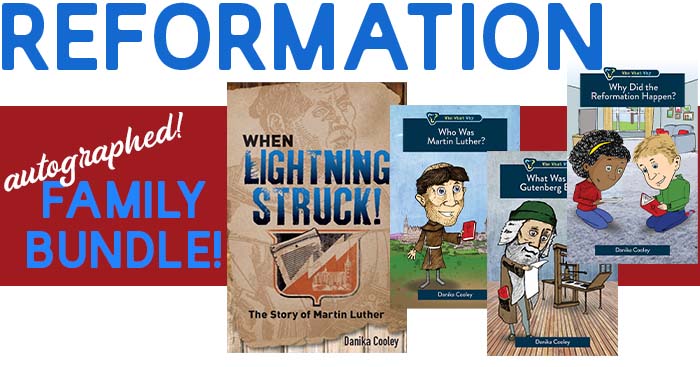 Your kids will love the Who What Why Reformation series with illustrated narratives for 8-11 year olds.
And, Martin Luther's young adult historical fiction story makes the perfect family read aloud!
Grab the autographed Reformation Family Bundle!
---
Martin Luther and the Reformation
Teach your teens about Martin Luther and the Reformation in an exciting, new way with When Lightning Struck!: The Story of Martin Luther!
Martin Luther (1483-1546) is often referred to as "The Father of the Reformation". Born during a time of superstition, tradition, and spiritual corruption, Luther gave up a lucrative career as a lawyer to become a monk in the Roman Catholic Church–a path he felt would certainly lead to salvation.
As Luther's understanding of the spiritual corruption within the Church grew, and he despaired of true salvation, Luther (now a scholar and priest) sought the Bible for answers. Following his discovery of the true gospel in Scripture, Luther began to preach spiritual freedom to his congregation, and to teach biblical (rather than philosophical) theology at the University of Wittenberg.
It was on October 31, 1517 that Martin Luther penned his Ninety-Five Theses in Latin in response to the abusive indulgence sales practices of the monk Johann Tetzel in a nearby town. Luther nailed the Theses to the door of the Wittenberg Castle Church, the scholarly bulletin board of his day, and mailed a copy to the Archbishop of Mainz. Luther hoped to start a scholarly debate about the practice of selling salvation through plenary indulgences. The response he received was greater–and more dangerous–than he imagined it would be.
Luther's story is exciting. There are death defying moments, epic spiritual battles, narrow escapes, a kidnapping, revolution, and war. As the "Father of the Reformation", Luther is a vital figure in Church history. His sacrifice and willingness to wage battle against the spiritual, religious, and political powers of his medieval world allowed Christians throughout time to embrace the truth of salvation by grace alone through faith alone in Christ alone as explained by Scripture alone once again. May all glory be to God alone!
Read portions of the first eight chapters of When Lightning Struck!:
---
More Thinking Kids Posts You'll Love!
---
Join the newsletter
Get the Family Prayer Box Project FREE!
Teach your children to pray with this fun project that includes 7 printable sets!