As our boys get older, part of our goal in discipling them for Christ is to help them become aware of current events, and to see these events through a Christian worldview. We've developed a simple routine for our studies in current events. It takes about a half hour of our weekday mornings, so we do it over breakfast. That way, we don't interfere with our school day, we have time for discussion, and on the days when Dad is home, he can guide the discussion. (We eat pretty early in the morning, but sometimes he works much earlier.)
I'd encourage you to take the time to help your middle school and high school students understand the news from a biblical perspective now, while they're at home. You can do this regardless of how your children are schooled.
Our Morning Routine
---
It's happening NOW! Bible Road Trip™ takes your family, preschool through high school, takes your family through Scripture in just 3 years.
---

Our kids love watching CNN student news every morning. It takes just 10 minutes. I appreciate the fact that the anchor, Carl Azuz, is cheerful and fun. I also appreciate the fact that the news is edited for middle and high school students. The news is carefully explained so that kids will understand the issues behind current events. For instance, last week there was a news section on the allied offense on ISIS. Kids learned what ISIS stands for, what they are doing (in a non-frightening, appropriate way), why ISIS is a global security threat, and how allied nations are working to control the threat.
CNN Student News is not a Christian newscast, and there are sometimes segments we don't agree with. I love the fact that we can stop the broadcast and discuss the worldview involved, and how we feel worldview and ethics influence the presentation. Our goal has never been to insulate our children from the world, but rather to train them to live in the world.
You can watch CNN Student News from any internet-enabled device. We use our Samsung Galaxy Tab 4. Ours is a 10-inch screen, but I think 7-inches would work well, and it's quite a bit less expensive. You can use a computer, laptop, or wifi-enabled TV as well. We just find that the tablet works well for us at the mealtime.
2) Albert Mohler's The Briefing
The Briefing by Albert Mohler is a 20 minute podcast. We listen on our tablet from his page on SermonAudio. Dr. R. Albert Mohler Jr. is the president of The Southern Baptist Theological Seminary. Each weekday, he chooses several news events and comments on them from a biblical perspective with the goal of helping listeners develop a Christian worldview.
Our kids are growing into this activity. Dr. Mohler's podcast is aimed at adults, so there are times when my middle schoolers glaze over a little. The subjects can be advanced and Dr. Mohler speaks quickly. I do think that stretching kids a little is worthwhile, and I know that familiarity with the podcast will help them develop a greater understanding over time. You'll want to use your parental discernment with your own children.
Additional Resources
The following resources are used by our family a few times a week or month, in our free time.
We enjoy Todd Friel's Wretched Network on YouTube. Mr. Friel takes on diverse subjects from theology, Christian history, and evangelism to worldview and current events. His broadcasts are about three times a week, of varying lengths. We watch the ones that are appropriate for our kids.
We watch YouTube broadcasts on a full screen mode (again on our tablet). This prevents unrelated and undesirable posts from showing on the screen. (Some advertised YouTube videos have terrible screenshots.)
WORLD TEEN Magazine comes 5 times a year. A subscription gives families access to weekly emails, as well as a tablet app that's available. My boys love perusing these age-appropriate news articles and commentaries on their own. We trust the news team at WORLD and appreciate having this resource available.
My husband and I subscribe to WORLD, a Christian bi-weekly magazine. I appreciate their theologically conservative viewpoint and the frequency of the magazines. My boys love the sections on culture, the political cartoons, and news blurbs. One of my boys reads the magazines from cover-to-cover. I actually have to request they return them each evening so I can have a chance to read them!
* * *
That's how we're studying current events in middle school from a biblical perspective. I hope it will help prepare our kids to examine and interact with the world, keeping God's Word as their filter. I also hope you found a new resource or two for your family.
How do you study current events as a family?
Want to share the story of a man fought for the truth of Scripture with your middle and high school students? Check it out!
More Thoughts on Parenting
Five Things That Occur When I Complain About My Children
5 Questions to Ask When Making Parenting Decisions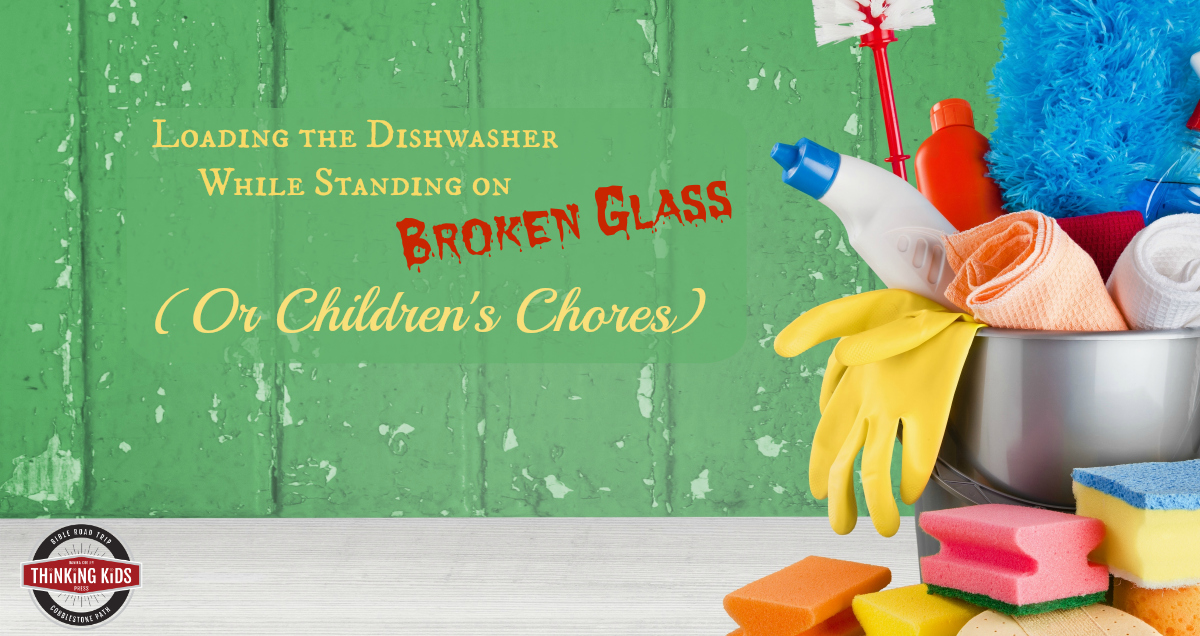 Loading the Dishwasher While Standing On Broken Glass (Or Children's Chores)
Image: Luck in the Moment, 1874, Augustus Edwin Mulready (1844-1904), Public Domain
Join the newsletter
Get the Family Prayer Box Project FREE!
Teach your children to pray with this fun project that includes 7 printable sets!