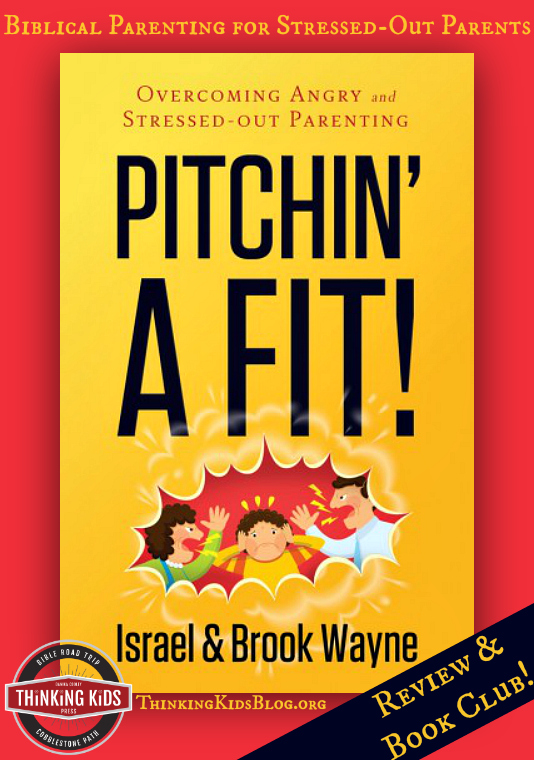 I want to thank New Leaf Press and Cross Focused Reviews for providing me with a copy of Pitchin' A Fit in return for my honest opinion.
John Crysostom (347-407), an Early Church Father and theologian, once said: "No matter how just your words may be, you ruin everything when you speak with anger."
Ouch. Have you ever looked into little, wide eyes and realized that your important parental correction–that teachable moment–is ruined because of the tone of your voice, the volume of your speech, or the words you've spoken? Can you relate to pitchin' a fit?
I know I have seen that look of pain on my child's face, and I've been horrified at my own behavior. To be honest, my anger and the pain in my relationships drove me to the cross of Christ in repentance and grief. I'm so glad it did! The salvation that comes through the atoning blood of Jesus Christ through the grace of God didn't instantly remove my anger. Sanctification has been a long process for me, and I'm always surprised now at the patience and peace I find in my heart–I know it surely has not come from me, but from the Prince of Peace Himself.
Pitchin' A Fit!
Israel and Brook Wayne's new book, Pitchin' a Fit!: Overcoming Angry and Stressed-Out Parenting (New Leaf Press, 2016) is a valuable book for parents struggling with anger and overwhelm. In twelve manageable chapters, the co-founders of Family Renewal and parents of nine children address whether angry parenting is truly biblical, whether it's effective, and how to identify tempting situations. They also discuss the value and source of patience, a different way to parent, and how to get help with parenting in anger.
As a parent who had anger modeled in my childhood, who struggled deeply with angry parenting as an adult, and who has overcome anger (though I must watch for it every day, as I find that the sin that crouches at my door tends to be the same sin time after time), I was really happy to see that Mr. and Mrs. Wayne wrote of issues, verses, and solutions that mirrored the journey the Lord has led me on. Their advice isn't a quick fix, but it is very sound. And it's rooted in Scripture.
If you're struggling with angry, stressed-out parenting, I highly recommend Israel and Brook Wayne's book, Pitchin' A Fit!. I'd also love to have you join a group of fabulous family discipleship bloggers and some wonderful friends for a three month book club in the Family Discipleship group on Facebook, based on Pitchin' A Fit!. Israel Wayne, and perhaps Brook too, will be joining us. We'll begin April 1st. (See below for group information.)
Pitchin' A Fit! Chapters:
Stressed Out and Overwhelmed
Is It Wrong to Get Angry?
What Causes Anger?
Provoking Our Children to Wrath?
Trigger Happy — What Sets You Off?
Yelling Moms, Hollering Dads
"But I'm Not Patient!"
What Patience Is and Isn't
Nurture in the Heart of Correcting
The Power of Affirmation
Creating Peace in the Home
Accountability
Listen to Israel & Brook Wayne
My friend Shaun Tabatt interviewed Israel and Brook Wayne about the book. You can listen to their discussion here.
Purchase Pitchin' a Fit!
Amazon: Pitchin' A Fit!: Overcoming Angry and Stressed-Out Parenting
Christian Book: Pitchin' A Fit!: Overcoming Angry and Stressed-Out Parenting
Join the Book Club
We'll be hosting discussions over at the Family Discipleship Facebook Group. Come on over and join us!
Check out our study schedule. The book is just 159 pages, so this shouldn't stress your schedule too much, and at one chapter a week, you'll have lots of time for prayer, meditation, and Bible verse memorization. Order a copy of the book and join us at the Family Discipleship group over on Facebook today! Please don't forget to invite your friends. You never know who is wrestling anger silently in their own home or heart.
More Thinking Kids Book Reviews
Other parenting books reviewed on Thinking Kids
Or just check out the Thinking Kids book review indexes for
Thinking Kids Pinterest Book Boards
Join the newsletter
Get the Family Prayer Box Project FREE!
Teach your children to pray with this fun project that includes 7 printable sets!