Looking for great kids books about Jesus? These seven children's books on Jesus and his life will help your family understand who Jesus really is!
---
---
When my kids were young, I really wanted to spend time reading to them from quality resources that glorified God.
Finding great Christian books for kids became sort of a passion of mine, and sparked my desire to write for Christian families. I love putting together menus (if you will) of great Christian books for kids that your family can read together!
---

---
Kids' Books about Jesus
There are lots of kids' Bible story books. But what about kids' books about Jesus? They're a little harder to find, but in the last few years, Christian Focus 4 Kids has put out some wonderful options!
I've put together a list of seven kids' books about Jesus that I'm really excited about. You'll want to check them out, then add them to your family's library. Some of these books are really meaty, and are perfect for spending a few weeks reading together.
---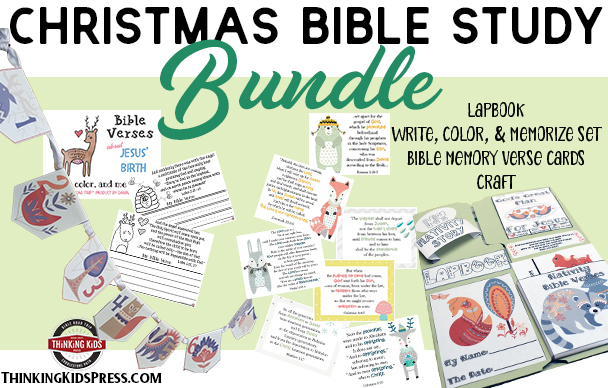 Teach your kids about Jesus with the Christmas Bible Study Bundle–and save!
---
Kids' Books about Jesus to Add to Your Library
30 Prophecies: One Story: How God's Word Points to Jesus
Meet Jesus in Mark: His Gospel in 24 Readings
Follow Jesus With Peter: His Letter in 25 Readings
Mark's Marvellous Book: Learning about Jesus through the Gospel
Jesus Rose From the Dead – the Evidence
My First Book About Jesus (My First Books)
Big Book Of Questions & Answers About Jesus
30 Prophecies One Story by Paul Reynolds ~ This is such a neat book. At 93-pages, it's not your typical picture book. Instead, it's an oversized book with beautiful graphics that covers 30 Old Testament (and a few New Testament) prophecies fulfilled in the life of Jesus. Each prophecy is covered by a two-page (sometimes four-page) spread. I highly recommend this fabulous book for your family's library. You could even use the book as a unit study for 6 weeks!
Each spread covers:

The prophecy made
The prophet and date of the prophecy
The reaction of the people hearing the prophecy
The fulfillment of the prophecy
How the prophecy fits into God's great story of the gospel
An application of the prophecy to your child
A prayer for your family to offer after reflecting on God's great story.
Paul Reynolds is the author of 66 Books, One Story which is a resource used in Bible Road Trip™. You can read the Thinking Kids review here.
---
Meet Jesus in Mark by Matthew Sleeman ~Meet Jesus in Mark: His Gospel in 24 Readings is a great book for family worship time or for bedtime with young children (ages 4-8). The book is perfectly aligned with a schedule of a short two-page reading per sitting. While the reading time should be under 10 minutes a sitting, you'll want to leave a few minutes for discussion with your children.
---
Follow Jesus with Peter by Matthew Sleeman ~ Another  great book from Sleeman, this volume covers 1 Peter a few verses at a time. Each two-page spread has an explanation of the story in narrative kids aged 4-8 can understand, a prayer, and vocabulary terms that are described for your children. The illustrations are engaging, and match the ones shown above for Meet Jesus in Mark. These two books make a great set!
---
Mark's Marvellous Book by Alan Mann ~ Alan Mann's 160-page Mark's Marvellous Book is fabulous. It's fun, each chapter is a readable bedtime or family worship section, it's contemporary, and it's true to the scripture covered. I highly recommend this resource for families with young kids, and as a gift for birthdays. It's that great.
---
Jesus Rose from the Dead by Catherine MacKenzie ~ "If you were to go out into the street with a questionnaire to find out what people thought about truth you would get a variety of answers. Some people think that the truth doesn't really matter. They think it's all right for one person to believe one thing and another person to believe something entirely different. But the meaning of the word truth is important. Truth is the opposite to lies. Sadly many people today instead of believing the truth about Jesus Christ, actually believe the lies that are told about him. So what do you believe about Jesus Christ? Do you believe he rose from the dead? This book will help you find out the truth – and how this truth is not only amazing – it also makes sense!"
---
My 1st Book about Jesus by Carine MacKenzie ~ "Children want to know about Jesus. They flocked to him in the past and they still do today. Little books like this will help them to understand the truth about Jesus, about who he is and what he has done for them. With key Bible verses as the focus this book shows Jesus throughout scripture. We see him as he was and is and will be. Encourage your children to make friends with the friend of sinners, the Saviour of the world and the Lord of Glory. As they soak in God's word, pray that they will, with the power of the Holy Spirit, find a true and eternal relationship with Jesus Christ and that he will, truly be theirs."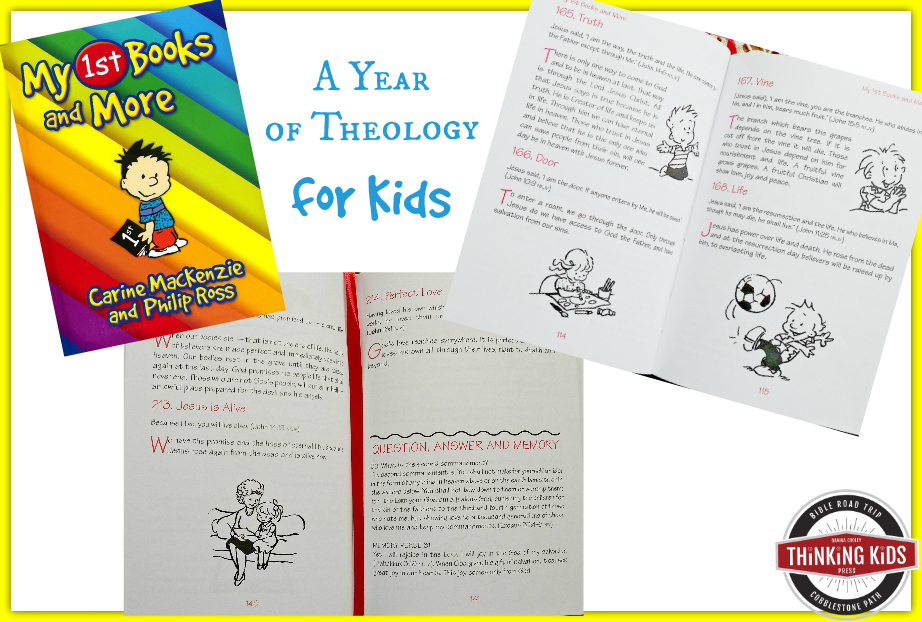 ---
Big Book of Questions and Answers about Jesus by Sinclair B. Ferguson ~ "Following on from the success of the original Big Book of Questions and Answers, this book tackles the many questions that children have about Jesus, including: What was special about Jesus? Why did Jesus heal sick people? Why did Jesus have to die? How can I give my life to Jesus? An answer is given for each question, accompanied by a page of reading and a memory verse. To help the children take the message on board there are activities and suggestions for discussion. Prayers are also given to encourage them to bring every aspect of life to their Heavenly Father. An invaluable tool for introducing children to Jesus and helping them to get to know Him better, in an enjoyable and interactive way." Also, check out Ferguson's Big Book of Questions & Answers: A Family Devotional Guide to the Christian Faith.
---
---
Whatever you choose, you're bound to be pleased with these wonderful kids' books about Jesus.
---
Your kids can learn about the Bible, who God is and more with this fun daily devotional for kids. With 12-months of Bible verses calendar printable sheets, your family will concentrate on a monthly focus. There are six days of reading each week, each day with it's own focus within the monthly theme.
Your 12-month Bible verse calendar has themed devotions focusing on:
The Bible
Love
The Church
Resurrection
Jesus
Prayer
The Holy Spirit
The Fruit of the Spirit
Salvation
Our Father
Thanksgiving
Advent
Want a sample calendar? Grab your free Christmas Advent calendar here.
---

Christian Biographies for Kids | Christian History for Kids | Theology for Kids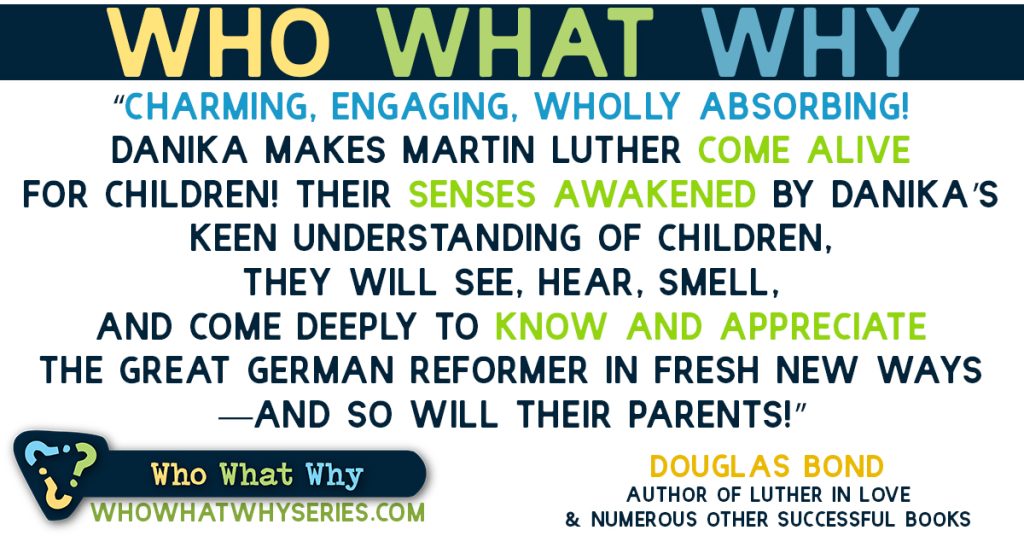 "As for the saints in the land, they are the excellent ones, in whom is all my delight." – Psalm 16:3, ESV  
Christian History Matters for Our Kids.
History matters. Now, more than ever, we see how important it is for our children to know and understand history and the Bible.
Here's why:
God is the sovereign ruler of all things. It's important for our kids to see his hand in the history of nations and in the lives of both peasants and kings. 

Christian history is the story of our family history. Our kids get to see how people who love Jesus follow him.

Understanding history can help our kids learn historic and biblical theology. They learn what the Bible says and what that means for us. They also see when the study of Scripture has taken important turns that have changed the Church.   

Reading Christian biographies and history can be a wonderful way for kids to think outside their own time and culture. God's Church spans centuries and includes people from every nation.    

Christian biographies help kids consider their own faith, walk with Jesus, and the impact their witness may one day have on others–and on history. 
Elementary-aged kids need middle grade resources that are fun, a little sassy, and that teach valuable lessons. 

The Who What Why Series is the perfect resource to teach your kids about history, while helping them apply biblical truths to their lives today.
---
More Thinking Kids Posts You'll Love
---
Join the newsletter
Get the Family Prayer Box Project FREE!
Teach your children to pray with this fun project that includes 7 printable sets!