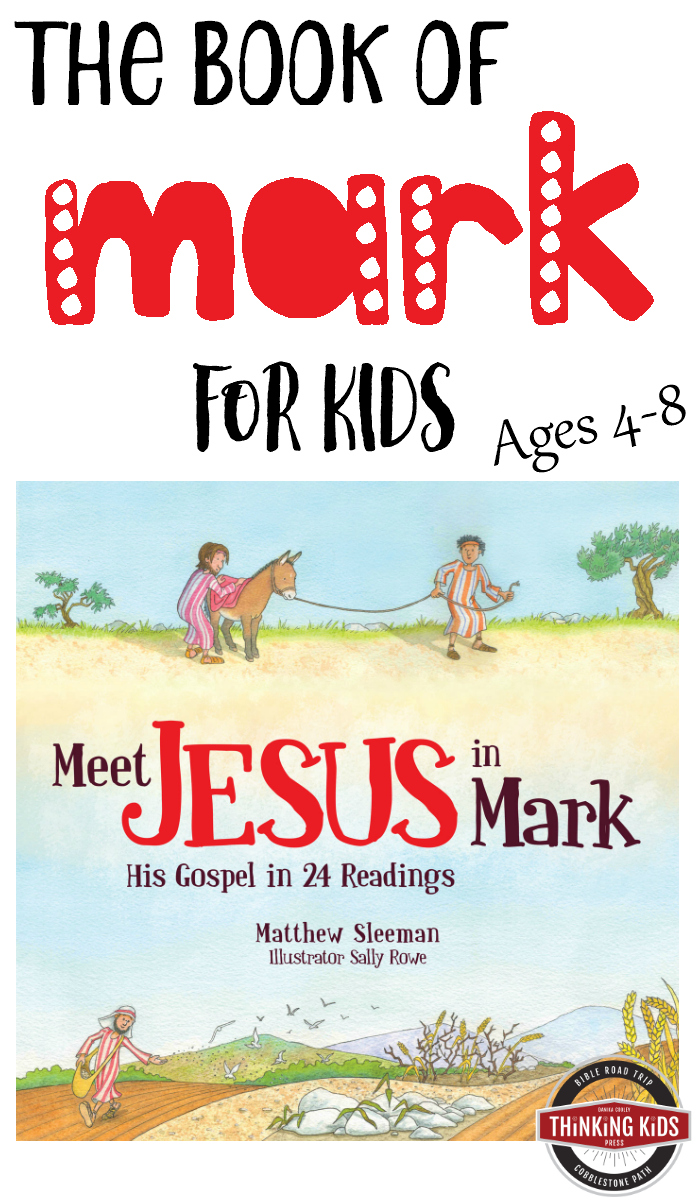 I want to thank Christian Focus Publications for providing a copy of Meet Jesus in Mark in return for my honest opinion.
The book of Mark for kids is a lofty topic for a picture book. Most Christian picture books cover a topic (like my book Wonderfully Made), or an annotated Bible story, but a whole book of the Bible?
Christian Focus Publications has covered the book of Mark for kids not once, but twice! Mark's Marvellous Book by Alan Mann published in 2015 and is wonderful for younger children. Matthew Sleeman has a new book out which is perfect for elementary school children and family read alouds!
The Book of Mark for Kids
Meet Jesus in Mark: His Gospel in 24 Readings by Matthew Sleeman (Christian Focus Publications, 2017) sequentially covers the book of Mark in 56 pages. Each two-page spread retells a passage of the book of Mark, offers a short prayer, and explains a few vocabulary words from the story.
Matthew Sleeman's retelling of the book of Mark for kids offers a clean, succinct narrative. Children will remaining engaged for three or four paragraphs of story as they learn more about Jesus and his story.
The prayer following the story offers explains the purpose for the prayer and then gives a short prayer.
The vocabulary section explains each work or phrase in a paragraph. Matthew Sleeman covers such concepts as: life, sin, hell, treasure in heaven, the Mount of Olives, and the master of the house. These are concepts that can be difficult for young children to understand, and knowing what they mean can help unlock the Bible narrative.
Each spread has charming illustrations by Sally Rowe.
---

---
Meet Jesus in Mark: His Gospel in 24 Readings is a great book for family worship time or for bedtime with young children. The book is perfectly aligned with a schedule of a short two-page reading per sitting. While the reading time should be under 10 minutes a sitting, you'll want to leave a few minutes for discussion with your children.
---
Purchase Meet Jesus in Mark on Amazon
---
More Bible for Kids from Christian Focus
---
The giveaway is an electronic raffle. The more entries you get, the better your chances of winning!
Giveaway ~ Ends 11/13/17
This giveaway ends November 13, 2017 at 11:59pm PST. Must be at least 18 years of age. U.S. entrants only.  Selected winners will have 48 hours to respond to email notification to claim their prizes or another winner will be drawn.  Please be sure to read the Terms & Conditions upon entering the giveaway.
Meet Jesus in Mark
---

---
Join the newsletter
Get the Family Prayer Box Project FREE!
Teach your children to pray with this fun project that includes 7 printable sets!