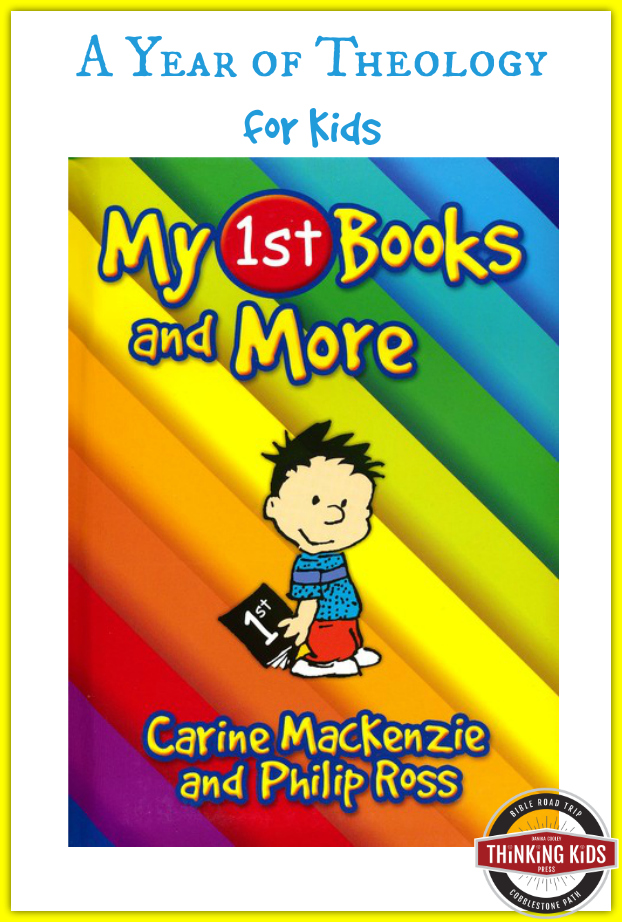 I want to thank Christian Focus 4 Kids for supplying both a review copy and a giveaway copy of My 1st Books and More.
Are you looking for a resource to teach your kids theology in just a few minutes a day? My 1st Books and More by Carine Mackenzie and Philip Ross (CF4K, 2016) is an excellent resource; it's a year of theology for kids, easily used in small chunks at family worship, morning devotions, or bedtime.
The 262-page book is divided into nine topical sections, with 371 short daily sections and a weekly question, answer, and memory verse section. It's the perfect way to introduce your kids (from preschool through elementary–or even middle school) to biblical theology.
 Each daily section addresses an aspect of the topic being addressed. The sections include a verse or short passage in ESV, NIV, NKJV, or KJV, and a short explanation of the concept in language that is both understandable and relevant to children. You are encouraged to look up the verse in the Bible version of your choice and read the accompanying passage as time allows. About every seven sections (so once a week), there is a short Question, Answer and Memory section with two or three questions and a verse. The idea is that this section be memorized. You can work on memorization daily as you work through the section. The back of the book has several pages of bible drawings you can copy and color in as kids memorize successfully.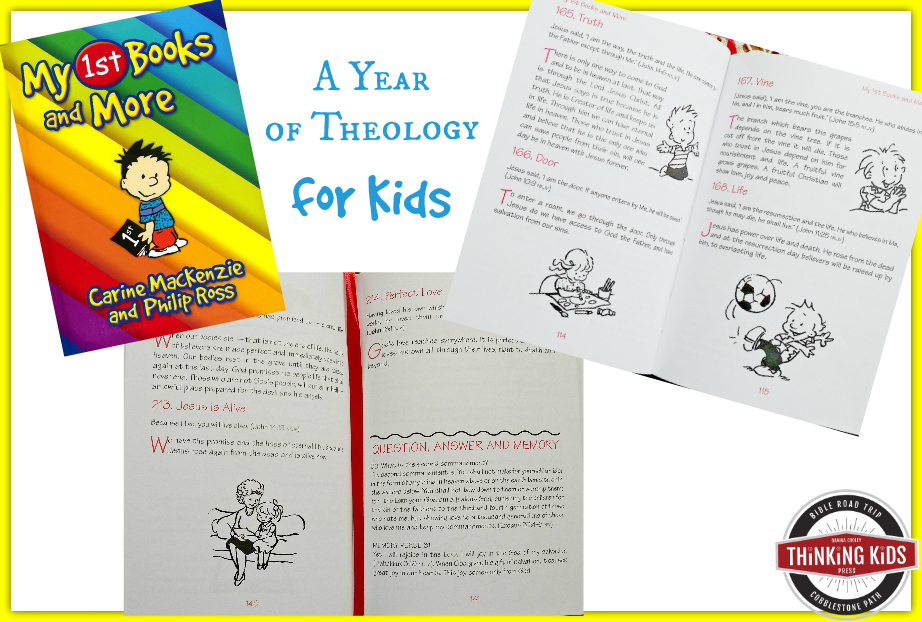 The nine topical sections cover:
Let's Think About Christian Values
Let's Think About the Gospel
Let's Think About the One True God
Let's Think About the Church
Let's Think About Jesus
Let's Think About Bible Promises
Let's Think About the Bible
Let's Think About Bible Prayers
Let's Think About the Psalms
I found the topics in My 1st Books and More to be helpful and well-organized. The writing is accessible and engaging for kids without condescension, and the theology is sound and altogether helpful. My 1st Books and More is an excellent introduction to theology for kids.
Giveaway! Ends 8/5/16
You can enter to win a copy of My 1st Books and More! This is a raffle-style giveaway widget, so each entry earns you more "tickets".
Giveaway open to residents of the U.S., age 18 and older. Winner must respond to email within 48 hours. Giveaway will end on August 5, 2016 at 11:59pm PST.
You can purchase My 1st Books and More at
Amazon: My 1st Books and More
Christian Book: My 1st Books and More
More Christian Focus books for the family reviewed at Thinking Kids:
Or just check out the Thinking Kids book review indexes for
Thinking Kids Pinterest Book Boards
Join the newsletter
Get the Family Prayer Box Project FREE!
Teach your children to pray with this fun project that includes 7 printable sets!