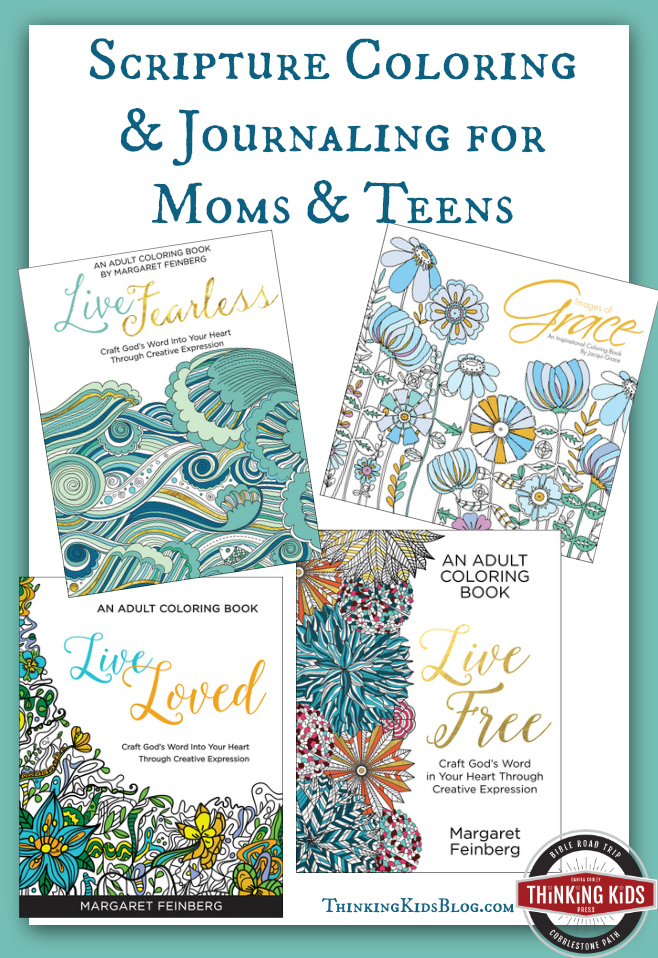 We read a lot of books aloud in our home (we're currently reading John Bunyan's
Pilgrim's Progress
). My boys really enjoy coloring in Dover history coloring books as I'm reading. But
I
haven't colored in… a long time.
I majored in art (after I dropped out of pre-med following a term volunteering in the hospital–it took me a long time to figure out what I wanted to be when I grow up). Anyway, I love art. I also love (love, love) journaling Scripture, and I'm a little compulsive about that.
My friend from Bethany House Publishers sent me Margaret Feinberg's three new adult coloring books. They looked like fun for teens during read alouds. I'm not a huge fan of coloring myself, but I love to paint. As I was flipping through the books, it occurred to me that the paper is thick enough to handle paints. There's also a ton of room for journaling.
This is a picture of Live Fearless. Isn't it pretty?
I decided to pull out my glimmery (pearlescent) watercolors, my boys' colored pencils, my Bible, and my favorite journaling pen, and set to work–just to see how I liked it.
I chose a verse from one of my very favorite passages: John 15:1-17. The verses throughout Margaret Feinberg's "Live" books alternate between 9 different Bible versions.
I have to tell you, by the time I finished two shimmering pumpkins, I was pretty much hooked. This is fun.
I went through and painted the fruit first, and I used my colored pencils to fill in the verse. In John 15:16 in the ESV, Jesus says: "
You did not choose me, but I chose you and appointed you that you should go and bear fruit and that your fruit should abide, so that whatever you ask the Father in my name, he may give it to you
. "
How cool is that, friend? He chose you! And you're to go and bear fruit. You've been appointed.
While I was painting, I listened to praise music, sang a little, and thought about Galatians 5:16-26 relates to John 15:1-17. I love both those passages.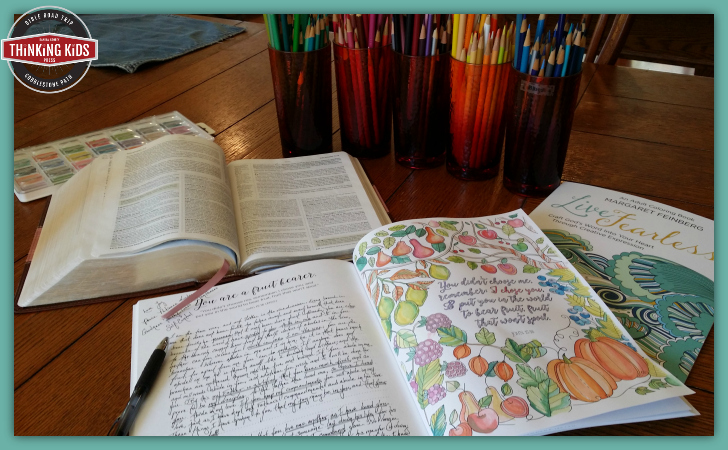 After I finished my painting, I got out my Bible and copied out John 15:1-17 from the ESV. I think it's really important to consider Scripture in context, and I've found that copying out whole passages allows me to do that well. I carry a notebook around with me just for that purpose. I also decided to write the fruit of the Spirit in the corner, as I was considering the passage from Galatians as well.
This is my final result. It was fun, and I really enjoyed myself. I was less stressed by the time I was done, too. (It's been one of those weeks–I'm sure you have them!) I think I'm hooked. I'll probably not do this in one sitting again (the whole thing took me about 3 hours), but it was a lot of fun to do, and I think I'll make a regular habit of painting a small portion at a time, and maybe memorizing short sections of the passage I'm copying as I go. I'll plan to take longer to work on a spread–it'll give me something to look forward to.
I haven't seen Jacqui Grace's
Images of Grace
 coloring book yet, but here are some images, courtesy of Bethany House. They're really sweet, aren't they?
The Coloring Books
I want to thank Bethany House Publishers for providing me with copies of Live Loved, Live Free, and Live Fearless. Bethany House also provided copies of all three of the "Live" coloring books, and a copy of Images of Grace for a giveaway (the giveaway is over now, but look for more in the future). (I'm throwing in the fun art supplies.) Take a look:
Live Loved
by Margaret Feinberg (Bethany House Publishers, 2015), 48 pages
Amazon:
Live Loved
Live Loved
focuses on Scriptures that talk about God's love for you, with great illustrations to color in and journaling pages on every spread.
Live Free
by Margaret Feinberg (Bethany House Publishers, 2016), 48 pages
Amazon:
Live Free
Live Free
focuses on Scriptures that talk about your identity in Christ, with beautiful coloring opportunities and journaling pages on every spread.
Live Fearless
by Margaret Feinberg (Bethany House Publishers, 2016), 48 pages
Amazon:
Live Fearless
Live Fearless
focuses on Scriptures that talk about trusting God's provision for you, with fun images to color and journaling pages on every spread.
Images of Grace 
by Jacqui Grace (Bethany House Publishers, 2016), 80 pages
Amazon:
Images of Grace
Images of Grace 
features whimsical coloring pages, interlaced with Scripture.
The Tools
Half the fun of coloring and painting is the supplies, right? I'm going to point you to my favorites… and I'm including one of each in the giveaway, along with a copy of each of the books above.
Amazon:
Artist's Loft Pearlescent Watercolor Pan Set
These are awesome. They're student-grade watercolors, but they spread nicely and cover well if you want them to. But that's not what I love about them. I love them because they're lightly sparkly. I think you can see the glimmer best in the top picture of the pumpkins I painted. Honestly, the sparkle makes me happy, so I figured it would make you happy too.
Amazon:
10 Piece Nylon Hair Brush Set
To use watercolors with a coloring book you need a variety of brush tip sizes, and these work nicely.
Amazon:
12 Prismacolor Premier Verithin Colored Pencils
Prismacolor Colored Pencils are excellent, and the Verithin have been developed specifically for use with adult coloring books. They have a hard core, rather than Prismacolor's usual soft core, so the sharpened tip holds a point well.
Amazon:
Prismacolor Premier Pencil Sharpener
If you use Prismacolor colored pencils, they'll need to be sharpened. This one has great reviews.
Amazon:
Uni-Ball 207 Medium Gel Pens
These are my favorite pens to journal with. They write smoothly–they don't smear or drag. I also really like the width of the tip. They're perfect. I had no idea they come in assorted colors! I thought this 8-pack of pretty ink tones would be fun to use with the coloring books. (I now have pen-envy. I haven't even sent these to the winner yet, and I'm wishing I could win! Ha!)
The Giveaway is Over — Subscribe so you don't miss the next one!
Join the newsletter
Get the Family Prayer Box Project FREE!
Teach your children to pray with this fun project that includes 7 printable sets!