Art is a big part of our family life and homeschool. When we create new works, we like to make sure we're just concentrating on what we're doing while we work. But when we're listening to read-alouds, podcasts, and sermons, or when we want to listen to music and relax, my teen boys and I tend to pick up a coloring book. We do NOT regard coloring as a meditative activity, nor do we use them in the place of Bible study. Rather, it's something creative and relaxing that can be done in a short(ish) period of time. Some families play video games–we color.
Because we all enjoy coloring so much, I've just loved the new adult coloring books that combine Scripture, journaling, and perhaps a brief devotion. Bible verse coloring pages do help me really think about the verse.
That said, I want our Bible verse coloring books to be quality. The paper needs to be think and able to hold watercolor, which is my preferred method of coloring. I've been so pleased with the young adult coloring books from Bethany House. They are perfect for using watercolors with, and I really enjoy the artwork and commentary. I'm excited to introduce you to another beautiful set of Bible verse coloring pages and devotions: Words of Grace by Jacqui Grace and Dee Arrand.
Take a look at the new Words of Grace, more beautiful coloring books for teens from Bethany House, and my favorite teen (and mom) art tools to use with Bible verse coloring pages. These are all great gifts not only for your teens (some are great for boys–really!), but also for your mom friends, and for yourself. Mother's Day is coming up!
Bible Verse Coloring Pages and Devotions for Teens (and Their Moms)
I want to thank Bethany House for sending me a copy of Words of Grace.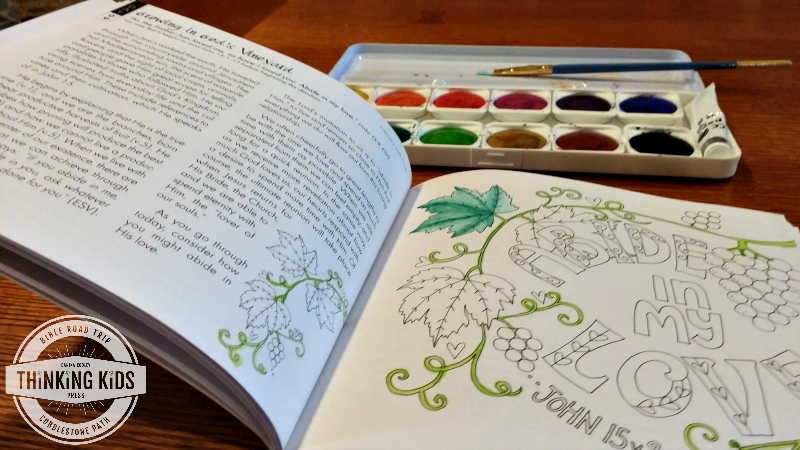 Words of Grace has a devotion and Bible verse coloring page centered on one of my favorite passages–John 15.
There are four weeks of devotions in the Words of Grace, written by Dee Arrand and illustrated by Jacqui Grace. The first week covers "Knowing Who You Are"–our identity in Christ. Week two takes on "Intimacy with God"–subjects like growth, trust, awe, and rest. The third week handles "When Life Gets Tough"–how we can trust God in our times of weakness. Week four addresses "Now This is Living"–some of the wonderful aspects of knowing Christ.
Each devotional starts with a verse, each topic is related to the Bible verse coloring pages, and contains an easy-to-read devotional. I think they're perfect for teens, and they're a nice read for moms as well.
The Bible verse coloring pages are cheerfully illustrated by Jacqui Grace. I really love her doodles–they're a lot of fun to paint or color, without being overly involved.
For the page pictured I used my sister's watercolors (she's an amazing artist), since we were in the middle of moving. They came out bright and happy. Below, I'll share with you my favorite iridescent watercolors. I figure, if cheerful is good, cheerful and sparkly is even better.
I really liked
Words of Grace.
I enjoyed the devotions and I think the illustrations are lovely. The book is a "travel size"–just 6.5 inches square. Jacqui Grace's other two coloring books are much larger with more involved pictures (see below), but
Words of Grace
is designed to be done in 28 short sessions.
I'm always picky about devotionals, and I suspect some of my readers are as well. There were really only a couple of places I thought the language could have been clarified, like the one spot Dee Arrand wrote that we ask Jesus into our hearts and the devotion on Day 20 that focused on Philippians 4:13 ("I can do all things through Christ who strengthens me…") that was about God's power rather than the Lord enabling us to be content in all circumstances.
I wouldn't hesitate to give this devotional as a gift. I think my teens would benefit from the gospel-centered devotions, and I'm sure they would be comforting and thought-provoking for my friends as they were for me. Words of Grace is a delightful little book of devotionals to color.
More Bible Verse Coloring Books for Teens (and Moms) from Jacqui Grace
Jacqui Grace has two more books of Bible verse coloring pages. They're larger than her devotional, and quite lovely. Images of Hope and Images of Grace are coloring books for teens and adults centering on Scripture. The pictures are absolutely beautiful.
Images of Hope: An Inspirational Coloring Book
Words of Grace: A Coloring Book Devotional
Images of Grace: An Inspirational Coloring Book
Prefer to purchase from Christian Book? Find the books here:
More Young Adult Coloring Books from Bethany House
Bethany House has more lovely adult coloring books for teens. I love the books by Margaret Feinberg, as they have journal pages opposite the Bible verse coloring pages so you can write out the entire passage or journal your own thoughts. The Glory of the Messiah is a will help teens (or you!) learn ways that Jesus fulfilled individual prophecies about the Messiah. The illustrations lend themselves to a masculine audience, making The Glory of the Messiah perfect for teen boys yet enjoyable for teen girls. I expect that All Things Bright and Beautiful and God's Amazing Love will also be suitable for both boys and girls; those release this fall, but you can preorder them now.
Live Loved: An Adult Coloring Book
Live Fearless: An Adult Coloring Book
Live Free: An Adult Coloring Book
Pocketful of Promises: A Prayer Journal Coloring Book
Promises of Joy: An Adult Coloring Book
Promises of Blessing: An Adult Coloring Book
The Glory of the Messiah: An Adult Coloring Book
All Things Bright and Beautiful: A Creation Coloring Book
God's Amazing Love: An Adult Coloring Book
The Beverly Lewis Amish Coloring Book
My Favorite Coloring Tools for Teens (& Their Moms)
Half the fun of coloring and painting is the supplies, right? I'm going to point you to my favorites.
Amazon:
Artist's Loft Pearlescent Watercolor Pan Set
These are awesome. They're student-grade watercolors, but they spread nicely and cover well if you want them to. But that's not what I love about them. I love them because they're lightly sparkly. Honestly, the sparkle makes me happy, so I figured it would make you happy too.
Amazon:
10 Piece Nylon Hair Brush Set
To use watercolors with a coloring book you need a variety of brush tip sizes, and these work nicely.
Amazon:
Prismacolor Premier Colored Pencils
Prismacolor Colored Pencils are excellent, and worth trying out. If you already love them, Prismacolors come in large packs too, up to 72 colors.
Amazon:
Prismacolor Premier Pencil Sharpener
If you use Prismacolor colored pencils, they'll need to be sharpened. This sharpener has great reviews.
Amazon:
Uni-Ball 207 Medium Gel Pens
These are my favorite pens to journal with. They write smoothly–they don't smear or drag. I also really like the width of the tip. The multi-color pack has lovely, bright shades.
More Posts You'll Enjoy
Join the newsletter
Get the Family Prayer Box Project FREE!
Teach your children to pray with this fun project that includes 7 printable sets!