Download this free Easter story cube is a fun sequencing activity that will help teach the Easter story to your children!
The Easter Story Kids' Game: Roll the Easter was created especially for you by my good friend Ticia Messing from Adventures in Mommydom.
~ Danika
---
Years ago when I was teaching I found a "Roll a Snowman" game.
This was back in the dark ages before Pinterest or blogs. This was back in the day when teachers would photocopy cool ideas they found from books and pass them around to each other. I know, I'm ancient. I thought it would be a fun quick activity to fill some time when the kids were too hyper to focus on anything, and I was right.
This is often the case for kids during Easter time. Kids are thinking about what will happen when they get home from church, what will be in their Easter basket, playing with their cousin who is coming over for Easter lunch.
This printable "Roll the Easter Story Kids' Game" gives kids something to concentrate on and have a bit of fun reviewing the Easter story.
Click To Tweet
So I decided to make a "Roll the Easter Story Kids' Game" to give the kids something to concentrate on and have a bit of fun reviewing the Easter story.
---

---
Roll the Easter Story Kids' Game
Check out this quick video showing you how your printable game works:
---
Roll the Easter Story Kids' Printable Game
You'll find the the download registration for the Printable Game right below this sentence! This game is FREE to Thinking Kids and Adventures in Mommydom newsletter subscribers.
---
Supplies Needed to Make Your Roll the Easter Story Kids' Game
You'll need a few supplies to make your Roll the Easter Story Kids' Game. You may have a few of these items already. If not, these are all fairly inexpensive and will serve you well for multiple projects.
8-Inch Straight Scissor

Avery Glue Stic, Washable, Nontoxic, Permanent Adhesive, 0.26 oz., Pack of 2 (00171)

AmazonBasics 92 Bright Multipurpose Copy Paper – 8.5 x 11 Inches, 3 Ream Case (1,500 Sheets)

Neenah Bright White Cardstock, 8.5

---
Preparing your Roll the Easter Story Kids' Game
It's fairly easy to create the game.
---
1) Print the Easter Story Kids' Game
Depending on how many students you are planning to be in each group playing the game, you may need to print extras of the pictures. My experience is these types of games work best with 3-4 players per die, more than that they lose attention as they wait their turn.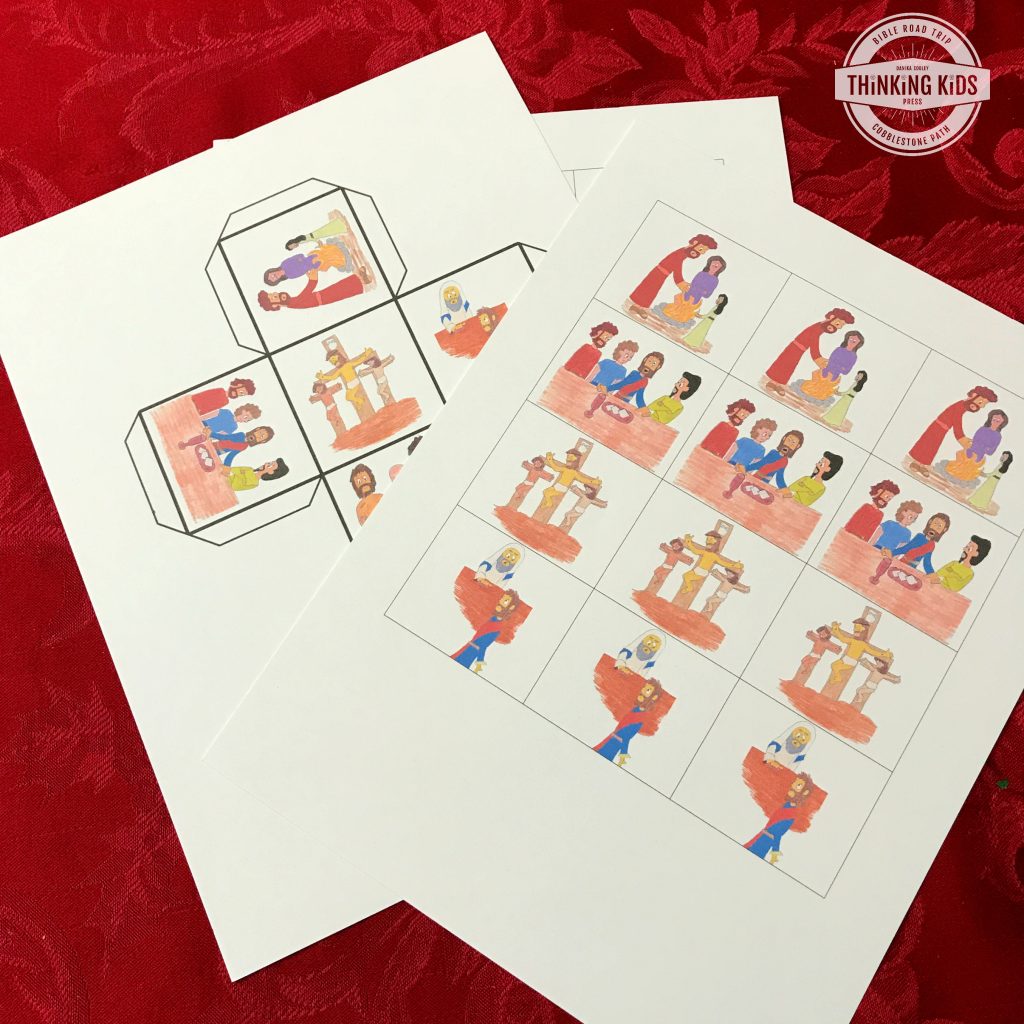 ---
2) Cut Out the Easter Story Kids' Game Pieces
I cut out the pictures using my super awesome paper cutter, and trimmed off the bigger pieces of the die using that as well. If you're planning on reusing your game pieces you could laminate them, but I've found it easier for games like this to just reprint it each year.
---
---
3) Cut Out the Easter Story Kids' Game Die
Then I finished cutting out the die with my scissors.
---
4) Fold the Easter Story Kids' Game Die
I find it easiest to prefold the die before putting glue on, that way I'm not fiddling with sticky cardstock after it's all cut out.
---
5) Glue the Easter Story Kids' Game Die
I'm a big fan of gluesticks, but rubber cement MIGHT work better here, but is a bit messier.
---
---
Let's Play Roll the Easter Story Kids' Game
It's pretty simple, on each player's turn they roll the die and pick up the picture rolled. If they already have that picture, they don't get anything. The first person to roll all of the pictures AND put the story in order wins.
---
1) Roll Your Easter Story Game Die
---
2) Take the Matching Easter Story Picture
Variation: If you roll a picture you already have, you can steal a picture from another player that you don't have. When I play this with my family we don't use this rule because it drives my daughter crazy, but it's very popular with my boys. Obviously, you know your family and your students best, so use or don't use the rule depending on how it works for you.
---
3) Line Up Your Easter Story Pictures in the Right Order
---
---
4) The First Person with All the Pictures in the Right Order Wins
---
Extending the Learning Beyond the Easter Story Kids' Game
Each year when it's time to teach Easter, I have a special Palm Sunday lesson for my Sunday School class.
We put together a family devotional they'll teach for the week leading up to Easter. Last year I was in charge of making lessons for both the older kids and the younger kids, so I made a younger kid family devotional of this lesson where they act it out.
Both versions are wildly popular because it puts the kids in charge of the family devotional and they are taking ownership of their knowledge of the Bible, and it's a different way to tell the Easter story that isn't Resurrection Eggs (at least in my church by the time they get to 4th grade they've heard it every year since they were two).
---
Ticia Messing is a former teacher turned homeschool mom. Her site, Adventures in Mommydom, is dedicated to making learning hands-on and fun. You'll find ideas to get your kids involved in learning. You can find her on Facebook, Pinterest, and Twitter.
More Thinking Kids Easter Posts You'll Love!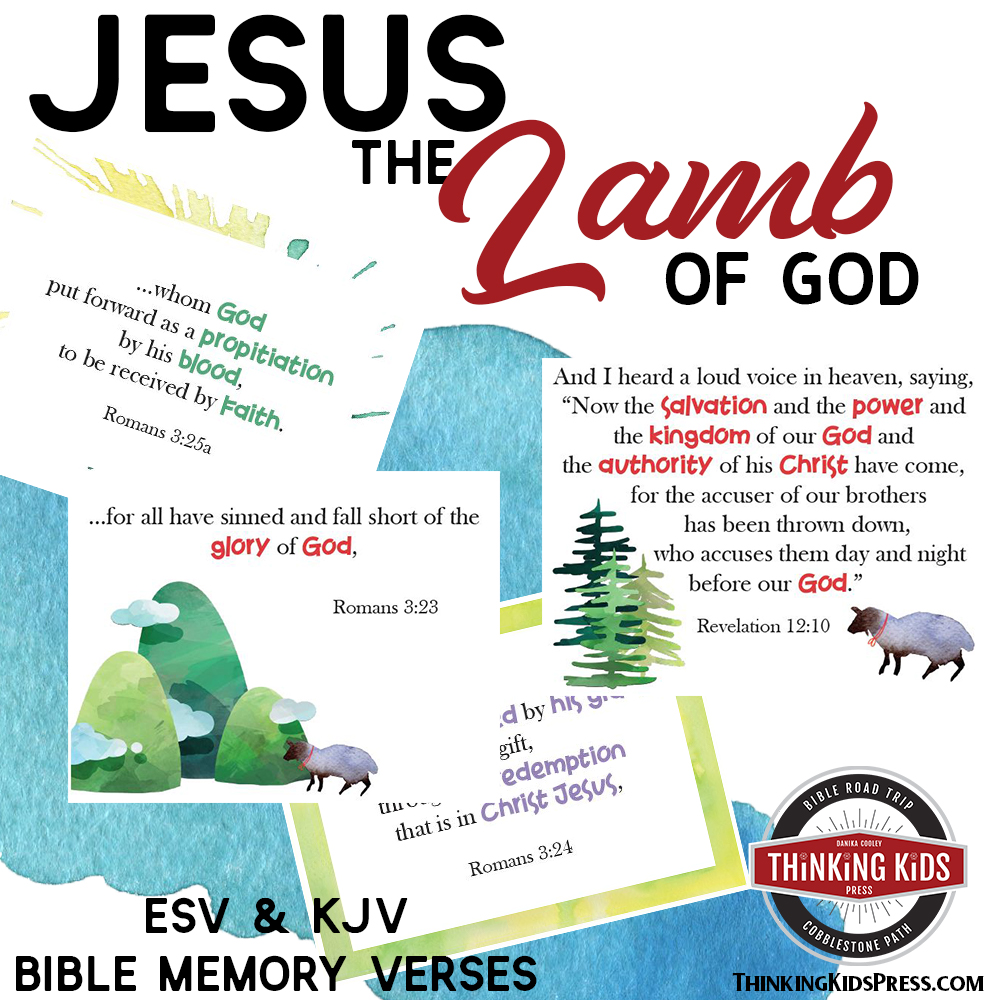 Jesus, the Lamb of God, Bible Verses for Children
Our Hope Bible Verses Bundle: Write, Color, and Memorize Bundle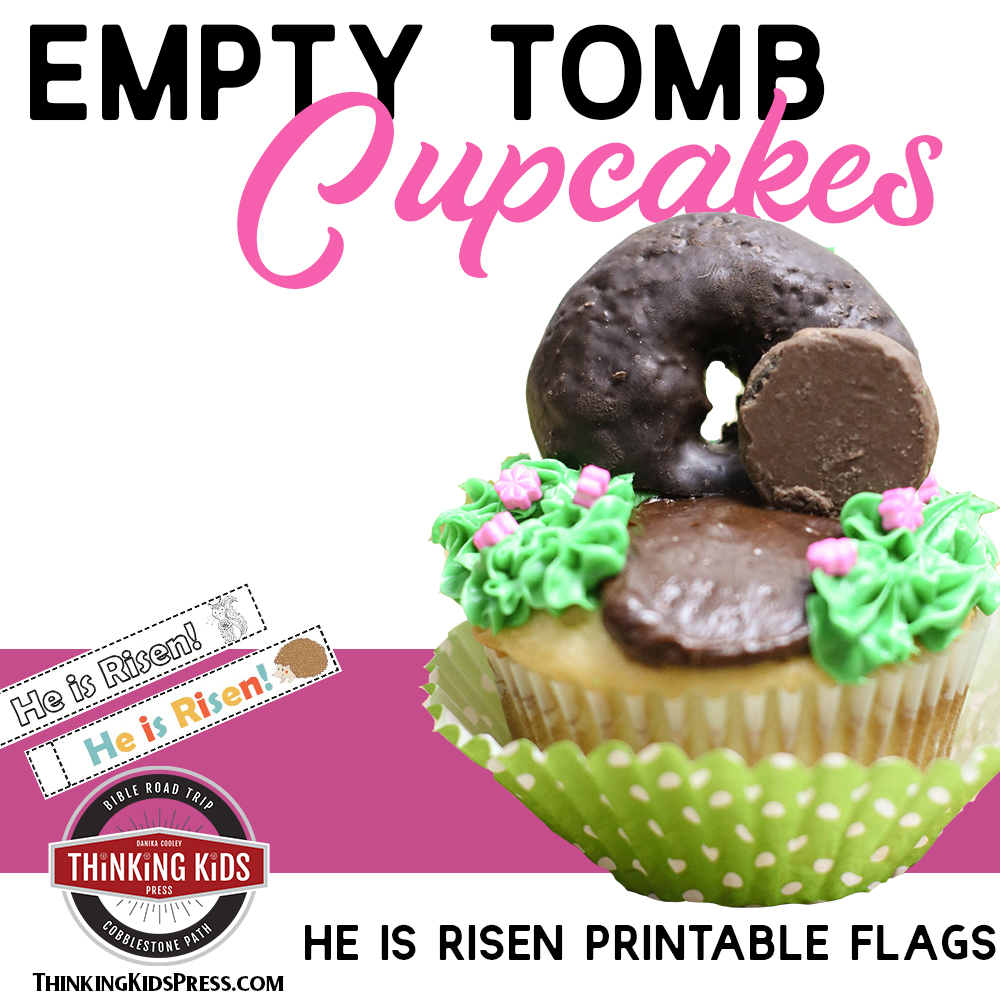 Empty Tomb Cupcakes with He is Risen Printable Flags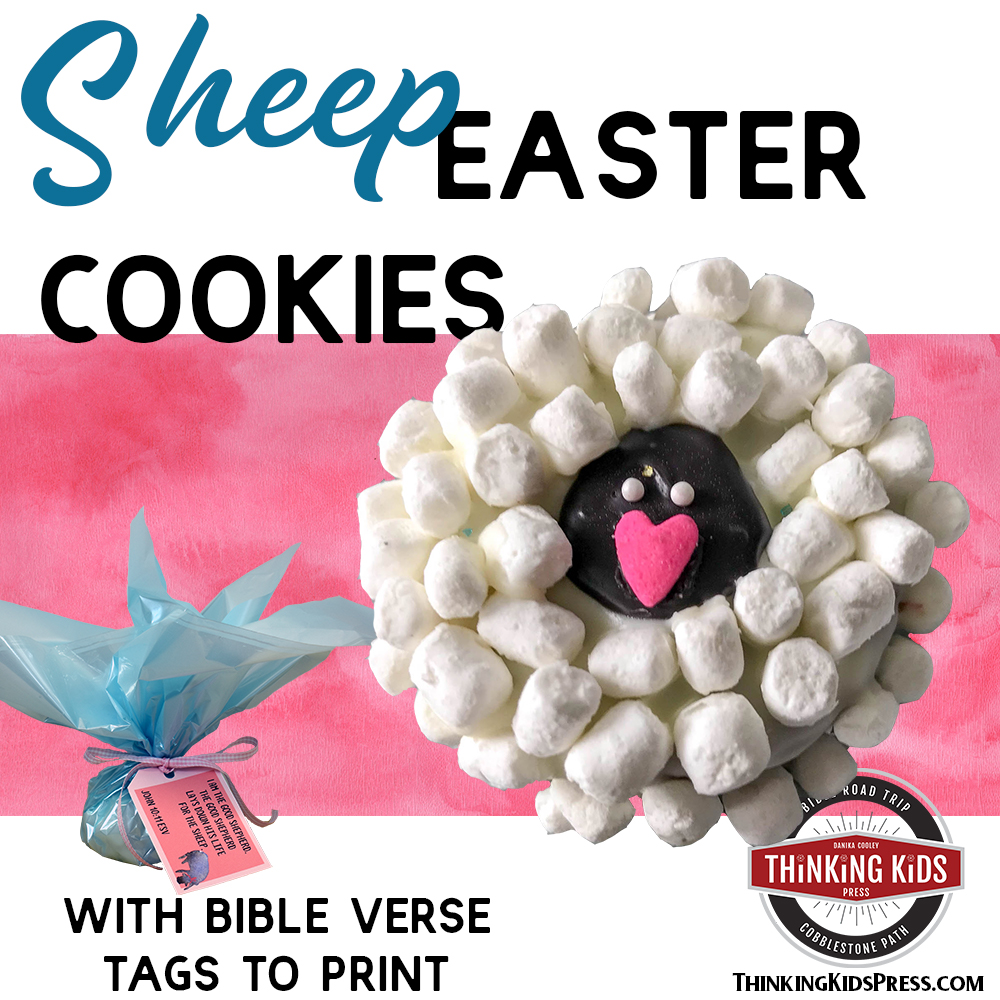 Sheep Easter Cookies with Bible Verse Tags to Print
100+ Easter Activities for Christian Kids
Easter Story Game
Resurrection Bible Verses: Write, Color, and Memorize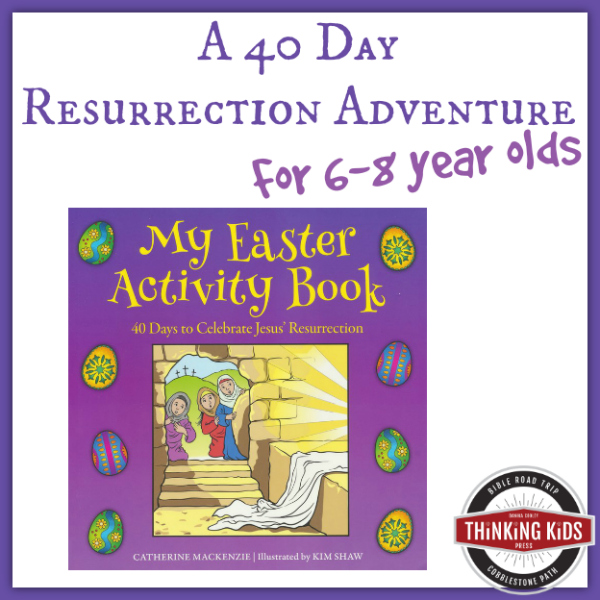 My Easter Activity Book
The Easter Story for Kids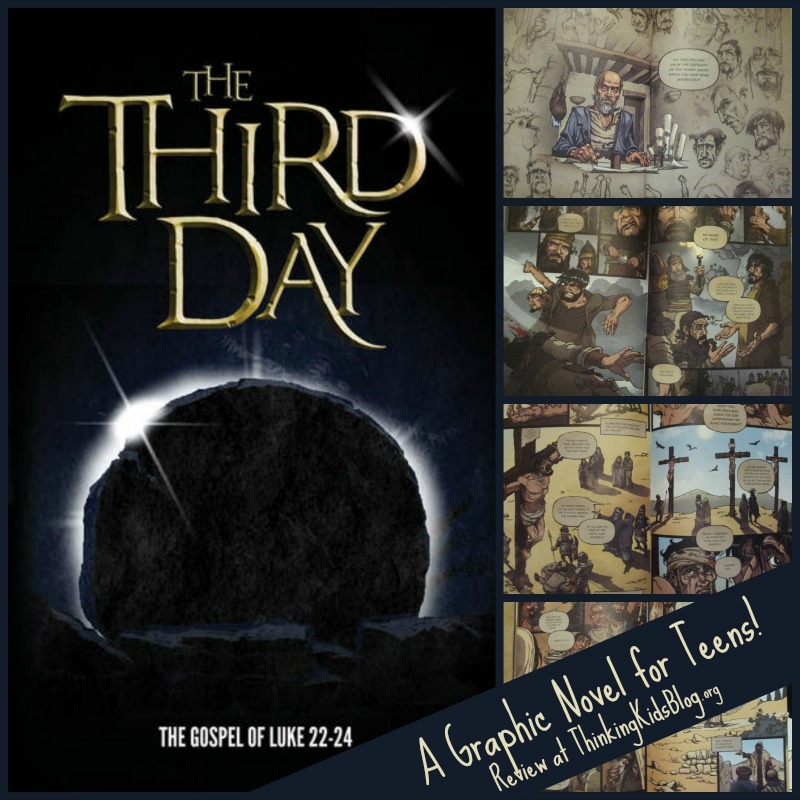 The Third Day: Graphic Novel of Luke 22-24
---
Join the newsletter
Get the Family Prayer Box Project FREE!
Teach your children to pray with this fun project that includes 7 printable sets!