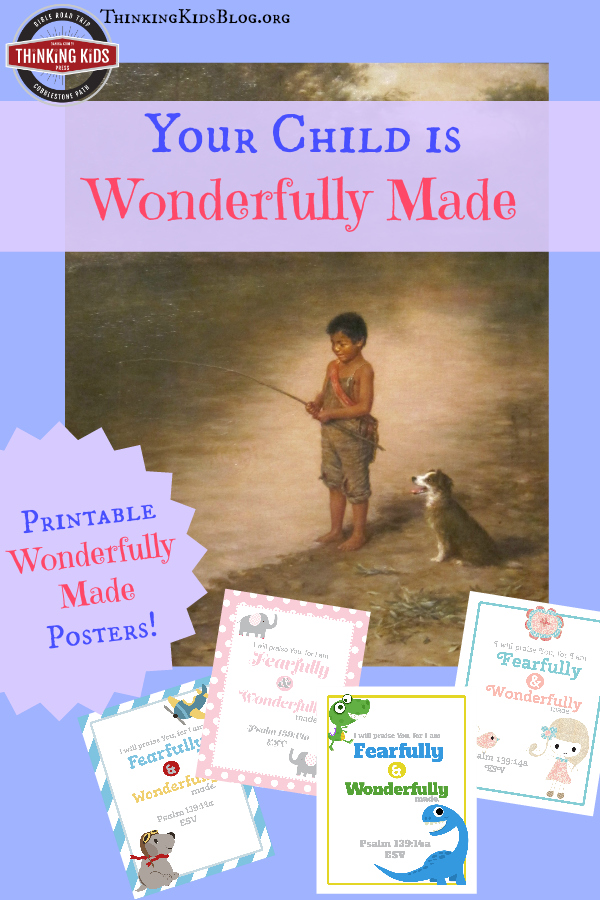 Your child is wonderfully made. Have you told them?
When I was growing up, "self esteem" was the word of the day. Kids were taught that they had value simply by virtue of their mere existence. This movement, where we (in America at least) have taught children to value themselves highly without basis has caused all manner of issues, and is truly anti-biblical. Romans 12:3 (emphasis mine) says: "For by the grace given to me I say to everyone among you not to think of himself more highly than he ought to think, but to think with sober judgment, each according to the measure of faith that God has assigned."
It seems to me that although the self-esteem movement still marches forward, there's a backlash of sorts against telling kids they have value by virtue of existence. Are we now teaching kids they have value by virtue of their achievements? I mean, if they can read at 18 months, paint at 3 years, or do gymnastics at 5, then they have value, right? Do we Christian parents sometimes assign value according to the external character our kids display–how quickly they obey, or how well they quiz on their Bible verses? I wonder what messages our new generation of children are growing up with about their value.
Your Child is Wonderfully Made
Really, children do have value–and purpose. This is a biblical fact, and we parents are responsible to teach them. The beautiful truth is that your child is wonderfully made. No matter your child's talents, limitations, color, shape, size, or temperament, your child has been uniquely and deliberately formed by the Lord of the Universe for His purpose and His glory. What an amazing truth that is!
Psalm 139:13-16 (ESV) says:
For you formed my inward parts;
you knitted me together in my mother's womb.
I praise you, for I am fearfully and wonderfully made.
Wonderful are your works;
my soul knows it very well.
My frame was not hidden from you,
when I was being made in secret,
intricately woven in the depths of the earth.
Your eyes saw my unformed substance;
in your book were written, every one of them,
the days that were formed for me,
when as yet there was none of them.
The truth is, every child is wonderfully made by God, intricately woven and knit together in his or her mother's womb.
A Cause for Praise
This reality–that your child is wonderfully made–is a cause for joy. The obvious conclusion, stated in Psalm 139:14a, is that this reality is a cause for praise. We praise God that we are fearfully and wonderfully made. This reality, too, can bring us to praise God for the way in which our neighbor (or our little sister) is also fearfully and wonderfully made.
Your child is wonderfully made. When you teach your child this reality and root it in the truth of Scripture, this fact is not a matter of self-esteem or of performance. In fact, it's not about your child at all. It's about the Creator–the Maker of all things–and it's a source of joy and wonder over His goodness, creativity, and might. He is worthy of praise.
To help you teach the fabulous truth that your child is wonderfully made, I've written a new book: 
Wonderfully Made: God's Story of Life from Conception to Birth
. I've also put together some fun printables for your kids.
We've taken the first part of Psalm 139:14 and created these fun printable posters for your child's room. You can get these in either ESV or KJV (only the ESV are pictured, but you'll find the KJV files when you go to download your posters).
These posters would look great framed! I like to print graphics on the high quality setting on my printer on 65lb white cardstock. This one is really smooth and my favorite for printing:
Neenah Premium Cardstock.
Aren't these fun? Check them out:
I'm really excited about the publication of my new book
Wonderfully Made: God's Story of Life from Conception to Birth
, published by Christian Focus 4 Kids. 
Wonderfully Made
is a science- and Scripture-filled picture book for kids ages 5-11. The book is told from the perspective of a mother telling her child about his or her development in the womb week-by-week. Kids will learn that they are, indeed, wonderfully made–and they'll understand why that's a cause for praise.
You will find the downloadable files for your printable posters at the very bottom of the
Wonderfully Made book page
. Learn more about
Wonderfully Made
 and download your free posters
over at
the book page
. You'll also have a chance to enter to win one of 25 sets of 10-12 week fetal models! (Giveaway ends 3/24/16.)
If you haven't subscribed to Thinking Kids yet, now is the time to do so! I'll have three great printables for you to use with your family to continue the learning your kids are doing as you read through Wonderfully Made with them. We'll also have a party and a few additional surprises to celebrate. I'll be sending out emails over the next few weeks to let you know about each special offer.
Image: Bet I Get Him, 1921, Grace Carpenter Hudson (1865–1937), Public Domain
Join the newsletter
Get the Family Prayer Box Project FREE!
Teach your children to pray with this fun project that includes 7 printable sets!